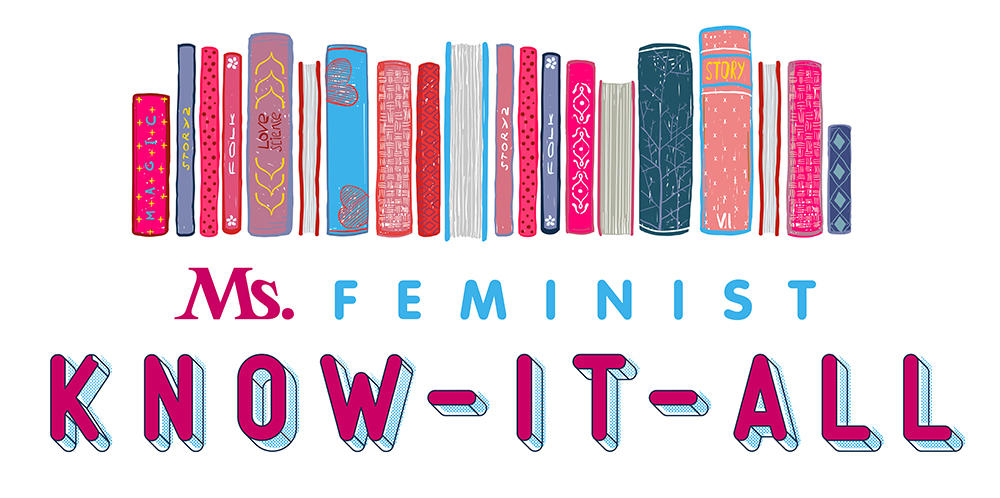 The Feminist Know-It-All: You know her. You can't stand her. Good thing she's not here! Instead, this column by gender and women's studies librarian Karla Strand will amplify stories of the creation, access, use and preservation of knowledge by women and girls around the world; share innovative projects and initiatives that focus on information, literacies, libraries and more; and, of course, talk about all of the books.
---
Each month, I provide Ms. readers with a list of new books being published by writers from historically underrepresented groups. The aims of these lists are threefold: I want to do my part in the disruption of what has been the acceptable "norm" in the book world for far too long—white, cis, heterosexual, male; I want to amplify amazing works by writers who are women, Black, Indigenous, Latinx, APIA/AAPI, international, LGBIA+, TGNC, queer, disabled, fat, immigrant, Muslim, neurodivergent, sex-positive or of other historically marginalized identities—you know, the rest of us; and I want to challenge and encourage you all to buy, borrow and read them! 
This month's list includes 32 books that represent a wide variety of styles, topics and tastes. For Black History Month, spend time with A Black Women's History of the United States, Dub, or We Want to Do More Than Survive. Do you love poetry? Check out Good Boys and A Nail the Evening Hangs On. And if you just need an escape, try The Wolf of Oren-Yaro, Finna or Upright Women Wanted.
Which will you read?
By Tola Rotimi Abraham (@thattola). Catapult. 288 pages. Out February 4.
Set in Lagos over a period of decades, this absorbing debut follows twin sisters Bibike and Ariyike from the inseparable bonds of relative comfort to the challenges and independence of poverty.
By Daina Ramey Berry (@dainarameyberry) and Kali Nicole Gross (@kaligrossphd). Beacon Press. 288 pages. Out Feb. 4.
The authors don't claim that this volume is "the" definitive history of Black women in the U.S., but instead offer readers glimpses into lives all-but-lost to history and the importance of critical historiography to locate and share the experiences of Black women.
By Justina Ireland (@justinaireland). Balzer + Bray. 560 pages. Out February 4.
The highly anticipated sequel to the bestselling Dread Nation is here! Justina Ireland is particularly adept at weaving together historical Civil War-era storytelling with imaginative speculative monster tales to create gruesome adventures that also don't shy away from important commentary on immigration, racism and the lives of Black girls and women.
By Deepa Anappara (@deepa.anappara). Random House. 368 pages. Out February 4.
Award-winning journalist Deepa Anappara's potent yet graceful debut novel is focused on topics all too common in India: poverty and missing children.
By Abi Daré (@abidare_author). Dutton. 384 pages. Out February 4.
In her compelling debut, Abi Daré presents us with Adunni—a bold, young Nigerian girl determined to find her place, her autonomy and her voice in the world.
By María Sonia Cristoff (Author) and Katherine Silver (Translator) (@katalinasilver). Transit Books. 180 pages. Out February 4.
This slim volume delivers fresh, penetrating reflections on (mis)communication, intentionality, and "the art of keeping quiet" as it follows a former interpreter who commits to an experimental year of silence. A wry and inventive story.
By Gish Jen (@GishJen). Knopf. 320 pages. Out February 4.
If you enjoy a unique near-future dystopian tale—or baseball—Gish Jen's latest will knock your socks off with its warmly relatable characters resisting a frighteningly possible surveillance state with AutoAmerica's favorite pastime.
By Tatyana Fazlalizadeh (@fazlalizadeh). Seal Press. 256 pages. Out Feb. 4.
This is the book supporting the anti-harassment street art campaign created by Fazlalizadeh in 2012, which continues to light the flame of knowledge and resistance to fight for the safety and respect all women deserve.
By Sarah Gailey (@gaileyfrey). Tor.com. 176 pages. Out February 4.
I'm not usually one for Westerns, but Sarah Gailey's queer, feminist, anti-fascist, dystopian interpretation of the genre really speaks to me. It's got cheeky adventure, full-bodied characters and, well, badass librarians. What's not to love?
By Naomi McDougall Jones (@NaomiMcDougallJ). Beacon Press. 259 pages. Out February 4.
Like Naomi McDougall Jones, I historically love watching the Oscars—even though I, too, am disappointed every year by lack of representation among the nominees. Maybe instead of watching this year, we all curl up with her candid, impeccably researched and engaging examination into the patriarchal and racist systems still at work in Hollywood.
By Dita Kraus. Ebury Press. 320 pages. Out February 6.
In this important new biography, Dita Kraus describes her childhood in Prague, the Nazi occupation and her time in a Jewish ghetto before being sent to Auschwitz and Bergen Belsen. During her time in the camps, Kraus served as the librarian of the books some prisoners were able to sneak in as precious treasures of their previous lives.
By Kim Sagwa (Author) and Sunhee Jeong (Translator). Two Lines Press. 160 pages. Out February 11.
In this slim volume, acclaimed South Korean writer Kim Sagwa presents us with a heartfelt look into today's adolescence, with all its awkwardness, cruelty, questioning, searching and heartbreak.
By Amina Cain (@aminamemory). Farrar, Straus and Giroux. 176 pages. Out February 11.
This beautiful volume presents a compelling and unexpected take on women's fulfillment in love, work and the world. Feminist and meticulous, Indelicacy is fresh, graceful and gratifyingly daring.
Edited by Nicole Chung (@nicolesjchung) and Mensah Demary. Catapult. 240 pages. Out February 11.
This powerful first anthology from Catapult magazine features twenty writers sharing their stories of migration, family, and what home means to them.
By Daniel Mallory Ortberg (@daniel_m_lavery). Atria Books. 256 pages. Out February 11.
Daniel Mallory Ortberg is cofounder of The Toast, writer of "Dear Prudence" on Slate, a NY Times bestselling author and now, a newlywed— congratulations Daniel M. Lavery! With this collection of essays, he will make you laugh and cry with stories of transition, family, culture and William Shatner.
By Alexis Pauline Gumbs (@alexispauline). Duke University Press Books. 296 pages. Out February 14.
Troublemaker and love evangelist Alexis Pauline Gumbs is back with the final installment of her extraordinary trilogy of collections, with themes of Blackness, feminism, colonialism, humanity, environmentalism, and genius. Be sure to check out the first two, Spill and M Archive.
By Deborah J. Cohan. Rutgers University Press. 184 pages. Out February 14.
In this engrossing memoir, sociologist Deborah Cohan candidly describes her struggle caring for her aging father, who, as she was growing up, was at once kind and cruel. Undoubtedly, readers will be able to relate to Cohan's explorations into the complexities of family, evolving relationships, and complicated emotions.
By Megan Fernandes. Tin House Books. 126 pages. Out February 18.
This tremendous collection of poems centers feminism, racism, and rage in all its imperfections, contradictions and candor. Poet Kaveh Akbar describes it best in one word: "Ferocious."
By Meena Alexander. Nightboat. 104 pages. Out February 18.
Published since her untimely passing in 2018, this is Meena Alexander's last collection of works. It's in these lyric fragments that the reader will discover the beautiful whole.
By K.S. Villoso (@k_villoso). Orbit. 496 pages. Out February 18.
This sharp epic fantasy is as badass as it sounds, so get out there and immerse yourself in this provocative, unflinching world of action, surprises and hope.
By Bettina Love (@BLoveSoulPower). Beacon Press. 200 pages. Out February 19.
This is the book that many educators, community activists, and parents have been waiting for. Dr. Bettina Love presents a personal and impassioned call to action for compassionate educational freedom and, thankfully, the path and methods to get us there.
By Judith Heumann (@judithheumann) with Kristen Joiner (@kristenjoiner). Beacon Press. 232 pages. Out February 25.
This is the triumphant memoir of Judith Heumann, who drove the passage of the Americans with Disabilities Act and is one of the most influential activists of our time.
By Nino Cipri (@ninocipri). Tor. 144 pages. Out February 25.
The latest from Nino Cipri is a weird novella examining capitalism, class and consumerism, all wrapped up in a scary, funny, and queer AF fantasy that you'll swallow whole. It's super yummy with a potent aftertaste that will (gratefully) stay with you for long after you've put it down.
By Mikki Kendall (@karnythia). Viking. 208 pages. Out Feb. 25.
With this unflinching collection of essays, Mikki Kendall serves feminists the reality check we need in order to make a more inclusive, equitable and useful feminism for the many—not just the privileged few.
By Micaela Heekin and Monica Ahanonu (@monicaahanonu). Chronicle Chroma. 112 pages. Out February 25.
This volume of 50 of the most iconic women is stunning. Alongside the inspirational stories written by Micaela Heekin, each portrait is illustrated by the outrageously talented Monica Ahanonu. It makes the perfect gift; just be sure to get one for yourself, too.
By Cathy Park Hong (@cathyparkhong). One World. 224 pages. Out February 25.
With radical candor, Cathy Hong Park critically examines what it means to be Asian American today and challenges herself and her readers to abandon the idea of a monolithic Asian American experience and instead acknowledge a range of racialized emotions which have been heretofore dismissed.
By Monica Sok (@monicasokwrites). Copper Canyon Press. 88 pages. Out February 25.
Through poetry, Monica Sok processes her family's experiences of the Khmer Rouge, immigration and the Cambodian diaspora with mythical, tender reflection.
By Alechia Dow (@alechiawrites). Inkyard Press. 432 pages. Out February 25.
This debut YA has it all: music, books, aliens, adventure, resistance, queerness, and a bold heroine tying it all together. Atmospheric and immersive, it marks the arrival of an irresistible new voice in YA fiction.
Edited by Andrea J. Pitts, Mariana Ortega, & José Medina. Oxford University Press. 328 pages. Out February 25.
This groundbreaking collection introduces and explores the profound contributions of U.S. Latinx and Latin American feminisms from a variety of perspectives. With an emphasis on decolonization, the volume includes engaging essays by Maria Lugones, Natalie Cisneros, Maria Luisa Femenías, Francesa Gargallo and more.
By Rachel Vorona Cote (@RVoronaCote). Grand Central Publishing. 352 pages. Out February 25.
Along the lines of Eloquent Rage and Shrill, Too Much is for all women who've been haunted, taunted and shamed for their emotions, joy, anger, laughter, sexuality or any other sort of excessive be-ing.
By Tehlor Kay Mejia (@tehlorkay). Katherine Tegen Books. 400 pages. Out February 25.
If you enjoyed Meija's amazing debut, We Set the Dark on Fire, you will love its thrilling, twisting, queer, feminist sequel.