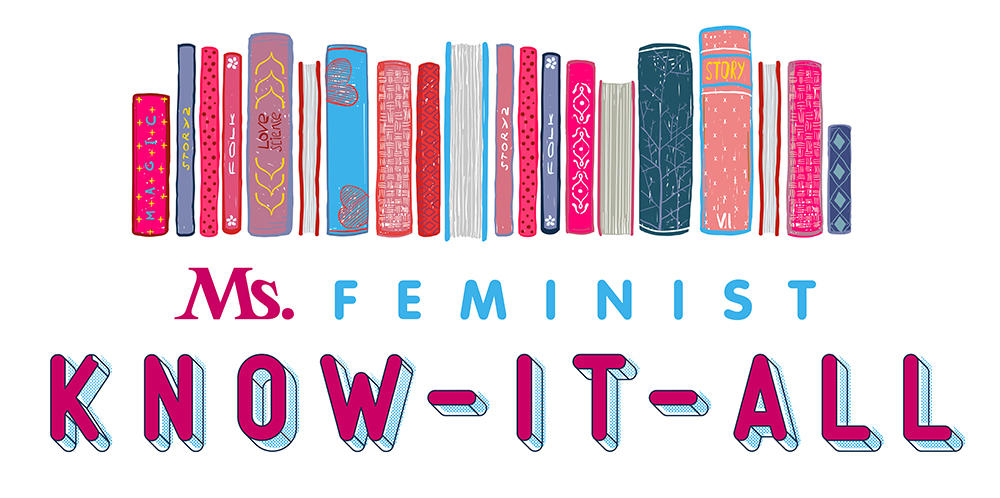 The Feminist Know-It-All: You know her. You can't stand her. Good thing she's not here! Instead, this column by gender and women's studies librarian Karla Strand will amplify stories of the creation, access, use and preservation of knowledge by women and girls around the world; share innovative projects and initiatives that focus on information, literacies, libraries and more; and, of course, talk about all of the books.
---
Each month, I provide Ms. readers with a list of new books being published by writers from historically underrepresented groups.
The aims of these lists are threefold:
I want to do my part in the disruption of what has been the acceptable "norm" in the book world for far too long—white, cis, heterosexual, male;
I want to amplify amazing works by writers who are women, Black, Indigenous, Latinx, APIA/AAPI, international, LGBIA+, TGNC, queer, disabled, fat, immigrant, Muslim, neurodivergent, sex-positive or of other historically marginalized identities—you know, the rest of us; and
I want to challenge and encourage you all to buy, borrow and read them! 
So one of the effects of COVID in publishing has been the delay in releases of new books. We saw many books scheduled for release in April, May and June that were pushed back because of the pandemic. Well, guess what? A lot of those books are now being released!
September is normally a big month as it is, and this list proves it. It was a challenge to get it down to 40 titles, but I did it! I also tried to keep my annotations brief. Wish I could've included even more—but let's start with these.
By R.B. Lemberg (@RB_Lemberg). Tachyon Publications. 192 pages. Out September 1.
What a treat: the full-length debut set in R.B. Lemberg's super-queer Birdverse universe! It's a wonder of identity, evolution and bravery in a time when we need it most.
By Cherene Sherrard. Autumn House Press. 80 pages. Out September 1.
An exploration of Black motherhood and ancestry, this poetry collection is both celebratory and cautionary. Sherrard uses magic, food and knowledge to center experiences of Black childbirth, childrearing and womanhood.
By Peace Adzo Medie (@peacemedie). Algonquin Books. 288 pages. Out September 1.
In her sparkling debut novel, Ghanaian writer and academic Peace Adzo Medie uses humor, candor and feminism to examine womanhood, marriage and agency in modern Ghana.
By Bea Koch (@bearosekoch). Grand Central Publishing. 272 pages. Out September 1.
With the popularity of TV shows and films set in Regency England, I'm thankful for Bea Koch and her examination of the era beyond the wealthy, white, Christian focus of the past. Koch vividly shines light on the queer, Jewish and women of color who have long been overlooked.
By Ann Shen (@anndanger). Chronicle Books. 128 pages. Out September 1.
How did I not know about the wondrous Ann Shen before now? Well, I had fun with this one and her other titles. Her text and illustrations are beautiful and the representation is on-point.
By Ibi Zoboi (@ibizoboi) and Yusef Salaam (@dr_yusefsalaam). Balzer + Bray. 400 pages. Out September 1.
Award-winning author Ibi Zoboi and prison reform activist Yusef Salaam of the Exonerated Five have written this extraordinary YA novel in verse about a boy who is wrongfully incarcerated and who fights to save his humanity. Do not miss this one.
By Paola Mendoza (@paolamendoza) and Abby Sher (@abbysher). G.P. Putnam's Sons Books for Young Readers. 320 pages. Out September 1.
Women's March co-founder Paola Mendoza and writer Abby Sher have teamed up on this stunning dystopian YA novel that should be filed under a heading of the scariest kind: "Hits too close to home."
By Deesha Philyaw. West Virginia University Press. 192 pages. Out September 1.
This is a powerful collection of nine stories focused on Black womanhood and the church over four generations of characters. Sex, friendship, freedom and agency are centered throughout this cheeky, insightful and irresistible new book.
---
If you found this article helpful, please consider supporting our independent reporting and truth-telling for as little as $5 per month.
---
By Alyssa Cole (@alyssacolelit). William Morrow. 368 pages. Out September 1.
Acclaimed writer Alyssa Cole is back with this mysterious, suspenseful and poignant thriller focused on greed, racism and the gentrification happening across Brooklyn.
By Sumita Chakraborty (@chakrabsumita). Alice James Books. 100 pages. Out September 8.
This debut collection of poems doesn't shy away from topics like gender- and race-based violence, loss, and environmental ruin. The subject matter is heavy but somehow Chakraborty manages to create a lyrical and captivating volume.
By Sophia Chang (@sophchang). Catapult. 320 pages. Out September 8.
Unfamiliar with Sophia Chang? Well, you've most likely heard of the men she's made famous, Wu-Tang Clan among them. In her debut, she now tells her own story as the first Asian woman in hip hop; from marginalization to motherhood to martial arts and more, Chang really is a bad bitch.
By Andrea Stewart (@AndreaGStewart). Orbit. 448 pages. Out September 8.
This feminist, queer fantasy is the book we need right now. Original and intricately written, this adventure will have you eagerly awaiting its sequel!
By Jenny Bhatt (@jennybhatt). 7.13 Books. 180 pages. Out September 8.
The stories included in this slim volume are a testament to the role work plays in our lives, positive and exhausting, and the emotional toll labor can take on a person. This riveting collection will inspire, anger, befuddle and amuse.
Two Lines Press. 112 pages. Out September 8.
This second volume in the Calico series centers Arabic poets such as Iman Mersal (Egypt), Samir Abu Hawwash (Palestine), Ines Abassi (Tunisia), Fadhil al-Azzawi (Iraq) and others. Reflective and meaningful, these poems explore Arabic life, language and identity.
By Lucille Clifton. Edited by Aracelis Girmay (@aracelisxgirmay). Out September 8.
This is Lucille Clifton at her finest. Including both her most popular and often overlooked poems, this collection also highlights ten newly-discovered poems that shine a powerful light on Black womanhood as only Clifton could.
By Andrea Hairston (@aahairsto). Tor.com. 512 pages. Out September 8.
With her latest adventure, Andrea Hairston presents a kaleidoscopic fantasy enmeshed with both African folklore and endless originality. Hairston is an exceptional storyteller.
By Jamie Marina Lau. Coffee House Press. 248 pages. Out September 8.
Lau's debut novel is weird, disjointed and abrupt. And this is exactly why you should read it.
By Valerie Valdes (@valerievaldes). Harper Voyager. 448 pages. Out September 8.
This is the super-fun sequel to Chilling Effect, which we featured in Reads September 2019 list. There are psychic cats; I'm just saying.
Written by Marie NDiaye and translated by Jordan Stump. Two Lines Press. 136 pages. Out September 8.
With its focus on power, bureaucracy and going-along to get-along, this story will puzzle and amuse, menace and provoke. This is an unsettling and hypnotic psychological nightmare.
By Hafizah Geter (@RhetoricAndThis). Wesleyan University Press. 104 pages. Out September 8.
Nigerian American poet Hafizah Geter's debut poetry collection is moving and candid. Geter invokes ancestry, queerness, Blackness and migration in a lucid, unflinching volume.
By Martha S. Jones (@marthasjones_). Basic Books. 352 pages. Out September 8.
If you read no other book on suffrage this centennial of the 19th Amendment, read this one. Let the incomparable historian Martha S. Jones take you to school.
By Winona LaDuke (@WinonaLaDuke). Fernwood Publishing. 128 pages. Out September 14.
In her latest book, writer and activist Winona LaDuke shines her light on the climate crisis, the Green New Deal and a variety of Indigenous sustainable energy strategies.
By Tiffany D. Jackson (@writeinbk). Katherine Tegen Books. 384 pages. Out September 15.
Tiffany D. Jackson is back with this gripping #MeToo thriller. Taking on rape culture, the vulnerability of Black girls and misogynoir, Jackson delivers an imperative, hard-hitting message.
Edited by Mark Eisner (@eizmarcos) and Tina Escaja. Tin House Books. 260 pages. Out September 15.
A groundbreaking collection of works by over 50 poets, Resistencia is alive with bravery, feminism, strength, agency, protest, power and hope. Each Latin American country is represented in this extraordinary volume and poems are presented in their original forms alongside their English translations.
Written by Meryem Alaoui. Translated by Emma Ramadan (@emkateram). Other Press. 304 pages. Out September 15.
Unique and refreshing, this debut centers modern Moroccan sex worker Jmiaa as she manages family, friendship and faith with courage, humor and candor.
By Yaa Gyasi. Knopf. 288 pages. Out September 15.
If you read Gyasi's triumphant debut, Homegoing, you know what an extraordinary storyteller she is. Her follow up is equally powerful, focused on an immigrant Ghanaian family, their complex, heartbreaking trauma and their emotional fight for survival.
By Angela Chen (@chengla). Beacon Press. Out September 15.
Highly informative and readable, journalist Angela Chen's examination of asexuality is poised to be the definitive volume of the topic.
By Fariha Róisín (@fariharoisin). The Unnamed Press. 288 pages. Out September 15.
Fariha Róisín's remarkable debut novel is an immersive and powerful story of survival and resilience in the face violence and abandonment. Like a Bird is truly a testament to bravery and the power of one's chosen family in healing and redemption.
By Donna Miscolta (@DonnaMiscolta). Jaded Ibis Press. 296 pages. Out September 21.
We can all learn something about courage from Angie Rubio. This collection of stories follows Angie from a shy kindergartener to awkward high schooler where she reminds herself to be bold, brave and outspoken.
By Maxfield Sparrow (@unstrangemind). Jessica Kingsley Publishers. 240 pages. Out September 21.
Be sure to spend time with this groundbreaking collection of essays by and about autistic trans individuals from around the world. Intimate and candid, this anthology is full of essential voices whose experiences and insights will resonate with many readers.
Edited by Ayana Elizabeth Johnson (@ayanaeliza) and Katharine K. Wilkinson (@DrKWilkinson). One World. 448 pages. Out September 22.
This is a wonderfully varied collection of essays, poems and art all focused on climate change and all by women experts in the field. These are the ideas, solutions, inspirations and visionaries we've been waiting for.
By Laila Lalami (@LailaLalami). Pantheon. 208 pages. Out September 22.
Personal and searing, Laila Lalami's latest book is focused on immigration, white supremacy and what it means to be "American".
By Cecilia Aragon (@CeciliaRAragon). Blackstone Publishing. 272 pages. Out September 22.
If you are looking for some inspiration right now (and aren't we all?), look no further! You'll fly through the empowering story of the shy Midwestern girl who grew up to be the first Latina on the United States Unlimited Aerobatic Team.
By K.S. Villoso (@k_villoso). Orbit. 640 pages. Out September 22.
In February, I sang the praises of K.S. Villoso's first book of the Chronicles of the Bitch Queen series and — you needn't wait much longer — here is Book 2! And yes, the sequel is just as badass as the first.
By Barbara Jane Reyes (@bjanepr). BOA Editions Ltd. 72 pages. Out September 22.
This powerful collection is an ode to Filipino American and girls of color everywhere who use their rage to fight patriarchy and racism in order to find and grow their agency, strength and voice.
By Tehlor Kay Mejia (@tehlorkay) and Anna-Marie McLemore (@LaAnnaMarie). HarperTeen. 400 pages. Out September 22.
Teaming these two YA powerhouse writers up on a super-fun, super-queer underdog story is brilliant! Readers will be rooting for the protagonists to win the Miss Meteor pageant the whole way through.
By K-Ming Chang (@k_mingchang). One World. 272 pages. Out September 29.
This utterly original debut traces three generations of Taiwanese women as they grapple with myth, secrets, queerness and migration.
by Cicely Belle Blain (@cicelybelle). Arsenal Pulp Press. 112 pages. Out September 29.
This collection is an excellent example of how poetry can be used for revolutionary resistance, exposure of systemic oppression and inspiration of rage that can move the world.
By Legacy Russell (@ellerustle). Verso. 192 pages. Out September 29.
Writer and curator Legacy Russell queers cyberfeminism with her Glitch Feminism Manifesto, first published online and now expanded and published in print. Combining art, tech, feminism, Blackness, queerness and critical theory, Russell offers an alternative to error and encourages us to embrace the glitch.
By Farzana Doctor (@farzanadoctor). Dundurn. 416 pages. Out September 29.
Compelling and bold, Farzana Doctor's latest novel is an urgent exploration of women's agency in religion and tradition. Seven is fully feminist and ambitiously bold; this is an important book for our changing times.
---