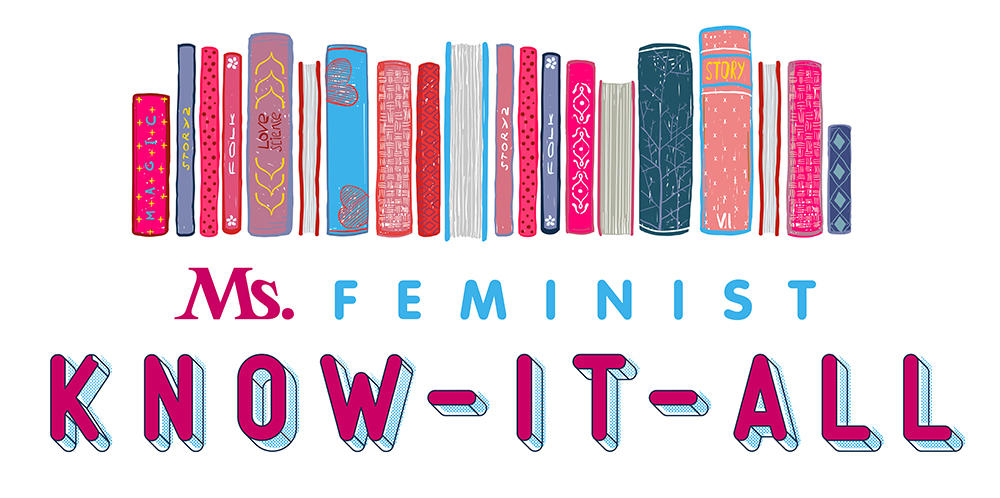 The Feminist Know-It-All: You know her. You can't stand her. Good thing she's not here! Instead, this column by gender and women's studies librarian Karla Strand will amplify stories of the creation, access, use and preservation of knowledge by women and girls around the world; share innovative projects and initiatives that focus on information, literacies, libraries and more; and, of course, talk about all of the books.
Each month, I provide Ms. readers with a list of new books being published by writers from historically excluded groups.
The aims of these lists are threefold:
I want to do my part in the disruption of what has been the acceptable "norm" in the book world for far too long—white, cis, heterosexual, male;
I want to amplify amazing works by writers who are women, Black, Indigenous, Latinx, APIA/AAPI, international, LGBIA+, TGNC, queer, disabled, fat, immigrant, Muslim, neurodivergent, sex-positive or of other historically marginalized identities—you know, the rest of us; and
I want to challenge and encourage you all to buy, borrow and read them!
You've read the other "Best of" lists—now read the other one. You know, for the rest of us.
Each year, I review my monthly Reads for the Rest of Us lists and choose my favorite books of the year.
It is such a wonderful challenge to narrow them down, and I did leave some off that are all over other major lists—and as well they should be! These include All This Could Be Different by Sarah Thankam Mathews, Manifesto by Bernardine Evaristo, When We Were Sisters by Fatimah Asghar, Constructing a Nervous System by Margo Jefferson, and more. They are amazing as well, but I wanted to focus more on those from independent publishers or that may have flown a bit under the mainstream radar. 
So here they are, my top 40+, in alphabetical order.
I hope you had a vibrant, positive, restful, loving and joyful year—and I wish you all the best in 2023.
---
Edited by Alisa Bierria, Jakeya Caruthers and Brooke Lober (@brookespeeking). Haymarket Books.
These groundbreaking volumes examine abolition based in Black and women of color feminisms, anti-violence organizing, survivor knowledge production, radical strategizing and more. Another must-read from Haymarket this year is Abolition. Feminism. Now. by Angela Y. Davis, Gina Dent, Erica R. Meiners and Beth E. Richie.
---
By Ruth Wilson Gilmore (@rwgilmoregirls). Verso. 480 pages.
This is an essential collection of writings from one of the most important thinkers on abolition, geography and racism of our time.  
---
Written by Zi Shu Li. Translated by YZ Chin. The Feminist Press at CUNY. 360 pages.
A singularly unique novel, Zi Shu Li's debut is now available for the first time in English. Following three storylines of trauma, upheaval and history, this Southeast Asian epic is rife with detail, tradition and heart.  
---
Written by Mieko Kawakami and translated by Sam Bett and David Boyd. Europa Editions. 224 pages.
As one of the most insightful and important writers of our time, Mieko Kawakami delivers another extraordinary exploration of relationships, work and the intimate connections that (may) make it all worthwhile.
---
By Treva B. Lindsey (@divafeminist). University of California Press. 342 pages.
The title says it all: It's urgent we reckon with violence against Black women and girls, past and present, and fight for a liberated future.
---
Written by J.D. Kurtness (Innu) and translated by Pablo Strauss. Rare Machines. 176 pages.
This slim but evocative volume centers a marine biologist (and her ancestors) in her fight to preserve the ocean and, perhaps, save the world. 
---
By Catherine Ceniza Choy (@ccenizachoy). Beacon Press. 240 pages.
This is another essential and exemplary volume in the ReVisioning History series from Beacon Press, which also includes A Black Women's History, A Disability History, A Queer History, An Indigenous Peoples' History, and more.
---
By Donna Murch (@murchnik). Haymarket Books. 224 pages.
Murch gives us an exceptional reexamination of the Black Panther Party and the Movement for Black Lives more generally through a redistributive, queer and feminist framework.
---
By R. F. Kuang (@kuangrf). Harper Voyager. 560 pages.
From the writer of the Poppy War trilogy comes a wholly unique new fantasy that explores language and translation in imperialism. It's big and worth every page.
---
Written by Camila Villada (@camilaomara) and translated by Kit Maude. Other Press. 208 pages.
Camila Villada has managed to write a story about a chosen family of trans sex workers that is gritty, sweet, devastating and hopeful all at once. 
---
By Patty Krawec (Anishinaabe/Ukrainian) (@gindaanis). Broadleaf Books. 240 pages.
In this remarkable volume, Patty Krawec (Lac Seul First Nation) examines the damage and division of settler colonialism and offers ideas for revisiting the past in order to reshape our collective futures. 
---
By Marquis Bey. Duke University Press. 304 pages.
In 2019, Bey's debut collection Them Goon Rules changed me as a scholar, a feminist, an accomplice and a person; Black Trans Feminism is just as imperative. I forced myself to decide between this one and Bey's Cistem Failure, which was also released this year. Well, hell, just read 'em both.
---
By Sunyi Dean (@Blind_Nycteris). Tor Books. 304 pages.
This fantasy debut combines motherhood and monsterhood, queerness and cautionary tales. Sign me up! 
---
By Raquel Gutiérrez (@raquefella). Coffee House Press. 200 pages.
In their essential debut collection of essays, Gutiérrez examines class, queerness, aesthetics, citizenship and borders.
---
By Chelsea Vowel (Métis) (@apihtawikosisan). Arsenal Pulp Press. 272 pages.
Doing speculative and science fiction through a Métis framework, Chelsea Vowel challenges, entertains and becomes the voice of Indigenous futurism. 
---
By Oscar Hokeah (Cherokee/Kiowa/Mexican) (@oscarhokeah). Algonquin Books. 272 pages.
Oscar Hokeah's debut novel centers young Ever as he explores his identity, family, community and place in the world. Told from a variety of voices, this story is one of love, loss, growth, tradition and evolution. Not to be missed.
---
By Stephen Shames (@stephenshames) and Ericka Huggins. Acc Art Books. 192 pages. 
This stunning volume is an ode to the imperative, yet often unappreciated, roles of women of the Black Panther Party. Complementing Ericka Huggins' superlative text are candid photos by Stephen Shames, many of which have never been published before.
---
By Abbigail Nguyen Rosewood. Texas Tech University Press. 216 pages.
Rosewood's latest novel is a nuanced and penetrating look at creation, love and obsession that changes over time and varies by individual. 
---
By Kate Beaton (@beatonna). Drawn & Quarterly. 436 pages.
Kate Beaton worked in Canada's oil sands for two years and has written this candid and unflinching graphic memoir about the effects of capitalism, extraction and exploitation on the land, the environment and the people.  
---
By adrienne maree brown (@adriennemaree). AK Press. 248 pages.
In her debut collection of 70 (!) poems and stories, brown continues to demonstrate her interrelationship with Mother Earth, her adoration of the ancestral heavens and her uncanny ability to connect it all in a witchy wonderland of liberation. But I also need to point out AK Press's amazing Emergent Strategy Series of which this book is a part; the series also includes Liberated to the Bone by Susan Raffo and Begin the World Over by Kung Li Sun, both also published this year. Just read them all!
---
By Victoria Garza (@GarzaMail). Jackleg Press. 176 pages.
I love books like this. Books that come from out of the blue and surprise, tenderize and mesmerize me. This contemplative and compelling debut memoir recounts the author's experience of loss, guilt, origins, faith and healing. 
---
By Namwali Serpell (@namwalien). Hogarth. 288 pages.
When faced with tragic grief, Cassandra Williams' family and life is falling apart. This extraordinary new novel explores love, loss and longing in new and unexpected ways.
---
By NoViolet Bulawayo. Viking. 416 pages.
Glory is a singular, surreal and satirical modern parable aimed at global social and political upheaval.
---
By Noor Naga (@noor_naga). Graywolf Press. 192 pages.
The last part of this complex and wholly original three-part novel brings it to a whole other level. I loved it. 
---
Written by Mónica Ojeda (@MonaOjedaF) and translated by Sarah Booker (@sarahkbooker). Coffee House Press. 272 pages.
In her English-translation debut, Ojeda tells a creepy story of six girls in an Ecuadorian Catholic high school who explore the occult, sexuality, friendship, fear and vengeance.
---
By Kim Fu. Tin House Books. 220 pages.
This collection of kaleidoscopic speculative short stories will have you questioning reality and loving every minute of it.
---
By John Elizabeth Stintzi (@JEStintzi). Two Dollar Radio. 330 pages.
I will read anything that comes from JES's twisted imagination and love it. This ingenious, insightful, unconventional and expansive eco-horror is no exception.
---
By DeMisty D. Bellinger (@DeMistyB). Unnamed Press. 196 pages.
This engrossing and robust novel in three parts features three women in mid-century rural Kansas who fight for safety, agency and independence against formidable odds. 
---
By Morgan Talty (Penobscot) (@morgan_j_talty). Tin House Books. 296 pages.
This is a remarkable debut collection of stories exploring Penobscot identity and community, hardship and survivance, roots and legacies. 
---
By Brandi Morin (Cree/Iroquois/French) (@Songstress28). House of Anansi Press. 232 pages.
Written by a survivor, this is a sorely needed memoir/investigation about the crisis of missing and murdered Indigenous women. Brandi Morin's on a mission and I will follow her anywhere!
---
By Robyn Maynard (@policingblack) and Leanne Betasamosake Simpson (Michi Saagiig Nishnaabeg). Haymarket Books. 320 pages.
Bear witness to the dialogue between two of our most brilliant contemporary writers and activists as they grapple with creating a new way forward.
---
By Michelle De Kretser. Catapult. 288 pages.
This singular novel in two parts (read one and then flip it over and read the other) centers on misogyny, ageism and racism in the near-past and near-future. It's witty, enticing and thought-provoking.
---
By Osa Atoe (@PotteryByOsa). Soft Skull. 368 pages.
By 2006, Osa Atoe was sick of being the only Black kid at punk shows and she created Shotgun Seamstress fanzine as a remedy and tribute to the Black punk experience. This collection includes all eight issues of reviews, essays, biographical sketches, interviews and more.   
---
By Imani Perry (@imaniperry). Ecco. 432 pages.
Part memoir, part history, part travelogue, this lush volume pays homage to the South, with its unique stories, multiple identities and imperfect evolutions.
---
By Melissa Chadburn (@melissachadburn). Farrar, Straus and Giroux. 352 pages.
Inspired by the author's Filipino heritage and its folklore, this unflinching debut explores two outcasts whose lives overlap in death. 
---
By Dorothy Roberts (@dorothyeroberts). Basic Books. 384 pages.
Award-winning scholar Roberts provides an overdue and urgent examination of this country's racist child welfare system, which has its roots in colonialism, slavery and carcerality. 
---
By Elizabeth Alexander (@professorea). Grand Central Publishing. 160 pages.
This is an essential read for our times by the only person who could've written it so exquisitely.
---
By Linda Villarosa (@lindavillarosa). Doubleday. 288 pages.
Finally, we have the definitive and long-overdue volume detailing the real cost of racism on the health and well-being of Black people in the U.S. 
---
By Addie Tsai (@addiebrook). Jaded Ibis Press. 296 pages.
If you know the literary me, you know my mad love for Mary Shelley and Frankenstein. And after my own heart, Addie Tsai has gifted us this breathtaking retelling full of queer, biracial, gender-swapping goodness. 
---
By Alora Young (@alora_young). Hogarth. 240 pages.
What you've heard about Alora Young and her debut is all true. She's extraordinary, the book is phenomenal and you just need to get a copy in your hands ASAP. 
---
By Alice Wong (@SFdirewolf). Vintage. 352 pages.
This is the essential memoir from the founder of the Disability Visibility Project. After you order it, be sure to read this candid article by Alice and consider supporting the ongoing costs of her care if you can.
Up next:
U.S. democracy is at a dangerous inflection point—from the demise of abortion rights, to a lack of pay equity and parental leave, to skyrocketing maternal mortality, and attacks on trans health. Left unchecked, these crises will lead to wider gaps in political participation and representation. For 50 years, Ms. has been forging feminist journalism—reporting, rebelling and truth-telling from the front-lines, championing the Equal Rights Amendment, and centering the stories of those most impacted. With all that's at stake for equality, we are redoubling our commitment for the next 50 years. In turn, we need your help, Support Ms. today with a donation—any amount that is meaningful to you. For as little as $5 each month, you'll receive the print magazine along with our e-newsletters, action alerts, and invitations to Ms. Studios events and podcasts. We are grateful for your loyalty and ferocity.