For the last two decades, journalist and filmmaker Chelo Alvarez-Stehle has traveled the world investigating and documenting women's experiences of sexual exploitation and sex trafficking.
In her award-winning documentary film, Sands of Silence: Waves of Courage—premiering on WORLD Channel and 174 PBS stations on Sunday, Sept. 27—Alvarez-Stehle brings together the stories of women she has filmed with her own story of abuse and those of her family members.
Shot in Spain, Nepal, Mexico and the U.S., the film explores the spectrum of sexual violence—from sex trafficking, to child molestation, to trusted adults sexualizing the young people in their care. Alvarez-Stehle delves into the devastating and long-lasting impact of this violence, showing how childhood experiences of abuse make women vulnerable to future violence, and the ways girls and women are silenced or encouraged to deny the impact of this violence.
"Sexual violence occurs along a spectrum, but the common denominator is silence," Alvarez-Stehle told Ms.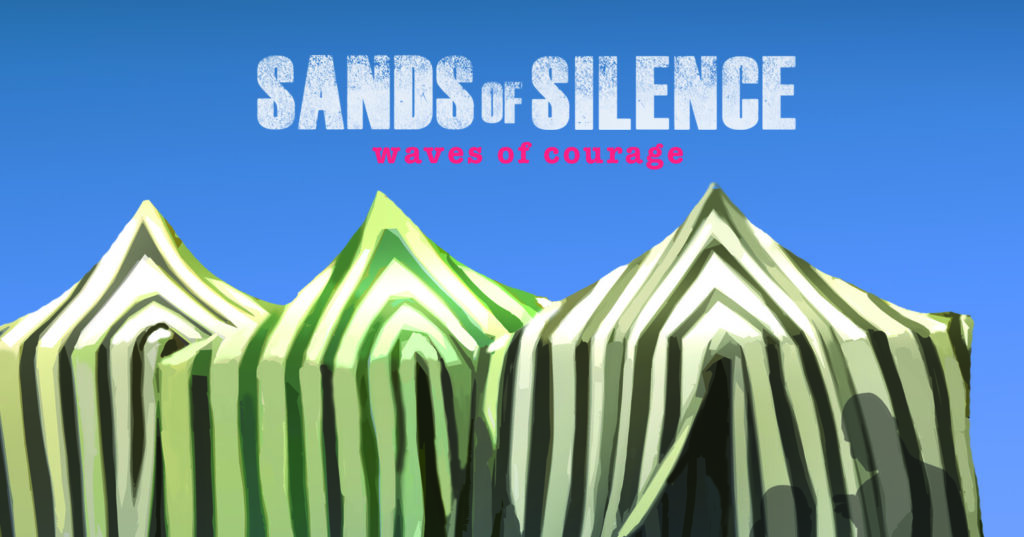 The film begins on a beach in Spain with Alvarez-Stehle telling the story about how one summer, her nine-year-old sister was abducted by an adult man, who took her into a cabana and molested her. The incident "robbed us of our childhood's magical aura," says Alvarez-Stehle. Her family's silence about the incident inspired her decades-long journey exploring the pandemic of sexual exploitation and trafficking across the globe.
The film then tells the story of Virginia Isaias—a Mexican-American woman who experienced child sex abuse, then as an adult was abducted with her infant daughter and forced into prostitution in Chiapas, Mexico. Isaias says her family taught her to be silent about her abuse, but she finds healing as she speaks out about her experiences.
Inspired by Isaias, Alvarez-Stehle presses her family to talk about her sister's experience of child molestation, and undertakes her own soul-searching journey into a traumatic experience she had as a teenager when a trusted adult touched her inappropriately, kissed her, and made suggestive remarks to her.
"Part of the point of the film is that sexual violence occurs on a continuum," says Alvarez-Stehle. "Micro violence can be very devastating even before it becomes a crime."
The film shows the power of adults to abuse young people by sexualizing them, even if the behavior doesn't amount to outright sexual assault. As girls are learning their sexual boundaries, inappropriate adult behavior can confuse them and destabilize their budding sense of bodily integrity and autonomy, deeply damaging their sense of self and worth.
---
If you found this article helpful, please consider supporting our independent reporting and truth-telling for as little as $5 per month.
---
"The pandemic of sexual violence that we have starts with micro sexual violences, diminishing ways of treating women since we are born, at home, at church, at the gym, at school," says Alvarez-Stehle.
"The Healing Power of Breaking the Silence"
Child sexual abuse is a widespread problem in the United States and around the world, with one in five girls and more than one out of every thirteen boys under the age of eighteen experiencing sexual abuse. Perpetrators target children and teens who are vulnerable and more easily manipulated than adults.
Of reported cases in the U.S., 93 percent of perpetrators are known to their victims—over a third are family members and 59 percent are acquaintances, such as neighbors, family friends, priests or coaches.
The effects of child sexual abuse can be long-lasting, affecting survivors' physical and mental health. Survivors of child sexual abuse are three to four more likely to experience PTSD and three times more likely to experience a major depressive episode as adults.
The film shows how women are taught to downplay their experiences of abuse, hiding it from themselves and others, and argues that less severe forms of abuse can still cause lasting damage and can be hard to speak out about.
The film skillfully portrays the healing power of breaking the silence and fighting back. After speaking out about her abuse, Isaias became an advocate against sex trafficking, founding an organization to fight trafficking, the Fundación de Supervivientes de Tráfico Humano (Human Trafficking Survivors Foundation).
Alvarez-Stehle has traveled across the world with her film, screening it to a wide range of audiences, including at community centers, high schools, churches, and even in prisons, to men incarcerated for sexual assault and trafficking.
"After screening the film to thousands in Europe and the Americas, we now know that the film encourages people to confront and report their perpetrators, and that it also inspires perpetrators currently serving time to reflect on their crimes, assume responsibility for their actions, and work to repair them," says Alvarez-Stehle.
September 23 is the International Day Against Sexual Exploitation and Trafficking of Women and Children, set on this day to commemorate the first legal norm against child prostitution enacted in 1923. As a time to reflect on the pandemic of gendered violence in our world, and to learn more about women's stories of survival and healing, be sure to tune into Sands of Silence: Waves of Courage on PBS's WORLD Channel or your local PBS Station on Sunday, Sept. 27, 7 p.m. PDT/10 pm EDT. It will also be available to stream on the same date and for 30 days at http://bit.ly/DW_SandsofSilence.
"Even if you're not a victim, we're all touched by this pandemic. We're all touched by this sexual violence deluge. And we all have the responsibility to do something against it. We all, as a society, need to deal with it," says Alvarez-Stehle.
The film has a 52-minute version, for classroom use, and a feature-length version (82 minutes) that includes the story of Nepali sex-trafficking survivor Anu Tamang. For teachers, a discussion guide is available, and a companion website with more information. The film is produced by Chelo Alvarez-Stehle and executive produced by Deirdre Roney and Mark Stehle.
You may also like:
---