In every issue of Ms., we track research on our progress in the fight for equality, catalogue can't-miss quotes from feminist voices and keep tabs on the feminist movement's many milestones. We're Keeping Score online, too—in this biweekly roundup.
---
Lest We Forget
"Being able to see the first woman speaker of the House and the first woman, first Black American, and first South Asian American vice president sitting behind the president is nothing short of HERstoric. … Women, especially Black women, have made groundbreaking strides over the past couple of years. The soul and moral compass of our nation rests on the shoulders of women."

—Rep. Brenda Lawrence (D), the only Black Congress member representing Michigan, after President Joe Biden's joint address on Wednesday, Apr. 28.
"We consider the election of the extremely misogynistic regime of Iran as an insult to all Iranian women, the main victims of this regime during the last four decades."

—The Association of Iranian Women in France after the United Nations elected Iran to the Commission on the Status of Women.
"The Republican Party is at a turning point, and Republicans must decide whether we are going to choose truth and fidelity to the Constitution. In the immediate wake of the violence of Jan. 6, almost all of us knew the gravity and the cause of what had just happened—we had witnessed it firsthand. … History is watching. Our children are watching. We must be brave enough to defend the basic principles that underpin and protect our freedom and our democratic process. I am committed to doing that, no matter what the short-term political consequences might be."

—Rep. Liz Cheney (R-Wyo.) in a Washington Post op-ed on her Republican colleagues' response to the Jan. 6 insurrection.
"Can we move forward without President Trump? The answer is no. … I've always liked Liz Cheney, but she's made a determination that the Republican Party can't grow with President Trump. I've determined we can't grow without him."

—Sen. Lindsey Graham (R-S.C.) weighing in on Rep. Cheney's impending excommunication from House GOP leadership.
"I am getting sick of writing these pieces to respond to people like Rick Santorum. … If representation matters, when do we hold accountable the folks who make it so hard to see who Native Americans actually are? Who offer us up as only extinct or victims? Because that dusty notion has been presented on a loop for centuries. It's a noise I'm sick of shouting over."

—Sierra Teller Ornelas, a writer and member of the Navajo Nation, in The Washington Post.
"This must stop. Enough is enough. How many funerals do we have to have until we tell the Congress and the Senate that you've got to do something in these times? … How is it legal to shoot a man in the back and talk about, 'It was self-defense'? How do you try and justify shooting a man that was not a threat to you because he was running away from you?"

—Rev. Al Sharpton on Monday, May 3 in a eulogy for Andrew Brown Jr.—a Black man shot and killed by police in Elizabeth City, N.C.—less than two weeks after he eulogized Daunte Wright on Thursday, Apr. 22.
Milestones
+ Judge Martha Koome, 61, is set to become Kenya's first female chief justice this month, with an endorsement by President Uhuru Kenyatta. She would be the first woman to head a branch of the nation's government.
+ "Madam Speaker. Madam Vice President," President Joe Biden said, greeting Vice President Kamala Harris and House Speaker Nancy Pelosi (D-Calif.) at his first address to a joint session of Congress. "No president has ever said those words, and it's about time." Never in history had two women shared the dais with the president.
A historic sight:

"Madame Speaker, Madame Vice President. No president has ever said those words from this podium. No president has ever said those words, and it's about time." #JointAddress pic.twitter.com/2n3bMZISVc

— Ms. Magazine (@MsMagazine) April 29, 2021
+ In a reversal of a previous announcement that the White House would maintain Donald Trump's record low 15,000-person refugee cap, Biden reinstituted a much higher cap of 62,500 refugees on Monday, May 3. "It is important to take this action today to remove any lingering doubt in the minds of refugees around the world who have suffered so much, and who are anxiously waiting for their new lives to begin," the president said.
+ The Biden administration's Health and Human Services (HHS) Department on Monday, May 10, pledged to restore health care protections for LGBTQ individuals by expanding the Affordable Care Act's (ACA) definition of "sex."
+ Ecuador's Constitutional Court ruled to legalize abortion in instances of rape, an ombudsman announced to Twitter.
Great to see this progress in #Ecuador! "Ombudsman Freddy Carrion announced the court's decision on Twitter, and said the ruling 'was possible thanks to the women and feminist groups who have consistently battled for a more fair and egalitarian society'." https://t.co/6tx53YCFn4

— Guttmacher Institute (@Guttmacher) April 29, 2021
+ The Justice Department announced the indictment of three men on Wednesday, Apr. 28 for the killing of Ahmaud Arbery, who was jogging in Georgia on Feb. 23, 2020 when he was shot.
Today would have been Ahmaud Arbery's 27th birthday. pic.twitter.com/JMpikQaq5D

— philip lewis (@Phil_Lewis_) May 8, 2021
+ Simon & Schuster employees are demanding the company stop publishing work by authors associated with the Trump administration. A petition submitted in late April has garnered 216 internal signatures, and emphasizes that the Trump administration should not be considered "a 'normal' chapter in American history."
+ In a letter to staff on Monday, Apr. 26, Department of Homeland Security (DHS) secretary Alejandro Mayorkas launched an internal review "to address the threat of domestic violent extremism within the Department of Homeland Security."
We must be vigilant in our efforts to identify and combat domestic violent extremism within both the broader community and our own organization.  Hateful acts and violent extremism will not be tolerated at the Department of Homeland Security.

— Secretary Alejandro Mayorkas (@SecMayorkas) April 27, 2021
+ Along with Tennessee, Ohio is one of only two states that hasn't allowed transgender individuals to change the gender markers on their birth certificates. A federal court ruled that ban unconstitutional in December 2020, and the Department of Health has decided to—rather than appeal—institute a request process for such document changes. By June 1, 2021, transgender people born in Ohio will be able to apply for gender marker changes.
+ The first woman to complete a marathon in the U.S.—Arlene Pieper Stine—died at age 90 on Feb. 11, over 60 years after she made ran the Pikes Peak Marathon, but only 10 years after she discovered the historical significance of her achievement.
+ The U.S. Food and Drug Administration (FDA) will undertake a review of longstanding restrictions on the medication mifepristone used for miscarriage and abortion care.
---
If you found this article helpful, please consider supporting our independent reporting and truth-telling for as little as $5 per month.
---
How We're Doing
+ One in four U.S. women say their financial situation is worse since the beginning of the pandemic in March 2020, as compared with only 18 percent of men. For people of color, the number is even higher: 27 percent.
+ Asian Americans and Pacific Islanders (AAPI) are dramatically underrepresented in elected office, according to POLITICO. They comprise less than one percent of elected leaders, but 6.1 percent of the population.
+ A report from the Republican Accountability Project found that more than half of congressional Republicans failed to support democracy during and after the 2020 election.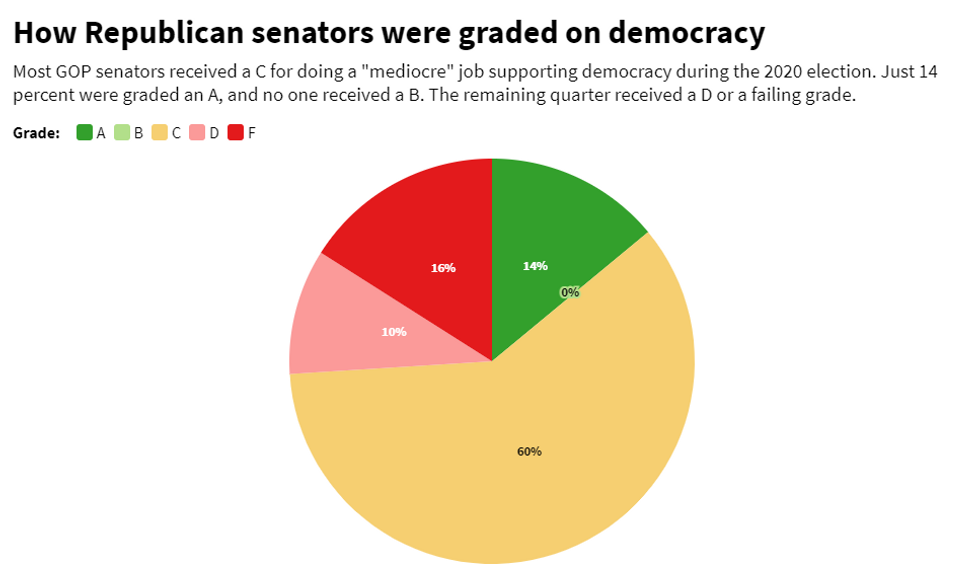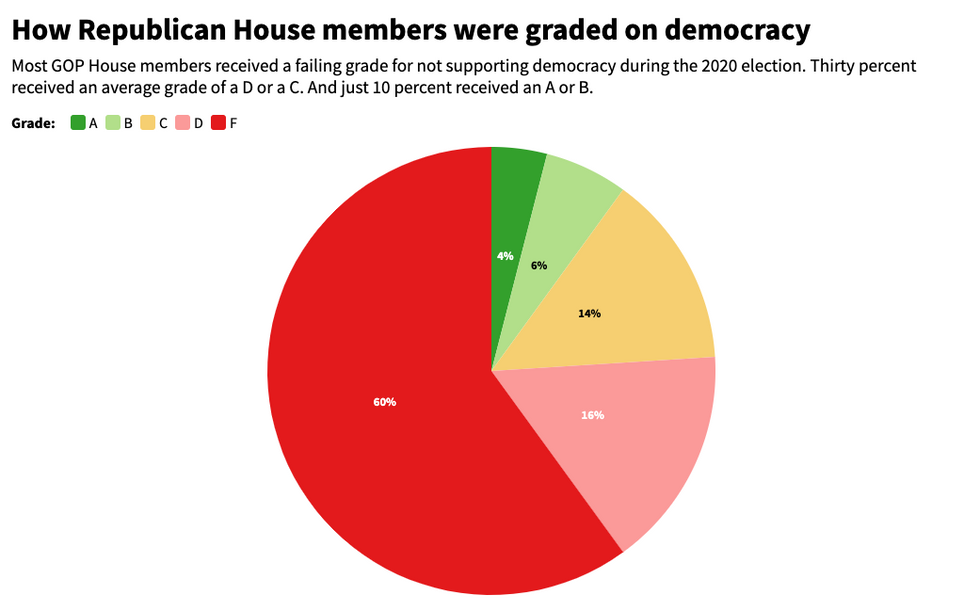 + "In March 2021, almost 1.5 million fewer moms of school-aged children were actively working than in February 2020," The Wall Street Journal reports. "During the depths of last year's economic crisis, Bureau of Labor Statistics data show, women's participation in the workforce fell to levels not seen since the mid-1980s."
+ "More than 65 million women provide unpaid care in the form of child care, family care and elder care during 2020," the National Partnership for Women & Families reported in May. "A majority of these women did so while holding full- or part-time jobs."
+ The U.S. population increased just 7.4 percent over the course of ten years, between the most recent censuses in 2010 and 2020. The only years that recorded a slower growth rate (by just 0.1 percent) were the 1930s, during the Great Depression. According to The Washington Post, "decreased fertility rates and lagging immigration" were largely responsible.
According to a new CNN poll, most Black Americans — 82% — say policing needs major changes or a complete overhaul compared with just 47% among White Americans. https://t.co/TapzW9b4zC

— Eugene Scott (@Eugene_Scott) April 27, 2021
As a result of relatively minimal outreach by states like Texas, Florida and Arizona in the lead up to the 2020 census, some believe that large southern Latinx populations were undercounted. "It's too much of a coincidence that these are three states with large Latino populations and these are three states where Republican governors did not invest in their own outreach efforts," said Arturo Vargas, the chief executive of the National Association of Latino Elected Officials.
+ The number of unaccompanied migrant children in Border Patrol custody has fallen from 5,767 to 677—a decrease of 88 percent—in five weeks, since late March.
+ Despite facing a partisan divide among congress members, the For the People Act maintains bipartisan support from the public. A survey found that 69 percent of Americans would like H.R. 1 to pass.
+ On Saturday, May 8, a series of bomb attacks rocked the Dasht-e-Barchi neighborhood of Kabul, Afghanistan. The blasts—three car bombs in front of the Sayed Al-Shuhada school—specifically targeted young girls. As of Monday morning, at least 85 people had been killed and 147 injured—most of whom were young girls. The attack came at the end of a particularly violent week in the country which resulted in the death of at least 44 civilians and 139 government forces, marking the highest weekly death toll since October.
Up next:
---