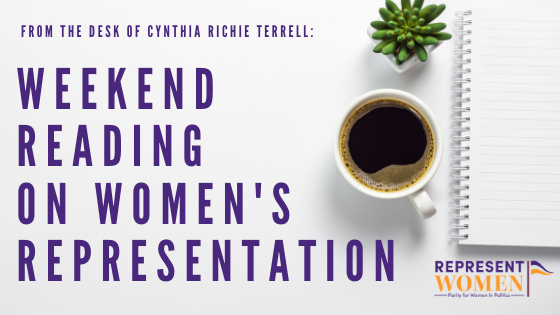 Weekend Reading on Women's Representation is a compilation of stories about women's representation in politics, on boards, in sports and entertainment, in judicial offices and in the private sector in the U.S. and around the world—with a little gardening and goodwill mixed in for refreshment!
---
Dear fans of gender balance in politics,
There was an encouraging story on NBC News about the number of Black women who are running for statewide executive office in 2022, including democracy reform champions Stacey Abrams, who is running for governor of Georgia, and Danielle Allen, who is running for governor of Massachusetts:
Black women's representation has steadily increased in Congress and state legislatures, but they have still struggled to win statewide races. No Black woman has ever been elected governor, and there are no Black women serving in the U.S. Senate after Kamala Harris vacated her seat to become vice president.

That could change this year.

Beasley is one of three Black women — all Democrats — who have established themselves as early front-runners in statewide primaries, including Stacey Abrams, who is making another bid for Georgia governor, and U.S. Rep. Val Demings, who is challenging Sen. Marco Rubio, R-Fla.

Five Black women are running for governor, just shy of the 2018 record of six. Between 16 and 20 Black women are currently, or considered potential, Senate candidates, which would break the record of 13 Black women Senate candidates set in 2020, according to the Center for American Women and Politics at Rutgers University.

They include Democratic gubernatorial hopefuls Danielle Allen of Massachusetts, Deidre DeJear of Iowa, and Mia McLeod of South Carolina. Conservative commentator Kathy Barnette is also vying for the GOP Senate nomination in Pennsylvania.
---
Women are winning seats and having an impact at the local level in Athens, Ga., according to the short video above, made by journalism student Sydney Fordice:
In 2021, women across the country have changed history by winning seats in elected office on various levels for the first time in history. A progressive pocket in Northeast Georgia, Clarke County, has been leading this charge for the last several years and continues to do so.

Currently, the county has an even split between male and female city commissioners and a heavily female board of education compared to male-dominant boards in all neighboring counties. The Western Judicial Circuit also elected its first-ever female district attorney last year.

University of Georgia journalism student Sydney Fordice sat down with women from Clarke County's commission, board of education and district attorney's office to hear their perspectives on what makes women leadership in the area unique and impactful.
---
There was an interesting interview with newly-elected (in a ranked-choice voting primary) Bronx Borough president Vaness Gibson in The Gothamist this week:
While the job might be an on-the-surface figurehead post, Gibson, who was sworn in this month, looks to leverage all her political capital to manage the city's most impoverished borough. Home to 1.5 million residents, the Bronx suffers from high rates of asthma and diabetes, unemployment and drug abuse.

Gibson, 42, entered public service in 2001 after graduating from SUNY Albany. She interned and later worked for her mentor, the late lawmaker Aurelia Greene in her state Assembly office. She eventually succeeded Greene as the 77th Assembly District representative after being appointed deputy Bronx borough president in 2009, following a special election. After five years in the Assembly, Gibson ran and was elected to represent the 16th Council District in the west Bronx for two terms, during which time a portion of her district underwent a significant rezoning.

After defeating four candidates in the Democratic primary for borough president last summer, Gibson was elected in the November general election over two other candidates, shattering the racial and gender glass ceilings. Gibson succeeds Ruben Diaz Jr., who was term limited.
---
I was thrilled to see this story in NJ Advance Media on a new law that legislates that The Center for American Women and Politics (CAWP) must track data for the state on the gender and race of all appointees to state boards and commissions. This is exactly the type of legislation required to make boards and commissions more accountable and representative. Congratulations to our friends at CAWP—let's do this in every state!
Gov. Phil Murphy Tuesday signed a bill into law that will create a database to record the gender and race of nearly person appointed to the state's 1,100 state boards and commissions and a separate one for elected officials— tools that will focus attention on diversity in New Jersey politics which has been dominated by white men.

The law requires the Center for American Women and Politics at the Rutgers University's Eagleton Institute to create and maintain two databases — one tracking every person appointed to a state board, commission, authority, and the other for every person elected to a public office, according to the bill. The database would include the names, the title of the office held, the term of office, race and gender identity. School board members are not included.

The center will receive $350,000 in public funds to create and maintain the databases.

This is an important step towards making New Jersey government more equitable and transparent," Deborah Walsh said, the center's director. "Making this information accessible to the general public will help paint a more accurate picture of who represents us in Trenton and in all 21 counties."
---
Barbara Rodriguez wrote a timely piece for The 19th about efforts to pass the Equal Rights Amendment in 2022:
A decades-old legislative effort to recognize the Equal Rights Amendment and its protections against gender discrimination has entered a new year with a revived legal fight.

Democratic attorneys general for Illinois, Nevada and Virginia filed arguments this month as part of an appeal to a 2020 lawsuit to formally recognize the Equal Rights Amendment.

A district court judge dismissed the suit last year, saying that "laudable as their motives may be," the attorneys general did not have legal grounds to sue and that a seven-year deadline set decades ago by Congress to ratify the amendment had expired. On Monday, the ERA Coalition and other equity-focused groups filed an amicus brief offering formal support for the appeal."Our hope is that this amicus brief will convey why it's appropriate to allow a longer time than seven years for a civil rights and cultural change like the one the ERA reflects," said Linda Coberly, an attorney and chair of a legal task force for the ERA Coalition, which says it is made up of nearly 200 organizations.

Supermajorities in both chambers of Congress ratified the Equal Rights Amendment in 1972 following decades of advocacy. The ERA text reads in part: "Equality of rights under the law shall not be denied or abridged by the United States or by any state on account of sex."
---
While Ghana is the focus of this piece on the affirmative measures that are necessary to increase the representation of women in decision-making sectors, the strategies discussed in the article are relevant in every country:
African governments, including Ghana, acknowledge that women's equal participation is critical to building democracy and promoting social progress.

This acknowledgement is evidenced by their acceptance of various protocols, conventions and legal frameworks, including the Sustainable Development Goals. However, the challenge remains that many leaders have delayed the development and implementation of national plans towards achieving the goal of women's equal representation and participation in decision-making processes.

The failure to do so and many others were the reasons behind the adoption of the Solemn Declaration on Gender Equality, and the Protocol on Women's Rights by the African Union to push countries into action. A common feature of these treaties and protocols is that gender equality and women's empowerment is fundamental to development, democracy and peace.

These treaties and protocols also underscore the need to use temporary measures like affirmative action to achieve these laudable goals. Thus, these goals can only be achieved through consciously outlined strategies of which Affirmative Action presents itself as a guaranteed option.
---
There were a number of interesting stories about advances for women around the globe including this one from Arab Business about additional challenges that women face in the wake of the pandemic:
Although progress towards gender equality has been made, the road ahead remains long, and even longer now, that two years of coronavirus has pushed back progress by 36 years, panelists speaking at Expo 2020 Women's World Majlis panel on Gender Equality, the Mother of All Sustainable Development Goals (SDG) agreed.

"While there is more of a coalition nowadays, and we are far from where we used to be, we are still not anywhere near where we need to be. In fact, it would take us 36 years to catch up with the gains we lost in the last two years with Covid-19," said Sonja Hyland, deputy secretary general global issues, department of foreign affairs, Ireland.

"Girls' education has been pushed back as has women's participation in the workforce. We need to work extra hard to be where we need to be in 2030," she added.
Morocco:
Market Screener had brief report on reforms that are increasing the percentages of women on corporate board in Morocco:
On July 31, 2021, the Moroccan Parliament adopted a reform that did not receive much attention but did represent a big step forward in helping close the country's gender gap. It involved a new amended law on public limited companies to promote balanced representation of women and men in corporate governance bodies (law 19.20 modifying and completing law 17-95 related to public limited companies). It set mandatory quotas for women on the boards of publicly traded companies, with a target of (at least) 30% female representation by 2024, and 40% by 2027.

This law is the result of exemplary cooperation between the government, the parliament, and civil society, supported by the creation of a task force by UN Women, including women personally involved in gender advocacy, and several representatives of the 'Club des Femmes Administrateurs' in Morocco.

The World Bank, which supports initiatives that promote greater economic inclusion of women and increased female representation in corporate governance bodies, supported this exemplary effort as one of the key objectives of its $450 million Digital and Financial Inclusion II budget support program to the Moroccan government in 2021.
Pakistan:
There were two interesting stories about gains for women in Pakistan including this one that explores the role of women in media:
Gender representation in television advertising exemplifies the socio-cultural tendencies prevalent in society. Most Pakistani television advertisements depict women performing traditional tasks such as child care, household upkeep, and subordinate/supportive roles—the distribution of stereotypical and non-stereotypical representations of women in television ads offering various items. The results indicate that 73% of advertisements feature women performing stereotypical (conventional) tasks such as cooking, washing clothes, serving food to other family members, and playing subordinate roles.

These stereotypical advertisements were repeated three times more frequently than non-stereotypical advertisements featuring women performing physical activities, looking self-autonomous, outgoing, etc. Additionally, these commercials affect how consumers perceive the execution of their specific responsibilities in their daily routine. The conventional labels were surrounding the particular assumption of women's status in society, based on incorrect assumptions that are regularly depicted in Pakistani television advertisements.

There are numerous reasons to be concerned regarding gender issues in the media industries—not the least of which is the critical importance of breaking down stereotypes and having diverse narrators share their unique perspectives.

And another article on Pakistan from the Council on Foreign Relations on the first woman nominated to Pakistan's Supreme Court:
The Judicial Commission of Pakistan approved the nomination of Justice Ayesha Malik to serve on the Supreme Court of Pakistan. A parliamentary committee now has to approve Malik's nomination before she gains a seat on the bench. Pakistan's judicial commission rejected her nomination last September, with members claiming that Malik lacked the seniority necessary to serve on the Supreme Court—a claim legal advocacy organizations disputed. During her tenure on Lahore's High Court, Malik ruled that virginity tests should not be conducted on female rape survivors and called them a "humiliating practice." Women's rights activists note that while having a woman justice on Pakistan's Supreme Court is an important step, much more needs to be done to achieve gender equality in Pakistan's legal system.
Colombia:
A former congresswoman, and hostage, Ingrid Betancourt has launched a campaign for the presidency of Colombia according to this story in The New York Times:
Ingrid Betancourt, a former congresswoman and one-time guerrilla hostage who has come to symbolize both the brutality of Colombia's long war and the country's efforts at reconciliation, will run for president, she said Tuesday.

Ms. Betancourt enters a wide open race at a time when Colombia is at a critical political and social crossroads.

When she was kidnapped 20 years ago, Ms. Betancourt was campaigning for the same office. Now, she said, the country is facing the same "corrupt system" and "political machinery" that she had fought back then.

"Today I am here to finish what I started," she said, standing on a stage at a hotel in downtown Bogotá, the country's capital, flanked by allies.
The Balkans:
This fascinating report featured in Balkan Insight explores the role of women in the media in the Western Balkans:
Newsrooms, and the communities built within them, are a microcosm of society, subject to unique internal norms and standards that create an equally unique working culture. However, all are subject to – potentially even more so than in other industries given the nature of news creation to disseminate and reproduce societal realities – a spectrum of political, economic and cultural factors, and prevailing patriarchal structures. "Contextual factors"1, including media ownership and transparency, political control of and proximity to editorial policies, labor laws and conditions, safety threats and culture of impunity, have a significant impact on newsrooms and, in turn, the positions and perspectives of the women journalists who work in them. In the same vein, patriarchal structures that create obstacles for the meaningful participation of women in society generally, also characterize women's participation and representation in newsrooms and media.

Looking at the Western Balkans, this report highlights the trends, opportunities and obstacles, identified through the sharing of experiences and perspectives by women working in the media, to paint a more nuanced and complex picture of women's role in newsrooms, news-making and regional societies more broadly. When it comes to women journalists, prevailing narratives have focused almost exclusively on online violence and women's vulnerability, rather than on the systems that make this type of abuse prevalent, normalized and even profitable. This narrative and lack of holistic approach have increasing significance given the reality of media as an information bottleneck for society. Similarly, when women, who are proven to create space for narratives that fall outside of mainstream dialogue, are marginalized, the negative implications for society are compounded.
---
I am excited to announce the dates of RepresentWomen's Solutions Summit for a 21st Century Democracy that will be held virtually from March 8-10—I hope you will join us!
Up next: