In every issue of Ms., we track research on our progress in the fight for equality, catalogue can't-miss quotes from feminist voices and keep tabs on the feminist movement's many milestones. We're Keeping Score online, too—in this biweekly roundup.
---
Lest We Forget
"Mississippi's abortion ban is no more than a blatant attempt to overturn Roe v. Wade, which has protected a person's constitutional right to an abortion for decades … Given the conservative makeup of the current Supreme Court, their decision to take up this case is incredibly concerning and has the potential to upend landmark abortion rights cases."

—Virginia Attorney General Mark R. Herring on Mississippi anti-abortion legislation that threatens to overturn Roe v. Wade if upheld by the Supreme Court.
"What we must start to focus on is not only to defend the DNA when it's created, but however, how about we start inspiring women in the culture, to let them understand and know how heroic they are, and how unbelievable that they are, that God put them in this moment, and they don't know that little baby inside them, may be the next president."

—Michigan gubernatorial candidate Garrett Soldano, who said women who are raped should not be able to have abortions because "God put them in this moment" and it would make them "heroic."
Garrett Soldano, a GOP candidate for governor in Michigan, says we must inspire women who have been raped to understand how heroic they are in giving birth and see that "God put them in this moment."

They don't know "that baby inside them may be the next president." pic.twitter.com/uVVqX2G54S

— Heartland Signal (@HeartlandSignal) January 31, 2022
"Two hundred years have passed since our independence was proclaimed. We're breaking chains and we're breaking traditions. … My government will not continue the maelstrom of looting that has condemned generations of young people to pay the debt they incurred behind their back."

—Xiomara Castro at her inauguration as the first female president of Honduras, which was attended by U.S. Vice President Kamala Harris.
"If I run and if I win, we will treat those people from January 6 fairly. We will treat them fairly. And if it requires pardons, we will give them pardons. Because they are being treated so unfairly."

—Former President Donald Trump at a Texas rally, threatening to run for office in 2024 and pardon the Jan. 6, 2021 rioters who invaded the U.S. capitol and posed a danger to elected officials and Capitol police.
"As the president has said, 'unions built the middle class [and] lift up workers, both union and nonunion.' At its core, it is our administration's belief that unions benefit all of us.

"Unions have fought for and helped win many aspects of our work lives many of us take for granted today, like the 40-hour work week and the weekend, as well as landmark programs like Medicare. …

"Whether it is fighting COVID-19; advancing social and economic equity for underserved communities; tackling climate change and building a modern, sustainable economy; or protecting our democracy, we need a vibrant labor movement."

—The White House Task Force on Worker Organizing and Empowerment's report to President Joe Biden, encouraging support and growth of labor unions in the U.S.
Milestones
+ After McDonald's failed to implement anti-discrimination and harassment training for its employees in January 2022 as promised, its workers organized to train themselves instead. In light of over 50 sexual harassment lawsuits, workers already advocating for a $15 per hour minimum wage partnered with Futures Without Violence to roll out anti-sexual violence training programs.
+ In light of controversy surrounding the success of transgender college swimmer Lia Thomas, USA Swimming will commission three medical experts to decide whether transgender women would possess an unfair advantage over cisgender female athletes.
The organization claims it "has and will continue to champion gender equity and the inclusivity of all cisgender and transgender women and their rights to participate in sport, while also fervently supporting competitive equity at elite levels of competition." However, the policy threatens to permanently stunt trans athletes' ability to participate in high-level athletics and competition.
+ 140 congressional Democrats—including chair of the House Armed Services Military Personnel Subcommittee and the Democratic Women's Caucus Rep. Jackie Speier (D-Calif.)—have requested that the Pentagon cover the full cost of contraception for military spouses, dependents and inactive members. Currently, these groups are subject to copays, unlike active service members.
"Military families that are often living on tight budgets shouldn't have to use their hard-earned money for contraceptive copays when civilians don't have to carry that financial burden," Speier said.
+ In the Senate, 46 Democrats signed a letter demanding that the Mexico City Policy—also known as the global gage rule—be permanently repealed. Currently, the rule prohibits any organizations receiving U.S. funding from putting the money towards abortion-related care, education or advocacy.
+ In response to calls for the military to improve its sexual abuse response, sexual harassment is now considered an offense under the Uniform Code of Military Justice, following an executive order by President Joe Biden. As part of the 2022 National Defense Authorization Act, the I Am Vanessa Guillén Act called on the administration to classify sexual harassment as an offense.
+ California signed the California Equal Pay Pledge, Gov. Gavin Newsom (D) announced on Thursday, Jan. 27. Over 60 major companies based in California have signed on, including Apple and Twitter.
According to the governor's office, "signatories agree to conduct an annual, company-wide gender pay analysis, review hiring and promotion procedures to reduce unconscious bias and structural barriers, and promote best practices to close the pay gap." Newsom simultaneously announced the creation of a chief equity officer position.
The State of California has signed @JenSiebelNewsom's Equal Pay Pledge! We are committed to ensuring our state government workforce practices reflect the highest standards of diversity, equity, and inclusion. https://t.co/E51cl6f0Iy

— Office of the Governor of California (@CAgovernor) January 27, 2022
+ More than a dozen historically Black colleges and universities saw bomb threats over the past week, resulting in cancelled classes and campus shutdowns. Although the threats were not confirmed by authorities, they sparked fear for HBCU communities—students and administration alike.
"The threats are despicable," Spelman College president Mary Schmidt Campbell wrote. "They are designed to make us feel fearful and vulnerable."
+ On Thursday, Feb. 3, South Dakota Governor Kristi Noem signed S.B. 46—which bans trans girls from playing on sports teams that align with their gender identity—into law.
"I suppose it's easier to vote for a bill against trans rights when the trans rights activist in your district moves away," said Elliot James Vogue, a transgender teen and activist whose state senator voted in favor of the bill after he moved to Iowa for college.
+ In the Florida Senate, Republicans refused to pass an exception to the state's 15-week abortion ban for victims of rape, incest and human trafficking.
"We have to give these survivors a little grace," said state Sen. Lauren Book (D-Fla.), who proposed the amendment, prior to the Senate Health Policy Committee's vote. "If a girl or a woman does not want to carry a pregnancy to term because she did not consent to being raped, none of the members of this committee should be able to deny her a safe a legal abortion because she needed more time."
How We're Doing
+ In an annual ranking of countries by levels of corruption, the U.S. fell to 27th, marking the first time it was not included in the 25 least corrupt nations.
+ A National Women's Law Center Report revealed 31 states allow for forced sterilization through legislation that is largely overlooked. In 17, forced sterilization is legal for disabled children, many of whom are under guardianship or conservatorship.
+ A poll by Higher Heights for America found that of Black women voters, 86 percent "support prioritizing nominating the first Black woman to the Supreme Court," as Biden pledged to do in light of Justice Stephen Breyer's announced retirement.
The person I nominate to replace Justice Breyer will be someone with extraordinary qualifications. Character, experience, and integrity.

And they will be the first Black woman nominated to the United States Supreme Court.

— President Biden (@POTUS) January 27, 2022
+ Evaluating the financial effects of prioritizing work over family, the Brookings Institution's Hamilton Project found that same-gender female households face an income gap of nearly $30,000 as compared with same-gender male couples.
+ According to the Human Rights Campaign Foundation, transgender and nonbinary people face one of the largest wage gaps of U.S. workers, with trans men and nonbinary people earning 70 cents for every dollar earned on average, and trans women earning just 60 cents on the dollar.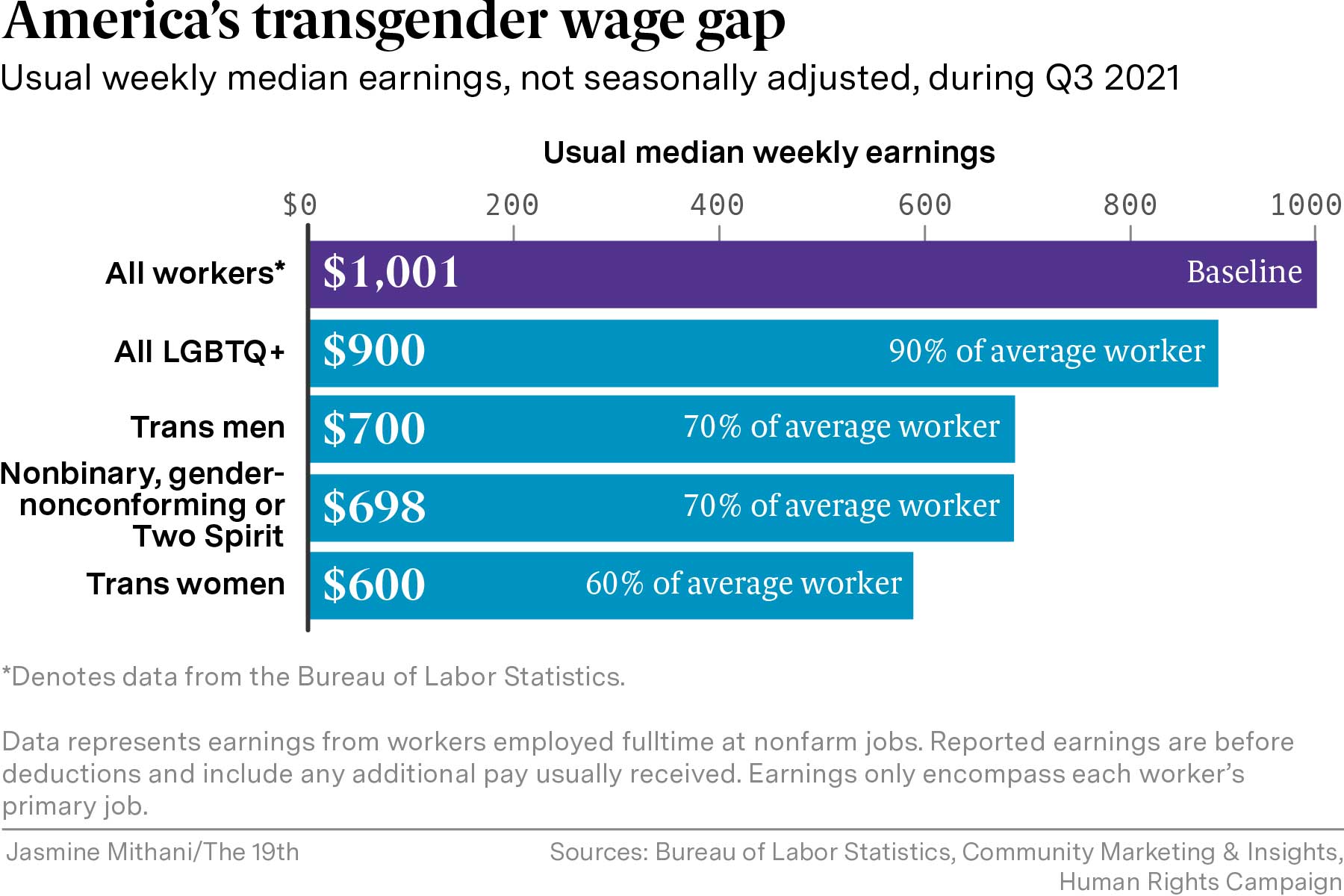 + "What we've demonstrated is that there's still a concrete ceiling," Eos Foundation president Andrea Silbert said of a study in partnership with the American Association of University Women. Their research revealed a stark gender gap amongst faculty and leadership at 130 elite universities in the U.S.
+ Research by Timothy Neff and Victor Pickard found that nations with highly funded, independent public media systems were more likely to sustain healthy democracies.
+ In a National Education Association poll conducted in January 2022, 55 percent of teacher respondents said they will stop teaching earlier than they initially intended. Ninety percent of members experienced serious burnout, and 80 percent said that as more teachers have been leaving due to the pandemic, their own workloads have become heavier to compensate.
BREAKING: 27 times more men than women joined the labor force in January.

Today's #JobsReport signals that men have recovered ALL of their losses since the start of this pandemic, while women now make up all labor force leavers since February 2020.

— National Women's Law Center (@nwlc) February 4, 2022
+ On Friday, Feb. 4, the National Women's Law Center published a report titled "27 Times More Men Than Women Joined the Labor Force in January 2022." The organization found that there are still 1.1 million women missing from the work force as compared with pre-pandemic levels.
Up next: