In every issue of Ms., we track research on our progress in the fight for equality, catalogue can't-miss quotes from feminist voices and keep tabs on the feminist movement's many milestones. We're Keeping Score online, too—in this biweekly roundup.
---
Lest We Forget
"While the Supreme Court may, because of the machinations of the one party, eviscerate Roe v. Wade, now is not the time to give up. If federal protections crumble, those available through state laws will be even more critical. Now is the time to organize on the grassroots level. We cannot go back to a time where your life, your health, and your future is determined by where you happen to live, and how much money you have. …

"The irony is that so many 'right to life' supporters, who express great concern for a child before it is born, renounce that concern once a child is born. Too often, access to free, quality education and healthcare, nutritious food and safe housing are all viewed as privileges for children who are already born by the self-same people who would fight to the death to preserve the 'right to life' of a small cluster of cells."

—Barbaralee Diamonstein-Spielvogel, author of the original "We Have Had Abortions" article published in Ms. in 1972.
"Anyone who can get pregnant must now face the reality that half of the country is in the hands of legislators who believe that your personhood and autonomy are conditional—who believe that, if you are impregnated by another person, under any circumstance, you have a legal and moral duty to undergo pregnancy, delivery, and, in all likelihood, two decades or more of caregiving, no matter the permanent and potentially devastating consequences for your body, your heart, your mind, your family, your ability to put food on the table, your plans, your aspirations, your life. …

"We are not going back to the pre-Roe era, and we should not want to go back to the era that succeeded it, which was less bitter than the present but was never good enough. We should demand more, and we will have to."

—A New Yorker op-ed by Jia Tolentino on the criminalization of pregnancy, which will make the post-Roe era far more dangerous for women than pre-Roe America.
"This is the first time in the history of the Supreme Court and this country that a fundamental constitutional right has been taken away. The Court is out of touch with the more than two-thirds of American people who support comprehensive reproductive health and rights.

"With the Supreme Court's decision, the war against women will intensify. Over the last four decades, every time the anti-abortion forces have won a battle, the extremists in their ranks have been emboldened, and violence against abortion providers has increased. We are once again in a state of emergency."

—Feminist Majority president Eleanor Smeal and executive director Kathy Spillar in a statement on the Supreme Court's "tragic and cruel" decision to overturn Roe v. Wade.
This is a health care crisis. pic.twitter.com/gbCUev3r3U

— Kamala Harris (@KamalaHarris) June 25, 2022
"Today's proposed Title IX rule changes by the Biden Administration have restored the integrity of this landmark civil rights law for our students so that they can learn, grow, and thrive in educational environments free of sexual harassment, sexual assault, and sex-based discrimination. The corrosive damage wrought by the DeVos Rule was already being felt by students silenced by draconian measures that revictimized them and made schools less safe. DeVos's policies were cruelly calculated to turn Title IX on its head, pushing universities and colleges that were already on the brink amid the pandemic to develop needlessly complex and burdensome policies. Today's proposed rule changes are a victory for students' civil rights, decency, reason, and justice, and are a fitting tribute as we celebrate the 50th anniversary of this venerable and monumental law."

—Statement by Rep. Jackie Speier (D-Calif.) on President Joe Biden's proposal to restore Title IX protections discarded by the Trump administration.
"I'm terrified I might be here forever. … On the 4th of July, our family normally honors the service of those who fought for our freedom, including my father who is a Vietnam War Veteran. It hurts thinking about how I usually celebrate this day because freedom means something completely different to me this year." 

—WNBA star Brittney Griner wrote a letter to President Joe Biden after being detained in Russia for nearly five months due to alleged possession of cannabis oil.
"Section 1 of the Kansas Constitution Bill of Rights provides: 'All men are possessed of equal and inalienable natural rights, among which are life, liberty, and the pursuit of happiness.' …

"We are now asked: Is this declaration of rights more than an idealized aspiration? And, if so, do the substantive rights include a woman's right to make decisions about her body, including the decision whether to continue her pregnancy? We answer these questions, 'Yes.'"

—A majority opinion by the Kansas Supreme Court, which deemed abortion rights fundamental after a 2015 law banning dilation and evacuation procedures was challenged.
Milestones
+ Ruling 6–3 in favor of taxpayer-funded religious education in Maine, the Supreme Court endangered religious freedom and the separation of church and state in the U.S..
"Today, the Court leads us to a place where separation of church and state becomes a constitutional violation. If a State cannot offer subsidies to its citizens without being required to fund religious exercise, any State that values its historic antiestablishment interests more than this Court does will have to curtail the support it offers to its citizens" wrote Justice Sonia Sotomayor in dissent.
+ The Supreme Court voted by the same margin to restrict the Environmental Protection Agency's (EPA) capacity to limit carbon output by power plants.
"The Court appoints itself—instead of Congress or the expert agency—the decisionmaker on climate policy. I cannot think of many things more frightening," Justice Elena Kagan wrote in dissent.
+ On Friday, July 8, President Biden signed an executive order directing the Department of Health and Human Services (HHS) to ensure access to reproductive rights by way of contraception, medication abortion, and patient privacy, regardless of state policy.
+ Testimonies before the House January 6 committee on Tuesday, June 28 revealed that former President Donald Trump was determined to visit the Capitol, despite warnings of violence and criminal activity. According to aide Cassidy Hutchinson, he even had a physical altercation with a Secret Service agent after being refused.
+ Texas Department of Public Safety director Steven C. McCraw deemed the actions of police officers at Robb Elementary School in Uvalde, Texas last month "an abject failure." He specifically noted that authorities waited to obtain a key before entering the room in which the attacker had trapped several children.
+ Fifty-one migrants died in San Antonio, Texas, after being abandoned in a human smuggler's truck. Sixteen people were initially hospitalized, including two who remain in critical condition and four children.
+ A policy voted on by the International Swimming Federation (FINA) excludes most transgender athletes from women's swimming competitions as of Monday, June 20, except for those who transition younger than age 12 or before reaching stage two of puberty on the Tanner Scale. The policy also excludes any athletes who used testosterone for over a year or during puberty. FINA claims they will maintain inclusivity by establishing open category events for swimmers that fit in neither the men's nor women's eligibility criteria.
+ The White House Task Force to Address Online Harassment and Abuse, launched by Vice President Kamala Harris, will focus its efforts on protecting women and the LGBTQ+ community online. The initiative will provide recommendations for Congress and federal, state and private entities within 180 days.
+ The Senate failed the pass the PUMP Act on Wednesday, June 22, a bill that would have protected breastfeeding workers as a formula shortage continues to burden parents nationwide.
+ After decades of Republican stonewalling to pass any firearm safety legislation, President Joe Biden signed the Bipartisan Safer Communities Act into law on Saturday, June 25. The policy will provide $750 million for state-level crisis intervention programs and close the "boyfriend loophole" which allowed domestic violence perpetrators to own guns if they weren't married to, living or sharing children with their victim.
+ Ghislaine Maxwell, who helped Jeffrey Epstein find and meet the girls and young women whom he sexually abused, was sentenced to 20 years in prison on Tuesday, June 28.
+ President Biden awarded his first Medals of Freedom to 17 recipients on Thursday, July 7, including Olympic athletes Simone Biles and Megan Rapinoe, making them the fifth and sixth female athlete recipients in history.
+ On July 1, six states implemented 10 anti-LGBTQ+ bills, banning discussion of gender and sexuality in schools in Florida and restricting athletic participation and bathroom usage for transgender students.
+ At 34 weeks pregnant, Texas resident Brandy Bottone applied the Supreme Court's decision to overturn Roe v. Wade as justification for her use of the two-person HOV lane. She claims that since Texas's penal code considers an unborn baby a human life, so should its traffic laws.
How We're Doing
+ This 4th of July, at least 15 people were killed due to gun violence in more than a dozen U.S. mass shootings. The Highland Park Fourth of July parade saw the most fatalities, with six dead and dozens more harmed.
+ Experts predict a 21 percent increase in pregnancy-related deaths if abortion were to be banned nationwide, as some lawmakers have called for. Among people of color, the increase would be closer to 33 percent.
"There are going to be more people who are forced to carry a pregnancy to term, which means that there's going to be a greater number of people who are at risk," University of Minnesota School of Public Health professor Rachel Hardeman said. "More pregnancy means more likelihood of deaths."
+ The percentage of U.S. adults identifying as LGBTQ+ has doubled since first measured by polled by Gallup in 2012. Over 7 percent of respondents said they are lesbian, gay, bisexual, transgender or another non-straight identity, including one-in-five Gen Z adults.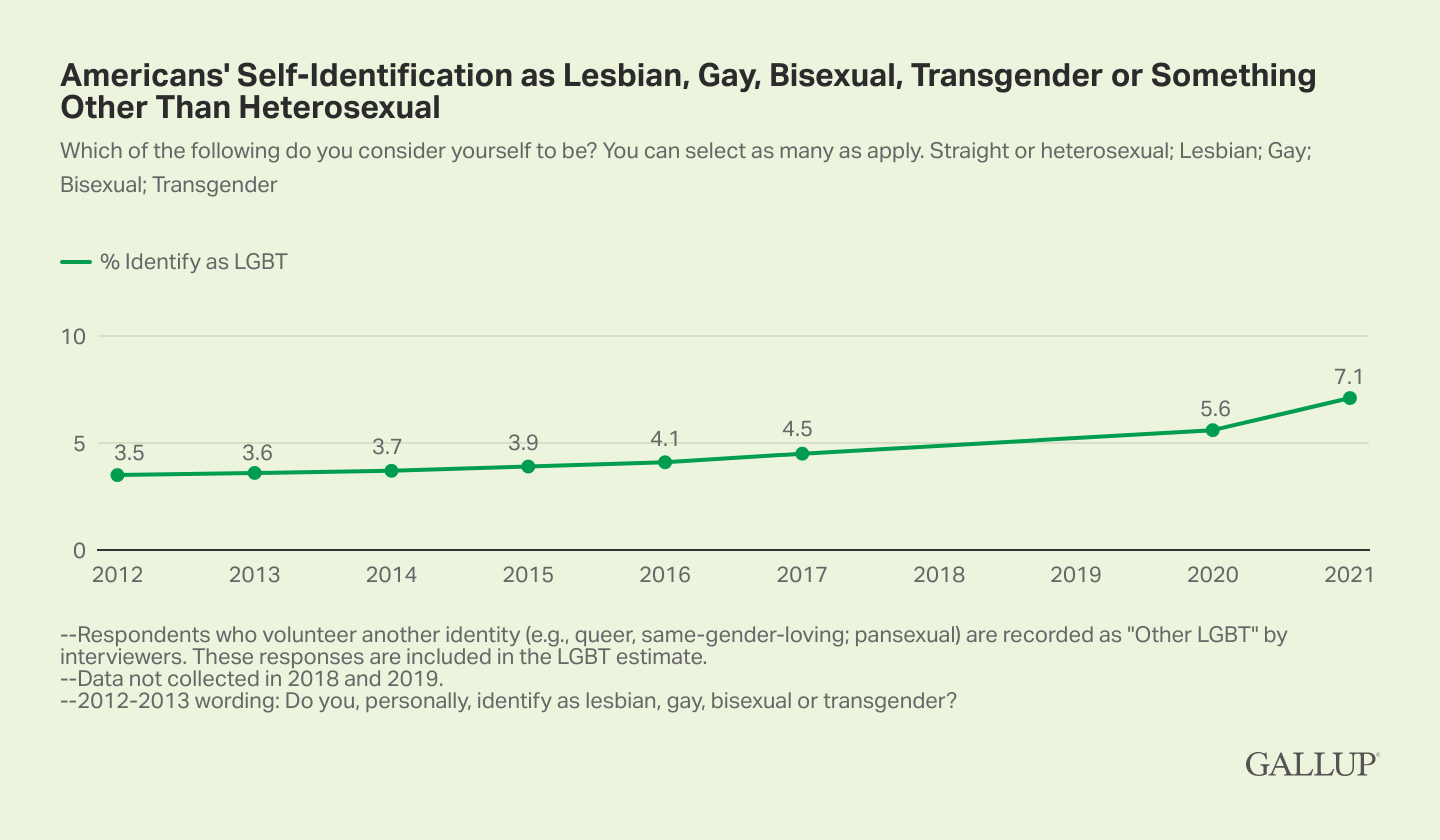 + Despite an uptick in adults identifying as LGBTQ+, 70 percent of the community reported experiencing increased discrimination since 2020. According to a report by GLAAD, LGBTQ people of color "are 91% more likely to also experience discrimination based on their race or ethnicity," and transgender and nonbinary people feel particularly unsafe in public.
"GLAAD's research findings are distressing, but not unforeseen. Legislation targeting LGBTQ people and youth, including censorship in classrooms, book bans, bans on evidence-based healthcare and access to school sports, has ballooned since 2020 to nearly 250 bills introduced in statehouses across the nation. Misinformation and false rhetoric from anti-LGBTQ lawmakers has real life consequences and gives a permission slip to discriminate against LGBTQ people and target them," GLAAD president and CEO Sarah Kate Ellis said. "Every LGBTQ person and ally must use this information to speak up and hold elected officials, news media, and social media platforms accountable to actions and rhetoric that make everyone less safe."
+ After Samuel Alito's draft decision overturning Roe v. Wade was leaked, just a quarter of U.S. adults reported confidence in the Supreme Court—a record low since Gallup began collecting data nearly half a century ago. Only 13 percent of Democrats said they have a "great deal" or "quite a lot" of confidence, as compared with 39 percent of Republicans.
+ A national survey by the Anti-Defamation League found online harassment to be a major threat to marginalized groups, affecting 66 percent of LGBTQ+ and 39 percent of AAPI respondents. Anti-Asian hate has dramatically risen since 2021, when 21 percent of Asian Americans reported experiencing harassment.
Fourteen percent of women reported having experienced online sexual harassment, as compared with only five percent of men.
+ Alena Analeigh became the youngest Black person accepted into medical school—the University of Alabama at Birmingham Heersink School of Medicine—at just 13 years old.
"I really want to leave my mark on the world. And lead a group of girls that know what they can do" Analeigh said. "I want to inspire the girls. I want them to see that there are no limits."
---
Sign and share Ms.'s relaunched "We Have Had Abortions" petition—whether you yourself have had an abortion, or simply stand in solidarity with those who have—to let the Supreme Court, Congress and the White House know: We will not give up the right to safe, legal, accessible abortion.
Up next: