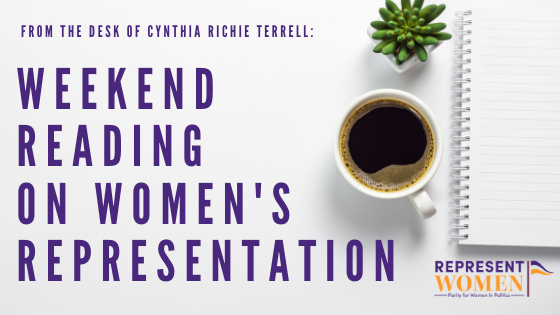 Weekend Reading on Women's Representation is a compilation of stories about women's representation in politics, on boards, in sports and entertainment, in judicial offices and in the private sector in the U.S. and around the world—with a little gardening and goodwill mixed in for refreshment!
---
As elections draw closer, I am excited to see not just the women who will come out victorious this year, but also where ranked-choice voting will win. Voter registration deadlines are approaching in many states, with some already having passed, so make sure you check when your state's deadline is and spread the word! 
Melinda French Gates Highlights Importance of Funding Women in Politics
As I mentioned last week and in our 2022 Gender Parity Index, progress towards gender balance in government is inconsistent. Women make up 51 percent of the voting age population in the U.S., but consist of only 27 percent of candidates in primaries for Senate seats, House seats, or gubernatorial races this election cycle.
In an interview with Fortune, Melinda French Gates, who recently committed $1 billion to Pivotal Ventures, an incubator with the aim of uplifting women, highlighted her goal: 
Pivotal… is "about how we can get women and people of color further along in the United States, faster. For me, this really comes down to looking at key areas: tech, finance, media, politics. You get more equity in those four industries and you will change all of society…"

"All over the world we've set up these social norms, these barriers that hold women back, sometimes that are designed to hold women back," French Gates said. "Women have to figure out ways to push through these structural barriers…"

"We have to get more funding for female politicians at all levels, and we have to look at the barriers that keep them from getting there," she told Fortune. "Until we get women represented in all seats of power, you're not going to have representation of society on the Supreme Court … because if you look at how Americans actually feel about Roe v. Wade, no matter which side of the aisle they're on, what was done doesn't represent what people believe."
Melinda French Gates shows that representation is not just of the utmost importance, but requires funding and commitment. Norms and traditions often open doors for men and allow them to find success in the 4 sectors of technology, finance, media, and politics, which leaves women at a disadvantage.
RepresentWomen's recent Why Women Won in 2021 New York City report highlights the importance of funding alongside other approaches such as candidate recruitment. 
---
Momentum for Ranked-Choice Voting
Our terrific ally Lauren Leader, co-founder and CEO of All in Together, wrote an op-ed for MSNBC on the urgent need to address gender inequality in the United States. She discusses the recent protests in Iran led by women and how their fight for gender equality is fundamental to democracy everywhere:
Simply put, vibrant democracy requires the full participation of women. They must have equal voice and power for democratic systems to thrive.

Our government may not black out social media like the Iranian regime has, but as the internet and social media have become the de-facto town square, free speech for women faces challenges here too. According to Pew Research Center, 61 percent of women say online harassment, including misogyny, bullying, blackmail and doxing, is a major problem. The White House recently established a taskforce to look at the issue, but legislation to create safety for women online is needed.
Lauren also calls for enacting ranked-choice voting as a solution to inequality:
The enfranchisement of women has been and continues to be vital to keeping our system functional now and well into the future. But the U.S. lags the world on this front too; the World Economic Forum ranks the United States 38th globally for the political parity of women… And while there has been a surge in women running for office, they remain less than 30 percent of Congress and most State Houses. There are solutions – ranked choice voting, for one, has been a boon to women candidates and prioritizing support for recruiting, training, and funding women candidates makes a difference…

It's time we strengthen our own democracy by prioritizing gender equality everywhere it lags. We must enact reforms like ranked choice voting that allow more women to run and win elected office.
---
Ranked-Choice Voting Works in Alaska
Ranked-choice voting and nonpartisan open seat primaries have been successful in Alaska! Lesil McGuire's article from Prescott eNews explains this success and addresses some important myths that have been circulating since the special election:
[RCV and nonpartisan open primaries are] working well for many reasons. In Alaska, we have a long tradition of non-party registration. While there are about two times more registered Republicans than Democrats, more than 60 percent of voters are not registered in one of the two major parties. By having nonpartisan, open primaries where voters pick one candidate, and the top four vote-getters advance to the general primaries, we ensure we have the best candidates regardless of party. 

To secure one of the top four spots, it means candidates may choose a campaign strategy that appeals to the most voters rather than a narrower base. The same is true for the general election. Using RCV voting, candidates in the general election may have their best chance of victory by appealing to the broadest constituency… 

Using RCV, Alaska voters are guaranteed that the winner of federal elections will have received 50 percent of the vote, a situation that often did not occur before RCV.

Now for some myth-busting. First, RCV is no more prone to voter error than traditional one-candidate voting. And yes, it can take up to 15-days to count the votes in Alaska elections. This is not due to RCV. This reality existed before RCV was adopted. Alaska has several unique characteristics among the 50 states that led our legislature and election office to adopt laws and rules that provide for a 15-day vote counting period.
---
New Report on Strategies That Helped Increase Women's Representation in Egypt
Our Gender Equality in Egypt 2011-2022 report was released earlier this week! Research Associate Fatma Tawfik created this incredible report that provides a detailed review of the strategies that have significantly helped increase women's representation in Egypt's government. She also wrote a great blog on Egyptian Women's Reality: 2011-2022 that provides an overview of the research. Here is a quick glimpse into the report:
The constitutional amendments impacted positively in the House of Representatives elections in 2020, where the percentage of women's representation increased to 28% of the total number of parliament seats, whether through individual elections, lists or presidential appointments. As a result, the 2020 House of Representatives became the highest percentage of women's representation in the history of parliamentary life in Egypt.

Egypt has made remarkable gains in women's representation in all branches of government as well as in women's safety, and their political and economic rights. Egypt was able to advance on the gender gap index issued annually by the World Economic Forum from 135th in 2018 to 125th in 2021. It has also managed to advance in the Inter-Parliamentary Union (IPU) Ranking of women's parliamentary seats to 76th in 2022.

---
Happy International Day of the Girl!
This photo will remain in history#MahsaAmini #مهسا_امینی #OpIran #ایران #iran pic.twitter.com/E1jFAOF6xQ

— Fedit (@Fredit50401773) September 25, 2022
Our wonderful ally Akshi Chawla shared in her #WomenLead blog the global survey of what girls and young women thought about politics. This survey the results of this survey reminded me why we need to reform our systems:
The findings were released last week in a report titled "Equal Power Now", in the run-up to the International Day of the Girl Child, which is celebrated each year on Oct. 11.

"Our research, which represents the views of thousands of girls and young women across countries with different cultures, income levels and civic contexts, has found that overwhelmingly, girls are political. But they are still being denied the right to shape the decisions which impact their lives most.

"Despite this, we're seeing girls and young women redefining what it means to be political, persevering against the odds to take part in formal political processes and also championing diverse youth movements, grassroots activism and collective action.

"Politicians and other power holders must stand with girls as they change the face of politics," said Stephen Omollo, Plan International's chief executive. 
---
Here is a lovely painting of the astounding Greta Thunberg made by RepresentWomen's resident artist Melanie Humble in honor of International Day of the Girl.
---
Happy belated birthday to Eleanor Roosevelt, an inspirational woman whom I admire greatly! Did you know that not a single airport in the United States is named after a woman? Add your name to our campaign to rename Dulles Airport the Eleanor Roosevelt Airport (ERA)!
U.S. democracy is at a dangerous inflection point—from the demise of abortion rights, to a lack of pay equity and parental leave, to skyrocketing maternal mortality, and attacks on trans health. Left unchecked, these crises will lead to wider gaps in political participation and representation. For 50 years, Ms. has been forging feminist journalism—reporting, rebelling and truth-telling from the front-lines, championing the Equal Rights Amendment, and centering the stories of those most impacted. With all that's at stake for equality, we are redoubling our commitment for the next 50 years. In turn, we need your help, Support Ms. today with a donation—any amount that is meaningful to you. For as little as $5 each month, you'll receive the print magazine along with our e-newsletters, action alerts, and invitations to Ms. Studios events and podcasts. We are grateful for your loyalty and ferocity.
Up next: