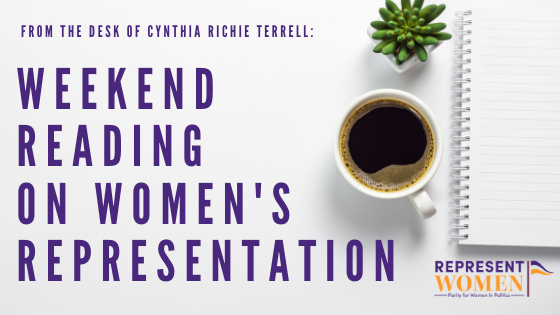 Weekend Reading on Women's Representation is a compilation of stories about women's representation in politics, on boards, in sports and entertainment, in judicial offices and in the private sector in the U.S. and around the world—with a little gardening and goodwill mixed in for refreshment!
---
I am just back from a quick trip to NYC where RepresentWomen staffer Steph Scaglia and I attended the Relaunch Soiree for New Majority NYC. The incredible event was hosted by New Majority executive director Jessica Haller, and her terrific team, and was attended by almost every woman elected official in NYC one could dream of meeting! We had the chance to chat about ranked-choice voting and women's representation with Ruth Messinger (former council member and Manhattan borough president), Tish James (New York attorney general), Shahana Hanif (the first Muslim woman elected to the NYC Council), and many other very impressive young women leaders.
As you may remember, the RepresentWomen team worked closely with Jessica Haller to understand the key ingredients that led to the first-ever majority-women city council in New York. Through both quantitative and qualitative research we discovered that the formula for success included both the recruitment & training of women candidates and having policies in place like term limits, public financing, and ranked choice voting that created more opportunities for women to run and win. See more on this below. 
---
Quote of the Week: 'We Are Meeting Because We Are Prime Ministers'
Watch NZ Prime Minister Jacinda Ardern pick apart this reporter's question during a joint press conference with Finnish PM Sanna Marin. He asked the pair 'are you two meeting because you're similar in age and got a lot of common stuff there?'
Read more: https://t.co/eTtJEqJoFZ pic.twitter.com/UBEZs1kzvF

— SBS News (@SBSNews) November 30, 2022
Prime ministers from New Zealand and Finland (who are both women) held a joint press conference this week and were asked if they were meeting because they were the same age. Women's Agenda editor in chief Tarla Lambert writes about Jacinda Ardern's snappy reply to the inane question:
New Zealand Prime Minister Jacinda Ardern made a male reporter shrink into a ball of shame after he queried her meeting with Finnish Prime Minister, Sanna Marin this week, asking whether the two were united because they're "similar in age".

Ardern's face quickly furrowed into a look of incredulity as the reporter ploughed further into his hole of no return, stuttering about the two leaders' "common stuff".

"My first question is, I wonder whether or not anyone ever asked Barack Obama and John Key if they met because they were of similar age", Ardern said.

"We, of course, have a higher proportion of men in politics—it's reality—because two women meet, it is not simply because of their gender," Ardern said.

"We're meeting because we are prime ministers," Marin added.
---
Ukrainian Women Continue to Be Vital to the Country's Resistance to Russia
A new school in Ukraine is training women — both civilians as well as those serving in Ukrainian security forces — how to fly drones to help the country's resistance to Russian forces.https://t.co/IagWVhPs6q

— NPR (@NPR) November 26, 2022
Throughout the Russian invasion of Ukraine, women have continuously redefined their role in society, defying paternalistic cultural norms and stereotypes. Women did not have equal military status in Ukraine until 2018, and were not permitted to hold certain jobs.
Now, a new school is training women to fly drones—a key component to Ukraine's resistance against Russian forces.
Women are motivated, and want to fight.
Ukraine has many women in the military but they rarely work as drone pilots, according to the school's administrators.

The school, which started in Kyiv in August and is privately run, aims to change that.

"We all realize that this is a war of the 21st century," Tatyana Kuznetsova, one of the school's first enrollees, tells NPR during a class in Kyiv's giant Pyrohiv Park.

School founder Valeriy Borovyk says students can take their new skills into the Ukrainian military, if they want. "I was very surprised that 80% of our students want to go to [the front line]," he says.

Ukrainian women have actually been serving in combat almost a century longer than American women. There were female Ukrainian officers in World War I, in the Austro-Hungarian army, and in World War II, in the Red Army.
RepresentWomen's 2021 Post-Soviet Brief explores Ukrainian women's representation in government, as well as how women have historically been limited in the military and in government by gender norms. 
---
Ranked-Choice Voting Growing in Popularity 
This year's midterm elections has made at least one thing abundantly clear: Ranked-choice voting is on the rise across the nation. At a time where polarization is high and people are becoming increasingly frustrated with our political system, RCV has proven to be a popular solution. Our terrific colleague David Daley highlights just how successful RCV was this election:
In 2016, only 10 cities used RCV. Now that number is well over 50, ranging from small towns in Utah and liberal cities like San Francisco and Minneapolis. In 2020, several states used RCV to select presidential candidates in primaries, and in recent years Virginia Republicans have used RCV to select their nominees for governor and candidates for the U.S. House. In recent years, Maine and Alaska adopted RCV, and last week, Nevada took a step toward joining them after voters passed a constitutional amendment instituting RCV in key state and national elections (a second vote in 2024 will be needed to seal the win).

Seattle and Portland, Oregon, were among the seven new cities and local counties that adopted RCV on Election Day this year while Arlington, Virginia voted to adopt it by statute. More than 15 million people now live in cities, counties and states that regularly use ranked choice elections. One consistent theme: younger people across the political spectrum are most ready for RCV…

Last summer, RCV helped produce the most diverse city council in New York's history: for the first time ever, a majority (31) of the body's 51 members were women. The council, long a province of old-guard political elites, is now powered by new voices.
Rad more about this incredible milestone for women in NYC in our Why Women Won in 2021 Report!
---
First Female Referee for Men's World Cup Game
History is set to be made on Thursday! 🤩

There will be an all-female refereeing trio taking charge for the first time at a men's #FIFAWorldCup in the match between Costa Rica and Germany.

Referee Stéphanie Frappart will be joined by assistants Neuza Back and Karen Diaz. 👏 pic.twitter.com/fgHfh2DICK

— FIFA World Cup (@FIFAWorldCup) November 30, 2022
On Thursday, the Germany v. Costa Rica World Cup match will not only have its first female referee, but also the first entirely female officiating team for the men's World Cup. Women's representation and leadership matter in every aspect of life and sports, where women have been historically excluded, are no exception. 
Frappart, who will be the first woman to referee a men's World Cup match, will be joined by the assistant referees Neuza Back of Brazil and Mexico's Karen Díaz Medina for the crucial Group E game on Thursday, Fifa announced on Tuesday.

The 38-year-old will mark another milestone in her career at the Al Bayt Stadium, having refereed a men's World Cup qualifier in March, a men's Champions League game in 2020, the 2019 Uefa Super Cup final and matches in Ligue 1…

Before the tournament began, Frappart said she hoped the inclusion of female referees in Qatar would "make things happen" on a broader level. "It's a strong sign from Fifa and the authorities to have women referees in that country," she said.
---
Chilean First Lady Irina Karamanos Reimagines Her Role
In Akshi Chawla's wonderful #WomenLead blog, she spotlighted feminist Irina Karamanos who is married to Chilean President Gabriel Boric. She took on the role of First Lady in hopes to reform it, and while her attempts have not all been successful, she is asking important questions nonetheless.
Karamanos had indicated even before Boric's election that she might not take up the role of a first lady if he won.

"It is a position that deserves to be rethought because we are in different times, a lot of things have changed and you have to rethink power and the relationships that emerge from it," she had said at the time explaining her disinterest in the position…

In recent months, Karamanos has been working to move the work of running six foundations that oversee programmes such as a children's day care network, a science museum and a women's development organisationto the relevant ministries, The Washington Post has reported.

"The partner of the president is chosen to be a partner…not to be a president of foundations," Karamanos explained to a board as she made a case for detaching their foundation – a science museum – from the first lady's office, an explanation that helped her get the board's approval. 
---
Invest in Women's Equality
RepresentWomen's groundbreaking work would not be possible without the contributions of our wonderful supporters. Donate today to help us continue fighting for equality and a healthier democracy!
---
It was Shirley Chisholm's birthday this week. We are still inspired by her sage advice to bring our own chairs to the table. Some of us are even working to build new tables!
---
Up next:
U.S. democracy is at a dangerous inflection point—from the demise of abortion rights, to a lack of pay equity and parental leave, to skyrocketing maternal mortality, and attacks on trans health. Left unchecked, these crises will lead to wider gaps in political participation and representation. For 50 years, Ms. has been forging feminist journalism—reporting, rebelling and truth-telling from the front-lines, championing the Equal Rights Amendment, and centering the stories of those most impacted. With all that's at stake for equality, we are redoubling our commitment for the next 50 years. In turn, we need your help, Support Ms. today with a donation—any amount that is meaningful to you. For as little as $5 each month, you'll receive the print magazine along with our e-newsletters, action alerts, and invitations to Ms. Studios events and podcasts. We are grateful for your loyalty and ferocity.