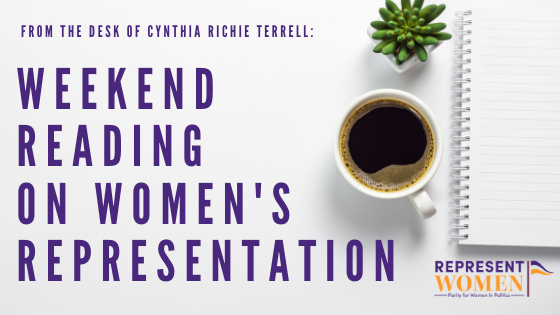 Weekend Reading on Women's Representation is a compilation of stories about women's representation in politics, on boards, in sports and entertainment, in judicial offices and in the private sector in the U.S. and around the world—with a little gardening and goodwill mixed in for refreshment!
---
A few members of the RepresentWomen team had the incredible opportunity to attend the Beyond Winner Take All Conference hosted by the Ash Center at the Harvard Kennedy School in Cambridge this week! We had such thoughtful conversations about proportional representation and the research around various electoral reforms to help us build a healthier democracy. Huge thanks to the FairVote team for helping to organize this gathering of advocates, scholars, and reformers!
In honor of Black History Month, this week's Weekend Reading focuses on celebrating Black women leaders.
---
The State of Women's Representation
This Tuesday, President Joe Biden gave his second State of the Union address. Members of Congress, the cabinet, and guests all gathered to listen to the president address issues in the nation. While the 118th is the most diverse Congress thus far, it is still not representative of the entire nation. Women are still underrepresented in most, if not all, forms of government, as this article in The Hill points out.
It's a slow yet unsteady progress toward creating a Congress more reflective of America. But it also spotlights a still stark gap on the House Republican side, where the new majority remains made up mostly of white, male lawmakers, which does not fully capture the changing demographics of the country.

"Diversity matters," said Debbie Walsh, director of the Center for Women and Politics at Rutgers University.

"Every person who serves in office brings with them a set of life experiences that shape their policy priorities, that shape how they see the world," Walsh said. "It's not that the experiences of white men don't matter, but they don't matter—they shouldn't matter—more than everybody else."
---
Meet Rep. Pressley's State of the Union Guest: Jaqueline Sanches
An immigrant and early-childhood educator, Jaqueline Sanches was alongside Rep. Ayanna Pressley (D-MA) at the State of the Union. 
Affordable childcare is of utmost importance for equalizing the playing field for women in all fields. Childcare in Massachusetts is some of the most expensive in the country, and often this burden is predominantly borne by women of color.
This interesting blog showcases early childhood leaders to celebrate Black history month.
In recent years, Congressional guests to the State of the Union have become an opportunity for lawmakers to highlight an issue, or even indirectly signal a message to the president.

Pressley said Monday that Jaqueline is emblematic of the widely felt and double-sided childcare crisis, where wages for workers are low but costs are among the highest in the nation.

"It's important that we lift up and recognize extraordinary early educators like Jaqueline are doing that brain building work" with small children, Pressley said. "Here we have a situation where early educators who have felt an inner calling to do this work, to pour into our babies, to set them on the best path [and] they can't take care of their own babies. And that it is unjust, unacceptable, and completely solvable."
---
Remembering Shirley Chisholm
Regarding women's representation, Shirley Chisholm is most certainly someone to recognize. Shirley Chisholm was the first Black woman to be elected into Congress and the first Black woman to seek the presidential nomination.
While many of her teachers encouraged her to pursue a career in politics, Chisholm recognized she was at a severe disadvantage as a Black woman. She referred to this as "double handicapped." Regardless, she persevered and made history. From the National Women's History Museum:
In 1964, Chisholm ran for and became the second African American in the New York State Legislature. After court-ordered redistricting created a new, heavily Democratic, district in her neighborhood, in 1968 Chisholm sought—and won—a seat in Congress. There, "Fighting Shirley" introduced more than 50 pieces of legislation and championed racial and gender equality, the plight of the poor, and ending the Vietnam War. She was a co-founder of the National Women's Political Caucus in 1971, and in 1977 became the first Black woman and second woman ever to serve on the powerful House Rules Committee.
---
The Legacy of Lani Guinier
This week, as RepresentWomen discusses electoral reform at the Beyond Winner Take All conference, we reflect on the legacy of Lani Guinier, whose work was foundational to the movement. She was the first woman of color to secure a tenured professorship at Harvard Law School, and throughout her storied career remained a tireless advocate for voting rights and proportional representation.
As she once said, "In a racially divided society, majority rule is not a reliable instrument of democracy." We know this applies to a patriarchal society as well.
Lani Guinier's writing and work grounds our commitment to building a stronger, more representative democracy. We believe, as she believed, that casting off the winner take all system—and way of thinking—is an essential step toward a democracy where everyone has a seat at the table, and a powerful seat at that. 
You can read more about Guinier's work in The Fulcrum (written by a former RepresentWomen staffer) and in her Washington Post obituary. 
---
Stacey Abrams Reveals She "Will Likely Run Again"
This article from Fox 5 Atlanta discusses how Stacey Abrams is considering her next move in politics, and the lessons learned from her experience running for governor of Georgia. She states her commitment to making sure everyone has a voice and that her motivation to run is both ethical and revolutionary. She also mentions how the opportunity to vote was denied for many groups and how we can continue to make sure every voice is heard. (Check out this Represent Women article on how voting rules pose barriers for women.)
"Part of my job, I run for office, yes, but my first responsibility is to make sure anyone who wants to vote can, who is eligible. I want you to vote for me when you get in there, but protecting democracy is not about a person…

It's about the ideal. Our democracy is this collective hallucination we have where we say we're going to work together to help each other and if anyone blinks and comes out of it like the Matrix, it starts to fall apart…

That's why it's so vital that regardless of who you vote for, your voice matters because your silence is also permission," Abrams said.

She added, "We have to remember the reason that voting was denied to so many for so long, women, people of color, young people, non-property owners, every time we advance access to the vote, we're advancing access to society."
That's all for this week. Enjoy your weekend!
P.S. — Have you registered for our Democracy Solutions Summit yet? There's still time! You'll hear directly from the experts on fact-based solutions that will save our democracy. You can register for this three-day virtual event here.
Read more: