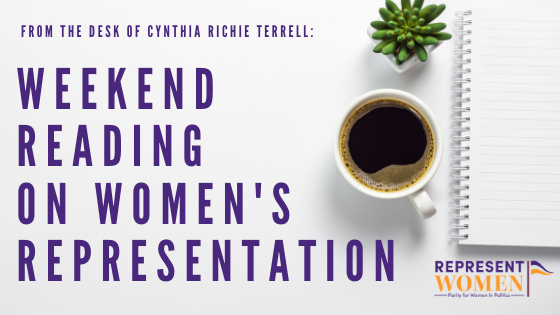 Weekend Reading on Women's Representation is a compilation of stories about women's representation in politics, on boards, in sports and entertainment, in judicial offices and in the private sector in the U.S. and around the world—with a little gardening and goodwill mixed in for refreshment!
---
As Black History Month comes to a close, RepresentWomen continues to highlight the state of Black women's representation in the U.S. and worldwide.
Meet Virginia's First Black Woman Member of Congress, Jennifer McClellan
Thank you VA-04! I'm ready to get to work for you. pic.twitter.com/XG6xcGOuky

— Jennifer McClellan (@JennMcClellanVA) February 22, 2023
On Tuesday, Jennifer McClellan won the special election to fill the open seat previously held by Rep. Aston Donald McEachin, who died in November. She will be the first Black woman to represent Virginia in the House of Representatives. This means women's representation in Congress has now gone up to 28.7 percent (thanks to the Center for American Women in Politics for the update following the election).
We're excited that Representative-elect McClellan shares our passion for voting rights, which some of our women experts will be discussing on Day One of our Democracy Solutions Summit. 
Zoë Richards wrote a great piece on Representative-elect McClellan's story and experiences for NBC News: 
"It still blows my mind that we're having firsts in 2023," McClellan said in an interview. "My ancestors fought really hard to have a seat at that table, and now not only will I have a seat at the table in Congress; I'll be able to bring that policymaking table into communities that never really had a voice before…"

McClellan will join 29 other Black women in the House. There are no Black women in the Senate. "I feel a responsibility to ensure I'm not the last," she said…

She said her commitment to voting rights stems in part from the challenges family members faced in their efforts to vote. Voting officials tried to stop her great-grandfather from voting in Alabama because of his efforts as a Black community leader and teacher, she said. She also said her grandfather was forced to take a literacy test before he could vote.

"I brought those experiences and those stories with me into the public policy arena," McClellan said, adding that her family's struggle enabled her to "be a voice that for a long time was missing in the halls of the General Assembly."
---
The Generational Shift in Politics Is an Open Door for Women
The Citrus County Chronicle discusses how an older generation is stepping back from their political positions, allowing more opportunities for younger women to lead their generation and run for office. Check out how RepresentWomen removes barriers and informs viewers how to support these progressions and societal changes. As Sara Guillermo, CEO of IGNITE, writes:
"Their moves follow Nancy Pelosi stepping down as the Democratic leader in the House of Representatives. On both sides of the aisle, a changing of the guard is happening for women in American politics…

Women are too often told to wait before they run for office, but men are advised to go for it. That's a barrier to gender parity. I often hear from women who have won elections that they were told to be more patient. They tell me they're glad they refused to listen to such negativity. The rhetoric that sets expectations about who can and should run for office is often aimed at women. We don't set limitations like that on young men…

As we reimagine politics in America, we also need to look beyond gender diversity. Of the 100 U.S. senators, for example, 88 are White. Each has a chief of staff and a team of public servants. There is only one Black chief of staff. That's appalling. There is no other word for it."
---
Jessica Watkins on Her Career as an Astronaut 
"Putting anything in a tortilla made it at least 10% more delicious."

Our #Crew4 astronauts are serving up the details on their favorite meals in orbit—including @Astro_Watkins's space-famous "Wattyburgers": https://t.co/kFca96uWAQ pic.twitter.com/OGTI0xLJIT

— NASA (@NASA) October 20, 2022
An article from CNN features the story of the first Black woman in NASA's astronaut corps. Jessica Watkins, a self-proclaimed "rock nerd," is one of just five Black women who have been to space. Her unique experience is an excellent example of why women should be represented in all fields.
As a young girl, Watkins dreamed of traveling to space and even wrote a poem, called "My Little Astronaut," describing that ambition in grade school, her mother told CNN affiliate WESH-TV in Orlando ahead of her daughter's mission.

That desire became a reality as a result of the zeal she brought to her academic pursuits, Watkins said in a January interview. And Watkins hopes she can instill that enthusiasm for knowledge into young people who aspire to be like her.

"One of the most important things to be able to share is just the importance of dreaming big," Watkins said, "and really being able to find your path — find something that you're passionate about…"

Diverse representation remains an issue in the space program, but opportunities for women and people of color are growing. Watkins' astronaut class, selected by NASA in 2017, is one of the most diverse in the space agency's history, and she hopes she can leave the door open for others.
---
Barbara Lee Enters California Senate Race
Congresswoman Barbara Lee (D-Calif.), best known for being the sole vote against authorizing military action after 9/11, became the third Democrat and second woman to enter the race for Senator Dianne Feinstein's soon-to-be-vacated seat. 
Ms. Lee, 76, the highest-ranking Black woman appointed to Democratic leadership in the House, unveiled her Senate bid in a video that highlighted the racism she fought against in her youth and the struggles she faced as a single mother and a survivor of domestic violence.

"No one is rolling out the welcome mat, especially for someone like me," Ms. Lee said in the video. "I was the girl they didn't allow in."
Lee has been serving since 1998 and is in her 12th term in Congress. According to RepresentWomen's 2022 Gender Parity Index, California ranks 12th and earned a B grade with a score of 35.9. California was the first state to have been represented by two women simultaneously in the U.S. Senate.
---
The Struggle for Women's Representation in Nigeria
Increasing women's representation in Nigeria has been a frustratingly slow battle. Although women make up half of Nigeria's population, only a handful of women have been in the top positions in government since Nigeria's independence in 1960. That means around 105 million women in Nigeria are not represented.
According to research from the Inter-Parliamentary Union, Nigeria ranks 182nd in women's representation in the lower house. The barriers women face to running for office are common worldwide. In the 2022 elections, the only woman candidate stepped down, dashing hopes for an increase in gender balance.
"I have decided to step aside for the lifesaver who is Asiwaju Bola Ahmed Tinubu," the lawyer and entrepreneur who had previously told journalists that "the touch of a woman is lacking in the governance of this country", said on national television.

For some Nigerians, it was a step back for gender equality in the country's politics but also a timely reminder of the many hurdles women face in attaining leadership roles in this vast West African country…

"Over the years, I've witnessed a rise in the number of women serving in elected and appointed political positions, the world over. But that is not the case in Nigeria," Leena Hoffmann, associate fellow, Africa Programme at London-based think tank Chatham House. "Cultural and societal beliefs have contributed to the poor representation of women in Nigerian politics, especially in Northern Nigeria."
---
Will We See a Woman President in Our Lifetime?
And finally, will a woman ever win the White House? Executive Director Cynthia and Communications Director Laura tell us why it's past time. 
---
For our readers based in Washington, D.C., I wanted to let you know about this event happening next week from our terrific ally Erin Vilardi from Vote Run Lead! They are hosting a #VRLHQ debut special event in our nation's capital, just in time to kick off Women's History Month. Register to attend on March 1.
Up next:
U.S. democracy is at a dangerous inflection point—from the demise of abortion rights, to a lack of pay equity and parental leave, to skyrocketing maternal mortality, and attacks on trans health. Left unchecked, these crises will lead to wider gaps in political participation and representation. For 50 years, Ms. has been forging feminist journalism—reporting, rebelling and truth-telling from the front-lines, championing the Equal Rights Amendment, and centering the stories of those most impacted. With all that's at stake for equality, we are redoubling our commitment for the next 50 years. In turn, we need your help, Support Ms. today with a donation—any amount that is meaningful to you. For as little as $5 each month, you'll receive the print magazine along with our e-newsletters, action alerts, and invitations to Ms. Studios events and podcasts. We are grateful for your loyalty and ferocity.