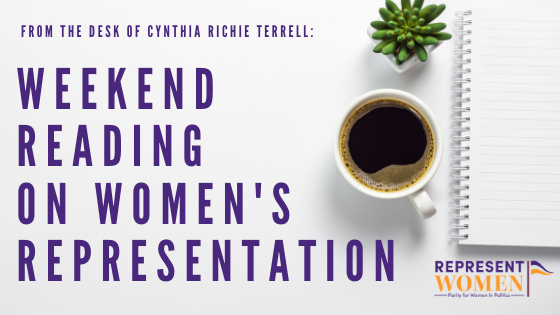 Weekend Reading on Women's Representation is a compilation of stories about women's representation in politics, on boards, in sports and entertainment, in judicial offices and in the private sector in the U.S. and around the world—with a little gardening and goodwill mixed in for refreshment!
---
Women's History Month is drawing to a close. Thank you to everyone who celebrated with us, especially those who attended our 2023 Democracy Solutions Summit. If you missed it, you can watch the recording on our website.
This week, the RepresentWomen team looks at systemic barriers and solutions to increasing women's representation around the globe.
Women in the Judiciary: A Closer Look at Lackawanna County, Pa.
Having adequate women's representation in the judiciary is vital to building a better nation. Women's presence in these circles can lead to different cases being heard, such as those relating to gender discrimination and sexual harassment. In recent years, women's representation in the judiciary has increased but has yet to be at parity.
Check out RepresentWomen's page on Women's Representation in the Judiciary to learn more.
Women have made great strides in the judiciary as well. As of last year, women accounted for 33% of county court judges in the United States. In Pennsylvania, 37% of county court judges were women.

That trend is even more pronounced in Lackawanna County and Luzerne counties. In Lackawanna, four of nine seats are held by women, with one vacancy that will be decided in November general election. In Luzerne County, five of 10 judges are female.

University of Scranton political science professor Jean Wahl Harris, Ph.D., ties the increased presence of women in the judiciary to both a cultural shift and the fact more women are seeking office.

"There are some institutional changes that have made a difference for women," Harris said. "It used to be that women waited until they had kids and the family grew up before they got involved in politics. We're seeing women getting involved at younger ages. … There's more sharing of household work between husband and wife and so they can have the time to run."
---
Ranked-Choice Voting Could Be Coming to Connecticut
As seen in RepresentWomen's Gender Parity Index, Connecticut has some room for improvement in terms of gender balance. RCV could be a key component to help raise the state's score. A great article written by John L. Williams in the CT Post reported on the RCV bill that was introduced in Connecticut.
No one electoral reform will provide a cure, but a simple reform called ranked-choice voting, or RCV, can reduce partisanship, empower voters, increase voter choice, engagement and satisfaction, and make our votes count in a way that they currently do not.

A bipartisan bill was recently introduced by two state senators, a Republican and a Democrat, that would enable RCV by the political parties in their presidential preference primaries, by municipalities that "opt in" to the use of RCV in certain municipal races, and by all voters in congressional elections…

Early last week, Gov. Ned Lamont stated his support for the bipartisan bill (S.B. 389), saying it is "exciting to see ranked-choice-voting implemented around the country" and he praised S.B. 389 as a "well thought out plan for implementation of ranked-choice-voting…"

Extensive data drawn from actual RCV elections show that voters find it easy and intuitive, literally as easy as 1, 2, 3.
---
New Gender Parity Law on the Docket in Spain
Este martes romperemos para siempre el techo de cristal.

Ni un paso atrás en la defensa de la igualdad. Con valentía y determinación.

Paridad por ley. pic.twitter.com/GY85HYQLhv

— Pedro Sánchez (@sanchezcastejon) March 4, 2023
This month, the Spanish government approved a draft of a gender equality law that would require 40 percent of cabinet members to be women. The law has not been passed yet, but if it does, it could lead to more effective decision-making.
Gender parity is crucial to having a representative and fair democracy. Check out our 2020 report titled "Achieving Gender Parity: Systems Strategies Around the World."
Announcing the draft legislation, Spanish Prime Minister Pedro Sánchez said: "If women represent half of society, then half of the political power and half of the economic power must belong to women."

When it was approved by the cabinet – currently consisting of more than 60% women – on 7 March, it made Spain one of the first countries in Europe to set legally binding quotas on gender representation.

Political parties must also field equal numbers of male and female candidates under the draft law, which still needs to be voted on by Spain's parliament.

The law also extends to businesses, requiring women to make up 40% of the management of any publicly listed company with more than 250 workers and an annual turnover of 50 million euros ($53 million), Reuters reports.
---
McKinsey Report Warns of Decline in Women's Leadership in the Corporate World
A new study from McKinsey on women's advancement in the corporate sector reveals some significant backsliding in the proportion of women in leadership positions. Some of this regression can be attributed to the COVID-19 pandemic, which had a greater impact on women's careers compared to men's. The report's findings reveal a nuanced picture of how women's corporate roles have shifted over the past several years. 
The technology sector, in particular, has seen a significant decline in the proportion of women since 2018. And this lack of parity affects not only women but all of society because it means some of our best and brightest minds are being shut out of rooms where decisions are made. The report also notes the critical role that women leaders play in ensuring the career satisfaction and advancement of their women colleagues.
Talent acquisition and retention represent the biggest HR risk management challenges of the future. A new way of thinking about work and human resource development within organizations will have to emerge, and this will have to foster a better alignment of the demands of family, work, and personal life.

Women are ambitious and want to progress within their organization and society. It is therefore our collective responsibility to readjust our ways of doing things and to remain on the lookout for our unconscious biases, while remaining rigorous and clear on the corporate objectives we are trying to achieve. This objective is certainly ambitious, but it will be the pillar of greater equity in the world of work for both women and men.
---
Time to Expand the U.S. House?
Finally, we were thrilled to see this piece from our friend Danielle Allen from Partners in Democracy in The Washington Post this week. We agree that expansion of the House is something that must be seriously considered in order to create more opportunities for women to run and win. 
Up next:
U.S. democracy is at a dangerous inflection point—from the demise of abortion rights, to a lack of pay equity and parental leave, to skyrocketing maternal mortality, and attacks on trans health. Left unchecked, these crises will lead to wider gaps in political participation and representation. For 50 years, Ms. has been forging feminist journalism—reporting, rebelling and truth-telling from the front-lines, championing the Equal Rights Amendment, and centering the stories of those most impacted. With all that's at stake for equality, we are redoubling our commitment for the next 50 years. In turn, we need your help, Support Ms. today with a donation—any amount that is meaningful to you. For as little as $5 each month, you'll receive the print magazine along with our e-newsletters, action alerts, and invitations to Ms. Studios events and podcasts. We are grateful for your loyalty and ferocity.