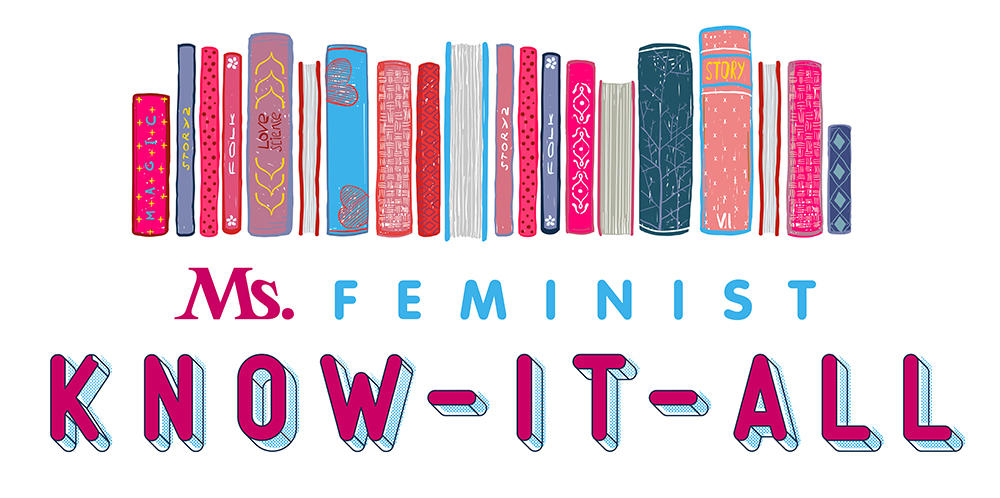 The Feminist Know-It-All: You know her. You can't stand her. Good thing she's not here! Instead, this column by gender and women's studies librarian Karla Strand will amplify stories of the creation, access, use and preservation of knowledge by women and girls around the world; share innovative projects and initiatives that focus on information, literacies, libraries and more; and, of course, talk about all of the books.
---
Each month, I provide Ms. readers with a list of new books being published by writers from historically underrepresented groups. The aims of these lists are threefold: I want to do my part in the disruption of what has been the acceptable "norm" in the book world for far too long—white, cis, hetersexual, male; I want to amplify amazing works by writers who are women, Black, Indigenous, Latinx, APIA, international, LGBIA+, TGNC, queer, disabled, fat, immigrant, Muslim, neurodivergent, sex-positive or of other historically marginalized identities—you know, the rest of us; and I want to challenge and encourage you all to buy, borrow and read them!

This month, I've picked 22 titles. Which will you read?

by Melissa Rivero (@melissa_rivero). Ecco. 273 pages. Out April 2.

After the Falcóns flee Peru, they struggle to make it as undocumented immigrants in New York City. In this timely debut novel, Melissa Rivero tackles themes of family, immigration and opportunity in vivid and accessible prose.

by Dina Gilio-Whitaker (@DinaGWhit). Beacon Press. 222 pages. Out April 2.

Part history and part call to action, the latest book by Dina Gilio-Whitaker (Colville Confederated Tribes) provides a necessary perspective on environmental justice and land security. Gilio-Whitaker urges adoption of an "Indigenized environmental justice" framework to learn from the long and powerful history of Indigenous (women's) activism in fighting modern-day environmental destruction. #RequiredReading.

by Grace Talusan (@gracet09). Restless Books. 259 pages. Out April 2.

Grace Talusan's The Body Papers is a candid memoir of finding meaning and hope in the midst of the challenges of immigration, racism, depression, abuse and cancer. As a fan of memoirs, I look forward to spending time with this Restless Books Prize for New Immigrant Writing.

by Linda LeGarde Grover. University Of Minnesota Press. 224 pages. Out April 2.

In her latest book, Linda LeGarde Grover (Bois Forte Band of the Minnesota Chippewa Tribe) revisits the Minnesota reservation of her previous novels and focuses on the younger generation of Ojibwe girls. This coming of age story brings together themes of missing women, family and community, complicated histories and collective wisdoms.

by Cherríe Moraga (@CherrieMoraga). Farrar, Straus and Giroux. 243 pages. Out April 2.

Cherríe Moraga, co-founder of Kitchen Table Women of Color Press and editor of the groundbreaking This Bridge Called My Back, gifts us with this powerful and intimate memoir. Moraga recounts her own queer coming of age alongside her mother's inspiring journey to present a profound reflection on relationships, pain and identity. She also challenges readers to face the often-untold truth of the traumatic history of the Mexican American diaspora.
EDITOR'S NOTE: Native Country of the Heart is also the first-ever Ms. Book Club selection! Click here to read the full review from the Spring 2019 issue of Ms. Click here to RSVP for the live book club event happening this month in Los Angeles—featuring cocktails and a conversation with Cherríe herself!
by Kali Fajardo-Anstine (@KaliMaFaja). One World. 215 pages. Out April 2.

This brave and dynamic debut collection of stories by Kali Fajardo-Anstine centers Indigenous Latinx women and explores relationships, heritage and power. These stories provide representation and perspective of women in the West whose voices have been missing from contemporary fiction.

by Dani McClain (@drmcclain). Bold Type Books. 244 pages. Out April 2.

Journalist Dani McClain has written an important handbook for Black mothers raising children in this time of fear and hostility. This book has received rave reviews from authors, activists and scholars such as adrienne maree brown, Patrisse Khan-Cullors and Kiese Laymon. This will be an inspirational and invaluable resource for many readers.

by Tshaukuesh Elizabeth Penashue. University of Manitoba Press. 288 pages. Out April 5.

Tshaukuesh Elizabeth Penashue is a Labrador Innu cultural and environmental activist who has fought for Innu land and people for decades. This book began as Penashue's diary and became a one-of-a-kind documentation of the culture, history and politics of her people.

By Sarah Blake (@blakesarah). Riverhead Books. 304 pages. Out April 9.

Readers are loving the growing trend of traditional stories and fables being retold from more subversive perspectives. In her debut novel, Sarah Blake centers Naamah, the wife of Noah, in a queer, feminist reclamation of the Great Flood story from the Bible. If you liked Circe by Madeline Miller or Gingerbread by Helen Oyeyemi, Naamah should be next on your list.

edited by Micah Rajunov and A. Scott Duane. Columbia University Press. 274 pages. Out April 9.

There are more books by transgender, gender nonconforming and nonbinary individuals being published now than ever before — and we should all be here for it. This edited anthology includes candid memoirs by thirty authors explaining how the gender binary has affected their lives. When you pick this one up, also grab Sissy: A Coming-of-Gender Story by Jacob Tobia and Gender Failure by Rae Spoon and Ivan Coyote for more transgressive goodness.

by Duanwad Pimwana (Author), Mui Poopoksakul (Translator). The Feminist Press at CUNY. 216 pages. Out April 16.

While Duanwad Pimwana is an important literary figure in Thailand, you may not be familiar with her work. But here's your chance to get to know her. In this collection of thirteen short stories, Pimwana chooses to center everyday, working class Thai people. As ordinary as her characters may be, through them Pimwana presents a reflective look into the nuances of gender, family and class across modern Thailand.

by Pola Oloixarac (Author), Roy Kesey (Translator). Soho Press. 216 pages. Out April 16.

Argentinian writer Pola Oloixarac's latest speculative novel covers miles and centuries to explore the effects that science and technology has — and continues to have — upon civilization. Oloixarac masterfully plays on the terrifying possibilities of surveillance, knowledge production and consent in this beguiling near-future dystopian satire.

edited by Nwando Achebe and Claire Robertson. University of Wisconsin Press. 352 pages. Out April 16.

This collection of essays, edited by Dr. Nwando Achebe (professor at Michigan State University and daughter of Chinua Achebe) and Dr. Claire Robertson (professor emerita at The Ohio State University), includes an impressive list of contributors. Topics focus on the myriad of ways women across Africa wield power, act as agents of change and the challenges they face while doing so.

by Andrea Gibson (@andreagibson) and Megan Falley (@megan_falley). Chronicle Books LLC. 130 pages. Out April 16.

Until last year, I had a real love-hate relationship with poetry. As a youth, I enjoyed Emily Dickinson, Allen Ginsberg and Lawrence Ferlinghetti but after years of being taught that "good" poetry was poetry of the existing (mostly white cishet male) canon, any excitement faded. All that changed last year when I read Black Queer Hoe by Britteney Black Rose Kapri. I will tell you all about it in my next column, in honor of National Poetry Month. Until then, your assignment is to read this little "how-to" because even I like Andrea Gibson's and Megan Falley's poetry, so of course their book is going to slay.

by Anika Fajardo (@anikawriter). University of Minnesota Press. 192 pages. Out April 16.

This compelling memoir examines family relationships, memory and identity. Anika Fajardo was born in Colombia but after moving to Minnesota with her mother, she lost contact with her father. The book details her journey back to Colombia to search for her father where what she uncovers is unexpected and transformative.

by Angie Kim (@AngieKimWriter). Sarah Crichton Books. 368 pages. Out April 16.

In her fresh take on the murder mystery, Angie Kim relies on her own experiences as a lawyer and immigrant to inform the gripping courtroom drama and the centering of her Korean main characters. Kim ties together threads of the immigrant experience, parenthood and questions of the limits of science in this robust debut.

by Kara Keeling (@ProfessorKK). NYU Press. 288 pages. Out April 16.

During this renaissance of Afrofuturist publishing, Kara Keeling's latest book inspires endless possibilities of queer, Black freedoms in the present, future and post-future. Connecting dynamic imaginations with the capitalist present, Keeling provides readers with a new framework to explore possibilities for liberatory spaces, technologies and arts.

by Andrea Lawlor (@anderlawlor). Vintage. 352 pages. Out April 23.

Set in 1993, Andrea Lawlor's debut has all the makings of a book my fellow Gen Xers and I will love. Riot grrrl, gay bars, zine-making—it's got it all. But with the added bonus of shapeshifting! Words describing the book have included: hot, deep, tight, restless, sexy, cool, rousing, groundbreaking and magic; oh, this book is gonna be good.

By Inés Estrada (@inechi_). Fantagraphics Books. 250 pages. Out April 30.

In my (admittedly non-expert) opinion, graphic novels and comics don't get near enough play in mainstream book talk, especially when written and illustrated by women or queer folx. A cartoonist from Mexico City, Inés Estrada has penned this speculative fiction about technology and humanity set in a terrifyingly close near-future. This is a creatively written and uniquely drawn book that graphic novel fans will really get down with.

by Kelsey Wroten (@jukeboxcomix). Uncivilized Books. 272 pages. Out April 30.

This is another two graphic novels that I'm super excited about in April. In centering a struggling queer artist and writer, Cannonball offers important representation and visibility to readers. Kelsey Wroten's debut is a fierce coming of age story and the illustrations are beautiful.

by Jennifer Nansubuga Makumbi. Transit Books. 291 pages. Out April 30.

The author of the critically-acclaimed debut novel, Kintu, is back with this intriguing collection of short stories centering the lives of Ugandans in Britain. Through a variety of stories and vivid characters, Jennifer Nansubuga Makumbi grapples with ideas of home, distance, inclusion and exclusion. Let's Tell This Story Properly will be a match for readers who enjoyed short story collections such as Nafissa Thompson-Spires' Heads of the Colored People or Alexia Arthurs' How to Love a Jamaican.

by Balli Kaur Jaswal (@balli_jaswal). William Morrow. 320 pages. Out April 30.

This is the much-anticipated second book from Balli Kaur Jaswal, whose debut, Erotic Stories for Punjabi Widows, received high acclaim. This story centers three UK-born Punjabi sisters who begrudgingly set out to grant their mother's dying wish: for her daughters to carry out her final rites together in India. This is a heartfelt and engaging story of family, forgiveness and heritage.