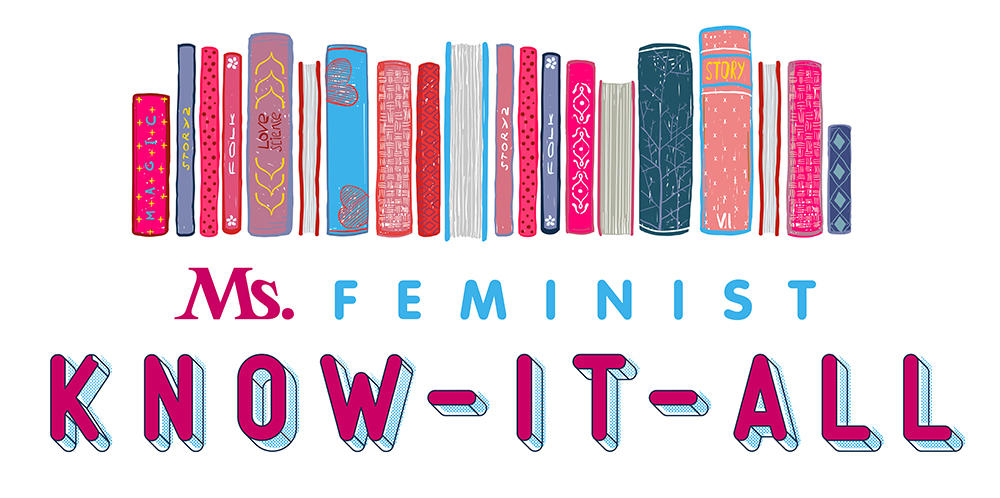 The Feminist Know-It-All: You know her. You can't stand her. Good thing she's not here! Instead, this column by gender and women's studies librarian Karla Strand will amplify stories of the creation, access, use and preservation of knowledge by women and girls around the world; share innovative projects and initiatives that focus on information, literacies, libraries and more; and, of course, talk about all of the books.
---
Each month, I provide Ms. readers with a list of new books being published by writers from historically underrepresented groups. The aims of these lists are threefold: I want to do my part in the disruption of what has been the acceptable "norm" in the book world for far too long—white, cis, hetersexual, male; I want to amplify amazing works by writers who are women, Black, Indigenous, Latinx, APIA, international, LGBIA+, TGNC, queer, disabled, fat, immigrant, Muslim, neurodivergent, sex-positive or of other historically marginalized identities—you know, the rest of us; and I want to challenge and encourage you all to buy, borrow and read them! 
While shorter than usual, this month's list includes amazing reads to curl up with on a snowy night or to gift to friends and family for the holidays. Each of the 10 books bring unique reflections and engaging perspectives to your December reading list.
by Tomi Adeyemi (@tomi_adeyemi). Henry Holt and Co. 416 pages. Out December 3.
I know many of us have been eagerly awaiting the follow-up to Tomi Adeyemi's hugely popular Children of Blood and Bone. The second in the Legacy of Orisha trilogy, Children of Virtue and Vengeance continues the story of Zélie and Amari after they've reinstated magic to the maji. But did they go too far? This electrifying sequel will prove to be a worthy successor to the first for its readers. It is imbued with Adeyemi's robust character-building, imaginative myth-making and magical world-creation.
by Nalini Singh (@NaliniSingh). Berkley. 352 pages. Out Dec. 3.
Bestselling author Nalini Singh is back, and this time, she's writing crime. Incorporating her signature unique characters and steamy romance, A Madness of Sunshine is full of twists and turns you won't see coming. If you're snowed in for the night, this thriller is sure to keep your pulse racing and your cheeks flushed. Good thing you need to keep the lights on to read it!
by Toni Morrison. Knopf. 144 pages. Out December 3.
Just in time for the holidays, this beautiful volume pays tribute to the incomparable Toni Morrison. Quotes from Morrison grace its pages and combine to form an illuminating narrative of her life and work. At once an exemplary introduction and a noble summary, the book imparts reflections, encouragement and, indeed, wisdom to its readers. This is one to gift to others—but be sure to keep one for yourself as well.
by Barbara Boswell (@BobbiBoswell). Catalyst Press. 240 pages. Out Dec. 3.
The apartheid history of South Africa is one of pain, oppression and violence. Grace's upbringing on the outskirts of Cape Town was the same. Post-apartheid, as an adult, Grace works hard to ensure her own life, and that of her family, is safe and happy. When someone from her childhood makes a shocking return, Grace must face a painful past and make grueling decisions about how to move forward.
by L.H. Stallings. University of California Press. 208 pages. Out December 10.
We're seeing a resurgence of writing, both fiction and nonfiction, that centers the U.S. South. In this visionary volume, Georgetown University professor LaMonda Horton-Stallings explores the South through a queer Black feminist lens. The result is a manifesta that will have you rethinking, resisting and remaking what you thought you knew about Southern life and sexualites.
by Ariella Rotramel. University of Georgia Press. 164 pages. Out December 13.
In this volume, Ariella Rotramel presents research on two New York–based organizations, the pan-Asian/American CAAAV: Organizing Asian Communities (formerly the Committee Against Anti- Asian Violence) and South Bronx's Mothers on the Move/ Madres en Movimiento (MOM). The accessible work centers women of color and confronts the debate over identity politics by illustrating how identity can lead to solutions to injustice instead of fomenting division.
Edited by Noelle Chaddock and Beth Hinderliter. Lexington Books. 176 pages. Out December 15.
This collection of essays challenges historic white, heteronormative, elite feminism that can often be exclusive, oppressive, and performative in practice. In order to move beyond this, white feminists need to be willing to do the work to deconstruct our own privilege in order to build the inclusive, queer, TGNC, WOC-centered feminism that we need moving forward. Unfortunately, the book is a bit expensive at present, but it's this month's #RequiredReading, so request it from your local library.
by Catherine Z. Sameh. University of Washington Press. 200 pages. Out December 25.
UC-Irvine associate professor Catherine Sameh examines the growth and challenges of Iranian women's rights in Iran and throughout the world. By centering activist work, Sameh presents initiatives and projects that strive to disrupt existing colonial, patriarchal narratives and ways of life to replace them with feminist solidarities and practices with the goal of increasing women's rights for Iranian women.
by Alenda Y. Chang (@gamegrower). University of Minnesota Press. 320 pages. Out December 31.
Saving the environment is a feminist issue–and some feminists play video games! In this intriguing volume, UC-Santa Barbara assistant professor of film and media studies Alenda Chang uniquely connects the two by examining the role video games can, and should, play in addressing our planet's growing environmental crisis.
by Kiley Reid (@kileyreid). G.P. Putnam's Sons. 320 pages. Out December 31.
Not one for late-night New Year's Eve festivities? Curl up with a glass of wine and this page-turner instead! In it, Emira is a twenty-something who babysits former New Yorker Alix's children while searching for her true calling. The story that unfolds is one of complicated relationships, unresolved pain, racial tensions, and family bonds. Readers who enjoy coming-of-age stories that tackle serious issues with a touch of wit will find this a worthy alternative to a wild night out.