FOR IMMEDIATE RELEASE | MARCH 22, 2023
In the Spring 2023 issue of Ms., on newsstands April 7, contributing editor Carrie Baker examines how the legal reasoning used in Dobbs could erode women's rights beyond abortion. The majority opinion in Dobbs argued that the "14th Amendment protects only rights explicitly mentioned in the Constitution, those intended to be protected by the framers of the 14th Amendment in 1868, or rights 'deeply rooted in the Nation's history and traditions'." Using this approach the Court overturned Roe v Wade, and as Baker explains "…if applied to the 14th Amendment equal protection clause itself, could overturn or erode constitutional sex equality law …" for women altogether.
And constitutional law experts interviewed by Baker agree. "A Court that doesn't feel like abiding by 50 years of precedent, doesn't need to respect precedents … against sex-based discrimination," said Melissa Murray, a New York University law professor. "That is ominous."
Ms. examines how feminists can make lasting advancements on women's rights.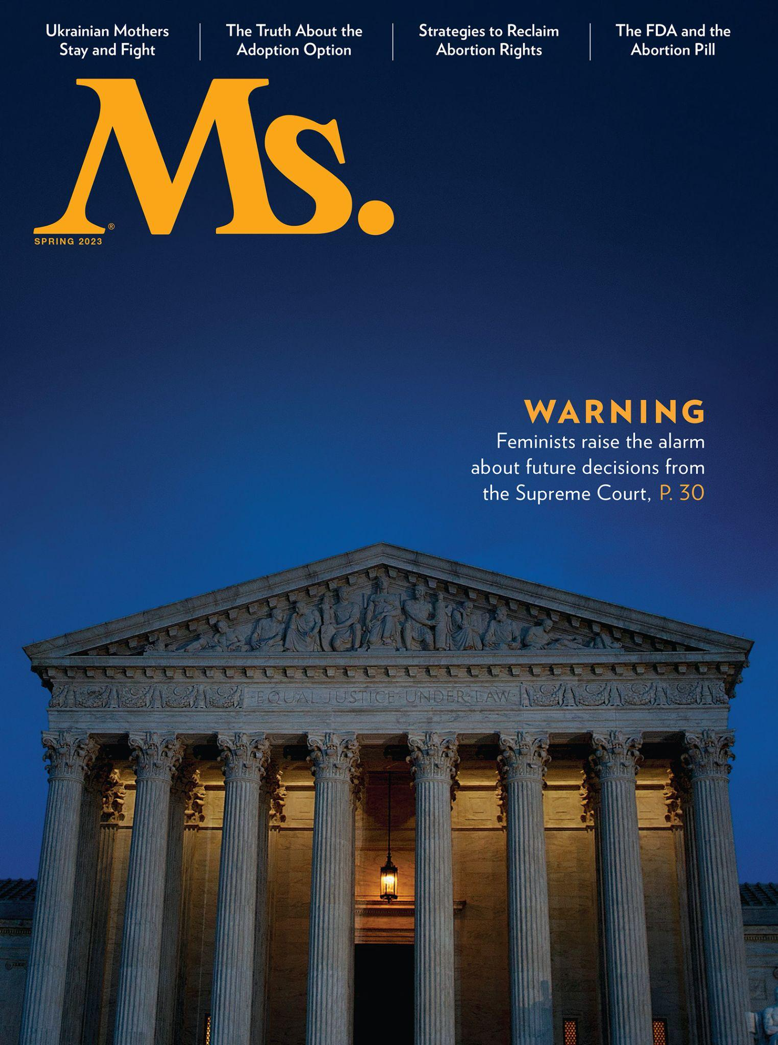 Also in the Spring issue:
An investigation into the adoption option. During oral arguments in Dobbs, Justice Amy Coney Barrett contended that abortion is no longer needed because "safe-haven laws take care of that problem." And Justice Samuel Alito wrote in a footnote that "a woman who puts her newborn up for adoption today has little reason to fear that the baby will not find a suitable home." Ms.'s reporter fact-checked Coney Barrett's and Alito's suggestions, which one interviewee called "horrific," brutal" and "cruel."
A look inside the state-by-state battle for abortion rights. After six state-level wins in the 2022 midterms, reproductive-rights advocates see a path to victory: letting the voters decide. "So many people have felt despair in reaction to the fall of Roe and feel like there are so few things we can do to protect our own rights and the rights of people we love around the country," Kelly Hall, executive director of the Fairness Project, told Ms. "Ballot measures offer a really important work-around when our elected leaders are acting so far outside of our strong policy opinions as citizens."
A report from the front lines in Ukraine's Donetsk and Kharkiv Oblasts. Ms. contributor Katie Livingstone introduces readers to a few tough mothers who have rejected the narrative that casts women with children as victims of war. They are part of the growing number of Ukrainian women who are fighting to bring about the war's end. "If I go home, the war won't stop, and [my son's] not safe," explained one of the mothers, now a sergeant in the Ukrainian Armed Forces.
Members of the press are welcome to a comp'ed subscription, for both print and online editions of the magazine. Please email press@msmagazine.com with the subject line "Comp subscription request" to receive one.
---
About Ms. Magazine: Co-founded by Gloria Steinem in 1972 and published by the Feminist Majority Foundation since 2001, Ms. magazine has been a trusted, popular source for feminist news and information in print and online for 50 years. Ms.'s time-honored traditions of an emphasis on in-depth investigative reporting and feminist political analysis have never been more relevant, bringing each new generation of writers and readers together to share news, analysis, research and strategies for fighting back and moving forward, and for shaping a better future.