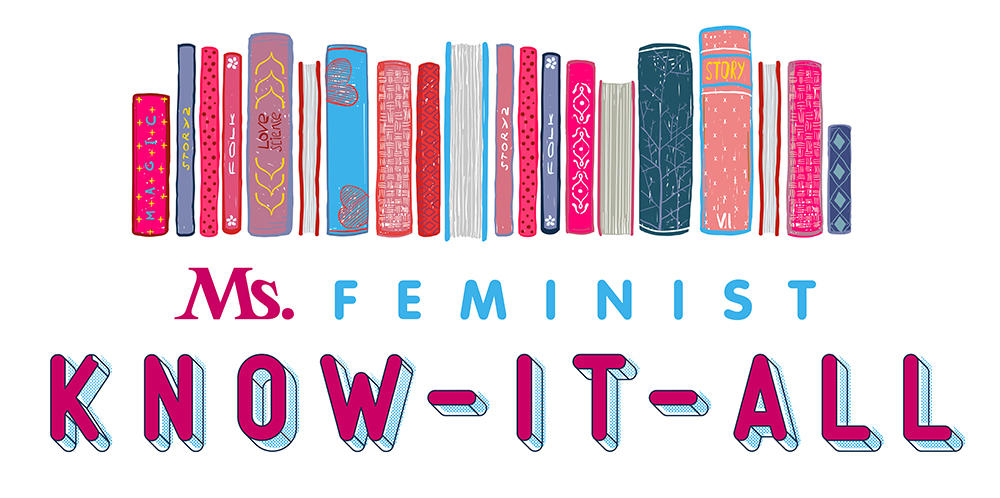 The Feminist Know-It-All: You know her. You can't stand her. Good thing she's not here! Instead, this column by gender and women's studies librarian Karla Strand will amplify stories of the creation, access, use and preservation of knowledge by women and girls around the world; share innovative projects and initiatives that focus on information, literacies, libraries and more; and, of course, talk about all of the books.
---
Each month, I provide Ms. readers with a list of new books being published by writers from historically underrepresented groups. I want to do my part in the disruption of what has been the acceptable "norm" in the book world for far too long—white, cis, hetersexual, male. I want to amplify amazing works by writers who are women, Black, Indigenous, Latinx, APIA, international, LGBIA+, TGNC, queer, disabled, fat, immigrant, Muslim, neurodivergent, sex-positive or of other historically marginalized identities—you know, the rest of us. And I want to challenge and encourage you all to buy, borrow and read them!
This month, I've picked 20 titles. (Click on any title to buy it ASAP!) Which will you read?

Edited by Andrea Jenkins (@annapoetic), John Medeiros and Lisa Marie Brimmer. Minnesota Historical Society Press. 288 pages. Out May 1.

Poet, writer and performance artist Andrea Jenkins is the first African American openly transgender woman elected to public office in the U.S. She's also edited this edition of Queer Voices, the longest running LGBTQ+ writing/reading series in the country. Since 1993, Queer Voices has featured widely diverse Minnesota-based LGBTQ+ writers on topics of identity, acceptance, freedom and more. This collection includes 44 writers of poetry, fiction and non-fiction.

By Sofie Hagen (@SofieHagen). 4th Estate. 336 pages. Out May 2.

Comedian Sofie Hagen has gifted us with this memoir-manifesto based on the ideals of the fat liberation movement that began in the sixties. Weaving her own stories with fat liberation history and body positivity skepticism, Hagen empowers us to understand fatphobia as the product and tool of capitalism that it is. The result is a hilarious, candid, relatable book full of reflections and tips to spark resistance to capitalism and anti-fatness. Hagen is currently on tour in the UK.

By Vivek Shraya (@vivekshraya) and Ness Lee (Illustrator). Arsenal Pulp Press. 60 pages. Out May 7.

Vivek Shraya regularly and bravely challenges traditional notions of gender in her writing, music and art. Doing so, unfortunately, also makes her a target for haters and trolls. Her latest book, Death Threat, recounts—in graphic novel form—the death threats she began receiving in 2017. With artist Ness Lee, the book quite literally illustrates the dangers of life on social media and models powerful and creative ways to challenge hate with humor and candor. When ordering Death Threat, be sure to treat yourself to a copy of Shraya's I'm Afraid of Men as well; together, they will guide your resistance to the gender-oppressive patriarchy.
By Joanne Ramos. Random House. 326 pages. Out May 7.

There's already been some buzz surrounding Joanne Ramos' The Farm, but I couldn't resist including it on my list as well. In her debut novel, Ramos presents the reader with a world where fertility commands a high price, in more ways than one. This is a story that inspires critical examination of notions of motherhood, immigration and capitalism in gripping prose.

By Sabrina Strings. NYU Press. 304 pages. Out May 7.

With this book, Sabrina Strings presents readers with an historical examination of fatness, scientific racism and the stigma and fears surrounding fat Black women. Strings hypothesizes that fatphobia doesn't stem from health concerns, as so often argued, but instead from a desire to control and oppress by gender, race and class.

By Tanya Boteju. Simon Pulse. 384 pages. Out May 7.

Tanya Boteju's debut novel is part of what makes YA lit so important and entertaining. Queerness abounds in Kings, Queens, and In-Betweens which has been described as "Judy Blume meets RuPaul's Drag Race." How could I resist? Funny and brave, this timely book will be everything to young readers who need it the most. Luckily we'll be hearing more from Tanya Boteju soon, as she's already got a second novel, Bruised, lined up for publication in 2021.

Written by Mariko Tamaki (@marikotamaki) and illustrated by Rosemary Valero-O'Connell (@hirosemaryhello). First Second. 304 pages. Out May 7.

Sometimes you just need a good graphic novel—and this one's especially for you, queer YA romance lovers! With a cast of diverse and relatable characters, Laura Dean Keeps Breaking Up with Me gives us sharp dialogue with dynamic illustrations. Tamaki and Valero-O'Connell make a synergistic pair and appeal to universal experiences of first loves and traumatic break-ups, but also the unique, complex aspects of (romantic and platonic) relationships among girls.

By Ani DiFranco (@anidifranco). Viking. 320 pages. Out May 7.

With the exceptions of Bikini Kill and Patti Smith, I can't think of anyone who populated the mixed tapes of my queer, feminist, Gen X young adulthood more than Ani DiFranco. Ani wrote music that spoke to us, described us, aroused us, enlightened us, enraged us and emboldened us—and still does. I love memoirs, and this is one of my top two most-anticipated this year. (The other is High School by Tegan and Sara Quin, coming in September.)
By Elizabeth Acevedo. HarperTeen. 400 pages. Out May 7.

Who isn't excited for this book? Elizabeth Acevedo is back from the well-deserved success of The Poet X with this YA novel about a young, single mother struggling to balance her dreams and responsibilities. Featuring important representation of modern family relationships and young motherhood, With the Fire on High will speak to readers who haven't often seen themselves reflected in literature.

By Xuan Juliana Wang (@boyandgirlaffair). Hogarth. 240 pages. Out May 14.

This debut collection of stories shares voices of a new generation of Chinese youth; those caught between revered tradition and contemporary digital nativism. In previously unheard voices, characters face challenges of immigration, growing up, moving on and fitting in. This is a surprising and timely collection that captures the uncertain wonder of young people in a chaotic world.

By Tina Chang. W. W. Norton & Company. 144 pages. Out May 14.

After the rekindling of my love of poetry last month, I had to include a couple of new collections in this month's list. The first is Hybrida, a collection of poems and lyric prose that grapples with mothering a mixed-race child in the precarity of the current political and social environment. Chang experiments with style and form; hybridization is a poignant theme throughout. Chang's untraditional conventions will ring true to many readers.

By Elvira Sastre (@elvirasastre). Atria Books. 224 pages. Out May 14.

I also had to include the bilingual U.S. debut from critically acclaimed poet and translator Elvira Sastre. 27-year-old Sastre has published six poetry collections in Spanish revealing wisdom about relationships and heartbreak well beyond her years. It's no doubt that readers will see themselves in her work—as pain and hope, endings and beginnings, are prominent themes.

By Ambelin Kwaymullina and Ezekiel Kwaymullina (Palyku). Knopf Books for Young Readers. 208 pages. Out May 14.

Ambelin and Ezekiel Kwaymullina are a sister and brother team of Aboriginal (Palyku) writers from Western Australia. Their first YA novel, The Things She's Seen, centers two Aboriginal girls and their father as he tries to solve the mystery of their deaths. A quick read, this stunning novel will keep you hanging on until the last page.

By Hafsah Faizal (@hafsafaizal). Farrar, Strauss and Giroux. 480 pages. Out May 14.

Fantasy fans, get excited for this one. This debut novel by American Muslim author Hafsah Faizal has been selected for many most-anticipated lists, and rightfully so. Drawing from Arabian myth and legend, Faizal creates a vibrant world of diverse, dynamic characters. We Hunt the Flame is the first in the new Sands of Arawiya series, which tells the shadowy good and evil story of magic, war and romance. You can read an exclusive excerpt now on Book Riot.

By Nafiza Azad (@nafizaa). Scholastic Press. 416 pages. Out May 14.

Yes, this is another debut YA fantasy! I can't help myself. In this one, self-identified Indo-Fijian Muslim Canadian writer Nafiza Azad presents elements of the paranormal in a magical, vivid, romantic fantasy world engulfed in war. Cinematic and bold, The Candle and the Flame features strong women characters and a "fiercely feminist take on Muslim culture" (Rebecca Lim).

By Brenda Elsey (@politicultura) and Joshua Nadel. University of Texas Press. 368 pages. Out May 21.

As a fan of sports in general and of football (soccer) specifically, I was excited to see this new book focused on Latin American women in athletics. This well-researched book documents a little-known social history of women in sport across Latin America but also ties the discussion to issues of women's equality, exclusion, feminism and more. Accessible and thought-provoking, Futbolera will be of interest to Latinx and women's studies scholars as well as to history buffs and sports fans.

By Tiffany D. Jackson (@WriteinBK). Katherine Tegen Books. 384 pages. Out May 21.

Brooklyn native Tiffany D. Jackson is back with her latest YA novel about friendship, violence and the damage keeping secrets can do. Jackson is an evocative storyteller who ties together multiple narratives with ease. With a focus on hip hop and New York City life in the nineties, the book will appeal to fans of The Hate U Give by Angie Thomas and The Poet X by Elizabeth Acevedo.

By Sara Collins (@mrsjaneymac). Harper. 384 pages. Out May 21.

Part historical fiction and part murder mystery, this debut by Jamaican author Sara Collins centers on Frannie, a servant and former slave accused of killing her current employer and his wife. A bewitching writer, Collins doesn't shy away from turning literary traditions on their head with themes of feminism, sexuality, depression, race and gender. The Confessions of Frannie Langton is a stunning page-turner that will have readers talking.

By Ebony Elizabeth Thomas (@ebonyteach). NYU Press. 240 pages. Out May 21.

You've read the speculative fiction on these lists—now read Ebony Elizabeth Thomas' examination of race and imagination in the genre. By reflecting upon several Black girl characters, Thomas explores stereotypes, barriers and exclusion in speculative media. She argues that an increase in radical Afrofuturism and Black feminism is needed to address these inequities and improve representation in literature.

By Rachel Anne Williams (@transphilosophr). Jessica Kingsley Publishers. 272 pages. Out May 21.

From philosopher and blogger Rachel Anne Williams, Transgressive is a new collection of essays written from a trans-feminist perspective. Candid and insightful, Williams weaves her own experiences into more scholarly discussions of gender, sexuality and trans issues. Williams makes a valuable addition to literature by trans writers with this remarkable new book.