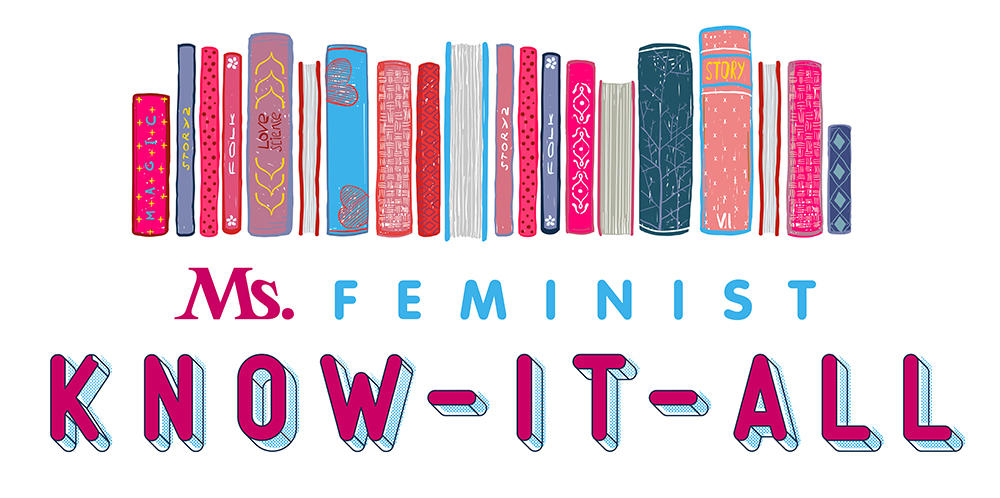 The Feminist Know-It-All: You know her. You can't stand her. Good thing she's not here! Instead, this column by gender and women's studies librarian Karla Strand will amplify stories of the creation, access, use and preservation of knowledge by women and girls around the world; share innovative projects and initiatives that focus on information, literacies, libraries and more; and, of course, talk about all of the books.
---
Each month, I provide Ms. readers with a list of new books being published by writers from historically underrepresented groups. The aims of these lists are threefold: I want to do my part in the disruption of what has been the acceptable "norm" in the book world for far too long—white, cis, hetersexual, male; I want to amplify amazing works by writers who are women, Black, Indigenous, Latinx, APIA, international, LGBIA+, TGNC, queer, disabled, fat, immigrant, Muslim, neurodivergent, sex-positive or of other historically marginalized identities—you know, the rest of us; and I want to challenge and encourage you all to buy, borrow, and read them!
This month, I've picked 21 titles. You may notice some titles which meet the above criteria that are not included on this list. I left off some titles that have gotten a lot of attention elsewhere—think: Patsy: A Novel by Nicole Dennis-Benn, All of Us with Wings by Michelle Ruiz Keil and The Tenth Muse: A Novel by Catherine Chung—in order to make room for those which you may not be as aware of.
There are so many great books coming out this month! Which will you read?
By Rachel DeWoskin (@racheldewoskin). Dottir Press. 296 pages. Out June 4.
The latest book by writer and University of Chicago professor Rachel DeWoskin centers the wild ride of Samantha, who just received a diagnosis that could change her life forever. Samantha channels her anger and fear into living a fierce and unfiltered life. A feminist call-to-arms, Banshee burns toxic masculinity to the ground with humor and truth.
By Ann Dávila Cardinal (@anndcardinal). Tor Teen. 282 pages. Out June 4.
In her first solo novel, Ann Dávila Cardinal centers Lupe, who is visiting family in Puerto Rico for the summer. When her friends begin to die, Lupe is determined to find out who the killer is, even if it's the terrifying el Cuco of Latinx legend. Conjured by parents when children misbehave, el Cuco can come in any form, which speaks to the explorations of identity in this YA thriller.
By Claire Kann (@KannClaire). Swoon Reads. 348 pages. Out June 4.
Claire Kann does it again! Her latest YA LGBTQ romance follows Let's Talk About Love with even more relatable characters who give readers the representation they deserve. If It Makes You Happy features Winnie, who faces her fears, opens up and learns to live her best life.
By T Fleischmann. Coffee House Press. 152 pages. Out June 4.
With this book-length essay, T Fleischmann has given us a truly unique work. It is equal parts ode to the art of Felix Gonzáles-Torres, personal narrative and testimony of the importance of pushing limits. But it is all poetic, powerful and subversive—just how I like it.
By Karen Lord (@drkarenlord). DAW. 304 pages. Out June 4.
With comparisons to Octavia Butler and Ursula Le Guin, Karen Lord is a Barbadian writer of speculative fiction. Part mystery and art fantasy, Lord's new book is bound to seduce readers into a graceful labyrinth of myth and murder.
By Samra Habib (@therealsamsam). Viking. 240 pages. Out June 4.
In this candid memoir, Samra Habib explores family, queerness, faith, tradition, feminism and creativity from her perspective as a Pakistani Muslim. This debut gives readers a perspective that has been missing and, through it, Habib represents many silenced queer, immigrant and Muslim people.
By Aminah Mae Safi (@aminahmae). Feiwel & Friends. 320 pages. Out June 11.
Continue celebrating Pride month with another fantastic LGBTQ title. If you enjoy YA titles featuring diverse characters and contemporary coming-of-age themes, then this one's for you. Here's hoping Aminah Mae Safi continues to add to the growing list of books featuring queer Muslim women's voices.
By Ruha Benjamin (@ruha9). Polity. 172 pages. Out June 10.
In the vein of Safiya Umoja Noble's Algorithms of Oppression comes Ruha Benjamin's latest book. It centers on her concept of the New Jim Code: the white supremacy that exists in emerging technologies. What is most dangerous is that this oppression is rarely obvious, but instead appears under the guise of neutrality and benevolence. Benjamin presents readers with this guide to recognize and address these issues.
By Arundhati Roy. Haymarket Books. 971 pages. Out June 11.
I've been waiting for this one: a complete collection of Arundhati Roy's nonfiction writing! At almost 1,000 pages, this volume is a monster—but so is she, so this shouldn't be a surprise. I'm just going to grab it, slowly make my way through it, chew and digest it, one bite at a time.
Edited by Amos Mac (@theamosmac) and Rocco Kayiatos (@roccokatastrophe). Amethyst Editions. 400 pages. Out June 11.
I can't believe it's been ten years since OP began publishing. Right now, we need this volume—not only to remind us of how far we've come, but to refresh us so we can continue fighting for a better future. This collection of the best of OP is this month's required reading.
By Purvi Shah (@PurviPoets). Northwestern University Press. 112 pages. Out June 15.
Continuing on my exploration of poetry, I'm intrigued by Purvi Shah's second collection. Miracle Marks speaks to the miracle it is for many women around the world to even survive beyond birth. But Shah goes further in this collection and explores growth, womanhood, Hinduism, race and immigration.
By Alex DiFrancesco (@DiFantastico). Seven Stories Press. 272 pages. Out June 18.
Alex DiFranceso's new book is set in the near future, but some may find it a bit too near for comfort. After New York City is devastated by climate change, gentrification and capitalism and then engulfed by a superstorm, several survivors, including genderqueer anarchist Jesse and convenience store worker Makayla, try to make their way in this new reality—which could be our own sooner than we realize if we don't heed this warning.
By Katherine Forbes Riley (@kforbesriley). Arcade. 192 pages. Out June 18.
I included this book because it is an unpredictable yet lovely exploration into healing trauma and building trust. The story centers art student Laurelie as she attempts to put the pieces of her life back together after surviving a sexual assault. Artists, nature lovers and survivors will find something here to inspire hope and healing.
By Nnedi Okorafor (@nnedi). Simon & Schuster/TED. 112 pages. Out June 18.
If you enjoy Nnedi Okorafor's science fiction, learn more about her life in this short but powerful memoir. In it, Okorafor candidly discusses her paralysis and how she transformed her limitations into true strengths. This book is for anyone looking for inspiration, creativity and awakening.
By Daniela Petrova (@DanielaGPetrova). G.P. Putnam's Sons. 320 pages. Out June 18.
I haven't read a story that's kept me guessing like this one has in a while. Daniela Petrova's debut centers on Lana, who's desperate for a baby. Lana toes the ethical line as she seeks out her "anonymous" egg donor, Katya. The two become friends but after Katya disappears, Lana dives even deeper into her background and secrets are revealed. This is a unique page-turner that will have readers speculating how it'll end from the beginning.
By Ebony Flowers (@ebonydraws). Drawn and Quarterly. 184 pages. Out June 18.
This debut collection of graphic short stories by award-winning cartoonist Ebony Flowers speaks to the lives of Black women through an exploration of hair culture. The vibrant stories and illustrations draw the reader into reflections of identity, acceptance, motherhood and womanhood.
By Agnes Gomillion (@AgnesGomillion). Titan Books. 464 pages. Out June 18.
I read a few great dystopian novels last year such as The Book of M by Peng Shepherd and Suicide Club by Rachel Heng. This year, books such as The Record Keeper will scratch my itch for unique speculative fiction. Taking place after World War III, the story centers Arika, the powerful hero we need to confront racism and bring justice to the world.
By Amber Smith (@ASmithAuthor). Margaret K. McElderry Books. 400 pages. Out June 18.
This is a lovely story of first love, loss and identity. Chris is a transgender boy and Maia recently lost her sister; together they will support one another through their challenges. This is a wonderfully written book representing voices that are desperately needed in YA literature.
By Marjan Kamali (@MarjanKamali). Gallery Books. 320 pages. Out June 18.
Marjan Kamali has written an intense story of love and loss set in Iran, against the backdrop of the 1953 coup d'etat. It's a grand saga spanning decades and countries, centered on a young couple in love. Will they end up together or will circumstances beyond their control keep them apart?
By Regina Porter (@ReginaMPorter). Hogarth. 320 pages. Out June 18.
Read the book that O Magazine is calling an "astoundingly audacious debut." Regina Porter has penned this new American saga that spans the 1950s through the Obama presidency. Fans of character-driven historical fiction will enjoy this one.
By Chanelle Benz (@ChanelleBenz). Ecco. 304 pages. Out June 25.
This is a uniquely American debut in which Billie, who visits her Southern childhood home, explores the secrets of her past to make sense of them in the present. With examinations of race, memory, family and understanding, this is a gripping family story from a remarkably talented writer.