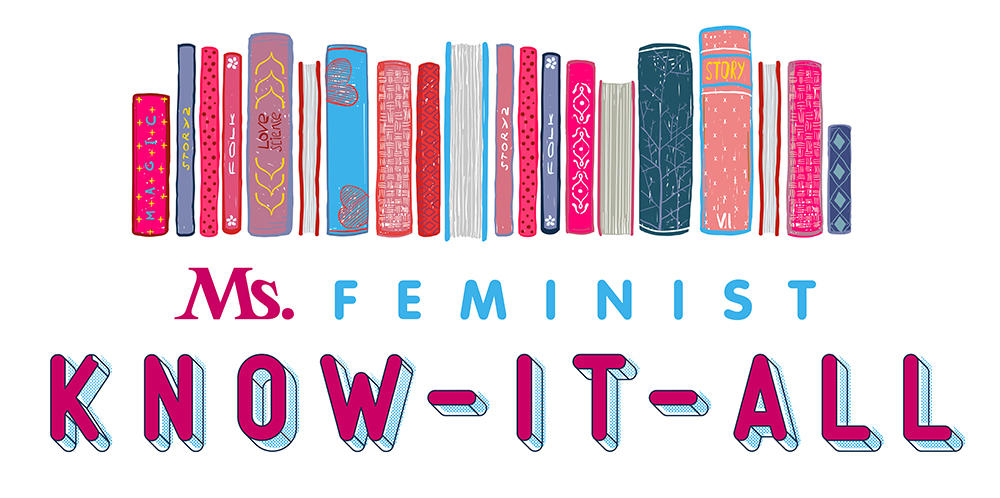 The Feminist Know-It-All: You know her. You can't stand her. Good thing she's not here! Instead, this column by gender and women's studies librarian Karla Strand will amplify stories of the creation, access, use and preservation of knowledge by women and girls around the world; share innovative projects and initiatives that focus on information, literacies, libraries and more; and, of course, talk about all of the books.
---
Each month, I provide Ms. readers with a list of new books being published by writers from historically underrepresented groups. The aims of these lists are threefold: I want to do my part in the disruption of what has been the acceptable "norm" in the book world for far too long—white, cis, hetersexual, male; I want to amplify amazing works by writers who are women, Black, Indigenous, Latinx, APIA, international, LGBIA+, TGNC, queer, disabled, fat, immigrant, Muslim, neurodivergent, sex-positive or of other historically marginalized identities—you know, the rest of us; and I want to challenge and encourage you all to buy, borrow, and read them! 
There are so many amazing books coming out this month. It's bananas! I really can't tell you how hard it was to choose the books for this list. Books about the immigrant experience, girlhood and growing up, parenting and loss, war and relationships—and the poetry! So much poetry!
You may notice some books which meet the above criteria that are not included on this list. I do leave some off that have gotten a lot of attention elsewhere in order to make room for those which you may not be as aware of. (Think: Red at the Bone by Jacqueline Woodson, The Sweetest Fruits by Monique Truong, Slay by Brittney Morris, Year of the Monkey by Patti Smith, A Dream So Dark by L.L. McKinney.) But you should still read those amazing books!
I've managed to narrow it down to 25 titles; which will you read?
By Asiya Wadud (@asiyawadud). Ugly Duckling Presse. 80 pages. Out September 1.
In 2011, 72 African migrants filled a dinghy headed for the island of Lampedusa from Libya in search of safer futures. While en route on the Mediterranean, the boat ran out of gas and despite contact with a helicopter and a warship, no real effort was made to rescue those onboard. Syncope is Asiya Wadud's gift of voice to the 63 who perished aboard the vessel that's been dubbed the "Left-to-Die" boat. Wadud also presents accounts of those who've survived similar harrowing journeys in this haunting collection.
By Sion Dayson (@siondayson). Jaded Ibis Press. 218 pages. Out September 3.
When Greer Michaels was just 16 years old, he left his home of Bannen, Georgia to travel the world. In 1977, he returned to his home to care for his dying mother and a flood of emotions, memories, and open wounds washes over him. Situated in the midst of the segregated South, Dayson's debut novel is at once delicate and heavy, and is one that will stay with you like the last heat of stormy summer.
By Maria Tumarkin. Transit Books. 224 pages. Out September 3.
Winner of the 2018 Melbourne Prize for Literature's Best Writing Award, Axiomatic is a collection of essays which explore the past, present, and future of trauma and how the stories we tell determine the people we become. This is a challenging, stubborn, and imperative read.
By Thanhhà Lại. HarperCollins. 304 pages. Out September 3.
From National Book Award-winning author Thanhhà Lại comes another beautifully written tale of family, loss, and reconciliation. At the end of the Việt Nam war, Hằng and her brother are separated. After years of being a refugee in the US, Hằng finds her brother and attempts to heal the relationship as well as the impact the war had on them both.
By Angie Cruz (@acruzwriter). Flatiron Books. 336 pages. Out September 3.
If you're a fan of Sandra Cisneros, you will surely enjoy this new novel by Angie Cruz. In fact, Cisneros called this coming of age tale "gorgeous" (a couple of times!). While stories of the immigrant experience are increasing in number, they are more important now than ever before. And with its gentle, layered prose, this one stands out from the crowd.
By Julia Guez (@G_U_E_Z). Four Way Books. 84 pages. Out September 3.
This debut collection of poems is remarkable in its variety of topics, all of which are treated with care and curiosity. By day a translator and poetry reviewer, Guez writes in a mature and artistic voice. This is a book that speaks on multiple levels and will stay with you long after you've put it down.
By Jennine Capó Crucet (@crucet). Picador. 208 pages. Out September 3.
Award winning writer Jennine Capó Crucet is back with this keen and candid examination of growing up first generation Cuban American. Crucet is able to shine a light on the formidable experience of being born in the US and yet still feeling like an outsider.
By Dina Nayeri (@DinaNayeri). Catapult. 368 pages. Out September 3.
Born in Iran during the revolution, Dina Nayeri understands the fear, uncertainty, and confusion of leaving the only place you've known for new and unrecognizable countries. Nayeri shares her own stories and those of others to help the reader examine immigation, migration, and the refugee crisis from a variety of often unheard perspectives.
By Naja Marie Aidt (@nmaidt). Coffee House Press. 152 pages. Out September 3.
My Goodreads review for this book consists of two words: "Absolutely heartbreaking." And this is true but don't let it stop you from reading it. Indeed, make that the reason that you do read it. If you are a human, this book will hit you straight in the feels. If you're a parent, multiply it by x. But read this book.
By Oliver Baez Bendorf (@queerpoetics). Cleveland State University Poetry Center. 70 pages. Out September 10.
Okay, I admit it: I know Oliver Baez Bendorf, but I wasn't going to let that stop me from including his new collection here. Really the only way to review this poetry is with poetry and unfortunately, I'm no poet. Just know that this work is pure, tender, and free(ing).
By Carley Moore (@CarleyMoore2). Amethyst Editions. 368 pages. Out September 10.
Take three women and Occupy Wall Street. Then add queerness, complications, sex, gentrification, politics, feminism, class, relationships, parenting, poetry, principles, and action… this book has it all, but can you handle it?
By Akwaeke Emezi (@azemezi). Make Me a World. 208 pages. Out September 10.
So last year I advised you — begged you, really — to read Freshwater by Akwaeke Emezi; it was my favorite book of 2018. Did you read it?? If you haven't, get to it, and while you are at it, be sure to pick up Emezi's latest book, Pet. It's a departure from Freshwater, in only the best ways, and illustrates Emezi's depth and variety as a writer.
By Imani Perry (@imaniperry). Beacon Press. 184 pages. Out September 17.
The latest from Princeton University professor Imani Perry is a beautiful reflection on parenting Black boys "in a country that will inherently betray them," as Tarana Burke aptly puts it. With Breathe, Dr. Perry departs from her previous academic works and presents a resolute call for courage, compassion, and hope by, and for, her boys. In doing so, she has penned the most important book of her career.
By Valerie Valdes (@valerievaldes). Harper Voyager. 448 pages. Out September 17.
Need a break from the real world? Read this wacky debut space opera by Cuban American writer Valerie Valdes. It's funny, dramatic, and full of adventure as Captain Eva Innocente sets out to save her sister after she is kidnapped by The Fridge. Well-written and super-fun, this book is just what we need right now!
By Mona Eltahawy (@monaeltahawy). Beacon Press. 216 pages. Out September 17.
The fierce Mona Eltahawy is back with the feminist manifesto of the year. Inspired by #MeToo and more, this book provides readers with everything they need to launch their latest and greatest assault on the patriarchy.
By Cyrée Jarelle Johnson. Nightboat Books. 80 pages. Out September 19.
In Slingshot, Cyrée Jarelle Johnson challenges readers with sharp, unapologetic poems of intimacy, gender roles, and disability. The title is spot-on as Johnson hits you like brick and awakens you to the revolution that could finally bring the phoenix from the burning embers of a society on the brink.
By Eris Young (@Young_E_H). Jessica Kingsley Publishers. 288 pages. Out September 19.
This month, queer, nonbinary trans writer Eris Young gifts us this indepensible guide on nonbinary and genderqueer identities, covering topics such as relationships, gender affirmation surgeries, coming out, and more. A well-organized and accessible introduction filled with questions, advice, and more.
Edited by Julia S. Jordan-Zachery (@Dr_JZ) and Duchess Harris. University of Arizona Press. 216 pages. Out September 24.
An interdisciplinary collection of essays, this volume presents readers with a variety of critical feminist examinations and representations of #BlackGirlMagic offline and in the world. It is full of thoughtful and engaging pieces that will have broad appeal.
By Annalee Newitz (@annaleen). Tor Books. 352 pages. Out September 24.
There are a lot of books on this month's list that cover some very serious topics. HEre's another one to lighten your load: The Future of Another Timeline by Lambda Award-winning writer Annalee Newitz. While it still tackles some heavy topics, Newitz does it in a fantastical, original, breathtaking story of scifi, feminist, riot grrrl, queerpunk, time traveling amazingness.
By Sara Quin and Tegan Quin (@tegansandsara). MCD. 384 pages. Out September 24.
Here it is, y'all. Tegan and Sara write about their high school years leaving no stone unturned: love, fear, drugs, divorce, sexuality, songwriting. So luscious and raw… you do not want to miss this one.
Edited by Amber Dawn (@AmberDawnWrites) and Justin Ducharme. Arsenal Pulp Press. 192 pages. Out September 24.
This collection is nothing short of groundbreaking. In it, over 50 self-identified sex workers share their experiences through poems. Contributors are current and former sex workers, from all across the world; they are young and old, people of color, trans, cis, queer, nonbinary, men, women, and more. The result is a dynamic, candid, and compassionate collection.
By Renia Spiegel and Elizabeth Bellak. St. Martin's Press. 336 pages. Out September 24.
With obvious comparisons to The Diary of Anne Frank, Renia Spiegel's diary still stands on its own as an extraordinary historical record of a young Jewish woman's life in Nazi-occupied Poland. Translated for the first time into English, Renia's Diary includes musings on school and friends, poetry, descriptions of daily life, emotional accounts of missing her mother and falling in love, all against the traumatic backdrop of the Holocaust.
By Maaza Mengiste (@MaazaMengiste). W. W. Norton & Company. 448 pages. Out September 24.
This epic of historical fiction is set in World War II Ethiopia, during Mussolini's 1935 invasion. The book gives voice to those seemingly lost to history by centering women in their fight for survival. Endlessly readable, Mengiste offers readers complex and identifiable characters as well as a gripping account of both the glory and the horror of war.
Edited by Tehama Lopez Bunyasi and Candis Watts Smith (@ProfCandis). NYU Press. 278 pages. Out September 24.
This is the essential guide on race, racism, the BLM movement, fighting for racial justice, fighting against racial injustice, and more. I am looking at you, fellow white people! Buy this book and read it. Own it, love it, memorize it, and live it.
By Morgan Parker (@morganapple). Delacorte Press. 336 pages. Out September 24.
Morgan Parker follows up her successful poetry collections with this, her first YA novel. And wouldn't you know it? She's just as outstanding of a novelist as she is a poet. This story, based loosely on Parker's own teen years, is honest, hilarious, and thoughtful. A much-needed testament of the normalcy of attending to mental health as self-care.