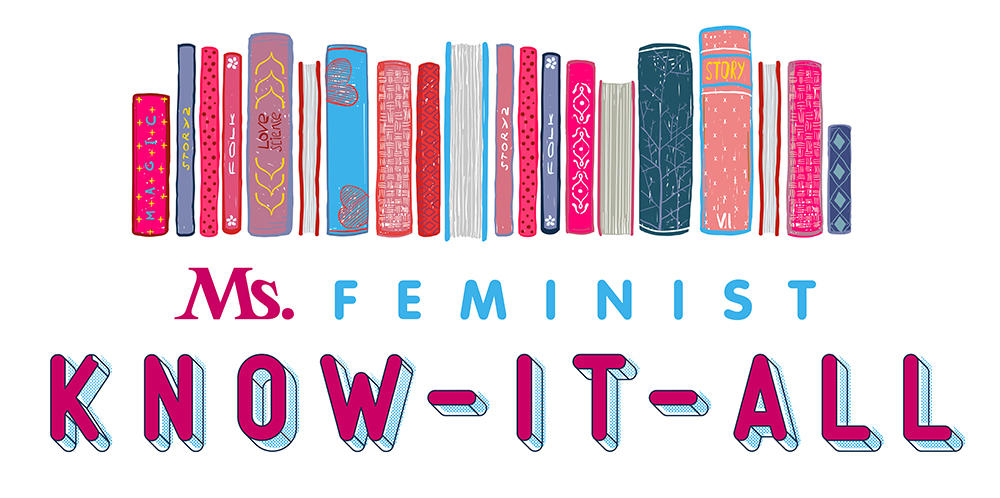 The Feminist Know-It-All: You know her. You can't stand her. Good thing she's not here! Instead, this column by gender and women's studies librarian Karla Strand will amplify stories of the creation, access, use and preservation of knowledge by women and girls around the world; share innovative projects and initiatives that focus on information, literacies, libraries and more; and, of course, talk about all of the books.
---
Each month, I provide Ms. readers with a list of new books being published by writers from historically underrepresented groups. The aims of these lists are threefold: I want to do my part in the disruption of what has been the acceptable "norm" in the book world for far too long—white, cis, heterosexual, male; I want to amplify amazing works by writers who are women, Black, Indigenous, Latinx, APIA, international, LGBIA+, TGNC, queer, disabled, fat, immigrant, Muslim, neurodivergent, sex-positive or of other historically marginalized identities—you know, the rest of us; and I want to challenge and encourage you all to buy, borrow and read them! 
In compiling this month's list, a theme (unintentionally) emerged, that of a journey. Most of the books here trace a journey or evolution of some sort, either of the author, a character, or an era. From gender identity to travel to the evolution of the soul, these 30 books are bound to get your 2020 journey off to an auspicious start.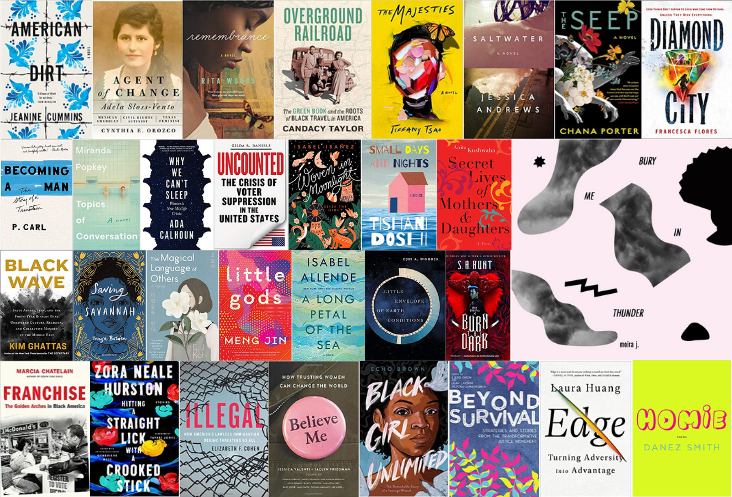 By Marcia Chatelain (@DrMChatelain). Liveright. 336 pages. Out now!
In her latest book, renowned historian Dr. Marcia Chatelain offers an impeccably researched examination of McDonald's and how the franchise was once intended as a path to economic freedom in Black communities. A fascinating, overlooked perspective on a US institution.
By E. J. Koh (@thisisEJKoh). Tin House Books. 203 pages. Out now!
This arresting memoir is a reflection of a daughter, EJ Koh, left in the U.S. by her mother who returned to Korea. Koh uses history, poetry and her mother's letters to make sense of their relationship and herself.
By Candacy Taylor (@candacytaylor). Abrams Press. 360 pages. Out now!
This book is but one piece of a larger multidisciplinary project focused on Black mobility and culture through the lens of the Green Book; there will also be a board game, a children's book, a Smithsonian exhibit and walking tours via mobile app.
By Miranda Popkey (@mmpopkey). Knopf. 224 pages. Out now!
In this unflinching debut, Miranda Popkey's unnamed narrator frames her world through her conversations with women, in which topics include gender, motherhood, feminism, violence, sex, and pain. Essentially a story about the stories we tell, this book is daring and, perhaps, a bit menacing in its critique.
By Ada Calhoun (@adacalhoun). Grove Press. 288 pages. Out now!
As I now stand firmly planted in middle age—and I definitely can't sleep—I was especially intrigued by Ada Calhoun's investigation into the "women can have it all" refrain that was implanted into my head coming up. Fellow Gen Xer and riot grrrl Kathleen Hanna calls it "the perfect guide through the rough business of middle age." Okay then, let's do this.
By Isabel Ibañez (@IsabelWriter09). Page Street Kids. 384 pages. Out now!
Seamlessly intertwining magical realism, fantasy and political historical fiction, Isabel Ibañez offers readers a vivid and absorbing story of Bolivian culture, romance, and adventure. A unique and thoroughly satisfying read for YA and adults alike.
By Cynthia E. Orozco. University of Texas Press. 272 pages. Out now!
Long overlooked in history books, Adela Sloss-Vento was a Mexican American feminist activist who fought for gender equality, civil rights, and progressive ideals. History professor Cynthia E. Orozco presents a timely critical investigation into one Latinx activist who shaped Texas, US, and women's history.
By Echo Brown (@helloechobrown). Henry Holt and Co. (BYR). 304 pages. Out now!
In this semi-autobiographical debut, Echo Brown confronts themes of drug addiction, sexual abuse, and depression within an evocative framework of magical realism, and cements herself as a brilliant new literary voice at the same time. This book will speak to readers on many levels.
by S.A. Hunt (@authorsahunt). Tor Books. 384 pages. Out now!
Buckle up for this one, friends, because S.A. Hunt doesn't play. First in the "Malus Domestica" series, Burn the Dark is an immersive, diverse, and inventive urban fantasy horror adventure that will knock your socks off.
By Zora Neale Hurston. Amistad. 304 pages. Out now!
This collection from the incomparable Zora Neale Hurston includes eight recently rediscovered stories. A must-read.
By Cori Winrock (@cori_winrock). Alice James Books. 100 pages. Out now!
We are taken on another journey in this collection of poems, this time through grief and mourning. The lyrical brilliance of Cori A. Winrock is on full display here—as is her raw, touching depth of reflection.
By Meng Jin (@jinittowinit). Custom House. 288 pages. Out now!
This highly-anticipated debut is at once expansive and intimate, spanning decades and lives to tell the story of Liya, a daughter who travels to China with her mother's ashes. Meng Jin triumphantly examines place, self and memory, in a book crucial to our times.
By Jessica Andrews (@jessicacandrews). Farrar, Straus and Giroux. 304 pages. Out now!
They say you can never go back but perhaps that's not always the case. In this thoughtful debut, Jessica Andrews explores the complexities of mother-daughter relationships as Lucy grows up and faces the memories, expectations and imperfections of the bond she has with her own mother.
By Tonya Bolden. Bloomsbury YA. 272 pages. Out now!
Tonya Bolden's love for history is clear, as is her talent for writing characters who challenge norms and make an impact on their worlds. Her latest book is focused on a young woman's journey from sheltered comfort to enlightened activism during a time of explosive change.
Edited by Leah Lakshmi Piepzna-Samarasinha (@leahlakshmiwrites) and Ejeris Dixon (@ejeris). AK Press. 260 pages. Out January 21.
This necessary collection is focused on practical, grassroots alternatives to current reactive measures for dealing with violence and crime.
By Danez Smith (@danez_smif). Graywolf Press. 96 pages. Out January 21.
As a white person, I know I can't do this collection the justice it deserves, so I'll just say: READ IT. And then read it again.
By Isabel Allende (@isabelallende). Bloomsbury Publishing. 368 pages. Out January 21.
Isabel Allende is a master of the sweeping historical epic and in her latest, she delivers war, love, loss, sacrifice and freedom as only she can.
By Tiffany Tsao (@TiffTsao). Atria Books. 272 pages. Out January 21.
Another exceptional read out this month, The Majesties searingly exposes a wealthy Chinese-Indonesian family's deepest secrets and outrageous betrayals.
By Rita Woods (@RitaWoodsAuthor). Forge Books. 416 pages. Out January 21.
Dr. Rita Woods' debut is a beautifully written historical novel centering resistance to the racism of the past and the present.
By Chana Porter (@PorterChana). Soho Press. 216 pages. Out January 21.
If you're looking for something completely different in the new year, check out Chana Porter's absorbing debut for a peek into a utopian future brought on by a benevolent alien invasion, a future in which we still seek meaning, identity and connection.
By Tishani Doshi. W. W. Norton & Company. 272 pages. Out January 21.
This absorbing story of uncertainty and evolution centers a woman returning to contemporary India to cremate her mother. Throughout her journey, she uncovers disarming secrets and questions everything she once held true.
By P. Carl (@pcarlphd). Simon & Schuster. 240 pages. Out January 28.
P. Carl has written a candid, intimate, and moving memoir about his gender transition in our current cultural moment and how it affected his relationships, his inner and outer identities and his place within the world.
Edited by Jessica Valenti (@JessicaValenti) and Jaclyn Friedman (@jaclynf). Seal Press. 336 pages. Out January 28.
This urgent volume shines a light on the moral imperative to trust and believe women in order to save lives. Edited by Jessica Valenti and Jaclyn Friedman, the collection includes contributions from Julia Serano, Samantha Irby, Soraya Chemaly, Rep. Ayanna Pressley, Sassafras Lowrey, Sarah Deer, Monica Ramirez and more.
By Kim Ghattas (@KimGhattas). Henry Holt and Co. 400 pages. Out January 28.
Need to get up to date on the volatile situation in the Middle East? Journalist Kim Ghattas has you covered with this incisive yet highly readable history of modern issues and conflicts in the area.
By moira j (@mxmoiraj). Sundress Publications. Out January 28.
This formidable debut collection of poetry from moira j focuses on Indigeneity, queerness, nature, and kinship. $1 of every pre-order will go to support the National Indigenous Women's Resource Center, a nonprofit organization aimed at providing safety for Indigenous women and their children.
By Francesca Flores (@FFloresAuthor). Wednesday Books. 400 pages. Out January 28.
For fantasy lovers, this debut from Francesca Flores will serve you the thrills, magic, action, and romance you are craving this winter. Vibrant worldbuilding, a kickass heroine, and electric adventure make for a captivating first volume of an exciting new duology.
By Laura Huang (@LauraHuangLA). Portfolio. 272 pages. Out January 28.
We know it's easier to get ahead when you have an edge, but what if you don't inherently have one? Harvard Business School professor Laura Huang is here to explain how the rest of us can identify, grow, and build on our strengths to achieve the success you want.
By Elizabeth F. Cohen (@alixabeth). Basic Books. 272 pages. Out January 28.
If you need a primer on the U.S. immigration system—where it came from and how it got to where it is now—then be sure to read this new book by political scientist and immigration specialist Elizabeth F. Cohen. In it, Cohen offers a stern warning of where we might end up if we don't address the issue now, and offers solutions to do so.
By Anita Kushwaha (@MsAnitaKushwaha). HarperCollins. 304 pages. Out January 28 (Kindle ed.; out February 18 in paperback).
This gripping debut tells the stories of three mothers, their secrets, and the woman who ties them together. Anita Kushwaha lyrically writes layered characters and dramatic prose that will keep you reading.
By Gilda R. Daniels (@gilda_daniels). NYU Press. 272 pages. Out January 28.
We are blessed in this presidential election year that former Deputy Chief of the U.S. Department of Justice Civil Rights Division and voting rights expert Gilda R. Daniels has written the definitive book on fighting against voter suppression and the erosion of our democracy. This month's #RequiredReading.