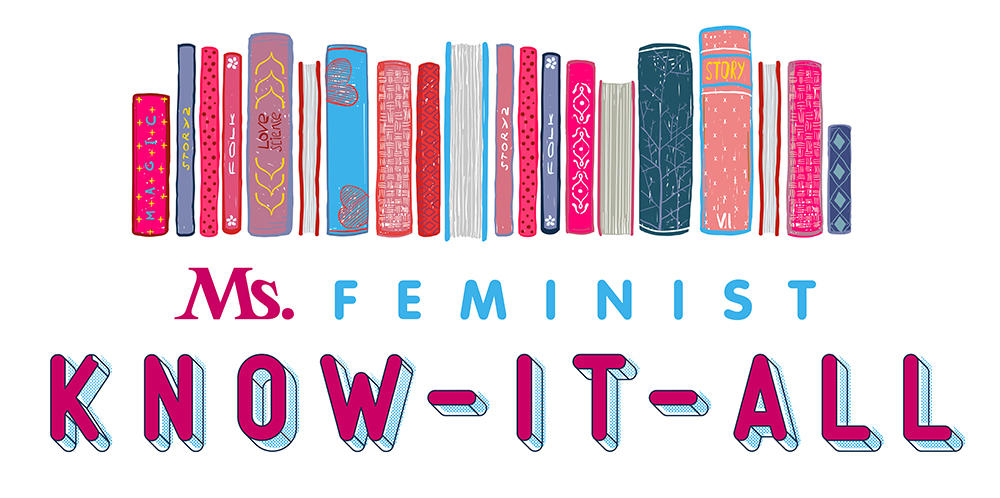 The Feminist Know-It-All: You know her. You can't stand her. Good thing she's not here! Instead, this column by gender and women's studies librarian Karla Strand will amplify stories of the creation, access, use and preservation of knowledge by women and girls around the world; share innovative projects and initiatives that focus on information, literacies, libraries and more; and, of course, talk about all of the books.
---
Each month, I'll provide Ms. readers with a list of new books being published by writers from historically underrepresented groups. The aims of these lists are threefold: I want to do my part in the disruption of what has been the acceptable "norm" in the book world for far too long (white, cis, hetersexual, male); amplify amazing works by writers who are women, Black, Indigenous, Latinx, APIA, international, LGBIA+, TGNC, queer, disabled, fat, immigrant, Muslim, neurodivergent, sex-positive or of other historically marginalized identities—you know, the rest of us—and then challenge and encourage you all to buy, borrow and read them!

I wish I could include all of the books being published by writers in these posts—but instead, this month, I've picked 25 of my most anticipated.
With so many great titles here, which will you read?

by Lilliam Rivera (@lilliamr). Simon & Schuster Books for Young Readers. 336 pages. Out March 5.
With her sophomore title, writer Lilliam Rivera gives us a YA Latinx dystopia with a strong girl lead. Against the backdrop of a robust futuristic world, Rivera presents a thoughtful and robust adventure that challenges expectations of gender, relationships and other societal conventions.

by Helen Oyeyemi. Riverhead Books. 272 pages. Out March 5.
Named a most anticipated book by Vogue.com, Oprah.com, Bustle, Electric Lit and others, Gingerbread is a meaningful twist on a traditional classic of children's stories. Helen Oyeyemi continues to capture readers' hearts and minds with this tale of family, loyalty and memory.

by Laura Pohl (@laurampohl). Sourcebooks Fire. 384 pages. Out March 5.
Brazilian writer Laura Pohl debuts with this post-apocalyptic story of Clover Martinez, who survives the alien destruction of Earth as we know it. After she finds a group who dub themselves "The Last Teenagers on Earth," Clover must determine whether her new friends are a blessing or a curse.

by T Kira Madden (@TKMadden). Bloomsbury Publishing. 322 pages. Out March 5.
Readers should not ignore the buzz already surrounding this debut book. Queer APIA writer T Kira Madden's wrenching, gritty memoir tells her story about coming of age surrounded by abuse and addiction. Through candor and humor, Madden relays her lessons of family, forgiveness, and hope.

Edited by Veronica Chambers (@vvchambers). St. Martin's Press. 220 pages. Out March 5.
To this nerdy librarian, the all-star set of contributors to this collection are almost as exciting as Beyoncé herself—and with writers such as Brittney Cooper, Luvvi Ajayi and Lena Waithe publishing in its pages, this volume is sure to do her justice.

by Samantha Allen (@SLAwrites). Little, Brown and Company. 320 pages. Out March 5.
Daily Beast reporter Samantha Allen takes us on a tour of red states and the queer communities thriving within them in Real Queer America, providing readers with stories of hope and celebration that help combat the divisiveness and hopelessness so currently prevalent in the U.S.

by Jacob Tobia (@JacobTobia). G.P. Putnam's Sons. 336 pages. Out March 5.
I am a big fan of memoirs, especially memoirs that have something to teach—and we have so much to learn about gender! Tobia shares their story in Sissy with candor, wit and sensitivity. Like Vivek Shraya's I'm Afraid of Men, this is a book we really need.

by Etaf Rum (@EtafRum). Harper. 352 pages. Out March 5.
From the daughter of Palestinian immigrants comes this debut about three generations of Palestinian women living in Brooklyn. Etaf Rum gives airtime to this often voiceless community in a timely story of culture, family and agency.

by Sally Roesch Wagner (@Swagner711). Penguin Classics. 560 pages. Out March 5.
We will celebrate the hundredth anniversary of the 19th Amendment guaranteeing U.S. women the right to vote come 2020. There are a lot of books coming out about women's suffrage—but this one stands out as an inclusive collection of primary documents from the movement waged for suffrage, and because it includes a foreword by Gloria Steinem.
by Ayser Salman (@aysersalman). Skyhorse. 288 pages. Out March 5.
Ayser Salman's memoir of life as an Iraqi immigrant in the U.S. is one full of information and insights into Islam, often delivered with humor and candor. In the current political climate, this "how-not-to guide" provides the reader with everything they wanted to know about Arab people but were afraid to ask.

Edited by Margaret Busby. Out March 8.
Over 25 years ago, Margaret Busby brought together essays from over 200 women writers of African descent in one landmark volume, Daughters of Africa. Now, she's doing it again with this companion collection—featuring another 200 writers, including Roxane Gay, Nnedi Okorafor, Eve Ewing, Yrsa Daley-Ward and Edwidge Danticat.

by G. Willow Wilson (@GWillowWilson). Grove Press. 440 pages. Out March 12.
G. Willow Wilson is a Muslim American writer of a memoir, several graphic novels, and an acclaimed debut novel, Alif the Unseen. Now she's back with a magical epic fable of secrets and freedom set in 15th century Spain.

by Valencia Robin. Persea. 64 pages. Out March 12.
This first book of poetry by Valencia Robin has won the 2018 Lexi Rudnitsky First Book Prize in Poetry. Also a visual artist, Robin writes of her Milwaukee childhood, family, Lake Michigan, race, and remembrance.

by Melanie S. Hatter (@mshatter1). Four Way Books. 320 pages. Out March 15.
Selected by Edwidge Danticat, Melanie S. Hatter won the inaugural Kimbilio National Fiction Prize for Malawi's Sisters. Inspired by the 2013 shooting of Renisha McBride, the book is focused on the grief and healing of a Black family after their daughter is fatally shot by a white man. Hatter has written a story that Danticat calls "timely and well executed"—and that's enough for me.

by Kelsy Kretschmer. University of Minnesota Press. 196 pages. Out March 19.
Since its founding in 1966, NOW has been through its ups and downs, at times experiencing conflict and turmoil, like many organizations. But unlike other organizations, NOW took these challenges as opportunities for healthy examination and change-making. Currently experiencing an increase in membership, NOW is a valuable case study in incorporating healthy conflict into organizational success.

by Samira Ahmed (@sam_aye_ahm). Little, Brown Books for Young Readers. 400 pages. Out March 19.
Readers fed up with the recent rise in racism, misogyny and fear-mongering in the U.S. should get their hands on Samira Ahmed's latest book ASAP. Set in the near future in which Muslim Americans are imprisoned in internment camps, Internment centers on Layla, a badass teen ready to fight or die for freedom.

by Miriam J. Abelson. University Of Minnesota Press. 264 pages. Out March 19.
With her first book, Dr. Miriam J. Abelson offers valuable new insights into masculinity in the U.S. Based on an impressive amount of interviews with trans men across the country, Men in Place examines race, sexuality and gender through a spatial lens to challenge existing theories on what makes a man today.

by Mathangi Subramanian. Algonquin. 304 pages. Out March 19.
In her debut novel for adult readers, Mathangi Subramanian introduces us to an eclectic and diverse group of young women living in a slum in Bangalore called Heaven. Facing down the threat of its destruction, the friends fight for their homes in this colorful, dramatic coming of age story.

Written and gathered by adrienne maree brown (@adriennemaree). AK Press. 280 pages. March 19.
adrienne maree brown follows her popular Emergent Strategy with this collection of essays focused on how to make activism more pleasurable and healing than stressful and unforgiving. Some of my favorite writers have contributed to this volume including Sonya Renee Taylor and Alexis Pauline Gumbs. Follow all three on Twitter—@adriennemaree, @Sonyareneepoet and @alexispauline—and don't miss Gumbs in conversation with Ms. scholar and contributor Janell Hobson!)

by Candice Carty-Williams (@CandiceC_W). Gallery/Scout Press. 336 pages. Out March 19.
Dubbed the "Black Bridget Jones meets Americanah," Queenie is Candice Carty-Williams' debut novel. But in penning this relatable, funny, imperfect, modern woman, Carty-Williams has created a work that stands on its own. "Nothing can and will compare," according to Black Girls Book Club.

Edited by Keisha Blain (@KeishaBlain) and Tiffany Gill (@SableVictorian). Out March 19.
Spanning topics including travel, migration, arts, politics and activism; featuring an impressive array of scholars and writers; and with Dr. Keisha Blain and Dr. Tiffany Gill as editors, this collection examining Black women's engagement internationally is a thorough, critical and well-executed must-read.

by Jennifer L. Eberhardt. Viking. 352 pages. Out March 26.
Dr. Jennifer L. Eberhardt is the foremost authority on unconscious racial bias and its outcomes, especially within the context of criminal justice. In 2015, Eberhardt worked with then-Attorney General Kamala Harris on anti-bias training for California police that became a model for the country. In this timely and accessible examination, Eberhardt offers evidence and anecdotes to illustrate the effects of unchecked unconscious bias and suggestions of how individuals and organizations can change our current trajectory.

by Josie R. Johnson with Carolyn Holbrook and Arleta Little. University of Minnesota Press. 200 pages. Out March 26
Josie Johnson has spent her life in the movement. From civil rights to education to fair housing, Johnson has dedicated herself to community organizing in Texas and Minnesota. This heartfelt memoir illustrates the positive difference one person can make and inspires hope—just when we need it most.

by Akiba Solomon (@akibasolomon) and Kenrya Rankin (@Kenrya). Bold Type Books, 304 pages. Out March 26.
The list of contributors to this volume edited by Akiba Solomon and Kenrya Rankin of Colorlines is on point: Jamilah Lemieux, Imani Perry, Patrisse Khan-Cullors, Alicia Garza, and adrienne maree brown are among those who share with readers how they resist and fight white supremacy. #RequiredReading.

by Namwali Serpell (@namwalien). Hogarth, 576 pages. Out March 26.
This powerful debut is one to take your time with. Namwali Serpell begins this epic literary tale in Zambia and continues it throughout the world, across a century, involving webs of characters and families. It's a story of time and humanity that calls for trust and reflection from its readers.