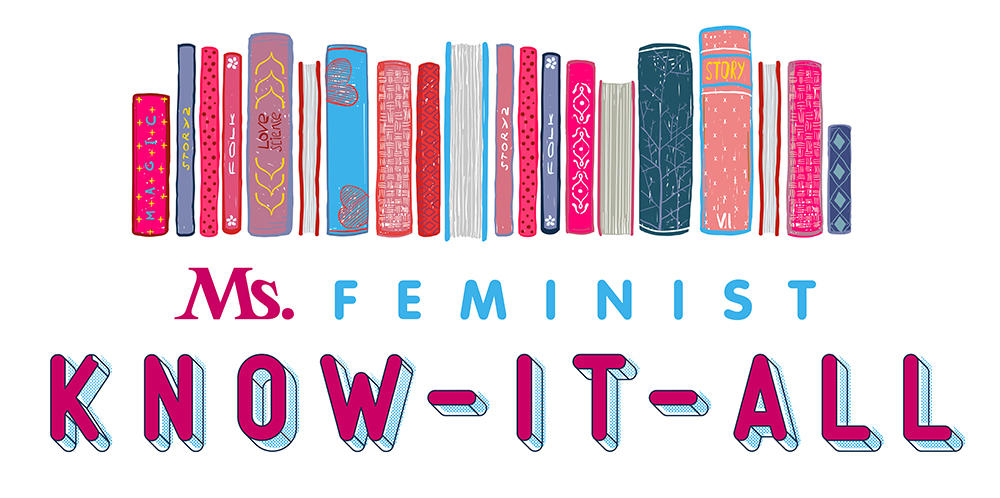 The Feminist Know-It-All: You know her. You can't stand her. Good thing she's not here! Instead, this column by gender and women's studies librarian Karla Strand will amplify stories of the creation, access, use and preservation of knowledge by women and girls around the world; share innovative projects and initiatives that focus on information, literacies, libraries and more; and, of course, talk about all of the books.
---
Each month, I provide Ms. readers with a list of new books being published by writers from historically underrepresented groups. The aims of these lists are threefold: I want to do my part in the disruption of what has been the acceptable "norm" in the book world for far too long—white, cis, heterosexual, male; I want to amplify amazing works by writers who are women, Black, Indigenous, Latinx, APIA/AAPI, international, LGBIA+, TGNC, queer, disabled, fat, immigrant, Muslim, neurodivergent, sex-positive or of other historically marginalized identities—you know, the rest of us; and I want to challenge and encourage you all to buy, borrow and read them! 
There are so many noteworthy books releasing this month. It was challenging to narrow them down to the 30 on this list! That means you won't see some higher-profile books here—think Alicia Keys' More Myself, Samantha Irby's Wow No Thank You and Louise Erdrich's Night Watchman. I also pared down the poetry, because my annual poetry list will be coming in April!
I hope some of these outstanding new books will help you get through your winter doldrums!
by Unoma Azuah. Beaten Track Publishing. 197 pages. Out March 1.
Acclaimed writer and activist Unoma Azuah presents the first Nigerian lesbian memoir which traces the challenges, violence and discrimination of LGBTQ people within this religious, patriarchal and homophobic society. Azuah's powerful story examines the layers and complexities of being queer in Africa.
By K.M. Szpara (@kmszpara). Tor. 496 pages. Out March 3.
Brutally candid and endlessly readable, Docile is a chilling look into our all-too-possible dystopian future. Szpara has written a sharp, insightful warning about the dangers of greed, debt, Big Pharma and capitalism that shouldn't be ignored.
by Yao Xiao (@yaoxiaoart). Andrews McMeel Publishing. 128 pages. Out March 3.
This is a collection of favorite comics from Baopu, Yao Xiao's monthly column on Autostraddle and some never-before-seen new works. The result is a lovely, biting, heartbreaking, charming semi-autobiographical journey of a young, queer, Chinese immigrant balancing independence and tradition, freedom and family, honesty and acceptance. This beautifully illustrated volume is simply a breath of fresh air.
By Nana Oforiatta Ayim. Bloomsbury Circus. 256 pages. Out March 3.
Immigrant narratives are especially important now, and Nana Oforiatta Ayim's is one to take in fully and carefully. Examinations of family, cultural expectations, secrets, legacy and in(ter)dependence are skillfully woven throughout this extraordinary debut.
By K.B. Wagers (@kbwagers). Harper Voyager. 432 pages. Out March 3.
K.B. Wagers' new sea shanty-military-space opera-sci fi series is based on the real-life mission of the U.S. Coast Guard. Readers will love the depth of the characters as well as the rambunctious action and heartfelt inclusivity.
By Natalie Diaz (@NatalieGDiaz). Graywolf Press. 80 pages. Out March 3.
The brilliant Natalie Diaz presents us with a captivating successor to her first poetry collection, When My Brother Was an Aztec, this one focused on embodiment, the layers of Indigeneity and the notions of goodness and love.
By Maisy Card (@dracm). Simon & Schuster. 288 pages. Out March 3.
Maisy Card's remarkable debut is for anyone out there with family drama or trauma and for those who have tried to make their own way despite—or in spite of—it.
By Jordan Kisner (@jordan_kisner). Farrar, Straus and Giroux. 272 pages. Out March 3.
In her debut book of essays, queer Latinx writer Jordan Kisner explores religion, culture, borders, transitions and everything in between. Edgy, detailed and rich, Kisner's writing exposes a variety of perspectives with surprising insight and grace.
By Celia Laskey (@celia_laskey). Riverhead Books. 288 pages. Out March 3.
This unique and witty debut is centered on "the most homophobic town in the US" and one non-profit's attempt at broadening the hearts and minds of its citizens. No one knows what will happen when a group of queer volunteers go to live and work in the town, mixing with the locals, uncovering secrets and causing tensions to boil over.
By Linda Sarsour (@lsarsour). 37 Ink. 272 pages. Out March 3.
The indomitable Linda Sarsour shares her story of being a Palestinian Muslim American activist and co-organizer of the Women's March.
by Quan Barry. Pantheon. 384 pages. Out March 3.
The latest work by poet and University of Wisconsin professor Quan Barry is a delightful, hilarious ode to the '80s. Narrated by the members of a field hockey team on their meteoric rise to the championship, this story is for those of us who came up in the '80s—and those of you who wish you did.
By Juliana Delgado Lopera (@julianadlopera). Amethyst Editions. 240 pages. Out March 4.
Juliana Delgado Lopera's bilingual novel about young Colombian immigrant Francisca is exceptional, unflinching, cheeky and queer AF.
By Sarah J. Jackson (@sjjphd), Moya Bailey (@moyazb) and Brooke Foucault Welles (@foucaultwelles). The MIT Press. 296 pages. Out March 10.
In this well-researched, nuanced text, the authors examine the rise of internet activism as evidenced by movements such as #SayHerName, #MeToo, #BlackLivesMatter and #GirlsLikeUs and their effects on culture, climate and justice.
Edited by Shirley Hune and Gail M. Nomura. NYU Press. 520 pages. Out March 10.
This immersive anthology begins to address gaps and transform understanding in history and literature by, for and about Asian American and Pacific Islander women.
Edited by Patrice Caldwell (@whimsicallyours). Viking Books for Young Readers. 368 pages. Out March 10.
This is a groundbreaking collection of 16 stories centering Black women and gender nonconforming people. With contributions from Justina Ireland, Elizabeth Acevedo, LL McKinney, Patrice Caldwell and Dhonielle Clayton, this is an important volume.
By Leesa Cross-Smith (@leesacrosssmith). Grand Central Publishing. 256 pages. Out March 10.
This kaleidoscopic collection of 42—yes, 42!—short stories by Leesa Cross-Smith explore women, girls, friendship, obsession, sex, grief, wildness and coming of age. This collection tastes like summer and makes me nostalgic for the halcyon days of youth.
Two Lines Press. 112 pages. Out March 10.
This collection of seven short speculative stories will take you through reality, into absurdity and back again. All from China and Hong Kong, these authors are creating some of the most imaginative and engaging worlds out there.
By Michele Goodwin (@michelebgoodwin). Cambridge University Press. 224 pages. Out March 12.
In this hard-hitting volume, Dr. Michele Goodwin examines the increase in policing and criminalization of pregnancies, stillbirths and miscarriages. Examining how the US is now one of the most dangerous countries in the industrialized world for pregnant women, she finds it is largely poor women of color who are forced to suffer the consequences.
By Maxine Mei-Fung Chung (@meifung100). William Morrow. 480 pages. Out March 17.
This captivating psychological thriller could only be written by an experienced psychoanalytic psychotherapist like Chung. Her main character, Alex and her multiple personalities rise from the page to take on years of abuse and an underground trafficking ring.
By Nguyễn Phan Quế Mai (@nguyen_p_quemai). Algonquin Books. 352 pages. Out March 17.
A vast, epic historical novel set against the backdrop of the Việt Nam conflict through the eyes of the people themselves.
By Shilpi Somaya Gowda (@shilpigowda). William Morrow. 352 pages. Out March 17.
The latest novel by bestselling author Shilpi Somaya Gowda is focused on one family's unimaginable grief and their journey to healing and reunification. Sympathetic and inspiring, this intimate story is bound to stick with you.
By Djaimilia Pereira de Almeida (Author), Eric M B Becker (@ericmbbecker) (Translator). Tin House Books. 200 pages. Out March 17.
This original debut deftly addresses big themes in a slim volume: racism, colonialism, feminism, migration and history, to name a few.
Edited by Amy Roost (@amy_roost) and Alissa Hirshfeld. Regal House Publishing. 234 pages. Out March 20.
It's said that if you are not outraged, then you must not be paying attention; and if indeed you aren't during this outrageous administration, this volume is bound to fire you up. A scorching examination of Trump's toxicity, Fury examines his effect on the health and wellbeing of women throughout the US.
By NK Jemisin (@nkjemisin). Orbit. 448 pages. Out March 24.
Award-winning and bestselling writer N.K. Jemisin does it again, this time with a unique, immersive story of saving New York City that may just change the way you think about sci fi and fantasy—and the Big Apple.
By Megan Giddings (@megiddings). Amistad. 288 pages. Out March 24.
With her arresting debut, Megan Giddings tackles themes of class, race and labor, all in a menacing and gripping dystopian tale of medical experimentation and what we'll do for those we love.
By Selenis Leyva (@selenis_leyva) and Marizol Leyva (@iam_marizol). Bold Type Books. 265 pages. Out March 24.
Written from the perspective of two sisters—one a trans activist and the other an actor in "Orange is the New Black"—this book candidly relates the challenges and triumphs of supporting a loved one through exploration and affirmation of their authentic self.
by Samantha Mabry (@samanthamabry). Algonquin Young Readers. 288 pages. Out March 24.
Samantha Mabry gives us paranormal magical realism at its best with her latest YA novel. In it, the Torres sisters are haunted with grief, secrets and brokenness, but use their powerful love and sisterhood to break free and become whole again.
By Minna Salami (@msafropolitan). Zed Books. 216 pages. Out March 31.
I am firmly convinced that the way to true equality and justice for all will be on a radical Black queer feminist road; Sensuous Knowledge is Ms. Afropolitan Minna Salami's insightful contribution to our success.
Edited by Annie Finch (@anniefinchpoet). Haymarket Books. 420 pages. Out March 31.
This one-of-a-kind anthology includes poems, essays, excerpts and stories about reproductive freedom by the likes of Amy Tan, Gwendolyn Brooks, Gloria Naylor, Lindy West, Audre Lorde, Camonghne Felix, Leslie Marmon Silko and Gloria Steinem, to name a few.
By Alexandra Chang (@alexandra_chang). Ecco. 320 pages. Out March 31.
This timely debut is a provocative examination of love and life in the 21st century, wrought with all the anxieties and complexities that come from existing in a capitalist society of ubiquitous technology, racism and distractions.
By jessica Care moore (@jessicacaremoor). Amistad. 224 pages. Out March 31.
Master poet jessica Care moore gifts us this latest collection of sharp, smart, and defiant pieces, and we will be better humans because of it.