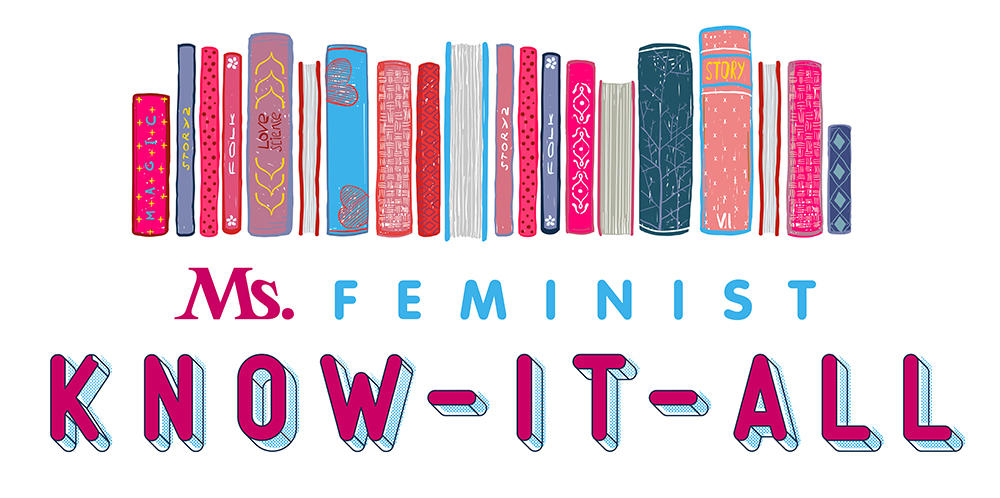 The Feminist Know-It-All: You know her. You can't stand her. Good thing she's not here! Instead, this column by gender and women's studies librarian Karla Strand will amplify stories of the creation, access, use and preservation of knowledge by women and girls around the world; share innovative projects and initiatives that focus on information, literacies, libraries and more; and, of course, talk about all of the books.
---
April is National Poetry Month!
And as we all shelter in place, don't we need poetry now more than ever?
Last year my dormant love of poetry was reignited and I am happy to say that my love has only continued to grow throughout the past year.
Take a look at the list below for the most exciting collections coming your way this year, all by and for the rest of us: poets who are women, Black, Indigenous, Latinx, AAPI, international, LGBIA+, TGNC, queer, disabled, fat, immigrant, Muslim, neurodivergent, sex-positive or of other historically marginalized identities.
Here are 44 of my favorite collections of 2020!
By Honorée Fanonne Jeffers. Wesleyan University Press. 200 pages. Out now.
With her latest volume, award-winning poet Jeffers presents an arresting and meticulously researched collection of poems imagining the life of remarkable life and revolutionary work of Phillis Wheatley.
By Marianne Chan (@marianneLchan). Sarabande Books. 96 pages. Out now.
Across time and place, Chan's ambitious debut collection explores religion, identity and history through a Filipino American perspective of the travels and colonization of explorers like Magellan.
Edited by Felicia Rose Chavez, José Olivarez (@_joseolivarez) and Willie Perdomo (@willieperdomo). Haymarket Books. 225 pages. Out now.
New to poetry and don't know where to start? Looking to broaden your poetry perspectives? Either way, you should be reading the exceptional Breakbeats Poets series from Haymarket; the latest features the work of Latinx masters and up-and-comers alike. Seriously, just read them all.
By Amanda Lovelace (@ladybookmad). Andrews McMeel Publishing. 160 pages. Out now.
I adore this new take on the Cinderella story. In empowering and inspiring poems, Lovelace turns the fairy tale on its head, in all the best feminist ways.
---
If you found this article helpful, please consider supporting our independent reporting and truth-telling for as little as $5 per month.
---
By moira j (@mxmoiraj). Sundress Publications. Out now.
This formidable debut collection of poetry from moira j focuses on Indigeneity, queerness, nature and kinship. $1 of every pre-order will go to support the National Indigenous Women's Resource Center, a nonprofit organization aimed at providing safety for Indigenous women and their children.
By Roya Marsh (@ChampagnePoet). MCD x FSG Originals. 112 pages. Out now.
This is an exceptional debut in which Marsh fills a gap in representation with her tomboy, butch, survivor, queer AF Black woman realness.
By Aija Mayrock (@aijamayrock). Andrews McMeel Publishing. 128 pages. Out now.
This debut poetry collection, by spoken word artist extraordinaire Aija Mayrock, is a testament to the beauty, hardships and power of womanhood.
By Upile Chisala (@beingupile). Andrews McMeel Publishing. 160 pages. Out now.
Upile Chisala's absorbing third collection of poetry is focused on her Malawian identity, empowerment and the fire within all women.
By Megan Fernandes. Tin House Books. 126 pages. Out now.
This tremendous collection of poems centers feminism, racism, and rage in all its imperfections, contradictions and candor. Poet Kaveh Akbar describes it best in one word: "Ferocious."
By Jillian Christmas. Arsenal Pulp Press. 80 pages. Out now.
Lyrical, frank, queer, spooky, shameless, holy and disarming, this collection explores loss, love, Blackness, memory and embodiment.
By Aria Aber (@ariaaber). University of Nebraska Press. 126 pages. Out now.
Winner of the Prairie Schooner Book Prize in Poetry, this challenging and fulfilling debut collection examines Afghan-American relations in reflective and personal pieces to reckon with the past and reason with the present.
By Danez Smith (@danez_smif). Graywolf Press. 96 pages. Out now.
As a white person, I know I can't do this collection the justice it deserves, so I'll just say: READ IT. And then read it again.
By Valerie Mason-John. University of Alberta Press. 96 pages. Out now.
If you are a fan of spoken word or slam poetry, this collection is for you. Tackling the legacy of colonization in contemporary life, Mason-John uses language, strength and social justice to shake readers awake from their racist, sexist slumber.
By Meena Alexander. Nightboat Books. 104 pages. Out now.
Published since her untimely passing in 2018, this is Meena Alexander's last collection of works. It's in these lyric fragments that the reader will discover the beautiful whole.
By John Elizabeth Stintzi (@stintzi). House of Anansi Press. 120 pages. Out now.
In a powerful debut collection of poetry, the multitalented John Elizabeth Stintzi candidly details the fear, depression and isolation of examining one's gender identity. Also be sure to check out Stintzi's outstanding debut novel, Vanishing Monuments, due out in May from Arsenal Pulp Press.
By Cori Winrock (@cori_winrock). Alice James Books. 100 pages. Out now.
We are taken on another journey in this collection of poems, this time through grief and mourning. The lyrical brilliance of Cori A. Winrock is on full display here—as is her raw, touching depth of reflection.
By Amber Dawn (@AmberDawnWrites). Arsenal Pulp Press. 128 pages. Out now.
Amber Dawn is back with her singular style and substance in this collection examining creativity, art, queer femme sexuality, sex work, violence and complicity.
By Monica Sok (@monicasokwrites). Copper Canyon Press. 88 pages. Out now.
Through poetry, Monica Sok processes her family's experiences of the Khmer Rouge, immigration and the Cambodian diaspora with mythical, painful and tender reflection.
By Amy Woolard (@awoo_). Alice James Books. 100 pages. Out now.
Woolard's debut collection is, at once, dark and incisive, witty and sweet. It operates along the edge, a sharp split between what once was and what now is.
by Victoria Chang (@VChangPoet). Copper Canyon Press. 120 pages. Out now.
Wonderfully unique, this collection includes poems written like obituaries, of language, her father's frontal lobe, the car, clothes, her mother, and herself, among others. Also check out Love, Love, Chang's novel-in-verse coming in June.
By Natalie Diaz (@NatalieGDiaz). Graywolf Press. 80 pages. Out now.
The brilliant Natalie Diaz presents us with a captivating successor to her first poetry collection, When My Brother Was an Aztec, this one focused on embodiment, the layers of Indigeneity and the notions of goodness and love.
By Patricia Jabbeh Wesley (@PatriciaJabbeh). Autumn House Books. 240 pages. Out now.
This is a powerful and personal collection by one of the most important African poets of our time.
By Mónica de la Torre. Nightboat Books. 144 pages. Out now.
Simply one of the most unique collections of contemporary poetry, Repetition Nineteen is focused on translation as communication, confusion, displacement and opportunity.
By Kathryn Nuernberger (@KatNuernberger). BOA Editions. 104 pages. Out now.
A collection for our times, Rue is fiercely ecofeminist, paying tribute to nature, love, strength and women who can inspire us to authenticity and self-efficacy.
By Raya Tuffaha (@rayatuffaha). Golden Antelope Press. 92 pages. Out now.
Through this fresh collection of poems, Tuffaha allows readers insight into life as a young, queer Muslim woman at the intersection of tradition and modernism, expectations and authenticity.
By Krista Franklin (@TheRealKristaF). Haymarket Books. 120 pages. Out now.
Including 30 poems and 30 works of art, this volume is a liberatory examination of Afrofuturism, historical legacy, Pan Africanism, identity, violence and pop culture.
By Joyelle McSweeney (@PlantAsylum). Nightboat Books. 112 pages. Out now.
These two collections are powerful and utterly heartbreaking. Toxicon was written during McSweeney's pregnancy, while Arachne was written after the birth, short life and death of her daughter. A moving reading experience.
By jessica Care moore (@jessicacaremoor). Amistad. 224 pages. Out now.
Master poet jessica Care moore gifts us this latest collection of sharp, smart and defiant pieces, and we will be better humans because of it.
By Sonja K. Solter (@SolterK). Little, Brown Books for Young Readers. 224 pages. Out now.
This middle grade novel in verse gently addresses sexual abuse to inspire hope and strength in young survivors. I wouldn't normally include a middle grade title, but this one's really important—and really well done.
By Deborah Paredez (@debparedez). BOA Editions Ltd. 128 pages. Out now.
Candid and chilling, Deborah Paredez's second collection of poems relates her stories and memories of being a Latinx daughter during the Việt Nam conflict.
By Felicia Zamora (@feliciazamorapoet). Red Hen Press. 104 pages. Out April 21.
In response to the 2016 election and resulting stripping of basic human rights, Zamora penned this compelling and dynamic collection to enrage and inspire action.
By Leila Chatti (@laypay). Copper Canyon Press. 74 pages. Out April 21.
Tunisian American poet Leila Chatti's powerful poems center her faith, illness, embodiment, shame and womanhood. This is a collection to be reckoned with.
By Lucia LoTempio (@lucialo). Alice James Books. 100 pages. Out May 12.
In this unsparing, unapologetic collection of poems, LoTiempo addresses violence against women in intricate, potent form and language. Hard to read at times, this is a phenomenal volume.
By Jenny Zhang (@jennybagel). Tin House Books. 200 pages. Out May 12.
Jenny Zhang is pure magic. Her latest collection is unique, bold, idiosyncratic and provocative. Zhang dares you to flinch.
By Linda Hogan. Torrey House Press. 100 pages. Out May 26.
Environmental writer Linda Hogan presents readers with another warm, wise collection of poems focused on living in harmony with self, animals and Earth.
By Margalit Cutler (@margalitties). Microcosm Publishing. 160 pages. Out June 9.
Okay. So, this is technically not poetry, maybe? But it rhymes and I can't help myself! This coloring book is everything. Get one for yourself and then one for each of your best pals.
By Khadijah Queen (@authorKQ). Tin House Books. 104 pages. Out August 18.
In a collection described as "powerful and dazzling" by Ilya Kaminsky, Khadija Queen outdoes herself with captivating poems examining the dualities of joy and pain, love and loss, knowing and ignorance.
Two Lines Press. 112 pages. Out September 8.
This second volume in the Calico series centers Arabic poets such as Iman Mersal (Egypt), Samir Abu Hawwash (Palestine), Ines Abassi (Tunisia), Fadhil al-Azzawi (Iraq) and others. Reflective and meaningful, these poems explore Arabic life, language and identity.
Edited by Mark Eisner (@eizmarcos) and Tina Escaja. Tin House Books. 260 pages. Out September 15.
A groundbreaking collection of works by over 50 poets, Resistencia is alive with bravery, feminism, strength, agency, protest, power and hope. Each Latin American country is represented in this extraordinary volume and poems are presented in their original forms alongside their English translations.
By Barbara Jane Reyes (@bjanepr). BOA Editions Ltd. 72 pages. Out September 22.
This powerful collection is an ode to Filipino American and girls of color everywhere who use their rage to fight patriarchy and racism in order to find and grow their agency, strength and voice.
by Cicely Belle Blain (@cicelybelle). Arsenal Pulp Press. 112 pages. Out September 29.
This collection is an excellent example of how poetry can be used for revolutionary resistance, exposure of systemic oppression and inspiration of rage that can move the world.
By Heid E. Erdrich (@HeidErdrich). Penguin Books. 96 pages. Out October 6.
The latest collection by renowned poet Heid E. Erdrich takes on environmental destruction, missing and murdered Indigenous women and more, in her characteristic voice: fierce, witty, personal and political.
By Destiny O. Birdsong (@destinyoshay). Tin House Books. 152 pages. Out October 13.
This formidable debut collection is an ode to Black women. It honors the negotiations they must make on a daily basis to take up space, to be heard, to be safe, to be enraged, to love, to exist.
By Yi Lei. Graywolf Press. 192 pages. Out November 3.
The collection, presented in the original Chinese next to the English translations, brings Yi Lei's revolutionary work to a whole new audience of readers. We aren't worthy.
---
After you've read all those, come back and check out these other recent and forthcoming collections:
---
The coronavirus pandemic and the response by federal, state and local authorities is fast-moving. During this time, Ms. is keeping a focus on aspects of the crisis—especially as it impacts women and their families—often not reported by mainstream media. If you found this article helpful, please consider supporting our independent reporting and truth-telling for as little as $5 per month.