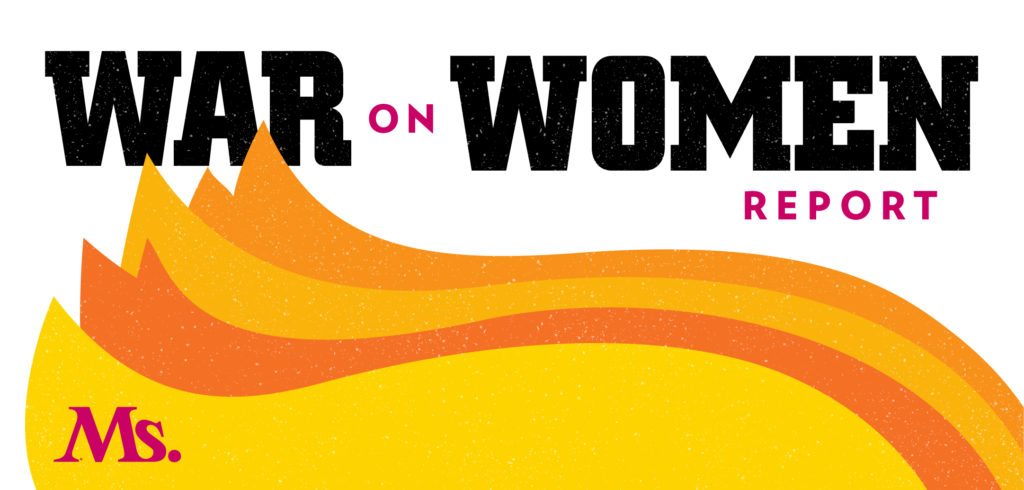 The War on Women is in full force under the Trump administration. We refuse to go back, and we refuse to let the administration quietly dismantle the progress we've made. We are watching.
This is the War on Women Report.
---
Saturday, August 8
+ Donald Trump's executive actions to provide coronavirus relief has left many confused and uncertain about whether the president's policies will succeed in addressing U.S. economic needs. Trump has allotted $400 a week in unemployment benefits (a $200 drop from unemployment checks up until this point)—however, this is contingent on states providing a portion of the funding.
Moreover, Congress holds economic power over federal funding—commonly referred to as "the power of the purse"—meaning Trump's policies needs congressional approval to go into effect. In response to questions regarding how the measures will work and how quickly funding will be accessible, the Trump administration was unable to provide a coherent response.
Democrats, and particularly House Speaker Nancy Pelosi, have been quick to point out that Trump is abusing his power with this action by circumventing Congress, calling his actions "absurdly unconstitutional." Moreover, Democrats have voiced concerns that the policies are unlikely to have a real impact any time soon, and funding for struggling businesses has been completely overlooked by Trump.
Monday, August 10
+ In the latest instance of transphobia from the Trump administration, Trump campaign senior legal advisor Jenna Ellis intentionally misgendered Dr. Rachel Levine, a transgender woman. On Twitter, Ellis wrote "This guy is making decisions about your health," linking an article about a recent instance in which Levine was misgendered by a reporter during a press conference.
The Human Rights Campaign (HRC)'s president Alphonso David was quick condemned this instance of bigotry:
"Using a person's pronouns is a basic level of respect. Despite claims of allyship, Donald Trump, Mike Pence and their staff have gone out of their way to dehumanize and attack transgender and non-binary people simply for existing. Trump and his allies have refused to acknowledge the epidemic of violence transgender and gender non-conforming people face, attempted to strip away their access to health care, and blocked these patriotic Americans from openly serving in the military."
+ Trump's new coronavirus advisor, Scott Atlas, shares many of the president's most dangerous opinions on the pandemic, including that schools should reopen in the fall. Atlas made his first appearance as an advisor at Trump's Monday coronavirus briefing—though sources say he has acted as an informal adviser to Trump for several weeks.
Amidst Atlas's most alarming assertions about coronavirus were his claims "children almost never transmit the disease" and people under the age of 18 have "essentially no risk of dying." His baseless claims put him at odds with Dr. Anthony Fauci and other senior medical advisors. Atlas will likely continue to encourage Trump to push for in-person schooling in the fall.
---
If you found this article helpful, please consider supporting our independent reporting and truth-telling for as little as $5 per month.
---
Tuesday, August 11
+ Donald Trump has a history of attacking women political opponents with sexist and misogynistic language and stereotypes, and his response to Kamala Harris joining the Democratic ticket was characteristically on-brand. When asked about Harris in a White House news conference, Trump was quick to describe her as "extraordinarily nasty" in her handling of the Kavanaugh confirmation hearing. In the same news conference, Trump also referred to Harris as "meanest" and "most horrible." His word choice has clear racist and sexist implications, pulling from negative stereotypes of Black women.
His attacks are also reminiscent of a 2016 presidential debate, when he called Hillary Clinton a "nasty woman." So much of Trump's campaign and presidency centers around him attacking and belittling his qualified political opponents—but he often seems to save the most severe insults for women.
"Calling a woman "nasty" "tries to put her in a place that is unacceptable to society," Stephanie Schriock, president of Emily's List, which works to elect pro-choice Democratic women across the country, told the Washington Post. "Our society allows for poor behavior by men but has little acceptance for anything but perfection by women, and so a term like 'nasty' really is just coded language, at least for a certain piece of the population." 
But despite Trump's potent racism and sexism, women of color are taking action. This year, 267 women of color are running for Congress—an all time high in U.S. history.
Wednesday, August 12
+ The U.S. coronavirus death toll is approaching 170,000, and the total number of cases has surpassed 5 million. Yet, in a baffling proposal announced Wednesday, the Trump administration set forth its newest policy focus: increasing the amount of water permitted to flow from shower heads. This change is apparently aimed to address the president's desire to ensure his hair looks "perfect" after a shower.
Apart from the clear environmental concerns with increasing the water flow by four- or five-fold (which would be the result in showers with multiple nozzles), this new proposal feels extremely tone-deaf. The U.S. is experiencing a multitude of crises which require focused and effective policy solutions. Shower heads should be at the bottom of the president's priorities.
+ Trump announced his support for Georgia Congressional candidate Marjorie Taylor Greene, a known QAnon conspiracy theorist whose views are so extreme that most GOP members (but not all) have tried to distance themselves from her. Trump, on the other hand, praised Greene on Twitter, calling her "strong" and "a real winner."
The QAnon conspiracy theory, which sprung up in 2017, is based in the idea that a high level government official, called Q, leaves clues on the internet about government cover-ups and conspiracies. Along with supporting this baseless conspiracy theory, Greene has also made a series of offensive accusations, including calling Nancy Pelosi "anti-American" and a "b*tch," and suggesting that Muslim members of Congress are going to start a "Muslim invasion." If Greene does get elected to Congress in November, it could set a dangerous precedent.
Thursday, August 13
+ Sexism, racism and baseless lies have all been present in the continued attacks on VP candidate Kamala Harris by Donald Trump and Fox News. After a controversial Newsweek article suggested Harris may not qualify to be VP because of her parents' immigration status, Trump was quick to promote this lie. He told reporters, "I heard today that she doesn't meet the requirements" for vice president, calling the lawyer who wrote the original Newsweek article "highly qualified." When further questioned, Trump also raised the possibility that Harris "wasn't born in this country," which is an entirely false accusation.
Of course, before this most recent accusation, Trump spent years claiming that Barack Obama was not a U.S. citizen and therefore was ineligible to be President. These attacks make it clear that Trump will stop at nothing—even promoting baseless lies—to tear down political opponents.
Fox News has also launched a series of sexist attacks on Harris. Host Larry Elder discredited Harris's many achievements, suggesting, "She was selected for two reasons: Because she's a woman and because of her race." Harris has also been the target of repeated sexist attacks suggesting she lacks "personal charm" and "warmth," and that she has only achieved political success due to "powerful alliances with powerful men." Dinesh D'Souza made the puzzling claim that Harris isn't really "African American" and host Tucker Carlson repeatedly mispronounced Harris's first name on his show, even after being corrected. In all, Fox News contributors are making a pointed effort to discredit Harris's political success.
+ Trump is doing everything he can to make voting in the 2020 election unnecessarily difficult. On Thursday, he openly announced that he will do everything in his power to restrict vote-by-mail, a move which will threaten the country's ability to successfully hold the presidential election in November. He plans to withhold election aid for states as well as an emergency bailout for the U.S. Postal Service, both of which are essential in ensuring that U.S. citizens have the ability to vote. Trump's plan is based in his repeated allegations that vote-by-mail will result in voter fraud, however no evidence exists to back this claim. Instead, by restricting mail-in-voting, Trump will deny millions of Americans their constitutional right to vote.
---