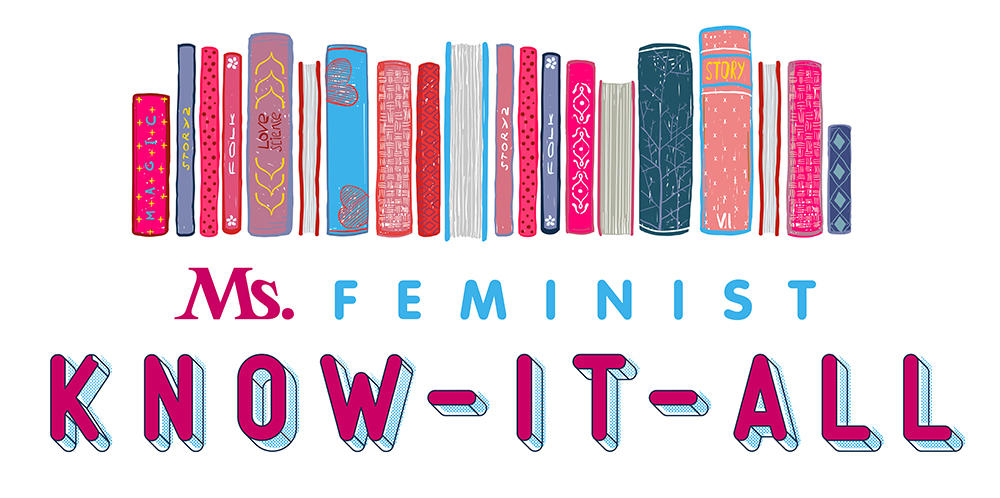 The Feminist Know-It-All: You know her. You can't stand her. Good thing she's not here! Instead, this column by gender and women's studies librarian Karla Strand will amplify stories of the creation, access, use and preservation of knowledge by women and girls around the world; share innovative projects and initiatives that focus on information, literacies, libraries and more; and, of course, talk about all of the books.
---
Each month, I provide Ms. readers with a list of new books being published by writers from historically underrepresented groups.
The aims of these lists are threefold:
I want to do my part in the disruption of what has been the acceptable "norm" in the book world for far too long—white, cis, heterosexual, male;
I want to amplify amazing works by writers who are women, Black, Indigenous, Latinx, APIA/AAPI, international, LGBIA+, TGNC, queer, disabled, fat, immigrant, Muslim, neurodivergent, sex-positive or of other historically marginalized identities—you know, the rest of us; and
I want to challenge and encourage you all to buy, borrow and read them! 
With all that is going on in the world, I hope some of the 30 titles on this list can provide you some respite from all the important work you are doing right now, or some new information to help in that work, in whatever capacity that may be. I am continuing to focus my efforts on books by WOC during this time.
In honor of Indigenous Peoples Day (October 12), I want to especially highlight several books by Native American women, including Little Big Bully, Picturing Indians, How We Go Home, The Radiant Lives of Animals and Warrior Life (see below). Please join me in reading one of these this month and in supporting Indigenous women writers now and all year long.
By Tania de Rozario (@TaniaDeRozario). Gaudy Boy, LLC. 144 pages. Out October 1.
New from Gaudy Boy, a NYC-based indie publisher of Asian voices, is Tania de Rozario's latest intriguing work. Part memoir, part lyrical prose, it is all queer and intimately centers safety, loss, pain and abandonment.
By Linda Heidenreich. University of Nebraska Press. 228 pages. Out October 1.
Dr. Linda Heidenreich's latest fascinating history builds on the work of Gloria Anzaldúa's concept of nepantleras to add new insights and layers to the examination and understanding of trans mestiz@ identity.
By Liza Black (@_Liza_Black). University of Nebraska Press. 354 pages. Out October 1.
Meticulously researched, this engrossing volume fills a deep void in both film studies and Native American history. Black examines Native American actors in post-WWII films, especially their struggles for equal opportunity, pay equity and authentic representation.
Written by Cristina Rivera Garza (@criveragarza) and translated by Sarah Booker (@sarahkbooker). The Feminist Press. 168 pages. October 6.
Award-winning poet and translator Cristina Rivera Garza has penned this urgent collection of essays, histories and journalism that centers the state-sanctioned violence in Mexico and along the US-Mexico border and the mourning that accompanies it.
By Jennifer Givhan (@jenngivhan). Blackstone Publishing. 320 pages. Out October 6.
The latest work from award-winning poet and writer Jennifer Givhan is an intense and vibrant psychological thriller. Givhan shines a brilliant light on Mexicali voices that are so often missing in contemporary literary fiction.
Written by Kimiko Tobimatsu (@kimikotobimatsu) and illustrated by Keet Geniza (@makeshiftlove). Arsenal Pulp Press. 96 pages. Out October 6.
Candidly written and lovingly illustrated, this graphic novel details the author's fight against breast cancer as a 25-year-old queer woman. As much a critique on the mainstream cancer movement as it is a tome on finding one's own way through, this is a perspective on the journey rarely seen in print.
By Heid E. Erdrich (@HeidErdrich). Penguin Books. 96 pages. Out October 6.
The latest collection by renowned poet Heid E. Erdrich takes on environmental destruction, missing and murdered Indigenous women and more, in her characteristic voice: fierce, witty, personal and political.
By Sawako Nakayasu (@sawakonakayasu). Wave Books. 176 pages. Out October 6.
This unique poetry collection — Sawako Nakayasu's first in seven years — makes a feminist statement on "girls," linguistic convention and translation while it walks the knife's edge between genres and forms.
---
If you found this article helpful, please consider supporting our independent reporting and truth-telling for as little as $5 per month.
---
By Ruby Hamad. Catapult. 304 pages. Out October 6.
In this endlessly readable debut, Ruby Hamad expertly illustrates the multitude of historical and contemporary ways in which white feminism has been used as a tool of white supremacy. White feminists: READ THIS BOOK.
Edited by Eithne Luibheid and Karma R. Chavez (@queermigrations). University of Illinois Press. 312 pages. Out October 12.
This groundbreaking collection centers LGBTQ-identified migrants and communities to examine their detention, deportation, negotiation and resistance. International and intersectional, the book includes voices from the academy and the community.
By Julia S. Charles (@juliascharles). University of North Carolina Press. 242 pages. Out October 12.
Dr. Julia S. Charles' excellent first book explores the nuanced politics surrounding mixed-race identities and passing through an examination of narratives in 20th century Black literature. Side note: After you check out her book, be sure to take a look at Charles' amazing The Loving Luggage Project!
By Rebecca Roanhorse (@roanhorsebex). Gallery / Saga Press. 464 pages. Out October 13.
In this extraordinary series debut, Rebecca Roanhorse paints a sweeping, vibrant world full of imagination and reflection. Exploring themes of politics, power, oppression and resistance, this is the epic fantasy we need now.
By Robin Wall Kimmerer. Milkweed Editions. 456 pages. Out October 13.
Originally published in 2013, the updated edition of this classic includes a new introduction by the author. An essential examination of the importance of respecting, nurturing and protecting the flora and fauna in our world, it is beautifully bound in honor of Milkweed's 40th Anniversary.
By Ntozake Shange. Beacon Press. 160 pages. Out October 13.
This is a lovely personal history of Black dance by celebrated poet Ntozake Shange. In her first posthumously published work, Shange gently reflects on dance in her own life and shines a light on several of the most innovative dancers and choreographers of our time.
By Sara Sinclair. Haymarket Books. 320 pages. Out October 13.
This is a remarkable collection of Indigenous voices all too commonly neglected and exploited within settler spheres and narratives. Centering firsthand Indigenous accounts of violence, land, connection, Standing Rock, resistance and renaissance, it is a testament to the power of storytelling.
By Xiaolu Guo. Grove. 288 pages. Out October 13.
Supple and genuine, this story centers a Chinese grad student who moves to post-Brexit London to make a new life for herself. A candid examination of love and relationships ensues as she attempts to build a life with someone amongst vast differences in beliefs, languages and cultures.
By C. L. Polk. Erewhon. 384 pages. Out October 13.
Award-winning writer C.L. Polk presents us with the Sophie's Choice of fantasy: marry the only person you could ever love or become the greatest magician of your time? This is a fresh and captivating tale.
By Destiny O. Birdsong (@destinyoshay). Tin House Books. 152 pages. Out October 13.
This formidable debut collection is an ode to Black women. It honors the negotiations they must make on a daily basis to take up space, to be heard, to be safe, to be enraged, to love, to exist.
By Linda Hogan (@lindahoganwrite). Beacon Press. 112 pages. Out October 13.
This beautiful volume of essays, poems and drawings gracefully celebrates our connections to animals and the natural world. Hogan's reflections inspire empathy, appreciation and healing.
By Pamela Palmater (@pam_palmater). Fernwood Publishing. 272 pages. Out October 15.
Mi'kmaw lawyer and professor Pamela Palmater's latest book continues her engaging and unceasing work against state sanctioned oppression, colonialism, racism and violence against Indigenous peoples in Canada.
By Kamala Puligandla (@thatkamala). Not a Cult. 200 pages. Out October 19.
If you need a distraction from reality, be sure to check out Kamala Puligandla's lovely little debut that is big on queer love, friendships and chosen family, all in a hot summertime Chicago.
By Paola Ramos (@paoramos). Vintage. 336 pages. Out October 20.
In her crucial debut book, Paola Ramos presents a long-overdue examination of identity and belonging while living as Latinx in the US. From farm workers to drag queens, from Oaxacan to Muslim, the people Ramos highlights illustrate the complexity, diversity and beauty of Latin@s from coast to coast.
By Erica Hunt. Nightboat Books. 328 pages. Out October 20.
This collection of Erica Hunt's poetry might just save you. Including out of print works and others, this volume is one of inspiration, resistance and possibility.
By Stella Abasa Dadzie. Verso. 224 pages. Out October 20.
In her arresting new book, UK feminist icon Stella Dadzie explores the intentional and determined leadership roles Black women played in subverting and resisting the institution of slavery in the Caribbean.
By Nikki Giovanni. William Morrow. 144 pages. Out October 20.
Thank you, Nikki Giovanni, for providing us with the love, inspiration and clarity we need right now. We are not worthy, but we are eternally grateful.
By Laurel Flores Fantauzzo (@laurelfantauzzo). Quill Tree Books. 320 pages. Out October 20.
In a sea of coming-of-age stories, this YA debut rises to the surface with its heartbreaking beauty and grace. Centering a young, queer Filipina, the story encapsulates the challenges and hopes of many young people straddling tradition and modernity, family loyalty and burgeoning independence.
By Namwali Serpell (@namwalien). Transit Books. 196 pages. Out October 20.
Namwali Serpell follows her brilliant debut novel The Old Drift with this compelling collection of essays examining the meaning and mythology of the face.
Written by Aoko Matsuda (@matsudaoko) and translated by Polly Barton (@pollyfmbarton). Soft Skull Press. 288 pages. Out October 20.
Here's the haunting October read you need this month! Full of surprises— and ghosts—this collection of cheeky and creepy feminist retellings of Japanese folktales will keep you reading deep into the night.
By Kirun Kapur (@kirunkapur). Black Lawrence Press. 85 pages. Out October 20.
This second collection by award-winning poet Kirun Kapur is as daring as it is lyrical. Centering women's truths, pains, identities and lived experiences, Kapur gives voice to those who are often silenced yet remain brave, compassionate, consoling witnesses and healers.
Edited by Carmen Boullosa (@carmenboullosa) and Alberto Quintero. The New Press. 256 pages. Out October 27.
This is a powerful and necessary collection for our current moment. A wide variety of talented Mexican writers contributed essays to this volume examining the immigration crisis from an imperative, yet rarely heard, perspective.
You may also like:
---