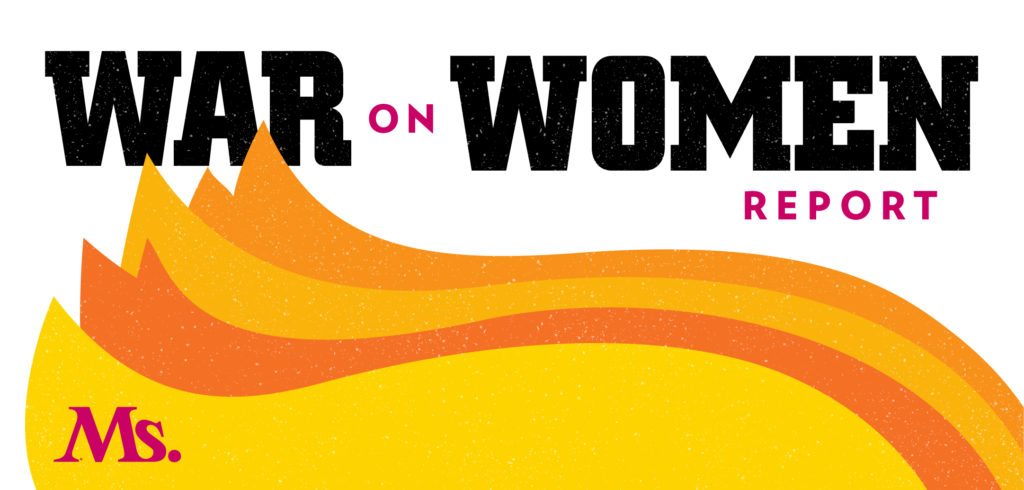 The War on Women is in full force under the Trump administration. We refuse to go back, and we refuse to let the administration quietly dismantle the progress we've made. We are watching.
This is the War on Women Report.
Since Our Last Report…
+ With the approval of Supreme Court nominee Amy Coney Barrett looming on the horizon, the Roe v. Wade protections of abortion access are seriously threatened. A recent study released by the New York Times shows just how much national abortion access would be diminished if Roe were overturned.
Although abortion access in many states would remain unchanged, much of the Midwest and South could see serious reductions in the availability of clinics. According to the study, if Roe is overturned, 22 states would likely ban abortion outright. Moreover, while most women currently live within one hour of an abortion clinic; after this change, the distance to reach a clinic would average 280 miles.
+ In its latest annual report on human rights, the Trump administration and State Department downplayed and fabricated information on issues such as torture, reproductive rights and persecution based on sexuality. Along with reducing information on women's rights, civil rights, and issues pertinent to the LGBTQ community, the report also followed the trend since Trump's election in completely eliminating the section discussing reproductive rights.
+ Following a recommendation by Texas Gov. Greg Abbott, the state Board of Social Work Examiners cast a unanimous vote eliminating protections for LGBTQ clients and people with disabilities. This change means that social workers within the state can legally discriminate against already marginalized individuals. The rule sparked national backlash, particularly as nondiscriminatory practices in social work are vital to protecting and aiding vulnerable clients.
Saturday, Oct 17
+ At a rally in Muskegon, Michigan, Trump egged on supporters in a chant calling for Gov. Gretchen Whitmer to be locked up. Only days before, Whitmer was the target of a politically motivated but ultimately unsuccessful kidnapping plot—but even this was not enough for the president to show the governor adequate respect.
He repeatedly criticized Whitmer's coronavirus restrictions, and at one point even seemed to agree with the chants of protesters, saying "they should all be locked up." The "lock her up" chant is reminiscent of 2016 attacks on Hillary Clinton, and follows Trump's pattern of putting forward baseless accusations against women political opponents.
Gov. Whitmer fought back with a strong response, accusing the president of inciting "domestic terrorism." 
---
If you found this article helpful, please consider supporting our independent reporting and truth-telling for as little as $5 per month.
---
Monday, October 19
+ After the first presidential debate left many viewers frustrated by the constant interruptions from Donald Trump, the Commission on Presidential Debates announced that they'd mute the candidates during portions of the debate.
Trump did not take this news lightly, calling it "very unfair." He proceeded to insult moderator Kristen Welker with a series of lies and rude comments, telling supporters, "she's a radical Democrat… she's no good."
Contrary to Trump's comments, Welker is extremely qualified as a moderator, and has an esteemed career in journalism, having recently received an award for Outstanding Journalism in Broadcast Television from NBC.
Tuesday, Oct 20
+ A heartbreaking report reveals 545 migrant children separated from their families and parents since 2018 continue to be held in custody as their parents cannot be located. Lawyers appointed by a federal judge to find these parents and reunite immigrant families confirmed this number on Tuesday, adding that around two-thirds of the parents have been deported, which makes locating them a far more difficult task.
In response, a White House spokesperson claimed many parents simply "declined to accept their children back" adding that "it's not for lack of effort on the administration's part." The ACLU contested these ludicrous claims, pointing out that the parents cannot even be located and identified, and thus have not been given the choice to reunite with their children. This blatant humanitarian crisis is one that the Trump administration has repeatedly dismissed and ignored.
Wednesday, October 21
+ Trump remains oblivious to his failings in handling the coronavirus pandemic. When asked by an interviewer if there is anything he would have done differently in handling the virus and ensuing pandemic, Trump's curt response was "not much."
With over 223,000 deaths and 8.5 million cases, this response indicates clear shortcomings on behalf of the president. (This timeline outlines the many failings in his handling of the virus since it was first detected in the United States.) From his early decision to downplay the significance of the virus, to his repeated dismissal of the importance of masks, to his continuous riff with Dr. Fauci, it is clear that the president could have done much more in his handling of the virus.
Thursday, October 22
+ While the constant interruptions and bickering were largely absent from Thursday's final presidential debate, Trump still made a series of false claims and accusations, while simultaneously avoiding questions he didn't want to answer.
Fact checkers have already analyzed and released some of the many false assertions made by Trump throughout the debate:
Trump claimed that only immigrants with "the lowest IQ" return for their court dates; in fact, a study shows 99 percent actually do show up.
His claims that coronavirus is "going away" remain unsupported by medical data.
He repeatedly said that the Biden family received millions of dollars from Russia, despite no evidence backing this up.
Trump's pattern of lying, in the debate and otherwise, amounts to an average of more than 50 false claims a day.
Along with repeated falsehoods, Trump was downright offensive—from his attacks on AOC during the debate to his claim that he's done as much for Black Americans as Abraham Lincoln.
+ Following Mitch McConnell's Tuesday announcement that the Senate plans to confirm Supreme Court nominee Amy Coney Barrett on Monday, Republican members of the Senate Judiciary Committee voted to advance the nomination, despite Democrats boycotting the proceeding.
The 12 Republicans who sent Barrett's nomination to the Senate floor continue to push to confirm her by Monday, and will likely rely on weekend proceedings to accomplish this goal.
The rush to confirm Judge Barrett is unprecedented, as no other Supreme Court Justice has been confirmed so close to an election. If Barrett is approved, this will tip the balance of the Supreme Court, and could pose serious threats to reproductive rights due to Barrett's strong anti-abortion sentiment.
You may also like:
---