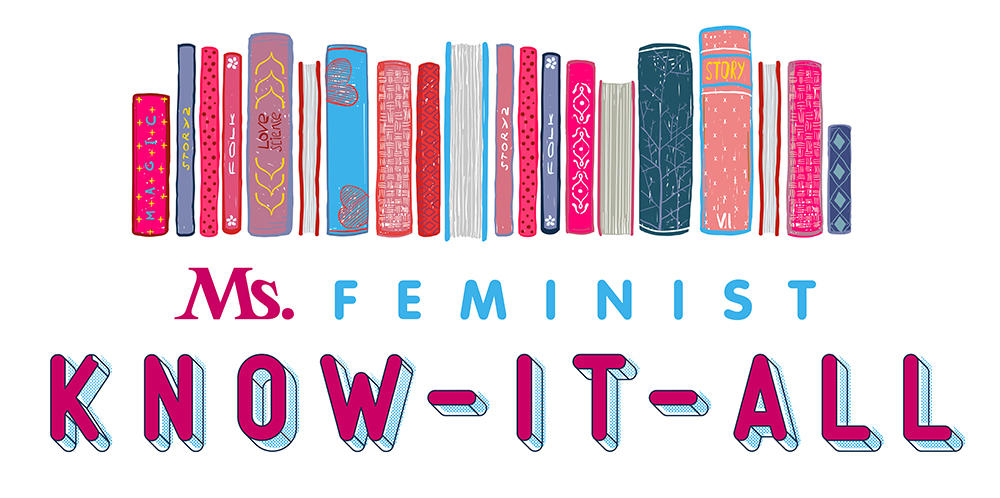 The Feminist Know-It-All: You know her. You can't stand her. Good thing she's not here! Instead, this column by gender and women's studies librarian Karla Strand will amplify stories of the creation, access, use and preservation of knowledge by women and girls around the world; share innovative projects and initiatives that focus on information, literacies, libraries and more; and, of course, talk about all of the books.
---
Each month, I provide Ms. readers with a list of new books being published by writers from historically underrepresented groups.
The aims of these lists are threefold:
I want to do my part in the disruption of what has been the acceptable "norm" in the book world for far too long—white, cis, heterosexual, male;
I want to amplify amazing works by writers who are women, Black, Indigenous, Latinx, APIA/AAPI, international, LGBIA+, TGNC, queer, disabled, fat, immigrant, Muslim, neurodivergent, sex-positive or of other historically marginalized identities—you know, the rest of us; and
I want to challenge and encourage you all to buy, borrow and read them! 
As I write this, I recall where I was four years ago—thankfully at the annual conference of the National Women's Studies Association—and the devastation we all felt by the election results. I was lucky to be surrounded by strong, caring, brilliant women during that time. Luckily, this year has felt very different.
I'm currently sitting in my home office (because: COVID), with a copy of Cathleen D. Cahill's phenomenal Recasting the Vote: How Women of Color Transformed the Suffrage Movement (releasing Nov. 16 from UNC Press) in front of me. (Read an excerpt here.) In this 100th anniversary of the 19th Amendment, it is imperative that we learn from our past mistakes to move forward collectively with our sights set on justice for all.
To all reading this, join me as we look toward the future with a renewed sense of hope, unity and power.
Enjoy these 20 books, in solidarity.
By Alicia Gutierrez-Romine (@aliciagutierrezrominephd). University of Nebraska Press. 270 pages. Out November 1.
In this first history about the underground abortion network in the west, Alicia Gutierrez-Romine explores abortion providers and those who sought them during the anti-abortion statute era in California. Well-researched and accessible, this volume illustrates how the past truly informs the future.
By Francesca Ekwuyasi (@franekwuyasi). Arsenal Pulp Press. 368 pages. Out November 3.
This stunning debut centers the complexities of mother-daughter-sister relationships in the face of devastating tragedy. Francesca Ekwuyasi is an important new voice in contemporary literature.
Written by Yi Lei and translated by Tracy K. Smith. Graywolf Press. 192 pages. Out November 3.
Even posthumously, Yi Lei remains one of the most revolutionary voices in Chinese poetry. This volume presents the expertly translated English poems alongside their Chinese originals for a beautiful and essential collection for any poetry lover.
By Felicia Luna Lemus (@Felicia_Lemus). Akashic Books. 144 pages. Out November 3.
Lemus has a particular talent for engaging the deepest and most complex parts of the self with the simplest turn of phrase. Detailing the toughest year of her life, she uncovers meaning in the ordinary and the terrifying.
By Susie Yang (@susieyyang). Simon & Schuster. 368 pages. Out November 3.
Longlisted for the Center for Fiction First Novel Prize, White Ivy is a radiant debut focused on Ivy Lin and the lengths she goes to in order to get what she wants. A dark story with themes of immigration, class and privilege, this one has surprises around every turn.
---
If you found this article helpful, please consider supporting our independent reporting and truth-telling for as little as $5 per month.
---
By Taylor Johnson. Alice James Books. 100 pages. Out November 10.
With simple yet powerful phrasing, Taylor Johnson has gifted readers with this compelling debut collection of poems focused on identity, self, definition and transcendence.
By Danielle Evans (@daniellevalore). Riverhead Books. 288 pages. Out November 10.
You don't want to miss this captivating collection of short stories by the award-winning short story extraordinaire Danielle Evans. Tales of race, loss, history and relationships culminate in the final stunning eponymous novella.
By Kao Kalia Yang (@kaokaliayang). Metropolitan Books. 272 pages. Out November 10.
In this exceptional volume, Kao Kalia Yang has collected fourteen stories of refugee experiences in Minnesota, a state that has accepted more refugees per capita than any other. This is an important collection of voices and experiences.
Edited by Andrea Abi-Karam (@wolf_hour) and Kay Gabriel (@unit01barbie). Nightboat Books. 296 pages. Out November 10.
Groundbreaking and urgent, this collection features poems that investigate, interrogate and innovate trans relationships, embodiments, ecologies, emotions and expressions. It shines a much-needed light on the power of poetics in care, understanding and resistance.
Written by Dolores Reyes and translated by Julia Sanches (@sanschaises). HarperVia. 224 pages. Out November 17.
This is a provocative debut novel that speaks to the unnecessary and tragic violence that plagues women in Argentina and around the world. Through magical realism, Reyes imaginatively explores this urgent epidemic and those who are left behind.
Written by Verónica Gago (@veronica_gago). Translated by Liz Mason-Deese. Verso. Out November 17.
A leader in Argentina's #NiUnaMenos (Not One More) Movement, Verónica Gago has seen the tremendous energy and movement possible when mobilizing for feminist revolution. If you're exhausted, take some time to rest and re-up with this inspirational analysis.
By Robin Farmer (@sonewsy). SparkPress. Out November 17.
Robin Farmer has written a powerful YA debut centering 13-year-old Roberta who is grappling with race, faith, family and growing up. Although historical fiction set in the '70s, this is a coming of age story for our current moment.
By Alecia McKenzie. Akashic Books. 160 pages. Out November 17.
Delightfully original, this novel centers Chris, an American who travels to his mother's homeland of Jamaica to reflect and heal after tragedy strikes. What he encounters is unexpected, complicated and, perhaps, just what he needs.
By Alaya Dawn Johnson (@alayadj). Small Beer Press. 256 pages. Out November 17.
If you are enjoying Lovecraft Country, then dig into this collection of stories that combine fantasy, mystery, horror and anti-racism into fresh and formidable tales to thrill and amuse you.
By Chloe Gong (@thechloegong). Margaret K. McElderry Books. 464 pages. Out November 17.
This effortlessly entertaining retelling of Romeo and Juliet is original, immersive and irresistible. Set in Shanghai in the '20s, it's got it all: gangsters, monsters, madness, queerness and, of course, star-crossed lovers.
By Alexis Pauline Gumbs (@alexispauline). AK Press. 120 pages. Out November 17.
From the visionary Alexis Pauline Gumbs comes the first "comrade" text of the Emergent Strategies series from AK Press. In it, she uses lessons taught by aquatic animals as guides to collaborate, rest, protect, remember and resist.
By Catherine Coleman Flowers. The New Press. 256 pages. Out November 17.
It wouldn't be surprising if you had never heard of Catherine Coleman Flowers, but you'll never forget her after reading this book. In her groundbreaking new work, Flowers exposes what she calls "America's dirty secret": lack of access to affordable basic sanitation due to systemic racism, classism and geographic prejudice.
By adrienne maree brown (@adriennemaree). AK Press. 88 pages. Out November 17.
Along with Gumbs' November Emergent Strategy release (see above), be sure to pick up the latest from adrienne maree brown. Here, brown takes on cancel culture and offers Black, queer, feminist alternatives.
By Meichi Ng. Harper Perennial. 416 pages. Out November 24.
Can you relate to Barely Functional Adult as I can?? If so, you need to check out this collection of never-before-seen BFA comics! And then get copies for your anxiety-ridden, petty, wrinkling, neurotic, confused, barely-functioning friends.
By Mattilda Bernstein Sycamore (@mbsycamore). Semiotext(e). 264 pages. Out November 24.
In her latest, Matilda Bernstein Sycamore reflects on queerness, pleasure, pain, loneliness, connection and conformity, all in her signature candid and original style. Read it, reflect on it, and then read it again.
You may also like: