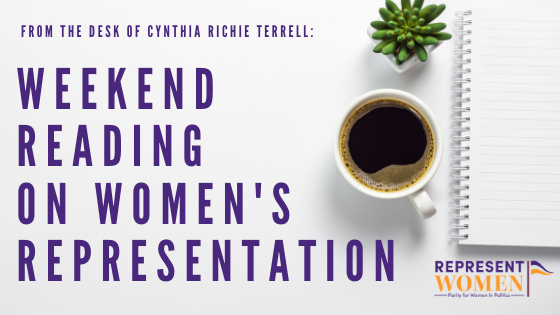 Weekend Reading on Women's Representation is a compilation of stories about women's representation in politics, on boards, in sports and entertainment, in judicial offices and in the private sector in the U.S. and around the world—with a little gardening and goodwill mixed in for refreshment!
---
Results from last week's election are still trickling in so we don't yet know the final tally for the number of women elected to Congress and to state legislative positions. We do know that there were significant wins for women—notably a big increase in the number of Republican women who will serve in the 117th Congress, along with gains for women of color in both major parties as well. 
But the results also show that the vast majority of incumbents were re-elected and that while 162 women ran as challengers, just eight have won as of today—for a total win rate of 4 percent. These incremental gains place the United States at about 70th globally along with neighbors Mali, Slovenia, Kazakhstan, Afghanistan, Vietnam, Bulgaria and Iraq.
Maura Reilly, research fellow at RepresentWomen, created a terrific spreadsheet to track wins for women in the 2020 elections and has made some charts on Infogram to illustrate the data:
---
Catie Edmondson and Emily Cochrane had an interesting piece in The New York Times with this great headline "In Ascendant Night for Congressional Republicans, Women Led the Way." Here is an excerpt:
Republican women delivered critical victories to their party in the election, signaling the success of their efforts to recruit and elect a more diverse slate of candidates as they sought to counter Democrats' huge advantage in adding women to their ranks in Congress.

Conservative women were nearing a historic level of representation in the House, more than doubling the number of female Republican incumbents in the chamber as they scored key upsets in battlegrounds across the country and beat back Democratic challengers flush with cash.

Republicans were celebrating their success at chipping away at Democrats' House majority and feeling increasingly confident of maintaining control of the Senate. By Wednesday evening, they had elected 22 women and were on track to have the highest number of them serving in their congressional ranks, surpassing the previous record of 25 women elected in 2004.

Those wins came as Republicans fought to protect female incumbents in the Senate, where Joni Ernst of Iowa prevailed in her competitive race, Kelly Loeffler advanced to a runoff in Georgia, and Susan Collins won a decisive victory in her re-election race in Maine. Cynthia Lummis, a former House lawmaker, became the first Republican woman to represent Wyoming in the Senate, replacing the retiring incumbent, Senator Michael Enzi.
Read this story in The New York Times by Alisha Haridasani Gupta for another perspective on wins for Republican women in this month's election:
In the 2018 midterm elections, a historic number of women drove the Democratic takeover of the House, flipping 21 seats. Only one Republican woman was elected to the House that year. The stark results set off alarm bells within the Republican Party, prompting a concerted effort to recruit a more diverse slate of candidates this year. As a result, the party had more female candidates at the start of the cycle than ever before — 227 filed to run for House seats and 23 for the Senate.

"The highest number of Republican non-incumbent women to ever win in a single election cycle for the House is nothing to sneeze at," Ms. Dittmar noted. "But they're largely making up for losses that they had experienced, particularly in the 2018 cycle. We need at least this level of gains for them in every election cycle, if we actually want to see them get closer to parity within their party."

Many in the new class of Republican women elected to the House — which includes the QAnon supporter Marjorie Taylor Greene and Lauren Boebert, who toppled another Republican by portraying him as insufficiently supportive of President Trump — aren't moderates, adding to a longstanding trend of both parties pulling further away from each other and the middle ground.
Paulina Firozi also covered election outcomes in this story in The Washington Post:
House Republicans owe some of their success in chipping away at the Democratic majority to women.

Of the nine House seats Republicans flipped in the election so far, seven were won by female candidates, a reflection of a concerted effort to elect GOP women to Congress after the election of a wave of Democratic women two years ago.

At least 15 GOP women are headed to the House, and with several races still to be called, House Republican leaders estimated they could more than double the number of women in their caucus. They figured they could add more than a dozen to the current 13.

The largest number of Republican women to serve in Congress was 25, during the 109th Congress that ended in 2007.

"This is the smashing success story of the 2020 congressional election cycle," Rep. Elise Stefanik (R-N.Y.), who launched the Elevate PAC after the 2018 midterms to recruit more Republican women to Congress, said in an interview.
And another article in Roll Call by Katherine Tully-McManus features Julie Conway, CEO of VIEW Pac:
Julie Conway, executive director of VIEW Pac, which supports Republican women running for office, told CQ Roll Call that the huge class of 2018 midterm winners opened some GOP women up to the idea of running for Congress.

"The success of the Democratic women in 2018 certainly was a wake-up call," Conway said.

She said seeing women be successful in getting elected, but not sharing the same philosophies or policy positions, led GOP women to say, "Maybe I should try."

Losing the House majority also presented new opportunities to have female candidates run for both open seats and to challenge first-term Democrats.

A record number of GOP women ran for federal office in the 2020 cycle. So many Republican women running and winning bids for the House can partly be attributed to serious investment within the party after the 2018 midterms, which saw a record-breaking 102 women elected to the House. Of the 36 female freshmen elected that year, just one was a Republican.
---
If you found this article helpful, please consider supporting our independent reporting and truth-telling for as little as $5 per month.
---
There was a very encouraging article in The 19th* by Alexis Lanza about the diverse and gender-balanced leadership team that President-Elect Biden is assembling:
President-Elect Joe Biden announced members of his "agency review teams" Tuesday, putting Biden's commitments to a diverse administration in action for the first time. 

Of the 500 members, more than half are women and, according to a press release from the Biden camp, around "40 percent represent communities historically underrepresented in the federal government, including people of color, people who identify as LGBTQ+, and people with disabilities." 

The agency review teams are composed of professionals with backgrounds in different policy areas who help ensure a smooth transfer of power between presidential administrations. 

One member of note is Shawn Skelly, who, when she joined the Obama administration in 2013, became the first transgender veteran to be appointed by a president. She is a co-founder of Out In National Security, a group of national security professionals who speak out in defense of LGBTQ+ rights. Skelly is a member of the Department of Defense team. 

Both Biden and Vice President-elect Kamala Harris mentioned marginalized communities in their addresses to the nation last Saturday. 

Harris, the first woman of color to be vice president-elect, paid special attention to women in her speech. She mentioned the generations of women, particularly women of color, who came before her and fought to secure the right to vote through both the 19th Amendment and the Voting Rights Act. 

"Tonight, I reflect on their struggle, their determination and the strength of their vision — to see what can be unburdened by what has been — I stand on their shoulders," Harris said. 

Biden thanked gay, transgender, Latino, Asian, Native and Black Americans for helping him get elected. He is the first president-elect in history to mention the transgender community in a victory address. 

"I said from the outset I wanted a campaign that represented America
---
While I am glad to see women among the ranks of the Harris/Biden leadership team, the next most visible step toward gender parity for women in politics in the United States will be the formation of an inclusive and gender-balanced Cabinet. 
Please sign and share RepresentWomen's petition calling for a gender-balanced Cabinet and read our new brief on the history of women in Cabinet positions in the United States.
---
Please sign up here for a post-election webinar hosted by RepresentWomen that will cover a wide range of topics that includes:
---
Check out this week's suggested reading from the team at RepresentWomen that includes Maya Angelou, Smantha Power and Caitlin Moscatello.
---
Terrific ally Kristin Eberhard from the Sightline Institute has a new book Becoming a Democracy: How We Can Fix the Electoral College, Gerrymandering and Our Elections that looks like a great read!
---