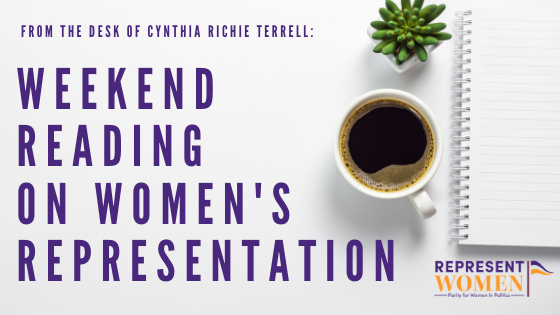 Weekend Reading on Women's Representation is a compilation of stories about women's representation in politics, on boards, in sports and entertainment, in judicial offices and in the private sector in the U.S. and around the world—with a little gardening and goodwill mixed in for refreshment!
---
The Biden-Harris administration is moving quickly to enact policies that will address the unfolding economic and health care crises in the United States while also assembling a Cabinet and senior leadership team that better reflects America. My piece in The Fulcrum this week explores leadership positions for women in the new administration:
President Biden's proposed Cabinet would have 24 members. Assuming the newly Democratic Senate confirms all of his nominees, a process that got started last week, it would be the most diverse Cabinet in history and the first to reach gender balance.

Three of the most prominent positions are going to be filled by women for the first time: Vice President Kamala Harris and Director of National Intelligence Avril Haines, the first confirmation of the Biden administration, will soon be joined Monday evening by Treasury Secretary Janet Yellen.

Harris has also become the first Black and the first South Asian-American vice president. Lloyd Austin was confirmed Friday as the first Black person to lead the Department of Defense. Rep. Deb Haaland of New Mexico is on course to be the first Native American secretary of the Interior. Xavier Becerra at the Health and Human Services Department and Alejandro Mayorkas at Homeland Security will be the first Latinos to lead those departments. And when Pete Buttigieg takes over at Transportation he will be the first openly gay Cabinet secretary.

Biden joins 14 other heads of government around the world with gender-balanced cabinets, many of whom ran on platforms committed to improving diversity in leadership through appointments…
Despite these historic successes for diversity, there remains work to be done. Three-fifth of Biden's Cabinet picks are white and the so-called inner cabinet — the vice president and the heads of the Justice, State, Defense and Treasury departments, who typically work the closest with the president — will still be three-fifths male and three-fifths white. And the average age of the nominees is 59.

Additionally, Biden's would be the first Cabinet in 20 years without an Asian-American or Pacific Islander. That is "the fastest growing racial or ethnic group in the United States electorate," notes Madalene Mielke of the Asian Pacific American Institute for Congressional Studies, and "the lack of an AAPI Cabinet secretary only serves to further distance AAPIs from having their voice heard in public policy."

The steps Biden has taken toward diversity in nominating his Cabinet are historic and noteworthy — but they should just be the first steps in the larger path toward diversity and inclusion in the executive branch. And commitment to diverse and inclusive appointments should not be limited to the national level. State and local executives should use their powers to improve the racial, gender, age and economic diversity of their own cabinets and any other appointments.

Naming diverse senior teams in American governments is the fastest way to bring diversity into our nation's leadership and bring new and unique lived experiences to decision-making at the highest levels.
---
There was another piece on appointments to the Biden Harris administration by TIffany Barnes and Diana O'Brien in Ms.:
In 1992, shortly before he first took office as president, Bill Clinton was the target of a campaign led by the Feminist Majority pressuring him to appoint more women to his Cabinet. Outraged, Clinton derided the feminists as "bean counters" more interested in quotas than quality, and, he retorted, "I think I'm doing a good job" (at that point, he had nominated two women to Cabinet positions).

Nearly three decades later, feminists are still counting—and President Joe Biden's Cabinet adds up.

Like politics in general, U.S. presidential Cabinets have typically been dominated by white men. Women have never represented more than eight of the 24 or 25 Cabinet or Cabinet-rank positions, and people of color are even less likely to occupy these posts.

Biden pledged to disrupt this pattern by appointing the most diverse Cabinet "that's ever existed in the United States." He is keeping true to his word. In addition to Vice President Kamala Harris, he selected 11 women alongside 13 men. Biden's Cabinet will include 13 people of color, eight of whom are women. And he nominated the first openly gay Cabinet member, Pete Buttigieg.

If all of the president's appointees are confirmed by the Senate, 48 percent of his Cabinet will be women—the largest proportion in U.S. history. This is more than the gender breakdown of the Democratic Party's House delegation, and far greater than women's overall representation in Congress. What's more, it allows the U.S. to be, for once, a global leader on women's political representation.

The U.S. typically lags behind when it comes to women's leadership in politics (with women just 27 percent of Congress, it currently ranks 87th for women's representation in national parliaments).

But globally, women occupy only 21 percent of Cabinet posts. Biden's Cabinet will place the U.S. ahead of countries like the U.K. and the Netherlands. And it puts Biden on par with leaders who have advanced gender-balanced or "parity" cabinets, including presidents and prime ministers in Canada, France, Spain and Sweden.
---
Former ambassador and women's equality champion Swanee Hunt had a great piece on Kamala Harris's likely role as vice president in Women's eNews:
Kamala Harris' vice-presidency is already iconoclastic: A woman of color standing one heartbeat away from the Oval Office. With a death-dealing plague, a shattered economy, and a polarized populace… the job of governing was going to be big. When the Capitol was invaded, it got bigger.

A helluva a lot bigger. 

Carrying the weight of these crises is nigh to impossible, but only in the last half-century have there been four shoulders instead of two to bear the load. Most of us assume that the President and Vice-President of the United States were meant to be true collaborators. Not so. For most of our history, the VP was chosen mostly for political balance—usually geographic and ideological. But in 1992, candidate Bill Clinton tapped his political doppelganger, Al Gore: Young, Southern, moderate, Ivy League—even a born-again Baptist. Senator Gore brought the Arkansas governor federal chops. Their legendary collaboration was dubbed by Harvard and Brookings political scientist Elaine Kamarck a "partnership presidency."

The words sound intuitive, but it's a hard balance to strike. Post Clinton, Presidents Bush and Trump shared the White House with heavy-handed Cheney, and hopelessly helpless Pence. But of note, from 2009 – 2017 the world was enthralled by a partnership that became a full-out bromance. In an alchemy of power, a Vice-President's DC experience seasoned a President's audacity of hope. Political power sharing hit a new high. Biden was Obama's alter ego—the first and last "in the room where it happens."

Given this backdrop, it's no surprise that Joe Biden has had Kamala Harris standing firmly by his side. The new administration is not called by one name, but hyphenated like a modern marriage: "Biden-Harris." Aimee Allison, founder of She the People, is a highly respected leader in Black women's political empowerment. She calls these optics "hopeful and necessary signs on the heels and in the midst of some of the darkest hours in our country." In fact, a few days before the Inauguration, Harris boldly but carefully chose her words as she told National Public Radio that she and her new boss would be "full partners" in governing.
---
If you found this article helpful, please consider supporting our independent reporting and truth-telling for as little as $5 per month.
---
Dr. Kelly Dittmar and I were sources for this piece on trends in women's representation in the Society of Women Engineers Magazine:
For the record-setting year that 2020 was, there's still some sobering news. In 2021, women will be about 30% of all statewide elected executive officials, 24% of the Senate, and 26% of the House. Many states have still never had a woman governor, senator, or representative.

"It's been fairly slow and incremental change for women's representation over the decades," said Dr. Dittmar. "Yes, we've made gains and they're not insignificant, but we're still far from parity."

In fact, Terrell breaks down the election results in these terms:

• 97 of the 107 incumbent women running won: a 97% success rate.• 17 of the 44 women running in open-seat races won: a 39% success rate.

• 171 women — the vast majority of women candidates — ran as challengers. And just 10 won — a 6% success rate.

"A success rate of 6% is not encouraging," said Terrell. "That just isn't an efficient way to get more women in office."

The United States' rate of 26% women in the House of Representatives puts it in 70th place globally for percentage of women in its lower house of parliament — in line with such countries as Bulgaria, Iraq, Afghanistan, Kazakhstan, and Mali.

RepresentWomen looks at best practices around the globe for reaching gender parity in elected offices. Beyond simply trying to encourage more women to run, it's identified systemwide changes that might be more efficient in reaching gender parity in U.S. politics.

One notable reform it champions is ranked-choice voting: a departure from the United States' main winner-take-all system that results in plurality winners and split votes among like-minded candidates and like-minded voters. Ranked choice allows voters to rank candidates in order of preference.

Research shows that in ranked-choice voting districts, more women make it through the primaries and then on to run in open seats. Within major U.S. cities that use ranked choice, about half of the mayors and city council representatives are women.

"In terms of changing the voting system, it's probably the quickest way to increase the number of women, the number of people of color, and the number of younger people serving in office," said Terrell. And it's gaining traction: Five states used it in 2020 in their primaries, 19 cities use it nationally, and New York City will be using it for its next primaries. Most noteworthy is the fact that Maine is the first state to adopt ranked-choice voting for all state and federal elections — perhaps a harbinger of more to come.
---
The team at RepresentWomen created this story board to illustrate the fact that even though record numbers of women ran as challengers—and raised and spent $440 million dollars on their campaigns—very few of them won. This data undercuts the oft-cited refrain "when women run they win" and should motivate us to think about strategies to create more open seats where women can run and win:
---
While the United States continues on our slow path to gender parity in politics, other countries like Estonia are taking huge steps toward parity. According to this story in The Guardian, Estonia is now one of the few countries with a woman head of state and a woman head of government along with a gender-balanced Cabinet—an impressive achievement:
Estonia's new prime minister has promised to restore the Baltic nation's reputation, after two turbulent years in which a far-right party was part of the country's government.

"We will again build our relations with our allies, our neighbours, and we will try to restore our name as a good country to invest in," Kaja Kallas told Reuters in Tallinn on Tuesday, after taking her oath of office.

The 43-year-old Kallas becomes the country's first female prime minister since Estonia regained independence in 1991. The Reform Party, which she leads, won the most votes in a 2019 general election, but was unable to form a government, as the rival Centre Party instead looked to the far-right EKRE and another right-wing party to form a controversial coalition, with Centre's Juri Ratas as prime minister….

Kallas, a former lawyer and MEP, is the daughter of Sim Kallas, who founded the Reform Party and was prime minister in 2002-2003. She said gender balance was an important factor in the new cabinet, with numerous women appointed to key positions, including the finance and foreign ministers.

Estonia is now one of just a few countries where both the head of state and of government are women, though president Kaljulaid's five-year term will come to an end this year, and she has not yet announced whether she will seek another term.
---
Women in Egypt now make up 27 percent of parliament, according to this article by RepresentWomen intern Fatma Tawfik who worked with us in 2020 and is continuing with RepresentWomen in 2021:
In 2019, after Egypt witnessed a long fight for gender equality in the political, economic and social spheres, the Egyptian parliament approved a constitutional amendment that includes a gender quota, reserving 25 percent of parliamentary seats for women.

Following the critical election in 2020, the new members of parliament (MPs) took their oath of office on January 12, 2021, marking the new year as a historical one for women's representation. Women achieved their highest level of representation in Egypt, since winning the right to vote and run for office in 1956.

In the new parliamentary term (2021–2026), women won 162 seats out of 596 seats, 142 MPs won from party list constituencies, six from individual constituencies, and 14 through presidential appointments. With the combination of women's electoral successes this election cycle and presidential appointments, women now make up 27 percent of the Egyptian Parliament; Egypt now ranks 67th in the world for women's representation.
Following the 2011 revolution in Egypt, a part of the Arab Spring, women's participation in all spheres of life in Egypt increased significantly. In 2014, President El-Sisi took office, committing to enhance women's status across sectors in Egypt. In 2018, the Egyptian Prime Minister Mostafa Madbouly appointed eight women to his 32-person executive cabinet; women held a record 25 percent of ministerial positions. Between 2014 and 2020, the World Economic Forum's Gender Gap Report found Egypt's ranking in the gender gap in political empowerment improved, and is likely to continue the upward trajectory with the record number of women MPs.

Although Egypt achieved a great accomplishment in enhancing the Egyptian women's political representation in the last decade, the fight for gender equality in Egypt is far from over. Egypt must ensure women's parliamentary and cabinet representation is not just tokenistic and can inform the legislation and policies passed.
---
Somali women's rights advocates and prime minister Mohamed Ibrahim Moalimuu agree that gender quotas will help ensure greater women's representation in parliament according to this story in Deutsche Welle:
Amina Mohamed Abdi, one of the Somali government's most vocal critics, was 24 when she first ran for parliament in 2012. She won, becoming one of the few women in Somalia's government. This year, now aged 32, she is running for a third term in postponed elections scheduled for February 8.

But it has not been easy for her in the conflict-ridden country, where men dominate politics. Usually, it is conservative clan elders who decide who will get into parliament. Few think that women should go into politics. "I was asked: 'You want to be a prostitute? How can a woman represent a clan?'"  she told Reuters. "I insisted and said a clan is not composed only of men."

This year, she is running against five men for the same seat. It is one of 329 seats in the lower and upper houses, only 24% of which are occupied by women.

Prime ministerial support

In mid-January, Somali Prime Minister Mohamed Hussein Roble announced that a third of parliamentary seats should be reserved for female lawmakers.
Women's rights activists have been calling for this for some time. In July 2020, the lower house of parliament even approved a bill that would allow for this, but it has yet to be passed by the upper house and signed into law by the president.

Deqa Abdiqasim Salad, the founder and CEO of the Hear Woman Foundation, was not impressed by the prime minister's announcement. "Our mistake was not to push for the 30% quota to be written into the constitution," she told DW. "If we had, the minimum quota would be policy. Policies cannot be broken easily. Right now, it is just a recommendation."

She added that she was worried that women would not even manage to win more seats than last time. "We occupy 24% right now, but I believe that those could be lost this year."

But former Deputy Prime Minister and Minister of Foreign Affairs Fawzia Yusuf Haji Adan said the quota is progress, and that a binding quota was a necessary step. "The primary objective of electoral quotas is to reduce gender gaps in representation in electoral lists," she told DW. "The quotas for women parliamentarians are vital to safeguard the rights of women but it also reflects the population it represents at the parliament."
---
I was excited to read about the new literary award for women authors who are residents or citizens of Canada or the United States, in the Toronto Star along with the great news that women's equality champion Melinda Gates is supporting the award:
Philanthropist Melinda Gates has donated US$250,000 to a new prize celebrating women's contributions to American and Canadian literature.

Organizers of the Carol Shields Prize for Fiction say Gates is backing the C$150,000 award for female and non-binary authors through her investment company Pivotal Ventures.

Gates joins a list of high-profile supporters of the initiative to address the inequality women face in the publishing world, including celebrated authors Margaret Atwood and Jodi Picoult.

The annual award is set to be handed out each spring starting in 2023 after the launch was postponed by a year because of the COVID-19 crisis.

The prize will carry a $150,000 cheque for the winner, and $12,500 to four finalists.

Eligible women and non-binary writers must be residents or citizens of the U.S. or Canada, and the books must be published in English in those two countries
---
Facebook kindly reminded me of this post from January 28, 2014 when RepresentWomen was a project of FairVote and we were just beginning to try and illustrate the need for gender balance in all the places decisions are being made.
---
Here are this week's suggested reading and podcast from the team at RepresentWomen:
---
My narcissus are blooming! That's all for this week.
---