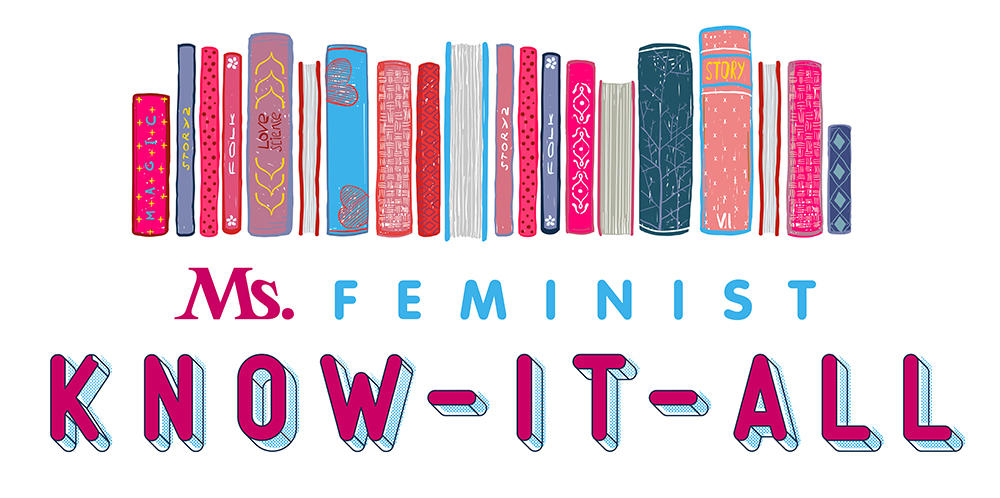 The Feminist Know-It-All: You know her. You can't stand her. Good thing she's not here! Instead, this column by gender and women's studies librarian Karla Strand will amplify stories of the creation, access, use and preservation of knowledge by women and girls around the world; share innovative projects and initiatives that focus on information, literacies, libraries and more; and, of course, talk about all of the books.
---
Each month, I provide Ms. readers with a list of new books being published by writers from historically underrepresented groups. The aims of these lists are threefold: I want to do my part in the disruption of what has been the acceptable "norm" in the book world for far too long—white, cis, hetersexual, male; I want to amplify amazing works by writers who are women, Black, Indigenous, Latinx, APIA, international, LGBIA+, TGNC, queer, disabled, fat, immigrant, Muslim, neurodivergent, sex-positive or of other historically marginalized identities—you know, the rest of us; and I want to challenge and encourage you all to buy, borrow and read them! 
You may notice some books which meet the above criteria that are not included on this list. I do leave some off that have gotten a lot of attention elsewhere in order to make room for those which you may not be as aware of. (Think: How We Fight for Our Lives by Saeed Jones, Full Disclosure by Camryn Garrett and Dear Girls by Ali Wong.) But you should still read those amazing books!
As I was choosing the 23 books for this month's list, one major theme emerged: triumph. I didn't intend to pick books that centered this theme so strongly, it just happened. But I am so glad it did because I need this fierce inspiration lately. I hope you find some in these like I did.
by Natascha Elena Uhlmann. OR Books. 144 pages. Out October 1.
Written by Mexican American activist Natascha Elena Uhlmann, this book is exactly what the title implies: an impassioned call to abolish Immigration and Customs Enforcement (ICE). We've all heard about the horrific conditions of border camps and detention centers but, Uhlmann argues, improving these conditions is not enough and ICE must be abolished to make long-lasting change for immigrants to the U.S.
by Staceyann Chin (@staceyannchin). Haymarket Books. 216 pages. Out October 1.
I was so excited for this book, which collected Chin's amazing poetry in one volume for the first time. Of course I wasn't disappointed. Chin's work is bold, brave, candid, feminist, vulnerable and powerful. Her voice is strong and will resonate with readers in a big way.
Edited by Bethany C. Morrow (@BCMorrow). Arthur A. Levine Books. 272 pages. Out October 1.
This collection of fictional stories, poems and artwork is bound to inspire you, to awaken you, to inflame you. With contributors such as Samira Ahmed, Keah Brown, Darcie Little Badger and Jason Reynolds, there's something for everyone here but the central theme is the same: RESIST. This is an important collection for YA and adult readers alike.
By Erin Williams (@erinrwilliams2). Abrams ComicArts. 304 pages. Out October 8.
In this extraordinary graphic novel, Erin Williams grapples with issues of objectification, harassment and the myriad of emotions that accompany walking through life in a womxn's body. Williams uses flashbacks and simple line drawings to share her story, which only adds to this stark and relatable memoir.
By Xandria Phillips (@xandriaphillips). Nightboat Books. 80 pages. Out October 8.
In their debut collection, Xandria Phillips explores embodiment and colonization through lenses of race, gender and queerness. These poems are powerful and intense. This complex and historically layered collection takes some work on the part of white cis readers; but it's just the work we should be doing.
By Nikki Grimes (@nikkigrimes9). Wordsong. 336 pages. Out October 8.
The latest book by Nikki Grimes, a memoir, is for anyone who struggled through childhood and depended upon journals for safety and understanding. Written in verse, Grimes shares traumas and triumphs, and how writing imbued her with a hope and strength she otherwise may not have found. Required reading for writers, teens and adult survivors of hazardous childhoods alike.
By Brynne Rebele-Henry (@Brynne_RH). Soho Teen. 176 pages. Out October 8.
This debut YA romance from award-winning poet Brynne Rebele-Henry is focused on two young women who are sent to a conversion therapy camp after being outed. A timely yet tough book to read at times, Orpheus Girl is an unflinching look at exclusion, hate and resilience.
By Eliane Brum (@brunelianebrum). Graywolf Press. 232 pages. Out October 15.
Brazilian journalist Eliane Brum's focus is giving voice to the voiceless. This book collects the best of her writings and showcases her sensitivity and rigor in investigating often-ignored issues and groups. Translated into English, these essays shine light on the daily lives of Brazilians, the violence and poverty, the joys and successes.
By Nicky Drayden (@nickydrayden). Harper Voyager. 336 pages. Out October 15.
Drayden's stand-alone Afrofuturistic sci-fi space romp will knock your socks off. I didn't know a book like this could be written; leave it to Drayden to do it. An exploration of humanity, class and environmental responsibility with a dash of gender and sexuality, is wrapped up in the super-fun, imaginative voice that is uniquely Nikki Drayden.
By Cyntoia Brown-Long (@cyntoia_brown). Atria Books. 320 pages. Out October 15.
Cyntoia Brown-Long wrote this candid memoir during her 15 years in prison. She was sentenced to life after killing a 43-year-old man who bought her for sex when she was just 16. Her case went viral in 2017, when celebrities and the public alike took to social media to fight to #FreeCyntoia. She was granted clemency and walked free just two months ago. For the first time, Cyntoia tells her story, from her troubled childhood through her transformative time in prison to her ultimate release.
Edited by Amber Dawn (@amberdawnwrites) and Justin Ducharme (@jayuhstin). Arsenal Pulp Press. 192 pages. Out October 15.
This collection is imperative first and foremost because it is sex workers expressing themselves and second, because the rest of us need to hear about it. All of it: the good, bad, ugly, beautiful, joyful, heartbreaking and triumphant. With contributions from over 50 sex workers, Hustling Verse offers a wide variety of perspectives, topics and poetry styles. The passion and creativity expressed in this volume is striking and will stay with readers long after they put it down.
By Kai Cheng Thom (@razorfemme). Arsenal Pulp Press. 144 pages. Out October 15.
By writer and performer Kai Cheng Thom comes this candid and intimate collection of poetry and essays calling for compassion and understanding when exploring the nuances of violence, pain and forgiveness. Following the lead of adrienne marie brown, Thom advocates for transformative justice models when faced with the injustices of our time.
By Elizabeth Earley (@ElizabethEarley). Red Hen Press. 288 pages. Out October 15.
This is a touching and multilayered story of Kalina and her son Marko, who was born with spina bifida and is paralyzed from the waist down. Kalina is trying her best to juggle parenting Marko and her own troublesome relationships, past pain and growing resentment. Through some magical means, the two are able to challenge time, space, mind and body. The book explores parenting a disabled child and the perceived limits of embodiment in a thoughtful and rare voice.
by Christine Larusso (@xtinelarusso). Lake Forest College Press. 120 pages. Out October 15.
This collection of poems, set against the broad landscape of Southern California, challenges its readers to rethink race, patriarchy, belonging, and womanhood. At once vulnerable and bold, the pieces are reflections of pain, joy, addiction, sex and more. Don't miss this intimate and intense collection.
By Leah Vernon (@LeahJVernon). Beacon Press. 240 pages. Out October 15.
There are a lot of ways to describe this book: candid, unflinching, fierce, courageous, feminist, vulnerable, bold, unapologetic, beautiful, generous, rare—and, yes, unashamed. Muslim blogger, model and activist Leah Vernon pulls no punches with this body-positive, self-affirming, kick-ass memoir.
By Megan Burke (@mburkephd). University of Minnesota Press. 183 pages. Out October 15.
Sometimes, I just need a deep shot of theory to keep me on my toes, and When Time Warps is it for me this month. In it, Dr. Megan Burke examines the idea of "woman" from a perspective of sexualized racism and violence. Burke makes an important contribution with their work; one that explores time, white supremacy, racial violence and womanhood in a new, invigorating way.
Edited by Kay Kassirer. Thorntree. 104 pages. Out October 18.
When it rains, it pours—and out this month is another amazing collection of poetry penned by sex workers. Edited by activist and poet Kay Kassirer, the book includes contributors who represent a wide variety of identities, backgrounds, abilities, genders and work experiences. But all are focused on being heard—and with this collection, they are.
By Keeanga-Yamahtta Taylor (@KeeangaYamahtta). University of North Carolina Press. 368 pages. Out October 21.
In this fascinating, long-overdue history, Princeton professor Keeanga-Yamahtta Taylor explores discriminatory practices in home ownership and real estate. Dr. Taylor walks readers through in depth archival research to illustrate how legal discrimination evolved into more subtle, yet equally as harmful, accepted practices that contributed to oppressive racial capitalism.
By Pamela Newkirk (@ptnewkirk). Bold Type Books. 272 pages. Out October 22.
Just how successful have efforts to increase diversity in U.S. companies and organizations been over the last few decades? This is the question that journalist Pamela Newkirk explores in her latest book—and her findings aren't good. In this accessible investigation, Newkirk exposes the gap between mostly well-intentioned efforts and their less-than-impressive results. Smith emerita professor Paula J. Giddings calls it, "a must-read for our times."
By Mimi Lok. Kaya Press. 192 pages. Out October 22.
This debut collection of short stories from Chinese writer and editor Mimi Lok centers multiple diasporic women dealing with identity, history, belonging and displacement. Lok's attention to detail and reflective connections make for an intimate and layered experience, for the characters and their readers.
By Ivan Coyote (@ivancoyote). Arsenal Pulp Press. 224 pages. Out October 22.
Ivan Coyote's latest is a collection of biographical stories in which they reflect on decades of fighting bigotry while shining light on the hard-won triumphs of what it means to be transgender and non-binary today. If you've never read Coyote's work, this is a fine place to start; it's a delightful and passionate example of the candor, humor, resilience and compassion that has made Coyote a beloved hero for whom we are (mostly) undeserving.
By Mathea Morais (@matheamorais). Amberjack Publishing. 304 pages. Out October 22.
Most months there is one book on my list that has already been perfectly described by someone amazing, so it's best that I just share that summary as opposed to writing my own. This month that book is There You Are and the thoughts are expressed by the incomparable Harry Belafonte, who said, "Mathea Morais is a really gifted writer. It is a special joy for those of us who are fortunate enough to have read her coming-of age, personal and intimate story of a time in St. Louis circling the death of Michael Brown."
By Jaquira Diaz (@jaquiradiaz). Algonquin Books. 336 pages. Out October 29.
This outstanding memoir has been included on many must-read lists of the year and I had to include it on mine as well. A powerful and lyrical coming-of-age story, Ordinary Girls is a candid illustration of shame, despair and violence as well as joy and triumph. Against a Puerto Rican backdrop, this debut is compassionate, brave and forgiving.
This is not the time for feminists to sit on the sidelines—and now more than ever, independent journalism like Ms. is needed to keep feminists everywhere informed and empowered to fight back. But we can't do it without you.

Just like public radio stations, we depend on our supporters and readers to keep Ms. strong and free from the influence of corporate advertisers—so Ms. is accountable only to the truth.

We don't have to tell you what dangerous times we face. It's only with the help of readers like you that Ms. can continue our independent reporting and truth-telling. If you are able, please consider supporting us for as little as $5 a month.