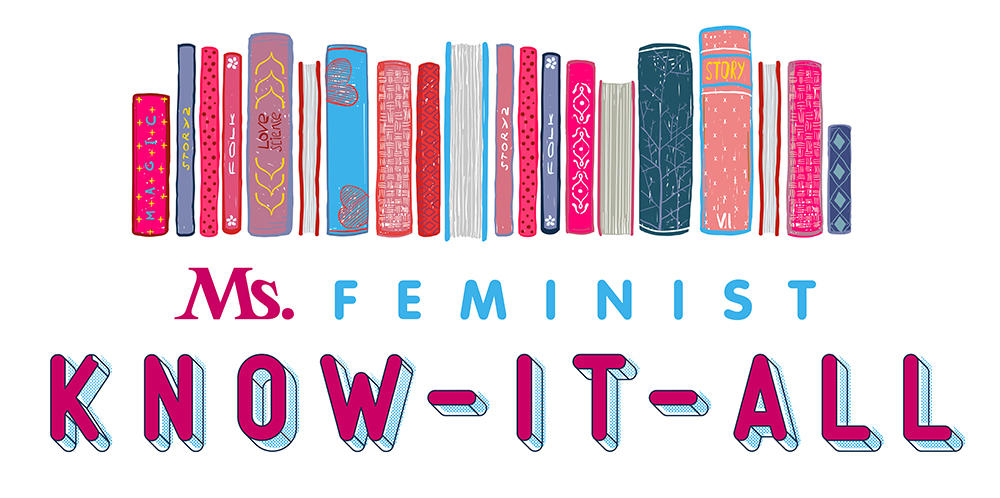 The Feminist Know-It-All: You know her. You can't stand her. Good thing she's not here! Instead, this column by gender and women's studies librarian Karla Strand will amplify stories of the creation, access, use and preservation of knowledge by women and girls around the world; share innovative projects and initiatives that focus on information, literacies, libraries and more; and, of course, talk about all of the books.
---
To celebrate 2019, I wanted to give you an end-of-year list—with a twist!
You know the drill: I want to do my part in the disruption of what has been the acceptable "norm" in the book world for far too long—white, cis, hetersexual, male; I want to amplify amazing works by writers who are women, Black, Indigenous, Latinx, APIA, international, LGBIA+, TGNC, queer, disabled, fat, immigrant, Muslim, neurodivergent, sex-positive or of other historically marginalized identities—you know, the rest of us; and I want to challenge and encourage you all to buy, borrow and read them! 
That's why I write these round-ups every month.
I receive a lot of new and forthcoming books each month to be considered for review or inclusion on these lists. I give each title and author time and attention, but what I've realized is that it is damn near impossible for me to know about every book publishing every month—although I do try!—and I am bound to miss some. And now, to make up for it, I'm going to share some of those with you!
I'm calling these titles "Hidden Gems" because they really are wonderful— and important, and unique, and dynamic, and impassioned, and well-researched, and endlessly readable. The titles on this list meet the same criteria as my usual lists—new books being published by writers from historically underrepresented groups.
There is something for everyone on this list. The books are presented alphabetically and are all currently available at your local bookshop or library. I know there are more, but here are the 14 that I needed to share with readers.
By celeste doaks (@thedoaksgirl). Backbone Press. 22 pages.
This charming collection of poems honoring former First Lady Michelle Obama won the inaugural Backbone Press Chapbook Award this year. Beautifully rendered, these 18 works shine a light on what we all love about Mrs. Obama. It also imagines a personal relationship with the favored First Lady; one that we wish we could all have. I'm so glad to have read this gem.
by Jennifer C. Nash. Duke University Press. 184 pages.
Northwestern University associate professor Jennifer C. Nash provides an important new examination of intersectionality and Black feminism, one that will shape women's studies and feminist theory well into the future. Challenging yet enlightening, this book is sharp and nuanced and necessary. It's your end-of-year #RequiredReading.
By Annahid Dashtgard (@annahid). House of Anansi Press. 280 pages.
I love the deep personal connection I feel when I read a candid memoir, especially one as beautifully written as this one. Reflecting on difference, diversity, and oppression, "inclusion warrior" Annahid Dashtgard presents readers with a story at once brave and vulnerable, soft and sharp. This one may change you.
By Anita Felicelli (@AnitaFelicelli). WTAW Press. 296 pages.
Anita Felicelli's debut novel is a magical ride through time and place with a talking lemur. You heard me right, but it's about so much more than a cute painted primate. Themes of art, law and relationships intersect in this thrilling satire that will keep you reading through a cold winter night.
by Arielle Twist (@ArielleTwist). Arsenal Pulp Press. 80 pages.
Cree, Two-Spirit, trans femme writer and sex educator Arielle Twist calls the shots in her first poetry collection. The shots are painful as Twist allows us into her world with candor and clarity. Yet there's magic in these pages. It's no wonder she calls herself a "supernova." Read the book to find out why.
By Frieda Ekotto (@friedaekotto). Translated by Corine Tachtiris (@tachtco). Bucknell University Press. 210 pages.
For the first time, two of Frieda Ekotto's most remarkable works are being translated and bound into one volume. In 2001, the novella Don't Whisper Too Much was the first story published by an African writer that positively portrayed lesbian love. And in 2010, Portrait of a Young Artiste from Bona Mbella was the second. Ekotto masterfully illustrates the complex layers of African women-loving-women, which include patriarchy, violence, agency and colonialism.
By Kimberly Dark (@kimberlydark). AK Press. 160 pages.
If you're unfamiliar with Kimberly Dark's work, you should remedy that at once. She's been writing, educating and storytelling for years, prolifically and passionately. Her latest work is a stark reminder of the ubiquitous messages of conformity and judgement surrounding us and of the necessity to continue to fight against them to achieve a more compassionate and understanding society.
Authors include Vera Kurian (@vera_kurian), Ashley Shelby (@millcitywriter), Hal Y. Zhang, and Germ Lynn. Radix Media. Boxed set of seven saddle-stitched chapbooks.
Wow. Wow. Wow! I love this series of seven futuristic, engrossing, sci fi chapbooks that Radix media has put together in a stunningly illustrated and printed collection. Each one is a perfect bite-sized chunk of delicious, thought-provoking, vexing weirdness. Robots and AI? Check. Terrifying surveillance state? Yup. Talking polar bears? Got 'em! Now sold in a boxed set, the Futures series would make the perfect gift—and your hard-earned money will go to a worker-owned publisher and printer!
Edited by Meg Day (@themegdaystory) and Niki Herd. Pleiades Press. 249 pages.
Laura Hershey is another reason I am so grateful to read poetry again. This transformative volume reveals the life and work this gifted yet too-often-overlooked poet. Centering disabilities, queerness, and what we'd now refer to as pleasure activism, Hershey's poetry is lush and insightful. With introductions and informative essays bookending the poems, this volume is an imperative introduction to a beloved master poet.
By Eloisa Aquino. Microcosm Publishing. 256 pages.
This is a beautifully bound collection of profiles originally published as a series of little zines created by Brazilian-Canadian artist Eloisa Aquino. Those featured are queer, women-loving individuals who challenged feminine stereotypes and have since become role models for other butch lesbians. Included are Audre Lorde, Jenny Shimizu, Gloria Anzaldua, Judith Butler, Gertrude Stein, and more. Will make a great gift for your fave butch or butch-loving fave.
By Shira Erlichman (@sheer_awe). Alice James Books. 100 pages.
Within this slim volume is an outstanding collection of poems about the medication Shira Erlichman takes for bipolar disorder. While graciously offering a look into the struggles of mental illness, Erlichman also presents a path to wholeness and acceptance through truth and humor. She writes in an inventive and striking way, and her poems are memorably illustrated with her own artwork.
By Stephanie Allen. Shade Mountain Press. 208 pages.
Okay, I actually didn't miss this one before it came out but I didn't have a February list on Ms., so it wasn't included anywhere. And I loved this book! Quirky and unique, this debut novel is a book about medicine shows. In it, Stephanie Allen uses her distinct voice to remind us that humanity is a tie that binds despite physical appearances, backgrounds, or flaws. She delivers subtle, nuanced examinations of race, gender and difference—as well as solidarity and resistance—that will resonate with readers today.
By Cyrus Grace Dunham. Little, Brown and Company. 176 pages.
I don't know how I missed this one when it was first released. It is a candid and gracefully written memoir of gender, authenticity, and coming into one's own. Dunham's writing style is personal and endlessly readable. Their book read like a letter written to me, it felt like a conversation with me. And I can't wait to hear from them again.
By Eve L. Ewing (@eveewing). Haymarket. 88 pages.
In her second collection of poems, Dr. Ewing examines the 1919 "Red Summer" of riots across the US, centering the most intense: the Chicago race riot that began on July 27 and ended eight days later with 38 people dead and over 500 others injured. A native Chicagoan, Ewing was researching for her book about Chicago public schools when she came across a report about the events that summer. Ewing uses her signature poetic style and meticulous research to present this often-overlooked event in Chicago history.