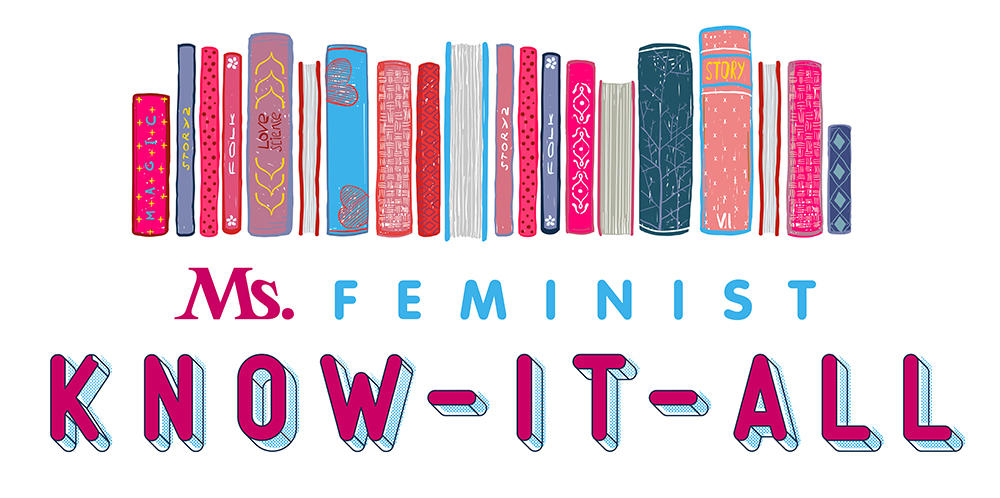 The Feminist Know-It-All: You know her. You can't stand her. Good thing she's not here! Instead, this column by gender and women's studies librarian Karla Strand will amplify stories of the creation, access, use and preservation of knowledge by women and girls around the world; share innovative projects and initiatives that focus on information, literacies, libraries and more; and, of course, talk about all of the books.
---
Each month, I provide Ms. readers with a list of new books being published by writers from historically underrepresented groups.
The aims of these lists are threefold:
I want to do my part in the disruption of what has been the acceptable "norm" in the book world for far too long—white, cis, heterosexual, male;
I want to amplify amazing works by writers who are women, Black, Indigenous, Latinx, APIA/AAPI, international, LGBIA+, TGNC, queer, disabled, fat, immigrant, Muslim, neurodivergent, sex-positive or of other historically marginalized identities—you know, the rest of us; and
I want to challenge and encourage you all to buy, borrow and read them! 
As we reach the dog days of summer—a summer of challenge and change—you may be reading more. Some of the season's hottest books may already be on your TBR list, such as AOC by Lynda Lopez, You Had Me at Hola by Alexis Daria, Where Dreams Descend by Janella Angeles and Lobizona by Romina Garber. Definitely check those out.
Some of the 31 I've included below may have slipped under your radar. You're sure to find something of interest, so which will you read?
By Akwaeke Emezi (@azemezi). Riverhead Books. 256 pages. Out August 4.
Those of you who keep up with my lists know that Akwaeke Emezi is one of my favorite writers of the last few years, so I am thrilled they are back with their next unforgettable novel of connection, understanding, loss and growth.
By Isabel Wilkerson (@isabelwilkerson). Random House. 496 pages. Out August 4.
From the Pulitzer Prize-winning author of The Warmth of Other Suns, comes another powerhouse examination of U.S. history and society, this time of the unspoken caste system of human hierarchy. Definitively researched and immersively written, this is a crucial book for our times.
Written by Yun Ko-eun (@yunkoeun) and translated by Lizzie Buehler. Counterpoint. 208 pages. Out August 4.
In her second novel in translation, Yun Ko-eun presents a dystopian feminist ecothriller that takes on climate change, sexual assault, greed and dark tourism. This is a unique, mysterious and engrossing novel.
By francine j. harris (@francinejharris). Farrar, Straus and Giroux. 96 pages. Out August 4.
In her third collection of poems, harris reflects on observation, race, loss, queerness and Black womanhood. She injects her work with lyrical strength that is poignant and powerful.
By Catherine Cho (@catkcho). Henry Holt and Co. 256 pages. Out August 4.
This debut memoir is an engrossing and frightening account of the author's post-partum psychosis and subsequent commitment to a psychiatric hospital; it's a candid story of motherhood, mental health and love.
By Ingrid Persaud (@ingridpersaud). One World. 336 pages. Out August 4.
In a truly Caribbean novel, Ingrid Persaud tells the story of one Trinidadian family struggling to stay together across miles, secrets and differences.
By Raven Leilani (@ravenleilani). Farrar, Straus and Giroux. 240 pages. Out August 4.
Sexy, funny and haunting, Luster is a simmering debut centering Edie, a twenty-something just trying to make her way in the world. Edie loses her job, becomes involved with a married couple, but longs to overcome her self-doubt to achieve her dream of becoming an artist.
By Micaiah Johnson (@micaiah_johnson). Del Ray. 336 pages. Out August 4.
Here's a book for the sci-fi dystopia fans out there. Travel with Cara through the multiverse as she tries to make sense of her new-found insider status as well as the secret that arises that could change the multiverse forever. This is a debut that's full of adventure.
By Jessica J. Lee (@jessicajlee). Catapult. 304 pages. Out August 4.
Part travel guide, part memoir, part history, the new book by environmental historian Jessica J. Lee takes us on a journey through her ancestral home of Taiwan as she examines the landscape, the wildlife, the legacy of colonialism and her own roots. The book beautifully captures the deep connections between the natural world and family history.
By Roselle Lim (@rosellewriter). Berkeley. 320 pages. Out August 4.
Longing to escape but are sheltering at home? Roselle Lim's sophomore novel is sure to help you scratch your itch for travel, family and romance. In it, Vanessa Yu explores Paris and her fortune-telling gift—or is it a curse?
By Morgan Jerkins (@morganjerkins). Harper. 304 pages. Out August 4.
Following her brilliant This Will Be My Undoing, Morgan Jerkins takes readers on a journey to recreate the migrations of her ancestors and explores her present through the legacies of her past.
By Shruti Swamy (@theshrutster). Algonquin Books. 208 pages. Out August 11.
In her stunning debut collection of stories, Shruti Swamy swiftly captures the contradictions and intersections present in daily life that make it rich and brilliant.
By Raquel Vasquez Gilliland (@poet_raquelvgil). Simon Pulse. 432 pages. Out August 11.
This fantastic debut novel centers Sia, a Mexican American teen living in Arizona after her mom's deportation. Combining themes of immigration and coming of age with magical realism and aliens, this is a surprising, vivid and unique story.
---
If you found this article helpful, please consider supporting our independent reporting and truth-telling for as little as $5 per month.
---
By Jody Chan (@jodyr.chan). Black Lawrence Press. 85 pages. Out August 14.
Winner of the 2018 St. Lawrence Book Award, SICK is a collection of queerness, grief, surprise and beauty. Soft and strong, delicate and painful, these poems are the calm and the storm.
By Khadijah Queen (@authorKQ). Tin House Books. 104 pages. Out August 18.
In a collection described as "powerful and dazzling" by Ilya Kaminsky, Khadija Queen outdoes herself with captivating poems examining the dualities of joy and pain, love and loss, knowing and ignorance.
By Kenrya Rankin (@kenrya). Spruce. 160 pages. Out August 18.
From activist and author of How We Fight White Supremacy comes this slim yet powerful collection of quotes from over 100 imperative voices in the anti-racism movement, including Alicia Garza, Ta Nehisi Coates, Audre Lorde, Bayard Rustin and more. Partial proceeds to benefit The Movement for Black Lives Fund, so get yours to take a break, rejuvenate, refresh and get back into the fray.
By Alice Randall (@MsAliceRandall). Amistad. 368 pages. Out August 18.
Acclaimed author and songwriter Alice Randall delivers a lovely ode to the Black Bottom neighborhood of Detroit through the eyes of one of its central figures, Joseph "Ziggy" Johnson. Accompanied by cocktail suggestions, this historical novel highlights local heroes and celebrates its storied history.
By Jennifer De Leon (@jdeleonwriter). Atheneum/Caitlyn Dlouhy Books. 336 pages. Out August 18.
In this funny and touching debut, a first generation Latinx teen deals with fitting in at an all-white school, friendships and family secrets. Tackling themes of immigration, race and identity, this is a coming of age story for our time.
By Julie Dachez (@Julie_Dachez) and Mademoiselle Caroline. Oni Press. 196 pages. Out August 18.
For the first time in English, Invisible Differences centers Marguerite, a 27-year-old woman in France having a challenging time at work, in her relationship and with socializing. After finding out she has Asperger's, Marguerite is able to make changes that enable her to live a better life. She shares them with readers here in this charming and insightful graphic novel.
By Suzanne Park (@suzannepark). Avon Books. Out August 18.
In her debut, Suzanne Park gives us her own feminist geek tweak on the rom-com, and I am here for it. Centering a young video game producer, the story tackles sexism, trolling and tradition with humor, originality and cheek.
By Micheline Aharonian Marcom. Simon & Schuster. 272 pages. Out August 18.
Inspired by interviews with Central American refugees, the latest captivating novel by Micheline Aharonian Marcom centers a Dreamer named Emilio, who is determined to return to California after being deported.
By Jordan Ifueko (@jifueko). Amulet Books. 368 pages. Out August 18.
This is an imaginative, epic YA fantasy debut by emerging Nigerian American author Jordan Ifueko. As Tarisai longs for familial closeness, she is sent away to decide where her loyalty lies and what she's willing to do for those she loves. Powerful, smart and brave, Tarisai is the heroine we need right now.
By Susan Abulhawa (@sjabulhawa). Atria Books. 384 pages. Out August 25.
Palestinian-American writer and political activist Susan Abulhawa has given us another powerful novel, this one of a woman's fight against misogyny and oppression to find hope and meaning in the darkest of times.
by Laura E. Gómez. The New Press. 336 pages. Out August 25.
UCLA professor Laura E. Gómez has written this timely and important examination of Latinx identity. Well-researched and accessible, this volume explores colonialism, racism, class and systemic oppression through a critical Latinx perspective.
By Rebekah Taussig (@sittingpretty). HarperOne. 256 pages. Out August 25.
You may be familiar with Rebekah Taussig's Instagram Sitting Pretty — if you aren't, then get over there! — and now she has written this collection of candid, powerful and informative essays about living with disabilities.
by Bishakh Som (@biche_bash). Street Noise. 160 pages. Out August 25.
In her now-recognizable style and voice, Bishakh Som delivers this lovely and candid graphic memoir centering care, identity and the power of coming into one's own.
by Reema Rajbanshi. Red Hen Press. 216 pages. Out August 25.
Employing experimentation with narration, form, language and myth, this debut is daring and fresh. Rajbanshi centers Asian American women as they experience history, identity, secrets and life in the Bronx, San Francisco, Brazil and India.
Edited by Joy Harjo. W.W. Norton. 496 pages. Out August 25.
In this groundbreaking volume, US Poet Laureate Joy Harjo has collected the works of over 160 Indigenous poets. This is an essential volume and long overdue. This month's #RequiredReading.
By Koritha Mitchell (@ProfKori). University of Illinois Press. 272 pages. Out August 31.
In her second book, Ohio State University professor Koritha Mitchell explores the connection between Black women's domestic lives and citizenship. By analyzing descriptions of Black homes from Toni Morrison, Zora Neale Hurston, Lorraine Hansberry and others, Mitchell sheds light on Black homemaking in the midst of anti-Blackness and oppression.
Last, but certainly not least, are two books you shouldn't miss that center those of us who challenge gender roles and explore freedom beyond the binary expectations of growing up a girl. Be sure to check out the conversation between Melissa Faliveno (@melissafaliveno), author of Tomboyland: Essays, and Lisa Selin Davis (@LisaSelinDavis), author of Tomboy: The Surprising History and Future of Girls Who Dare to Be Different as they discuss their new books and what it means to be a tomboy.
---