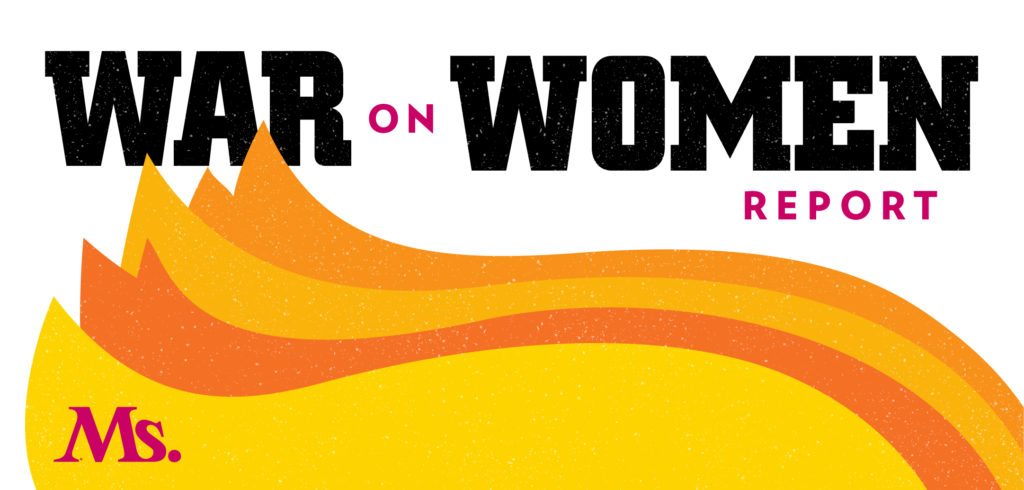 The War on Women is in full force under the Trump administration. We refuse to go back, and we refuse to let the administration quietly dismantle the progress we've made. We are watching.
This is the War on Women Report.
---
Thursday, September 3
+ The Atlantic published a scathing report detailing Trump's patronizing comments about fallen U.S soldiers. In 2018, Trump cancelled a trip to visit Aisne-Marne American Cemetery near Paris at the last minute. The trip was meant to honor the more than 1,800 Marines who lost their lives in the Battle of Belleau Wood of 1918. Four people with "firsthand knowledge" claim Trump made excuses for the cancellation, saying he was scared "his hair would become disheveled in the rain," as well as claiming the helicopter couldn't fly and the Secret Service wouldn't drive him there. Neither claim was true.
In reality, Trump allegedly "rejected the idea" of visiting the cemetery at all because he deemed it unimportant to honor Americans who died in war, telling senior staff members, "Why should I go to that cemetery? It's filled with losers," and referring to Americans who lost their lives during the month-long battle as "suckers" for dying.
The Atlantic also reported in 2017, when visiting Arlington National Cemetery with White House chief of staff John Kelly, Trump stood at Kelly's late son's grave and asked, "I don't get it. What was in it for them?" Of wounded veteran amputees, Trump also told his staff not to include them in a 2018 military parade, saying: "Nobody wants to see that."
"He can't fathom the idea of doing something for someone other than himself," one of Kelly's friends, a retired four-star general, told Atlantic reporter Jeffrey Goldberg. "He just thinks that anyone who does anything when there's no direct personal gain to be had is a sucker. There's no money in serving the nation." 
As has become typical, Trump denied the allegations, calling the story "totally false"—despite the fact that the bombshell reporting has been corroborated by the Associated Press, the New York Times, the Washington Post, and (wait for it) Fox News. (And despite having called the late John McCain a "loser" in 2015 on tape, and again in 2018 when discussing McCain's funeral—an event to which Trump was not even invited.)
Is it any surprise, then, that support for Trump among military families and veterans is declining?
Saturday, September 5
+ Trump called for an end to federal agencies' anti-racism trainings, calling them "a sickness." In a memo to Office of Management and Budget (OMB) director Russell Vought, Trump directed Vought to "ensure that Federal agencies cease and desist from using taxpayer dollars to fund these divisive, anti-American propaganda training sessions."
The memo claims these training sessions teach employees that "virtually all white people contribute to racism" (they do) and that these trainings "contradict the 'fundamental beliefs' of the nation" (they don't).
In reply, Georgia Rep. Steven Smith thanked Trump, calling the Black Lives Matter movement a "front group for China's Communist Party" and "the KKK in blackface" who are "trying to destroy America through racial division".
[insert face palm emoji and eye roll emoji here]
As the U.S. faces a racial justice reckoning, and with voters citing racism and police brutality as some of their top concerns ahead of the November elections, Trump's memo seems particularly tone-deaf.
---
If you found this article helpful, please consider supporting our independent reporting and truth-telling for as little as $5 per month.
---
Sunday, September 6
+ Trump's former personal lawyer Michael Cohen's new book alleges Trump to be a racist, "sordid, mob–like figure." In his book titled "Disloyal: A Memoir," Cohen outlines Trump's "low opinions of all Black folks, from music to culture to politics" and "deep disgust with Black leaders in addition to celebrities and sports figures."
For example, as Cohen writes, Trump called the late Nelson Mandela "no leader" and called "The Apprentice" season one runner-up Kwame Jackson, a Black man who referred to Trump as a "dictator" in 2018, homophobic and racial slurs, allegedly telling Cohen, "There was no way I was going to let this black f** win."
Cohen also alleges Trump was "consumed with hatred for Barack Obama." In one instance, Cohen describes Trump hiring "a Faux-Bama, or fake Obama, to record a video where Trump ritualistically belittled the first Black president and then fired him, a kind of fantasy fulfillment that it was hard to imagine any adult would spend serious money living out—until he did the functional equivalent in the real world."
Tuesday, September 8
+ The Department of Justice filed court documents, requesting to replace Trump's private legal defense with "government lawyers" in the defamation case brought on by one of Trump's alleged rape survivors. (Great use of taxpayer money, right?)
Last June, Elle columnist E. Jean Carroll, in a book excerpt published by New York Magazine, accused Trump of raping her in the 90s. Hours after the story was published, Trump denied the accusations, claiming he couldn't have raped Carroll because "she's not my type."
In response, Carroll filed a defamation suit against him in November of 2019. According to the DOJ, Trump was "within the scope" of his job as president when he denied Carroll's accusations.
In a statement responding to this recent move, Carroll said:
"Today's actions demonstrate that Trump will do everything possible, including using the full powers of the federal government, to block discovery from going forward in my case before the upcoming election to try to prevent a jury from ever deciding which one of us is lying."
Carroll is far from the only woman to accuse Trump of sexual misconduct. Over a dozen women have came forward since 2016 to tell stories sexual victimization by Trump, and The Huffington Post made a list of just 25 of the women who accused Trump of sexual misconduct.
Wednesday, September 9
+ In an interview with journalist Bob Woodward, Trump admitted to lying to the American public early on about the severity of the coronavirus pandemic. Woodward recounts on Feb. 7, in one of 18 interviews they conducted for his new book "Rage," Trump said of the coronavirus:
"This is deadly stuff. You just breathe the air and that's how it's passed. And so that's a very tricky one. That's a very delicate one. It's also more deadly than even your strenuous flu."
This vastly contradicted what he was telling the public at the time, when he downplayed the dangers of the virus, even fueling a conspiracy theory that the concern over the spread of the disease was overblown and was a plot by the Democrats in an effort to "tar him."
"I wanted to always play it down. I still like playing it down, because I don't want to create a panic," Trump told Woodward on March 19. (A little too late for that…)
Fallout from the bombshell confessions have caused internal strife at the White House, as staff attempt to assign blame on those who allowed the president to speak so candidly on the record with Woodward. But sources say it was Trump himself made the decision (and the late night phone calls), thinking he could spin the narrative in a positive way.
With 18 separate interviews and hours of on-tape content, expect more fallout to come.
---