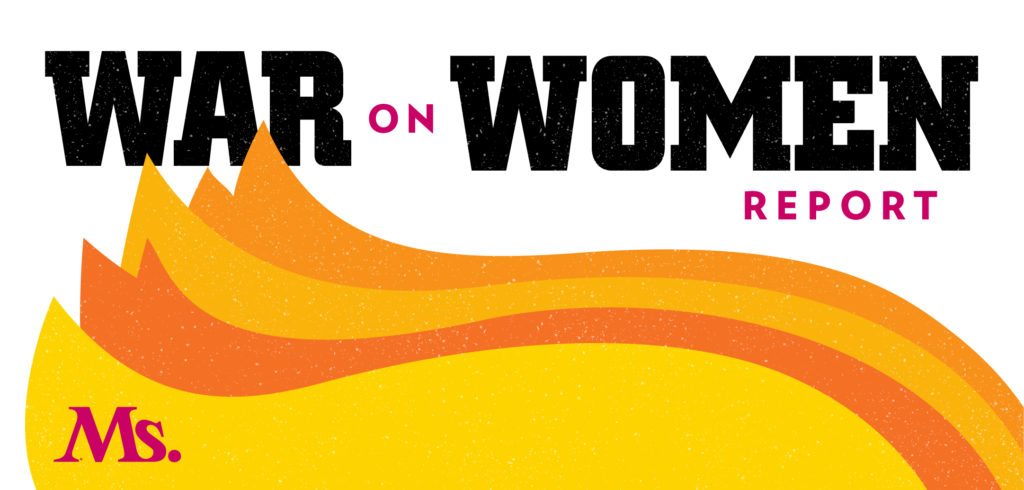 The War on Women is in full force under the Trump administration. We refuse to go back, and we refuse to let the administration quietly dismantle the progress we've made. We are watching.
This is the War on Women Report.
---
Since Our Last Report …
+ Thirteen men have been charged in connection with a conspiracy to kidnap Governor Gretchen Whitmer of Michigan.
After news broke of the arrests, rather than rally around Whitmer, President Trump tweeted, "Governor Whitmer of Michigan has done a terrible job" and continued to criticize her in subsequent tweets. (Trump has previously referred to Whitmer as "that Woman from Michigan" and "Half-Whitmer.")
Whitmer published an opinion editorial in The Washington Post on Friday in which she stated:
"I'm not going to waste my time arguing with the president. But I will always hold him accountable. Because when our leaders speak, their words carry weight."
+ The so-called "Deterrence Project"—recently uncovered by Britain's Channel 4 News by way of a leaked copy of an election database used by the campaign in 2016—was a project of Trump's digital campaign team which targeted 3.5 million Black people in key states with digital ads aimed at getting them to stay home, rather than vote for Hillary Clinton.
Wednesday, Oct. 7
+ Sen. Kamala Harris (D-Calif.) and Vice President Mike Pence faced off on abortion rights, racial justice and other important issues during the first and only vice presidential debate. When Harris was asked about whether she would support her home state "eliminating abortion restrictions in the event that Roe v. Wade was overturned," the California senator reaffirmed her support for accessible, legal and safe abortions. 
"I will always fight for a woman's right to make a decision over her own body. It should be her decision—not that of Donald Trump or Mike Pence," said Harris.
Pence, when asked a similar question, said, "I'm pro-life. I don't apologize for it." His response was unsurprising given his previous hostile statements about Roe—like when he stated during the 2016 presidential campaign that he and then-candidate Donald Trump intended to have Roe v. Wade "consigned to the ash heap of history where it belongs."
He went on to falsely claim Harris and former Vice President Joe Biden support funding abortion "all the way up to the moment of birth [and] late-term abortion."
In reality, "late-term abortion" is a scientifically inaccurate term used by anti-abortion activists to describe abortions that occur after 20 weeks of pregnancy. Those abortions account for just 1.2 percent of all abortions, and they are done because the pregnant person's life is at risk. (Are you sure you're pro-life, Mr. Vice President?)
---
If you found this article helpful, please consider supporting our independent reporting and truth-telling for as little as $5 per month.
---
But Pence didn't stop there, attacking the Biden-Harris plan to "increase funding to Planned Parenthood of America." (Gasp!) Gutting Planned Parenthood (PP) would not only make it harder for women to exercise their right to control their body, but would also cut off many from life-saving services like HIV testing and cancer screenings.
Pence's dream of defunding PP is especially malicious given the fact that we're in the middle of a pandemic and PP provides health services to millions of people. With the appointment of Judge Amy Coney Barrett to the Supreme Court, as well as sustained political attacks on abortion providers, the future of reproductive rights in the U.S. is at a crucial juncture.
Monday Oct. 12
+ In California, the state's Republican Party admitted to placing over 50 misleading and unofficial ballot boxes (which were falsely labeled as "official") in and around Los Angeles, Fresno and Orange Counties.
According to the New York Times, Republican officials in California had "purchased about 100 [fake ballot] boxes in recent weeks in an attempt to boost turnout."
California Secretary of State Alex Padilla sent cease-and-desist letters to state and county level GOP officials and ordered them to remove the fraudulent boxes.
"Misleading voters is wrong regardless of who is doing it. [The boxes] are not permitted by state law. [It is] illegal to tamper with a citizen's vote [and anyone] engaging in this activity [could be subject to criminal prosecution or civil action]," Padilla said in a conference call with reporters.
Hector Barajas, the spokesperson for the California Republican Party, admitted the GOP was responsible for the deception—albeit "only after being bombarded by questions by reporters"—but said Republicans will continue "to distribute the boxes, without adding any label identifying them explicitly as Republican ballot drops."
This defiance could cause major legal problems for the California GOP. "The boxes [are] not covered by legal protections, because they were intended to mislead voters and erode the public trust," said Padilla.
Tuesday Oct. 13
+ Due to spam and "platform manipulation," Twitter removed a series of accounts pretending to be run by Black supporters of Donald Trump and his reelection campaign.
After an investigation by The Washington Post, Twitter launched an investigation into "more than a dozen" accounts that claimed to be Black Trump supporters. Some accounts also claimed to be militarily veterans or members of law enforcement.
According to a review of these accounts—some of which had thousands of followers prior to being shut down—these pages used "stolen images to appear real," as well as "identical, inauthentic language including the phrase: 'YES IM BLACK AND IM VOTING FOR TRUMP!!!'".
As of the writing of this report, it is unknown who was actually behind the accounts or whether or not they originated outside the U.S.
Monday, Oct. 12 to Thursday, Oct. 15
+ Amy Coney Barrett's confirmation hearings took place this week.
After four days of dodged questions by Supreme Court nominee Judge Amy Coney Barrett—and barrages of disapproving remarks by Senate Democrats—Congress and the American public seem no more informed on Barrett than they were when Trump rushed her appointment, just a week after Justice Ruth Bader Ginsburg's passing.
Under committee rules, Democrats can postpone the nomination for one week, and they have made clear they will employ every tool at their disposal to do so—plus "certain creative tactics that rely upon the element of surprise," wrote Senate minority leader Chuck Schumer (D-N.Y.).
The committee is expected to vote on Oct. 22.
In case you missed it, go in-depth on each day of the Amy Coney Barrett Supreme Court hearings:
Thursday, Oct. 16
The two presidential candidates held competing town halls Thursday on their respective home turfs—Trump in Florida, Biden in Pennsylvania—at the same time on different networks.
Biden's town hall was marked the first presidential debate event to explicitly focus on issues affecting LGBTQ+ Americans.
During President Trump's first town hall since contracting coronavirus, his answers surrounding the virus echoed earlier talking points, including touting his early travel ban from China when COVID initially surfaced. Trump—who has been reticent to wear masks in public throughout the pandemic—told voters that his position on the importance of wearing them had changed little since his own diagnosis. He said that though he was "okay with masks," he had heard "many different stories on masks."
You may also like:
---