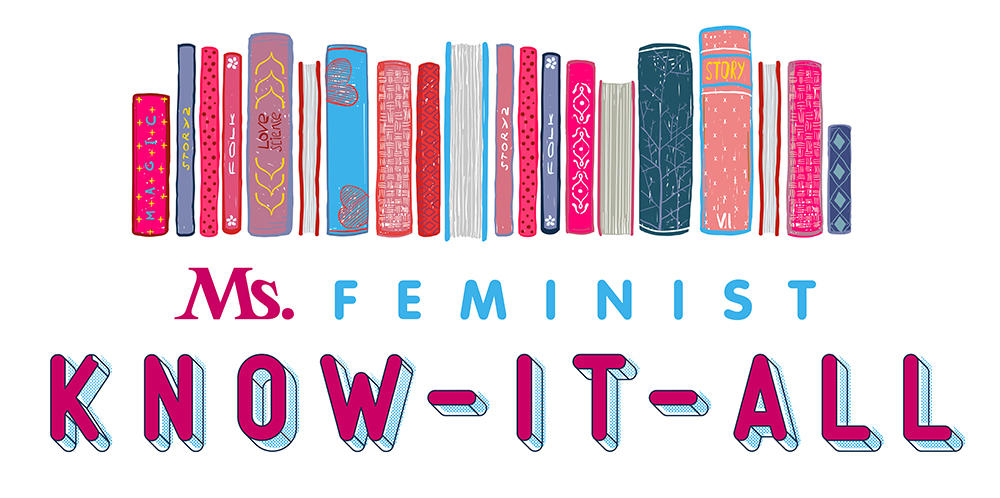 The Feminist Know-It-All: You know her. You can't stand her. Good thing she's not here! Instead, this column by gender and women's studies librarian Karla Strand will amplify stories of the creation, access, use and preservation of knowledge by women and girls around the world; share innovative projects and initiatives that focus on information, literacies, libraries and more; and, of course, talk about all of the books.
---
Each month, I provide Ms. readers with a list of new books being published by writers from historically excluded groups.
The aims of these lists are threefold:
I want to do my part in the disruption of what has been the acceptable "norm" in the book world for far too long—white, cis, heterosexual, male;
I want to amplify amazing works by writers who are women, Black, Indigenous, Latinx, APIA/AAPI, international, LGBIA+, TGNC, queer, disabled, fat, immigrant, Muslim, neurodivergent, sex-positive or of other historically marginalized identities—you know, the rest of us; and
I want to challenge and encourage you all to buy, borrow and read them!
Are you vaccinated, masked up and ready to get back out there this beautiful Pride Month? I am two of the three because, let's be honest, I would rather stay home and sit on my sunny porch with a cocktail and a good book.
However you spend it, I hope you have a lovely June and that you can squeeze in some time for a read from this month's list of 32 amazing books.
Happy Pride!
---
By Grace Perry (@perryjetaime). St. Martin's Griffin. 256 pages. Out June 1.
Just in time for Pride is this debut collection of essays about being "gay as hell" in the aughts. If you came up and out in the 2000s, chances are you'll recall some of the pop culture moments that helped to shape Perry's identity, that include Taylor Swift, "I Kissed a Girl," Glee and Harry Potter's "half-assed gay character."
---
By Faridah Àbíké-Íyímídé (@FaridahLikesTea). Feiwel and Friends. 432 pages. Out June 1.
This debut YA thriller by Faridah Àbíké-Íyímídé tells the story of two newly-appointed prefects focused on success during their last year at an elite private school. When a bully going only by the name of "Aces" starts sending them anonymous texts, he threatens to destroy them and everything they care about.
---
By Nghi Vo (@nghivowriting). Tordotcom. 272 pages. Out June 1.
I adore Nghi Vo's feminist fantasy novellas of the Singing Hills series and now she applies her meticulous and creative hand to reimagine The Great Gatsby with a queer Asian woman at its magical, kaleidoscopic center.
---
By Tahereh Mafi. HarperCollins. 256 pages. Out June 1.
Tahereh Mafi's latest YA novel takes you into a Muslim family's post-9/11 life in all its complexities, challenges and hopes. In unflinching and beautiful prose, this story of Islamophobia, coming of age, sorrow and love will stay with you, as it should.
---
By Joss Lake. Soft Skull. 304 pages. Out June 1.
This fantastic debut centers trans characters and friendships in ways that will have you laughing, reflecting and relating. Set in the near-future, Lake imagines a queer hero's journey that is vivid, imaginative and immersive.
---
By Ly Tran (@lytranwrites). Scribner. 384 pages. Out June 1.
In this moving debut memoir, Ly Tran recounts emigrating from Vietnam to the United States with her family in the early 1990s. It's in New York City that she comes into her own, at once attempting to fit into this new world as well as honor deep traditions, the need to contribute to the family and her father's resistance to new ways.
---
By Zakiya Dalila Harris (@zakiya_harris). Atria Books. 368 pages. Out June 1.
This is the perfect time for Harris's edge-of-your-seat debut thriller in which two Black women meet in the all-too-white world of book publishing.
---
By Carol Anderson (@ProfCAnderson). Bloomsbury Publishing. 272 pages. Out June 1.
Dr. Carol Anderson's latest book is essential for anyone concerned about the Second Amendment and its impact on African Americans in the US. Anderson deftly turns the debate over gun rights on its head by changing the framework to one of anti-Blackness, vulnerability and oppression.
---
By Cynthia Leitich Smith (@cynleitichsmith) (Muscogee Creek). Heartdrum. 320 pages. Out June 1.
While I normally don't include books for kids in this list, I wanted to ensure I shared the news of Heartdrum, a new imprint of HarperCollins Children's Books focusing on Native American and First Nation stories for kids and teens. With Smith as the author-curator of Heartdrum, books such as this reimagining of Peter Pan from a Native American girl's perspective, will be rightfully centered.
---
By Ashley C. Ford (@iSmashFizzle). Flatiron Books. 208 pages. Out June 1.
Writer, educator and media personality Ashley C. Ford has written this powerful, personal memoir about growing up with an incarcerated father and the legacy of their complex relationship.
---
By Cheluchi Onyemelukwe-Onuobia (@Cheluchi_O). Dundurn. 304 pages. Out June 1.
With themes of resilience, empowerment and fighting the patriarchy, this debut features two Nigerian women from seemingly opposite worlds, who share their lives and experiences after being kidnapped and held captive.
---
By Vanessa Carlisle (@VCarlisle). Running Wild Press. 328 pages. Out June 1.
In this candid and compelling novel, queer femme sex worker, death doula, activist and educator Dr. Vanessa Carlisle centers family — the one we are born into and that which we create—as well as sex work, class, race, justice and survival.
---
Written by Rebecca Hall (@WakeRevolt) and illustrated by Hugo Martínez. Simon & Schuster. 208 pages. Out June 1.
In graphic novel format, scholar activist Rebecca Hall provides an imperative and little-known history of revolts led by enslaved women. Also part memoir, the book speaks to the erasure of Black women from the archive and the work needed to counter incomplete narratives.
---
By Nana Nkweti (@nanankweti). Graywolf Press. 176 pages. Out June 1.
This Caine Prize finalist's debut story collection has been called "exuberant," "immersive," "vibrant," "explosive," "sharp," "dazzling" and "brilliant." Spanning genres like fantasy, horror, mystery and realism, this volume is all that and then some.
---
By Heather Corinna (@heathercorinna). Hachette Go. 336 pages. Out June 1.
For those of us who are headed to or through menopause, this book is a hilarious break from the hot flashes, moodiness and hormone therapy. People with disabilities, nonbinary people, working class people, queer feminist activist Heather Corinna brings us all into the conversation.
---
By Crystal Lynn Webster (@crystallynnweb). University of North Carolina Press. 208 pages. Out June 7.
Because pre-Civil War discussions about the well-being of children in labor and schooling in the North centered on white children, Black children and their families created their own space to play, to learn and to dream. In this engaging and innovative work, Dr. Crystal Lynn Webster begins the crucial work of filling the gaps in knowledge about Black children in the antebellum era.
---
By Tiya Miles (@TiyaMilesTAM). Random House. 416 pages. Out June 8.
This is the extraordinary story of three generations of Black women and the cotton sack that held the evidence of their lives as it was passed down among them. With the bag, its contents and meager archival records, historian Tiya Miles intricately weaves together the stories of these women, from 1850s enslavement in South Carolina to freedom decades later. Unique and unforgettable, this volume is also a critique of the importance of archives and those who are routinely left out, to the detriment of us all.
---
By Akwaeke Emezi (@azemezi). Riverhead Books. 240 pages. Out June 8.
In their intimate memoir in letters, the brilliant Akwaeke Emezi candidly shares their reflections on gender, embodiment, queerness, creativity and relationships with the same fierce dedication and candor that defines their bestselling novels.
---
By Tasha Suri (@tashadrinkstea) Orbit. 512 pages. Out June 8.
Two fierce women. Magic, action and adventure. Folklore of the past and imagining the future. Masterful storytelling. Kaleidoscopic, queer world-building. Robust characters. The first book of Tasha Suri's new trilogy has it all!
---
By Jamika Ajalon (@jamikaajalon). Amethyst Editions. 272 pages. Out June 8.
This debut centers a trio of Black punk artists in 1990s London while they explore revolutionary freedom underground, creating art and poetry, throwing parties and surviving in an increasingly terrifying surveillance state.
---
By Jennifer L. Morgan (@profjlmorgan). Duke University Press Books. 312 pages. Out June 11.
Through an original and compelling framework, Dr. Jennifer L. Morgan examines the beginnings of racial capitalism and how the commodification of enslaved African women both relied upon and denied them their most basic kinship ties.
---
By Liselle Sambury (@lisellesambury). Margaret K. McElderry Books. 496 pages. Out June 15.
Will 16-year-old Voya Thomas really kill her first love in order to save her family's legacy of magic? Get ready for this glitteringly queer fantasy debut that mixes magic and Afrofuturism, love and technology into a witch's brew that will leave you spellbound.
---
By Krys Malcolm Belc (@krysmalcolmbelc). Counterpoint. 304 pages. Out June 15.
In this candid and captivating memoir-in-essays, Krys Malcolm Belc shares his experience of gestational parenthood as a nonbinary, transmasculine person. Funny, gritty and brave, this is a story of self-affirmation unlike any other, but one in which many will see themselves.
---
By Nobuko Miyamoto (@miyamoto_nobuko). University of California Press. 334 pages. Out June 15.
Activist and artist Nobuko Miyamoto has written this immersive memoir about her life spent in the arts, as a mother and fighting for Asian American justice. Frank and fierce, her story is bound to inspire.
---
By Dhonielle Clayton (@brownbookworm), Tiffany D Jackson (@WriteinBK), Nic Stone (@getnicced), Angie Thomas (@angiecthomas), Ashley Woodfolk (@ashwrites), and Nicola Yoon (@NicolaYoon). Quill Tree Books. 256 pages. Out June 22.
These six powerhouse writers have come together to weave a novel of love and romance between six couples on a night when the summer heat has caused a blackout across NYC. Magically written, this volume shines a light on Black queer love and joy.
---
By Ruth Wilson Gilmore. Haymarket Books. 180 pages. Out June 22.
Scholar activist Ruth Wilson Gilmore's Change Everything is the inaugural book in the new Abolitionist Papers book series from Haymarket Books, and of course it is. After three decades of abolition work, Gilmore takes us to school on what is needed to reckon with the carceral (in)justice system in this powerful collection of essays.
---
By Weng Pixin (@pixmadeobjects). Drawn & Quarterly. 204 pages. Our June 22.
In this vibrant graphic novel, Weng Pixin journeys through five generations of her family's women, all when they were aged 15 years, as she reflects on family, trauma, silence and connection.
---
By Mia McKenzie (@miamckenzie). Random House. 320 pages. Out June 22.
Mia McKenzie's original and bold new novel centers Skye, a near-40-year-old queer woman whose always lived by her own rules. Her life is turned on its head when a young girl finds her and reveals that she is the product of one of the eggs Skye donated in her twenties.
---
By Alex DiFrancesco (@DifrancescoAlex). Seven Stories Press. 144 pages. Out June 22.
This memorable collection of short stories displays the wild talent of Alex DiFrancesco to push boundaries and explore the imagination while simultaneously comforting and strengthening their readers.
---
By Kimberly Dark (@kimberlydark). AK Press. 230 pages. Out June 29.
The indomitable Kimberly Dark is back with her latest collection of essays to challenge and deconstruct normative narratives of "damage" including trauma, fatness, disability and queerness. Complex and layered, this volume is still endlessly readable and relatable.
---
By Inger Burnett-Zeigler (@ibzpsychphd). Amistad. 272 pages. Out June 29.
Clinical psychologist Dr. Inger Burnett-Zeigler has written this healing guide for Black women that explodes the Strong Black Woman trope and reminds them to put themselves first. Queen Sugar author Natalie Baszile calls it, "A gift to Black women everywhere."
---
By Kalynn Bayron (@KalynnBayron). Bloomsbury YA. 384 pages. Out June 29.
Filled to the brim with queer Black Girl Magic, Kalynn Bayron's latest fantasy is smart, feminist and fierce. Centered on the powerful Briseis who can grow plants with a single touch, this luminous novel will pull you in and keep you guessing.
---
By Emma Dabiri (@EmmaDabiri). Harper Perennial. 176 pages. Out June 22.
This slim volume is a valuable addition to your anti-racist reading list. But once you read it, take Dabiri's advice and do something! Questioning the racial category "white" and its use in fighting injustice, Dabiri also provides concrete suggestions to stop the denial, interrogate capitalism, abandon guilt, and more.
Up next:
---