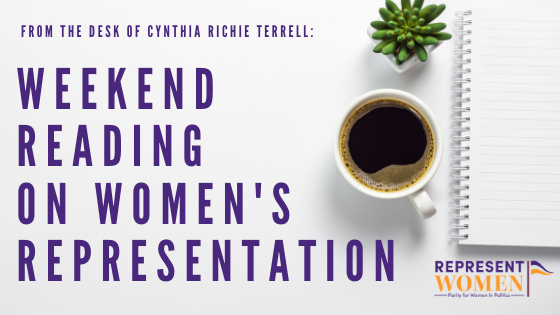 Weekend Reading on Women's Representation is a compilation of stories about women's representation in politics, on boards, in sports and entertainment, in judicial offices and in the private sector in the U.S. and around the world—with a little gardening and goodwill mixed in for refreshment!
---
The midterm election is now over, and I am excited to share some promising results for women candidates and ranked-choice voting!
This cycle saw a remarkable youth voter turnout, which is being cited as a major factor for diminishing the "red wave" Republicans were expecting. While races are still being called, here's what we know as of Thursday night.
Wins for Ranked-Choice Voting
This week saw major victories for voters across the country! There was a record 10 places voting on whether to adopt ranked-choice voting and 12 places holding ranked-choice voting elections.
Check out FairVote Action's updates for forthcoming news, but here's where ranked-choice voting as won so far:
Portland, Maine, voters said yes on the gold standard of ranked-choice voting—proportional ranked-choice voting—with 64 percent support.
Fort Collins, Colo., voters passed RCV with 57 percent in favor. 
Evanston, Ill., says yes on RCV with a whopping 82 percent voting in favor. 
Portland, Ore., also voted yes on proportional ranked-choice voting, with 56 percent in favor so far. This will be the largest city in the U.S. to use proportional RCV.
Multnomah County, Ore., passed RCV with 67 percent support.
Ojai, Calif., voters said yes to ranked-choice voting with 57 percent in favor.
Nevada has yet to be called, but it's looking likely that it will pass, making Nevada the nation's third state to use ranked-choice voting statewide (with Maine and Alaska). As one of the nation's most competitive states, this is great news for Nevada voters who will now have more voice and more choice.
---
Wins for Women Gubernatorial Candidates
This year saw 25 women running for governor, and 12 women won—breaking our previous record of nine governors initially set in 2004. (Though we're still waiting for results in Arizona, this race is woman v. woman, guaranteeing the 12 total women governors.)
For the first time in history, Arkansas and Massachusetts will have both a woman governor and lieutenant governor.
For the first time in history, there will be two openly LGBTQ governors: Maura Healey in Massachusetts and Tina Kotek in Oregon—the first two openly LGBTQ governors in U.S. history.
While exciting that we did break the record this year, it should be noted that the majority (11) of these women governors are white women.
---
Wins for Women in Statewide Executive Office
Secretary of State
Currently there are 11 women who serve as secretaries of state and 23 women ran for secretary of state in this election. Here are the results of the races we were especially focused on:
Maggie Toulouse Oliver, New Mexico: incumbent and voting rights champion wins with 55 percent of the vote.
Jena Griswold, Colorado: incumbent and advocate for the national popular vote, wins with 54 percent of the vote.
Jocelyn Benson, Michigan: incumbent and staunch advocate for ballot access and ballot security, wins with 56 percent support.
Shirley Weber, California: incumbent and the state's first woman of color to serve as secretary of state, wins with 58 percent support.
Shenna Bellows, Maine: incumbent, voting rights champion, and ranked-choice voting advocate, will be indirectly elected by the Maine state legislature. We should hear more early next month. (Here more from Bellows in this interview, part of the Women Saving Democracy collaborative site with Ms., RepresentWomen and the Brennan Center for Justice.)
Julie Anderson, Washington: ran as an independent challenger, but did not win her race. 
Rosemounda Butler, South Carolina: ran as a challenger and did not win her race. If she had been successful, she would have been the first Black woman elected statewide in South Carolina.
Sarah Copeland Hanzas, Vermont: ran for the open seat. She won with 65 percent of the vote—the state's second ever woman to hold this position.
Destiny Wells, Indiana: who prioritized free and fair elections and increasing voter participation to improve representative outcomes, did not win her race.
Comptroller
Currently there are only four women who serve as comptroller, a position that is sometimes called manager of the state's checkbook. We were watching the following races:
Susana Mendoza, Illinois: incumbent and co-founder of the Illinois Legislative Latino Caucus, won with 57 percent support.
Malia Cohen, California: an ardent backer of ranked-choice voting, is currently ahead but the race has yet to be called.
Brooke Lierman, Maryland: another ardent supporter of ranked-choice voting won with 57 percent of the vote. She is the first woman to serve as comptroller in Maryland.  
---
Wins for Women in the U.S. Senate
We did not break the current record for women serving in the U.S. Senate (26, first set in 2020).
So far this year, four (3D, 1R) women have already won seats in the U.S. Senate and, when combined with the 19 existing women senators not up for election this year, at least 23 (15D, 8R) women will serve in the Senate in the 118th Congress. 
From the races that RepresentWomen was watching, there have been several losses and some races that have yet to be called:
---
Wins for Women in the U.S. House
As of Thursday night, 107 women will serve in the 118th Congress. Results are still pending in 11 states. Currently, 123 women serve; a record set in 2022. Of the 107 women who won, 17 are non-incumbent winners.
---
Wins for Women in D.C. and Maryland Races
We are based in Takoma Park, Md., right outside of Washington, D.C. These are the local races we had our eyes on:
Elissa Silverman, Washington D.C.: ran as an incumbent for D.C. Council at-large and did not win her race.
Jheanelle Wilkins and Lorig Charkoudian, Maryland: ran as incumbents to represent the multi-member District 20 in the Maryland House of Delegates. We are still waiting for the results of this race.
Kate Stewart, Montgomery County, Md.: ran for Montgomery County Council in the new District 4 and is projected to win.
Talisha Searcy, Takoma Park, Md.: ran for mayor of Takoma Park and is projected to win.
---
The Reykjavík Global Forum: Shaping Global Conversations
I had the honor of attending the Reykjavik Global Forum in Iceland this week! It was lovely getting to meet so many terrific leaders and hear important discussions on gender quotas, women's leadership and systems change. These conversations are possible because of proportional voting systems!
I am grateful to have been invited to the home of the president of Iceland and his wife Eliza Reid, who wrote a wonderful book entitled Secrets of the Sprakkar: Iceland's Extraordinary Women and How They Are Changing the World. (I highly recommend checking it out!)
U.S. democracy is at a dangerous inflection point—from the demise of abortion rights, to a lack of pay equity and parental leave, to skyrocketing maternal mortality, and attacks on trans health. Left unchecked, these crises will lead to wider gaps in political participation and representation. For 50 years, Ms. has been forging feminist journalism—reporting, rebelling and truth-telling from the front-lines, championing the Equal Rights Amendment, and centering the stories of those most impacted. With all that's at stake for equality, we are redoubling our commitment for the next 50 years. In turn, we need your help, Support Ms. today with a donation—any amount that is meaningful to you. For as little as $5 each month, you'll receive the print magazine along with our e-newsletters, action alerts, and invitations to Ms. Studios events and podcasts. We are grateful for your loyalty and ferocity.
Up next: