Eight of the Iranian democracy movement's prominent diaspora leaders presented a united vision for Iran's future for the first time since the 2022 uprisings began, at a summit on Feb. 10 hosted by the Georgetown Institute for Women, Peace and Security (GIWPS).
The diverse group—which included actors Nazanin Boniadi and Golshifteh Farahani, Nobel Peace Prize laureate Shirin Ebadi, activists Masih Alinejad and Dr. Hamed Esmaeilion, former soccer captain Ali Karimi, former crown prince Reza Pahlavi, and Kurdish leader Abdullah Mohtadi—plans to produce a joint charter by the end of February.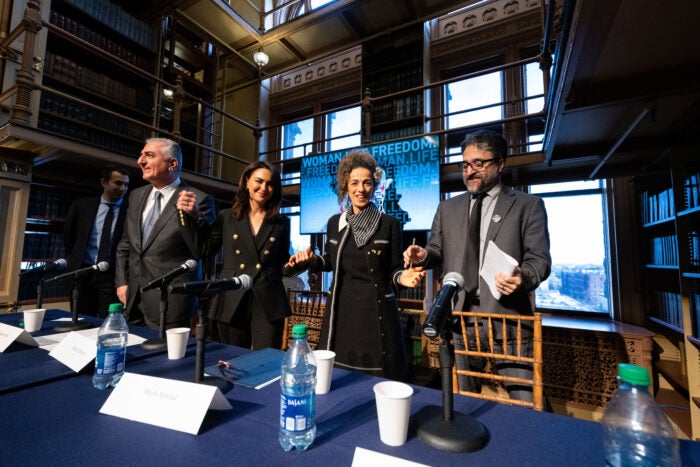 "We are working to produce a joint charter that includes the demands of the people," said Masih Alinejad, author and women's rights activist, "something that relies on the declaration of human rights, on equality; that accepts the territorial integrity of Iran; and that reaffirms the decentralization of power."
The leaders shared the stage for the first time since the anti-government protests began over the Sept. 16, 2022, killing of 22-year-old Mahsa Jina Amini for improper hijab. The Iranian democracy movement's diaspora leaders discussed the continued viability of the movement, their common vision for Iran's future and how democratic change in Iran can change the world.
"We may not agree on every single thing. What is important is that we do not lose momentum" said H.E. Reza Pahlavi, advocate for Secular Democratic Iran, adding, "We are not a leadership council. We are going to help form such a council."
GIWPS hosted the event with the Walsh School of Foreign Service and the Iranian Cultural Society student organization. In the panel discussion, the group shared their common goal to end the Islamic Regime. 
"The revolution was ignited by Mahsa's murder," said Dr. Shirin Ebadi, Nobel laureate. "It's like a train that has left the station. A train that doesn't intend to stop. And its last destination is the fall of the regime."
"Our only common enemy … is the Islamic Republic. We proved that our revolution is a revolution of empathy and unity. What we want is friendship, freedom and equality," said Abdullah Mohtadi, secretary-general of Komala Party of Iranian Kurdistan. 
Speakers agreed that the type and form of a future government is something that should be decided later, by election and by majority vote.
"If we all respect democracy and rule of people, then we will leave this decision for tomorrow to be made by the people. … And that day we won't have the same opinions, but this is the definition of democracy and liberty," said actor Golshifteh Farahani, on behalf of herself and Ali Karimi, former captain of Iran's National Soccer Team.
"I'm very proud and honored to be sitting with my friends here to set aside any differences and unite on our goals in democracy and secular democracy," said actor and Amnesty International U.K. ambassador Nazanin Boniadi. "If there is one thing the Islamic Republic wants you to believe, it's that we are so fragmented, we can't even go to foreign leaders and ask for a single thing that's achievable."
The eight leaders are communicating with protesters on the ground in Iran to inform aspects of their charter.
"People inside the country are our inspiration and they are our hope," said Alinejad.
They also plan to meet with Western countries in the future in order to discuss their charter.
"Revolutions have ups and downs. … Sometimes revolutions can fall but then it returns with higher waves," said Hamed Esmaeilion, president and spokesman of the Association of Families of Flight PS752 Victims. "The people are very angry and they're waiting for the next wave and the next wave will come and it will be heavier." 
The event was broadcast live inside Iran by major Persian news outlets, including BBC Persian, Iran International, KayhanLondon, Manoto and VOA Persian.
This event today at @giwps–being broadcast live in #Iran–is one of the regime's worst nightmares. #MahsaAmini #WomanLifeFreedom pic.twitter.com/aSmJPHit3w

— Jason Brodsky (@JasonMBrodsky) February 10, 2023
During the event, moderator Karim Sadjadpour, a senior fellow at Carnegie Endowment for International Peace and adjunct professor at Georgetown, also acknowledged the 44th anniversary of the Islamic Revolution in Iran.
"Please take a moment of silence for the victims of the past five months and of the past 44 years," he said.
Melanne Verveer, executive director at GIWPS, condemned the acts of violence and efforts to suppress the voices of those fighting for women's rights and freedom of expression. 
"Women in Iran have been on the frontlines of change for decades, but this time is different. Their demand for women, life and freedom cannot be extinguished," said Verveer. "We stand together with the brave protesters in Iran for democratic change in Iran. Their cause is our cause."
This story was originally posted by the Georgetown Institute for Women, Peace and Security.
Up next:
U.S. democracy is at a dangerous inflection point—from the demise of abortion rights, to a lack of pay equity and parental leave, to skyrocketing maternal mortality, and attacks on trans health. Left unchecked, these crises will lead to wider gaps in political participation and representation. For 50 years, Ms. has been forging feminist journalism—reporting, rebelling and truth-telling from the front-lines, championing the Equal Rights Amendment, and centering the stories of those most impacted. With all that's at stake for equality, we are redoubling our commitment for the next 50 years. In turn, we need your help, Support Ms. today with a donation—any amount that is meaningful to you. For as little as $5 each month, you'll receive the print magazine along with our e-newsletters, action alerts, and invitations to Ms. Studios events and podcasts. We are grateful for your loyalty and ferocity.