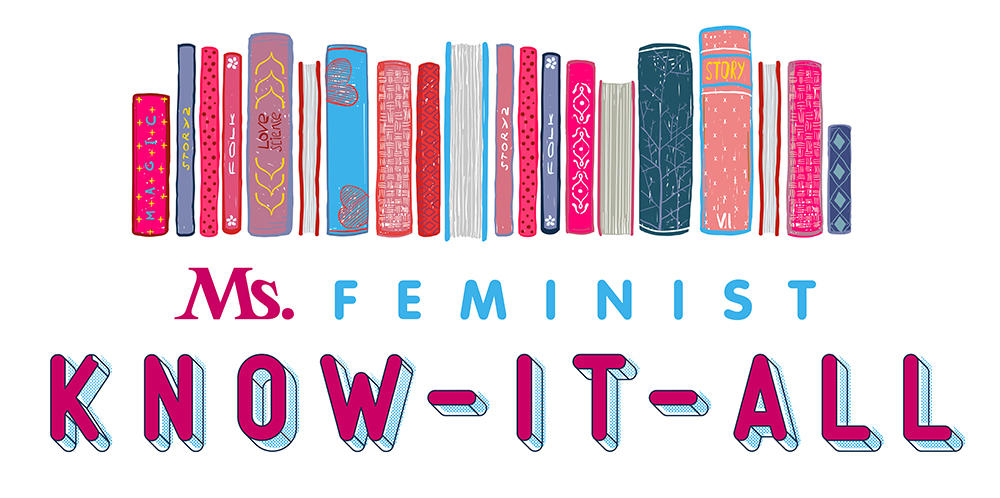 The Feminist Know-It-All: You know her. You can't stand her. Good thing she's not here! Instead, this column by gender and women's studies librarian Karla Strand will amplify stories of the creation, access, use and preservation of knowledge by women and girls around the world; share innovative projects and initiatives that focus on information, literacies, libraries and more; and, of course, talk about all of the books.
---
Each month, I provide Ms. readers with a list of new books being published by writers from historically underrepresented groups. The aims of these lists are threefold: I want to do my part in the disruption of what has been the acceptable "norm" in the book world for far too long—white, cis, hetersexual, male; I want to amplify amazing works by writers who are women, Black, Indigenous, Latinx, APIA, international, LGBIA+, TGNC, queer, disabled, fat, immigrant, Muslim, neurodivergent, sex-positive or of other historically marginalized identities—you know, the rest of us; and I want to challenge and encourage you all to buy, borrow, and read them!
This month, I've picked 16 titles. You may notice some titles which meet the above criteria that are not included on this list. I left off some titles that have gotten a lot of attention elsewhere—think: The Wedding Party by Jasmine Guillory—in order to make room for those which you may not be as aware of.
There are so many great books coming out this month! Which will you read?
By Sarah Lyu. Simon Pulse. 352 pages. Out July 2.
After her best friend, Elise, kills her boyfriend, Remy Tsai's world is turned upside down. Written in a distinct style, this story has trauma, drama, and obsession. The Best Lies is a debut YA thriller will keep you guessing.
By Isha Sesay (@IAmIshaSesay). Dey Street Books. 400 pages. Out July 9.
In April 2014, 276 schoolgirls from Chibok, Nigeria, were kidnapped from their school. Now, journalist Isha Sesay provides readers with the first definitive account of the events and the global outcry that followed. A must-read.
By Ebony Roberts. Amistad. 304 pages. Out July 9.
In this candid and unique memoir, Ebony Roberts tells her story of falling in love with Shaka Senghor, who is in prison for murder. Roberts allows her reader exclusive entry into the life events and reflections leading up to and following falling in love with Senghor. This is a compelling read and a necessary addition to incarceration narratives in the era of increasing calls for prison abolition.
By Ruchika Tomar (@aprayerfortravelers). Riverhead Books. 352 pages. Out July 9.
This debut novel centers a mysterious loner who reconnects with a former schoolmate who opens her eyes to a larger world outside their sleepy small town. A new take on the novel of the American West, this story explores friendship, violence, and self-discovery with beautiful grit.
Edited by Elissa Washuta (@elissawashuta) and Theresa Warburton. University of Washington Press. 280 pages. Out July 13.
This collection of 27 essays by Native writers is a long-needed addition to the literature. Lyrical and bold, this anthology explores worldmaking and storytelling from multiple dynamic and important perspectives. Contributors include Deborah Miranda, Terese Marie Mailhot, Eden Robinson, Kim TallBear, and more.
By Iliana Regan (@elizabethrestaurant_and_co). Agate Midway. 250 pages. Out July 16.
Renowned chef Iliana Regan has penned her debut book, a memoir, and it is a distinctive and powerful telling of the shaping forces of her life: a foraging childhood, her questioning of gender and sexuality, and her connection to food as a bridge to understanding and security. This is the dynamic story of a dynamic life.
By Bianca Marais. G.P. Putnam's Sons. 448 pages. Out July 16.
South Africa is one of my favorite places on the planet, so I am always excited when I read a book about South Africa written by a South African. Such is the case with this emotional sophomore novel by Bianca Marais. In it, the lives of three women entangle in a web of love, betrayal, and grace.
By Yara Rodrigues Fowler (@yazzarf). Mariner Books. 400 pages. Out July 16.
Here's another outstanding debut novel this month, and if you enjoy experimental, Own Voices literature, this is a must-read. Yara Rodrigues Fowler explores themes of gender, sexuality, home, embodiment, and relationships, all against the backdrop of competing British and Brazilian cultures.
By Amal El-Mohtar (@tithenai) and Max Gladstone. Gallery/Saga Press. 208 pages. Out July 16.
This debut collaboration by award-winning writers El-Mohtar and Gladstone has been described as "sapphic," "twisting," "strange," "romantic," and "a fireworks display." Madeline Miller, author of the 2018 hit Circe, says the book "has it all: treachery and love, lyricism and gritty action, existential crisis and space-opera scope, not to mention time traveling superagents." And that's enough for me!
By Laura Kate Dale (@LauraKBuzz). Jessica Kingsley Publishers. 192 pages. Out July 18.
I have been so excited about the engaging new memoirs by transgender and nonbinary individuals coming out the last few years; this is one to add to that list. Dale breaks ground as she deftly and wittily weaves the thread of autism into her trans narrative. Informative and uplifting, this is an important read.
By Fernanda Torres (@oficialfernandatorres) and translated by Eric M. B. Becker. Restless Books. 240 pages. Out July 23.
Before she became a bestselling author, Fernanda Torres was a celebrated actress in Brazil. In this, her second novel, she centers an actor who falls from grace after a disastrous performance as King Lear. This is a witty, satirical look at acting as art and its corruption by capitalism.
By Silvia Moreno-Garcia (@silviamg). Del Rey. 352 pages. Out July 23.
This magical story blends Mexican history and mythology into a fantastic adventure. The lush world Moreno-Garcia has built will carry readers away on a feminist coming of age journey with Casiopea, a heroine for our time.
By Roxanne Dunbar-Ortiz (@rdunbaro). Adapted by Jean Mendoza and Debbie Reese (@debreese). Beacon Press. 272 pages. Out July 23, 2019.
Here is the definitive volume of Indigenous history for young people adapted from the original award-winning academic text. This volume is part of the ReVisioning American History for Young People series, which also includes books on queer, Latinx, and African American history. Don't be deterred that it's for young people if you're not one, this is July's required reading.
By Harriet A. Washington. Little, Brown Spark. 368 pages. Out July 23.
Award-winning writer Harriet A. Washington presents readers with a fascinating new argument centering environmental racism as a primary reason for intellectual inequities among races. Washington posits that people from historically marginalized populations are disproportionately exposed to and affected by factors such as poor nutrition, pollution, and inadequate sanitation. This is one that will get you thinking.
By Mariama J. Lockington (@marilock). Farrar, Straus and Giroux. 336 pages. Out July 30.
Clearly, I have no problem reading books written for young people, even middle schoolers, and you shouldn't either when they are this good. Tackling the topic of transracial adoption, Lockington has written a poignant, sensitive Own Voices novel. By filling a gap in the literature, this is a necessary book that will speak to many readers.
By Kalisha Buckhanon (@KalishaOnline). Counterpoint. 304 pages. Out July 30.
I don't read many thrillers or mysteries but the description of Speaking of Summer piqued my interest. Critically acclaimed novelist Kalisha Buckhanon presents a story of a missing twin and the sister searching for her throughout Harlem. I've been waiting for this one! And I am in love with this cover.