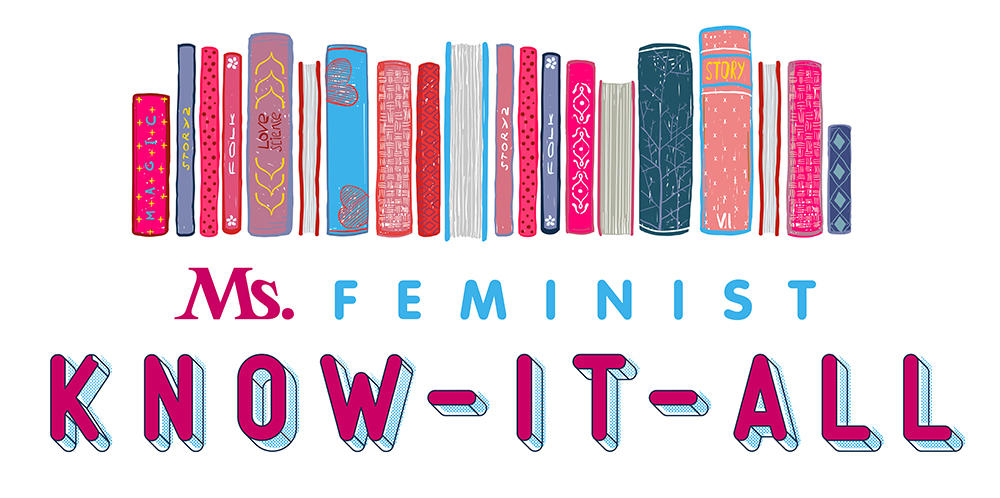 The Feminist Know-It-All: You know her. You can't stand her. Good thing she's not here! Instead, this column by gender and women's studies librarian Karla Strand will amplify stories of the creation, access, use and preservation of knowledge by women and girls around the world; share innovative projects and initiatives that focus on information, literacies, libraries and more; and, of course, talk about all of the books.
---
Each month, I provide Ms. readers with a list of new books being published by writers from historically underrepresented groups. The aims of these lists are threefold: I want to do my part in the disruption of what has been the acceptable "norm" in the book world for far too long—white, cis, hetersexual, male; I want to amplify amazing works by writers who are women, Black, Indigenous, Latinx, APIA, international, LGBIA+, TGNC, queer, disabled, fat, immigrant, Muslim, neurodivergent, sex-positive or of other historically marginalized identities—you know, the rest of us–and I want to challenge and encourage you all to buy, borrow and read them! 
This month, I've chosen 19 titles to feature. You may notice some books which meet the above criteria that are not included on this list. I do leave some off that have gotten a lot of attention elsewhere—think I'm Telling the Truth, But I'm Lying by Bassey Ikpi and The Pretty One by Keah Brown—in order to make room for those which you may not be as aware of.
With so many great books coming out this month, which will you read?
By Stephanie Jimenez (@estefsays). Little A. 300 pages. Out August 1.
When 17-year-old Maria meets Rocky at school, the two become quick, if unlikely, friends. The girls are as different as they could be, in race, class, family life… and soon those differences breed bitterness, jealousy and betrayal. Told from the unique perspectives of two unique girls and their fathers, this sharp debut has a lot to say about family, friendship and what's really important in life.
By Esperanza M. Cintrón. Wayne State Univ Press. 144 pages. Out August 5.
This is the first of several highlighted volumes this month that center specific US cities. This collection of 18 intertwined stories explores the geography, people and love that is Detroit. A poet, professor and Puerto Rican Detroiter, Dr. Cintrón provides us an intimate look into what makes this city complex, gritty, romantic and vibrant.
By Marlena Maduro Baraf (@MarlenaBaraf). She Writes Press. 184 pages. Out August 6.
Born in Panama, Marlena Madura Baraf has penned this lyrical memoir describing life there in a large family with a troubled mother. Baraf shares her story of starting a new life in the US as a teenager and her experiences of a world vastly different from the one she had always known. With sensitivity and candor, Baraf examines mental illness, immigration, forgiveness and community—all framed within the precarity of her life's circumstances.
By Carmen Giménez Smith (@lizitasmith). Graywolf Press. 88 pages. Out August 6.
With this slim volume, Carmen Giménez Smith provides me with my new poetry collection for the month. At once sensitive and angry, personal and political, Giménez Smith examines identity, precarity and complacency—and above all, calls on readers to act.
By R.F. Kuang (@kuangrf). Harper Voyager. 672 pages. Out August 6.
Fans have been impatiently awaiting this much-anticipated sequel to 2018's The Poppy War. In this epic fantasy series set in 20th century China, Kuang's memorable heroines face the complexities of war, power and vengeance. The Dragon Republic is a rare follow-up that readers may enjoy even more than the first.
Edited by Zahra Hankir (@zahrahankir). Penguin Books. 304 pages. Out August 6.
This groundbreaking collection of 19 essays by Arab and Middle Eastern journalists offers the reader access into a world in the midst of great change. Covering topics from sexual harassment to daily life to the necessity of traveling with a male chaperone, these pieces challenge stereotypes and illustrate the importance of women journalists in shaping the modern Arab world. (You can find a full review in the latest issue of Ms.)
By Rajia Hassib (@rajiahassib). Viking. 320 pages. Out August 6.
Raija Hassib has written this gripping contemporary novel about two Muslim sisters who grew up in Egypt and then took very different paths as adults. When one sister is killed, the other uncovers continuous challenging questions in her quest for understanding and closure.
By Alia Trabucco Zerán (Author) and Sophie Hughes (Translator). Coffee House Press. 240 pages. Out August 6.
Shortlisted for the 2019 Man Booker International Prize, this story follows three children of ex-militants in Santiago, Chile. Attempting to deal with violence, pain and loss, both past and present, the three embark on a journey that spans generations. This is a powerful debut.
Edited by P. Nicole King, Kate Drabinski (@kdrabinski) and Joshua Clark Davis (@JoshClarkDavis). Rutgers University Press. 378 pages. Out August 9.
This collection of over 30 essays examine Baltimore like never before. Contributors include community activists, academics, writers, artists, historians and more for a well-rounded, insider's view of this complex city. Read this to revisit the Baltimore you thought you knew, and experience a city with a long tradition of resistance and fighting for social justice.
By Yoko Ogawa (Author) and Stephen Snyder (Translator). Pantheon. 288 pages. Out August 13.
Acclaimed Japanese writer Yoko Ogawa has written a frightening new dystopian novel about state surveillance and strange disappearances. The description reminds me of Peng Shepherd's The Book of M in which people's shadows begin to disappear along with their memories. This is an intriguing and scary new book, written by a prolific author who has won every major literary award in Japan.
By Sarah M. Broom (@sarahmbroom). Grove Press. 304 pages. Out August 13.
I tried but just can't do this one justice, so I will quote Kiese Laymon, author of Heavy:
"Calling Sarah M. Broom's The Yellow House a memoir feels wrong. Somehow, Broom created a book that feels bigger, finer, more daring than the form itself. The Yellow House literally taught me how to read and write. I will never write or read about family, longing, blackness, femininity, joy and state-sanctioned terror the same way after sitting with this book. Broom narratively glides through choppy air almost in slow-motion, and when I least expect it, she digs into the ground of New Orleans conjuring the most humanely massive intervention I've read in 21st century memoir writing."
By Andrea S. Boyles (@DrAndreaSBoyles). University of California Press. 240 pages. Out August 13.
From a Ferguson community member comes this rigorous yet readable ethnography centered on community participation and empowerment in the midst of violence and police brutality. Sociologist Andrea S. Boyles shares stories of resistance and unity in the face of indifference and oppression. Let it be a model for cities across the U.S.
Edited by Stephanie Andrea Allen (@S_Andrea_Allen) and Lauren Cherelle (@LaurenCre8s). BLF Press. 244 pages. Out August 20.
Stephanie Andrea Allen and Lauren Cherelle have compiled this outstanding collection of 22 essays by prominent and up-and-coming African American speculative writers. The pieces include fantasy, science fiction, Afrofuturism, magical realism and more. This is a timely and valuable cross-section of the important speculative fiction being written by Black authors.
By Celeste Watkins-Hayes (@watkinshayes). University of California Press. 336 pages. Out August 20.
This book about women living with HIV/AIDS is remarkably uplifting and encouraging. In her latest work, Professor Celeste Watkins-Hayes shares how these women are using their diagnoses to create radical, positive changes in their lives and communities. There are valuable lessons throughout that will help those living with HIV/AIDS, those loving them and those fighting for them.
By Freiya Benson (@scarlettraces). Jessica Kingsley Publishers. 296 pages. Out August 21.
This anthology includes essays about transgender love including familial and romantic love, friendship and self-love. Full of candid voices and stories, this thought-provoking volume is edited by writer and photographer Freiya Benson. This is definitely one to read in 2019.
By Edwidge Danticat. Knopf. 240 pages. Out August 27.
Edwidge Danticat fans unite! From this incomparable author comes a new collection of surprising, astute, memorable and vibrant stories. Others have called the it "haunting," "extraordinary," "spare," "charming, "funny," "'vast" and "intimate." How will you describe it?
By Joanna Jolly (@jojolly). Viking. 304 pages. Out August 27.
Thousands of Indigenous women and girls are missing across the US and Canada. In 2014, 15-year-old Tina Fontaine became one of those girls. The first book by BBC journalist Joanna Jolly details Tina's short life as well as the lengthy investigation of her death. For more information about Missing and Murdered Indigenous Women and Girls (MMIWG), take a look at the resource guide I've created. We all need to come together to address this dire emergency throughout North America.
By Monique W. Morris (@MoniqueWMorris). The New Press. 192 pages. Out August 27.
Acclaimed author and co-founder of the National Black Women's Justice Institute Monique W. Morris follows up her groundbreaking Pushout with this volume on a new radical pedagogy designed specifically for girls of color. When Rep. Ayanna Pressley calls someone her "personal shero," I pay attention. And we should all be paying attention to the work of Dr. Morris.
By Berry Grass (@theBGrass). The Operating System. Out August.
I hadn't heard of The Operating System arts organization and publishing collective before seeing it on social media recently. Or maybe I came across Berry Grass on social media and that's how I learned of it… either way, I was so intrigued by both, I had to check out Hall of Waters. In this part essay, part memoir, Berry Grass interrogates white supremacy, settler colonialism and Americana nostalgia in the Midwest.