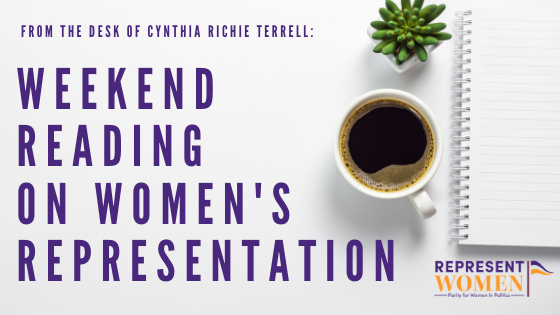 Weekend Reading on Women's Representation is a compilation of stories about women's representation in politics, on boards, in sports and entertainment, in judicial offices and in the private sector in the U.S. and around the world—with a little gardening and goodwill mixed in for refreshment!
---
As news about the coronavirus continues so does the analysis of the impact on women and contributions of women leaders.
This week, Barbara Lee—founder and CEO of the Barbara Lee Family Foundation—had a very thoughtful piece for Newsweek about the critically important role that women governors and mayors are playing in addressing the crisis.
A year that was supposed to be all about the presidency has suddenly become all about the governors. With the federal response to coronavirus lagging, national attention has turned to a group of lesser-known executive leaders now leading the fight against COVID-19.

The spotlight that has names like Andrew Cuomo and Mike DeWine trending has also exposed the lack of diversity in our nation's executive offices. Case in point: A piece published in The Washington Post praising governors' "presidential-style leadership" did not include a single woman. A CNN list of the next five governors to watch on coronavirus included only one (Michigan's Gretchen Whitmer).

Although only nine of the nation's 50 governors are women, a high-water mark first reached in 2004—none are black. One is Hispanic, the sole woman governor of color.

Nevertheless, across the country and across party lines, women executives have been stepping up in big ways—proving why we need more of them in governors' mansions and city halls.Ads by scrollerads.com

Whitmer was among the first governors in the nation to take the difficult, decisive action to close all K-12 schools and public universities.

Maine Governor Janet Mills was granted emergency powers to lead the state through the crisis.

New Mexico Governor Michelle Lujan Grisham, the nation's only Latina governor, quickly moved to prevent people from hoarding supplies from stores.

Oregon Governor Kate Brown, the country's first openly LGBTQ governor, issued a decisive executive order to keep Oregonians at home.

And South Dakota's first woman governor, Kristi Noem, is helping the state brace for infection rates that will peak later than much of the rest of the country.

In Chicago, Mayor Lori Lightfoot, the city's first openly LGBTQ, black woman mayor, set a national standard with her plan to rent thousands of empty hotel rooms and reopen a shuttered hospital to house coronavirus patients.She also issued a viral video, using humor to encourage residents to stay home.

Governor Gina Raimondo's strong leadership in Rhode Island has inspired young girls to set up podiums in their living rooms to conduct their own daily briefings.

And in Washington, D.C., Mayor Muriel Bowser is fighting to make sure the city receives a fair share of COVID-19 relief funding.

Together, women governors paint a picture of leadership that is competent, commanding and calm under pressure. That's nothing new for women. Yet Americans still tend to associate executive-grade toughness, sureness and assertiveness with men. Why?
---
The Barbara Lee Family Foundation and the Women and Politics Institute at American University teamed up to create Gender on the Ballot—which is a terrific resource!
Here is a sample of their favorite recent gender-related reads:
The 2020 presidential race has narrowed from a field of 24 candidates, and six women, to two men. With so many women in this historic race, this cycle was dominated by discussions of gender and politics. Here are some of our favorite reads from the 2020 trail so far.

"Madam President? Five Candidates on What It Will Take to Shatter the Most Stubborn Glass Ceiling"

Amy Chozick with photography by Annie Leibovitz, Vogue

One of the first gender features of the 2020 campaign, this article features historic photos of five of the women who ran this cycle. Read the article here.

"Unconscious Bias is Running for President"

Rebecca Solnit, Literary Hub

Don't forget how biases we don't even notice can affect the 2020 race. Read the article here.

"Women candidates are constantly asked about their electability. Here are 5 reasons that's misguided."

Li Zhou, Vox

We've said it before and we'll say it again: women are electable, and the idea that they aren't is a myth. Read the article here.
---
Japan is one of the few leading democracies that ranks below the United States for women's representation at 167th. Women make up just 10% of the National Diet – yet there was great news this week from Tokushima where Sawako Naito, who is 36 years old, defeated an incumbent according to this story in the Japan Times:
Sawako Naito, a 36-year-old independent rookie, was elected head of the city of Tokushima on Sunday, becoming the youngest female mayor in Japan.

Naito, who leads a community development group, defeated incumbent Mayor Akiyoshi Endo, 64, by 41,247 votes to 39,248.

Voter turnout fell to 38.88 percent from 45.70 percent in the previous mayoral election.

Naito won the election pledging to cut the mayor's salary by 50 percent and strengthen cooperation between the city and the prefectural government.
---
American University and Running Start are holding a virtual book talk with New York Times author and reporter Jennifer Steinhauer and Representative Abigail Spanberger (VA-7) to discuss "The Firsts: The Inside Story of the Women Reshaping Congress" on Tuesday, April 14th at 6 PM. Register here.
---
VoteRunLead is featuring another terrific lineup for this Saturday's edition of Your Kitchen Cabinet including Amber McReynolds, a RepresentWomen board member and CEO of Vote At Home.
Learn more below:
Vote Run Lead is here to provide you with experts to add to your personal Kitchen Cabinet all throughout April.

Whether you're running for office, working on a campaign or protecting our democracy, Vote Run Lead is here for you. Starting this week and running through April, let our experts serve as your personal Kitchen Cabinet. Each week, three "Cabinet Members" will go online to answer your questions, give your real-time advice and fact-based information.

Sign up today and join us to hear from top experts from all over the country!

Join us to hear from top experts from all over the country. This week's topic is "Protect the Vote. Protect Democracy." GOTV while Social Distancing with Amber McReynolds, CEO of the National Vote at Home Institute & Coalition,State Rep. JoCasta Zamarripa, Wisconsin, and Keesha Gaskins-Nathan, Director, Democratic Practice of Rockefeller Brothers Fund.
---
Emerge is hosting a series of salons with women leaders:
Next Thursday, we will be joined by San Francisco Mayor London Breed and Oakland Mayor Libby Schaaf. As mayors of two large cities hit early by this pandemic, they have truly led the way and will provide unique insight on the issues that have come into play.

On April 30th, we will be joined by Arizona Secretary of State Katie Hobbs and Virginia Delegate Jennifer Carroll Foy. They will discuss election protection and why it is more important now than ever to focus on this issue.
---
Finally, Katherine Wu wrote a fascinating piece for the Smithsonian Magazine about the representation of women (or lack thereof) on screen and behind the camera that is well worth reading:
If an alien race tried to learn the ways of humankind by screening our most famous films, they'd end up with a very skewed impression of women's role in society. Over the past century-plus of film, women have made up only a paltry minority of the individuals on screens, behind cameras and in writers' rooms. This lack of female representation, which persists today, was at its most dire during Hollywood's so-called Golden Age, new research suggests.

In the study, published this week in the journal PLOS One, a team of researchers led by Northwestern University's Luís Amaral analyzed decades of data from the American Film Institute Archive and the Internet Movie Database (IMDb). Amaral and his colleagues suggest that the rise of the entertainment studio system—which largely replaced independent filmmaking with a few massive, male-run companies—may be to blame for the start of this troubling trend.

"It looks like male producers hire male directors and male writers," says Amaral in a statement. "This is association, not causation, but the data is very suggestive."

The findings deal a blow to the reputation of Hollywood's Golden Age, which—as the moniker indicates—has long been romanticized as a cultural high point in cinematic history. Spanning roughly 1913 to 1969, the era ushered in a bevy of technological advances that transformed the way viewers engaged with films.
For the first time, movies were accompanied by sound and visual effects that dramatized the actions of characters shuttling through carefully cut scenes. Films began to pour out of studios by the dozens, producing classics like Casablanca, The Wizard of Oz and Singing in the Rain that still hold sway today.

"A lot of people view this era through rose-colored glasses because Hollywood was producing so many great movies," says Amaral in the statement.

But a closer look reveals a thornier side to the first half of the 20th century. After analyzing 26,000 movies produced between 1910 and 2010, Amaral's team found that, across genres, women remained consistently underrepresented as actors, screenwriters, directors and producers.

Though roles for women became more abundant during the 1910s, all four fields saw a dip in gender parity after 1920 that lasted for the next three decades. The switch to studios funneled almost all film production and distribution to a handful of companies that, the data suggests, were loath to bring women into the workforce. And as independent filmmakers blipped off the map, acting roles for women became few and far between, while producing and directing roles all but disappeared.

This quiet, sexist ousting was likely driven by fears that feminine influences would "contaminate" culture and imbue women with dangerous ideas about their own empowerment, wrote Naomi McDougall Jones, author of The Wrong Kind of Women: Inside Our Revolution to Dismantle the Gods of Hollywood, for the Atlantic earlier this year.
---
As an antidote to that last dispiriting photo, here is a list of women leaders whose milestones and birthdays we celebrate this week along with some suggested reading for the weekend including Vote Her In by Rebecca Sive, Bad Feminist by Roxane Gay, and essays by Arab women by Zahra Hankir.
---
Finally,
Here is a poem I saw on Facebook written by Kathleen O'Meara during the Spanish Flu epidemic in 1919:
And people stayed at home
And read books
And listened
And they rested
And did exercises
And made art and played
And learned new ways of being
And stopped and listened
More deeply
Someone meditated, someone prayed
Someone met their shadow
And people began to think differently
And people healed.
And in the absence of people who
Lived in ignorant ways
Dangerous, meaningless and heartless,
The earth also began to heal
And when the danger ended and
People found themselves
They grieved for the dead
And made new choices
And dreamed of new visions
And created new ways of living
And completely healed the earth
Just as they were healed.
---
The coronavirus pandemic and the response by federal, state and local authorities is fast-moving.
During this time, Ms. is keeping a focus on aspects of the crisis—especially as it impacts women and their families—often not reported by mainstream media.
If you found this article helpful, please consider supporting our independent reporting and truth-telling for as little as $5 per month.