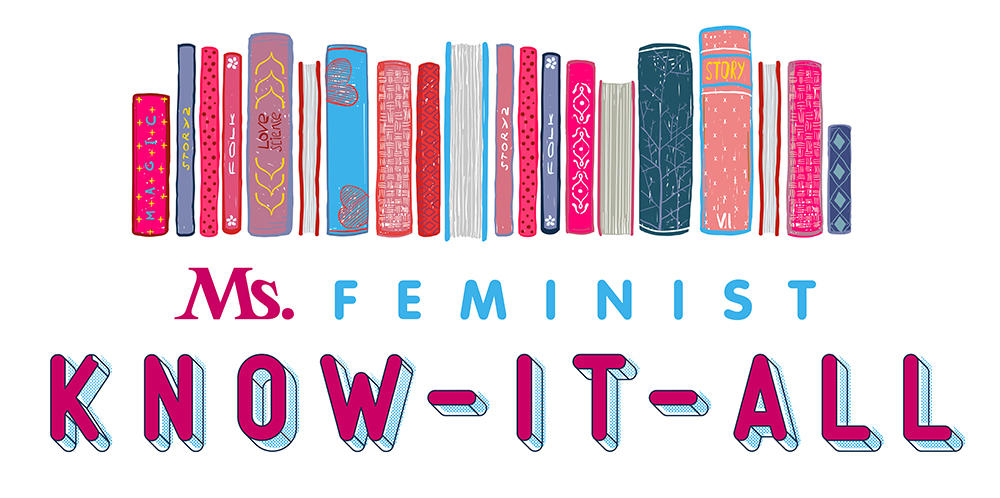 The Feminist Know-It-All: You know her. You can't stand her. Good thing she's not here! Instead, this column by gender and women's studies librarian Karla Strand will amplify stories of the creation, access, use and preservation of knowledge by women and girls around the world; share innovative projects and initiatives that focus on information, literacies, libraries and more; and, of course, talk about all of the books.
Each month, I provide Ms. readers with a list of new books being published by writers from historically underrepresented groups.
The aims of these lists are threefold:
I want to do my part in the disruption of what has been the acceptable "norm" in the book world for far too long—white, cis, heterosexual, male;
I want to amplify amazing works by writers who are women, Black, Indigenous, Latinx, APIA/AAPI, international, LGBIA+, TGNC, queer, disabled, fat, immigrant, Muslim, neurodivergent, sex-positive or of other historically marginalized identities—you know, the rest of us; and
I want to challenge and encourage you all to buy, borrow and read them! 
Sorry to be late with this month's selections, but we are in a whole new world, aren't we? One in which time changed drastically for me and it took some trial and error for me to get my schedule right. I hope that Ms. readers are staying safe and healthy.
At least you know you'll never want for reading suggestions! I hope you are finding some great titles on the 2020 Preview and monthly lists so far this year. Just be aware that because of COVID, the publication dates for some titles have been pushed back, so the release dates on the preview may no longer be accurate for some spring and summer titles.
But I am trying to keep up with the changes! This month, I've included 32 titles on the list. Which ones strike your fancy?
---
Edited by Sarah Nickel and Amanda Fehr. University of Manitoba Press. 272 pages. Out May 1.
This well-researched and highly readable volume is a collection of broad and historically underrepresented voices of artists, activists and scholars in an attempt to Indigenize feminism in necessary and critical ways. This month's #RequiredReading.
By Cheryl Savageau. University of Nebraska Press. 256 pages. Out May 1.
In this unique and poignant memoir, Abenaki/French Canadian poet Cheryl Savageau describes her bipolar disorder in lyrical, clear and candid prose.
Written by Won-pyung Sohn and translated by Joosun Lee. HarperVia. 272 pages. Out May 5.
Korean screenwriter and film director Won-pyung Sohn won the Changbi Prize for Young Adult Fiction with this debut, now available in English. In it, Yunjae, who was born with a brain condition that leaves him unable to feel emotion, experiences circumstances that will challenge him to become the person he never thought he could be.
Written by María Fernanda Ampuero (@mariafernandamp), translated by Frances Riddle. The Feminist Press. 128 pages. Out May 5.
Readers can now experience the book that the New York Times en Español named one of the best fiction books of 2018. Ecuadorian writer María Fernanda Ampuero's debut is a brutal examination of home, family, love, violence and coming of age.
Edited by Pedro Santiago Martinez, Claudia Muñoz, Mariela Nuñez-Janes, Stephen Pavey, Fidel Casstro Rodriguez and Marco Saavedra. AK Press. 160 pages. Out May 5.
This is a candid and powerful collection of stories, art, and photography from "Dreamers" who challenge the reader to think about migrant rights and human dignity in new and radical ways. Ms. readers will be particularly interested in Claudia Muñoz's chapter in which she describes her infiltration of a detention center for immigrant women.
By Kacen Callender (@kacencallender). Balzer + Bray. 368 pages. Out May 5.
Award-winning author Kacen Callendar has written a vibrant and important YA novel about love: Felix Love, a transgender teen who is looking for love, for self and for others.
By Laura Lam (@LR_Lam). Orbit. 352 pages. Out May 5.
Looking for a thrilling ecofeminist sci-fi space opera to keep you glued to your seat during this pandemic? You've found it with this Handmaid-esque journey through space where five women attempt to save the human race.
By Leslie Stein (@leslieamstein). Drawn and Quarterly. 144 pages. Out May 5.
I love this candid graphic novel about one woman's life before and after an abortion. Gently told with humor and grace, I Know You Rider will resonate with many who've reflected on reproductive decisions—past, present and future.
By Samanta Schweblin (@sschweblin). Riverhead Books. 256 pages. Out May 5.
Award-winning Argentine writer Samanta Schweblin is back with yet another Man Booker Prize-longlisted novel. Shining a light on the good and bad of interconnectedness, the reality of this one is the most terrifying part.
By Karen Tei Yamashita. Coffee House Press. 224 pages. Out May 5.
This brilliant collection challenges the traditional Western canon with critical wit and clever reflection while examining the Japanese immigrant and generational experiences in the US.
By Bae Suah (@baesuah). Harry N. Abrams. 160 pages. Out May 5.
Did you read last month's Kim Jiyoung, Born 1982 like I suggested? This is a fantastic next read from another masterful Korean writer. Following 28-year-old Ayami throughout one summer day and night in Seoul, this serpentine narrative challenges notions of identity of reality.
By John Elizabeth Stintzi (@stintzi). Arsenal Pulp Press. 304 pages. Out May 5.
I recently told John Elizabeth Stintzi how hard it has been for me to express how much I was truly moved by this book, and it still is. With a complex nonbinary character at its heart, this is a tender and honest reflection on family, memory and movement.
By Lauren Francis-Sharma (@laurenfsharma). Atlantic Monthly Press. 400 pages. Out May 12.
If you appreciate historical fiction, you will love this epic family saga that takes you from 1790s Trinidad to 1830s Montana and back again. It follows Rosa Rendón, a woman who bucks tradition and challenges gender roles, colonialism and her own secrets for freedom, family and connection.
By Elisabeth Thomas (@lissiethomas). Custom House. 320 pages. Out May 12.
This atmospheric and futuristic debut is gripping, dark and suspenseful. It takes its time as it centers Ines, a student at Catherine House, an experimental, selective liberal arts school with a haunting past and unknown future.
by Lucia LoTempio (@lucialo). Alice James Books. 100 pages. Out May 12.
In this unsparing, unapologetic collection of poems, Lucia LoTempio addresses violence against women in intricate, powerful and potent style and language.
By Jenny Zhang (@jennybagel). Tin House Books. 200 pages. Out May 12.
In her latest compelling poetry collection, Jenny Zhang dares you to flinch as she explores love and existence, innocence and anger, patriarchy and whiteness, capitalism and womanhood.
By Francesca Momplaisir. Knopf. 3043 pages. Our May 12.
Not only is this a startling thriller, My Mother's House is a gripping examination of immigration, the American Dream and the dangers of toxic masculinity.
By Rumi Hara (@rumi.hara). Drawn & Quarterly. 228 pages. Out May 12.
First published as a comics series, Nori is now available in a beautiful volume focused on the mischievous Nori, a 3-year-old girl living with her parents and grandmother in 1980s Osaka. Magically illustrated, the collection combines Japanese traditions with modern life through the eyes of the curious and adorable Nori.
By Jazmina Barrera (@jaztronomia). Two Lines Press. 174 pages. Out May 12.
In this slim volume, Mexico City writer Jazmina Barrera shares her fascination with lighthouses. Part memoir, part travelogue, part history, On Lighthouses is meticulous in detail, magical in word and lovely in message.
By Alina Boyden (@alinaboyden). Ace. 368 pages. Out May 12.
Anthropologist and trans rights activist Alina Boyden shines with this debut fantasy about Razia Khan, who was raised to be a prince but runs away to follow her truth among the hijras of Bikampur, India.
By Corinne Manning (@corinnemanning). Arsenal Pulp Press. 192 pages. Out May 12.
Corinne Manning's debut short story collection spoke to me on so many levels. Spanning 1992 to 2019, the stories feature glorious and imperfect queer characters searching for truth, identity, validity, love, connection, understanding and self.
By Genevieve Hudson (@genhudson). Liveright. 272 pages. Out May 19.
I love Gen Hudson's writing so was excited to see she's publishing her first novel, a coming of age story steeped in magical realism and themes of queerness, immigration and masculinity.
By Porochista Khakpour (@pkhakpour). Vintage. 240 pages. Out May 19.
From the author of several novels and 2019's acclaimed memoir, Sick, comes this moving collection of personal essays centering the Iranian American and immigrant experience today.
By Shubhangi Swarup (@shubhangisapien). One World. 320 pages. Out May 19.
Combining magical realism with an ecofeminist backdrop, Swarup takes readers across South Asia in her lovely, original and lyrical debut with themes of love, connection, nature and humanity.
Written by Dola de Jong and translated by Kristen Gehrman. Transit Books. 150 pages. Out May 19.
We are so lucky to have the opportunity to read the new translation of this 1955 novel by Dola de Jong, a Dutch author who fled her home in 1940. This groundbreaking story centers the relationship of two women in Amsterdam in the years before the Nazi occupation.
By Nathacha Appanah. Graywolf Press. 160 pages. Out May 19.
The latest novel by Mauritian writer Nathacha Appanah follows the journey of Marie and her son Moïse, who she adopted after he is abandoned by his mother, a refugee from Comoros. Sharp and unforgettable, this powerful story illuminates the global refugee crisis and its devastating consequences.
By Mia Mercado (@miamarket). Harper One. 272 pages. Out May 19.
We'll all need a giant dose of humor this year and Mia Mercado's collection of essays will make you laugh out loud at the ridiculous truths of being a human.
By Ilana Masad (@ilanaslightly). Dutton. 336 pages. Out May 26.
After her mother dies, Maggie returns home and then embarks on a journey to unravel her mother's web of secrets and lies. Ilana Masad delivers a strong debut focused on the complexities of relationships, queerness and gender.
By Meredith Talusan (@1demerith). Viking. 320 pages. Out May 26.
In one of the most insightful memoirs of the recent past, Meredith Talusan tells her story of being born a Filipino boy with albinism to becoming a Filipino American woman with albinism. Truly triumphant in form and content.
Written by Gabriela Wiener and translated by Jessica Powell. Restless Books. 240 pages. Out May 26.
From the Peruvian author of Sexographies comes another brave and candid exploration, this time of pregnancy and motherhood. Taking no prisoners, Wiener guides readers through her nine months of pregnancy and all the misinformation, stereotypes, questions, misgivings, fears and confusion she confronts along the way.
By Nazita Lajevardi (@NazitaLajevardi). Cambridge University Press. 304 pages. Out May 28.
In this groundbreaking examination, attorney and political scientist Nazita Lajevardi offers readers an in-depth and accessible understanding of the growth of Islamophobia in the US. A must-read for anyone interested in the lives of Muslim Americans and the importance of belonging, inclusion and human rights.
By Dima Alzayat (@dimaalzayat). Two Dollar Radio. 206 pages. Out May 29.
End your month with this brief but extraordinary debut collection of stories focused on identity, culture, trauma, independence and transformation.
---