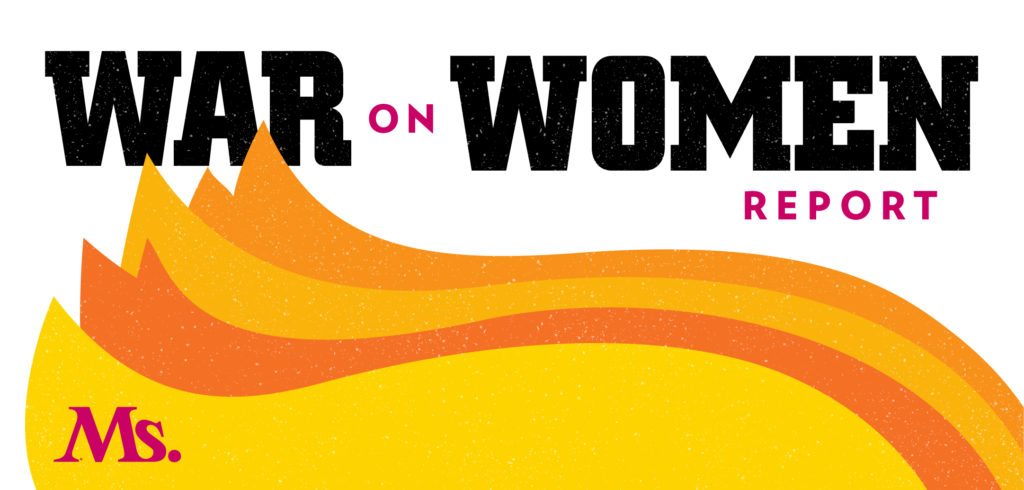 The War on Women is in full force under the Trump administration. We refuse to go back, and we refuse to let the administration quietly dismantle the progress we've made. We are watching.
This is the War on Women Report.
---
Monday, July 6
+ Trump and Fox News host Tucker Carlson repeatedly insulted Illinois Sen. Tammy Duckworth this week. After Duckworth made the case for a "national dialogue" about removing George Washington statues due to his status as a slave owner, Carlson called her "a deeply silly and unimpressive person" and said she and other Democrats "hate America."
On subsequent days, Carlson also called Duckworth a "coward" and a "fraud." Trump then tweeted a video of Carlson's show, and also issued a statement saying that Duckworth is "cowering to the far-left fascists in the Democratic Party."
Sen. Duckworth, a Purple Heart recipient who lost both legs serving in Iraq, fought back against Carlson and Trump. The senator took to Twitter, writing that Carlson should "walk a mile in my legs and then tell me whether or not I love America." In an op-ed in the New York Times, Duckworth wrote Carlson and Trump don't know what true patriotism is.
+ The economic gap between white families and Black and Latino families is continuing to worsen, according to Census Bureau weekly surveys.
+ The pandemic has caused a surge in food insecurity—but Black and Latino families are being hit the hardest: Nearly four in 10 Black and Latino households with children are facing difficulties feeding their families. Black and Hispanic households are also nearly twice as likely to be struggling with food security.
To address this racial gap in hunger, Democratic members of Congress have proposed a 15 percent increase in food stamp benefits be included in the next coronavirus aid package. However, Republican members of Congress have repeatedly refused to include it. Without additional aid, racial disparities will likely continue to worsen.
+ Even as Trump praises the U.S. economy for its recovery over the past months, people of color—particularly women of color—continue to face disproportionate unemployment rates.
---
If you found this article helpful, please consider supporting our independent reporting and truth-telling for as little as $5 per month.
---
Tuesday, July 7
+ The Trump administration announced it is leaving the World Health Organization (WHO)—despite the pandemic's U.S. surge. The withdrawal threatens the safety of all Americans, as membership in the organization gives the U.S. access to global efforts to develop vaccines, share information, coordinate efforts and form policies to protect people from the virus.
"WHO is the only body capable of leading and coordinating the global response to COVID-19," said Elizabeth Cousens, CEO of the United Nations Foundation.
The withdrawal from WHO also threatens the health and safety of people in low-income countries. Women and children, particularly, rely on WHO programs for vaccinations and safe childbirth.
Wednesday, July 8
+ The Supreme Court upheld Trump administration rules severely limiting contraceptive coverage, allowing any type of employer to deny coverage of birth control in employee health insurance plans. Trump claimed requiring contraceptive coverage would impose a "substantial burden" on individuals who religiously or morally object to their use. The ruling will restrict up to 126,000 women from accessing covered, safe birth control.
"This decision [also] gives religious employers a free pass to discriminate against their employees and use religion to justify race, sex, disability or age discrimination against employees who clearly aren't ministers," according to Ms. reporter Carrie Baker.
+ Trump and Education Secretary Betsy DeVos threatened to cut federal funding if schools do not physically reopen in the fall. The president even claimed he would push reluctant governors to reopen schools even as coronavirus cases surge. While it is unclear how the administration plans to cut funding—since the federal government controls only around 10 percent of national school funding—Vice President Pence stated, "As we work with Congress on the next round of state support, we're going to be looking for ways to give states a strong incentive and encouragement to get kids back to school."
Chair of the House Education Committee, Rep. Bobby Scott (D-Va.) argued Trump's push to "prematurely reopen" is "dangerous" and disregards judgement from health experts: "Even before the pandemic, our nation's public schools were chronically underfunded. Reopening schools now, without more investment, presents serious risks to the health and safety of our students and educators."
+ Joining with her male colleagues, DeVos too is "very seriously" considering cutting federal funds for schools that do not reopen: "There has got to be concerted effort to address the needs of all kids and adults who are fear mongering and making excuses simply have got to stop doing it and turn their attention on what is right for students and for their families." DeVos is currently being sued for attempts to divert COVID-19 relief funds from public schools to private schools.
Arne Duncan, who served under President Obama, said the federal government does not even possess authority to cut funds: "Trump has no legal authority to withhold funds. Schools will be open. The only question is how many kids will be able to go to school versus have to go to school virtually."
Trump continuously blames Democrats for keeping schools closed—again framing a widespread public health crisis in partisan terms, and justifying his argument by comparing the U.S. to Germany, Denmark, Norway and Sweden, yet disregarding key differences.
+ Trump argued the CDC's guidelines for reopening schools are too stringent and expensive. In response, Pence stated the administration will create new guidelines: "We don't want the guidance from CDC to be a reason why schools don't open." All this, as the U.S. number of confirmed COVID-19 cases exceeds three million.
+ The U.S.'s largest teachers' union pushed back, arguing the Trump administration should not allow students to attend school without guaranteeing their safety and that of staff.
+ Harvard and MIT have sued the Trump administration, challenging Immigration and Customs Enforcement's (ICE) order prohibiting international students from remaining in the United States on F1 or M1 student visas if their schools offer entirely virtual instruction.
"It's an unprecedented public health crisis, and I don't think it's too much to ask for the allowances that they made to continue, especially given the fact that we clearly, quite clearly do not have a handle on the pandemic here right now, unlike other countries that have," explained immigration lawyer Fiona McEntee. "If students can study online successfully from an academic point of view, why are we forcing them to come into a situation where they could put their health at risk and also the health of their classmates at risk?"
Trump responded with similar disregard for the severity of coronavirus: "I see what Harvard announced. That they're closing for the season or for the year. I think it's ridiculous. I think it's an easy way out and I think they ought to be ashamed of themselves."
+ The federal Paycheck Protection Program (PPP) gave millions of taxpayer dollars in aid to anti-abortion groups.
"What we're seeing with this is a lightyear leap into direct government financing of major Christian right political entities on a scale we've never seen before," said Frederick Clarkson, an expert on the American religious right. Among the Christian right anti-abortion groups that recieved government funding was the American Family Association (AFA), which has in the past been labeled a hate organization for its homophobic rhetorica and actions. The group is notorious for its anti-abortion position, including calling abortion "an evil running rampant in the United States" in a blogpost.
Planned Parenthood received $80 million in PPP funding, but 127 Republican lawmakers have called for a federal investigation of the loans—without asking the same of anti-abortion groups.
Funding anti-abortion groups but not Planned Parenthood creates a dangerous precedent for future funding. Planned Parenthood provides numerous important services to women and girls and is a crucial health service. Now, more than ever, women need to ensure the right to bodily autonomy is protected.
---
If you found this article helpful, please consider supporting our independent reporting and truth-telling for as little as $5 per month.