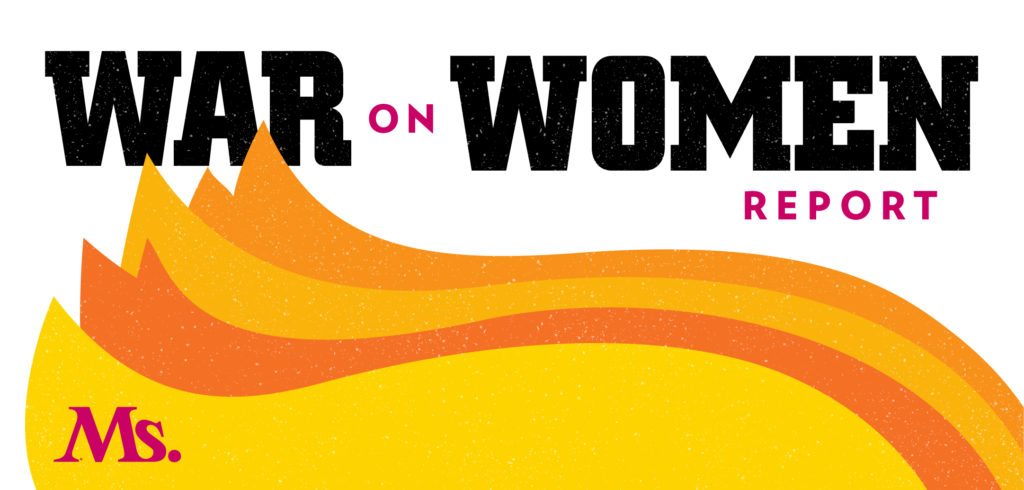 The War on Women is in full force under the Trump administration. We refuse to go back, and we refuse to let the administration quietly dismantle the progress we've made. We are watching.
This is the War on Women Report.
---
Friday, July 10
+ The American Academy of Pediatrics (AAP) backed off a previously held stance that children will be most benefited by in-person classes in the fall.
The Trump administration has repeatedly cited previous guidance from the AAP in order to urge schools and local leaders to reopen in-person schooling this fall. The AAP now says "science and community circumstances must guide decision-making," and has recognized that safely reopening schools this fall may not be a feasible option, considering a lack of adequate funding to ensure the safety of students.
Saturday, July 11
+ Florida reported 15,300 new coronavirus cases, setting a U.S. record for the most cases reported by a state in a single day. Since Florida began reopening, coronavirus cases have surged dramatically—yet Governor Ron DeSantis (R) continues to pursue an aggressive strategy for reopening.
The state has already announced its plan to hold in-person schooling five days a week in the coming school year, and also plans to hold the Republican National Convention next month in an indoor facility—despite scientists saying for months that the virus lingers in the air indoors.
On Saturday, the state also reopened Disney World, releasing a video to commemorate the event. Twitter users quickly pointed out a chilling and ominous mood in the video, leading many to parody it by adding sinister and haunting music.
Trump and his administration have failed to take effective actions to slow the coronavirus surges in Florida and elsewhere. With Trump repeatedly refusing to wear a mask in public, and Secretary of Education Betsy DeVos urging schools to reopen in the fall, despite clear health risks, the administration's efforts to combat coronavirus are inadequate. Nancy Pelosi called out the administration in an interview with CNN, saying it's "messing with the health of our children."
---
If you found this article helpful, please consider supporting our independent reporting and truth-telling for as little as $5 per month.
---
+ The Trump administration is ramping up its undermining of Dr. Anthony Fauci—whose approval ratings of 76 percent far exceed Trump's 26 percent approval rate in his handling of the coronavirus pandemic. Fauci has advised states experiencing coronavirus surges to shut back down, mandate mask wearing and seek alternatives to in-person schooling. Trump has repeatedly attacked and attempted to discredit Fauci, saying in a Fox interview, "He's made a lot of mistakes."
The Trump administration also ordered hospitals to stop reporting coronavirus data to the CDC, and instead report it only to a database set up by Health and Human Services. This change not only undermines CDC efforts to effectively combat the virus, but also seems to have political motivations. Health experts have expressed concern this change could be used to manipulate or withhold key information about the virus.
Tuesday, July 14
+ Daniel Lewis Lee, the first federal inmate in 17 years to be put to death, was executed Tuesday morning. The Trump administration announced a campaign to revive the federal death penalty in July 2019.
An appeals panel rejected his family's suit claiming that coronavirus prevented them from witnessing the execution. Diane S. Sykes, the appeals court's chief judge, wrote that the family did not have a protected right to witness Lee's execution. Trump has already appointed four judges to the Seventh Circuit, one of the most conservative appeals courts in the U.S.
"It's very distressing to think that the U.S. government put its full power behind the idea that they need to hurry up and kill Danny Lee, even though there hasn't been an execution in 17 years," Baker Kurrus, the family's lawyer said. "They're stomping on the rights of victims of crimes."
+ After several universities filed suit, the Trump administration rescinded its policy that would prevent international students from studying in the U.S. if their institutions offered only online instruction. More than one million international students would have been denied under this policy. It is not clear if the administration plans to completely drop the policy or implement a more lenient version.
Wednesday, July 15
+ Rep. Ilhan Omar, a Democratic member of Congress from Minnesota, published a powerful op-ed in response to GOP attacks against her. Omar represents the district where George Floyd was killed, and last week met with community members to address systemic racism and oppression. Omar expressed the need to dismantle oppressive systems within the United States:
"We are not merely fighting to tear down systems of oppression in the criminal justice system—we are fighting to tear down systems of oppression that exist in housing, in education, in health care, in employment and in the very air we breathe. . . .

"As long as our economic and political systems prioritize profit, without considering who is profiting and who is being shut out, we will perpetuate this inequality. So we cannot stop at the criminal justice system. We must begin the work of dismantling the whole system of oppression wherever we find it."
But after making this statement, the Republican National Committee, along with various right wing media outlets, accused Omar of attempting to destroy the entire U.S. government. Her op-ed describes oppression and discrimination she has faced as a Black Muslim woman—calling out Trump and others for repeated use of hateful, racist and Islamophobic comments.
Friday, July 17
+ Reports surfaced that the Trump campaign diverted nearly $400,000 into Trump's private business over the course of only two days. Washington Post reporter David Fahrentold shared the story on Friday, posting on Twitter: "Campaign donations turned into private revenue for POTUS."
This is not the first time Trump has been called out for channeling campaign donations into his own private business—once again demonstrating he prioritizes himself over the American people.
+ Continuing in its attempt to undermine efforts by the CDC, the White House has decided to block the CDC from testifying in a hearing next week regarding whether schools should reopen. Bobby Scott, the chair of the House Education and Labor Committee, said, "It is alarming that the Trump Administration is preventing the CDC from appearing before the Committee at a time when its expertise and guidance is so critical to the health and safety of students, parents and educators."
---