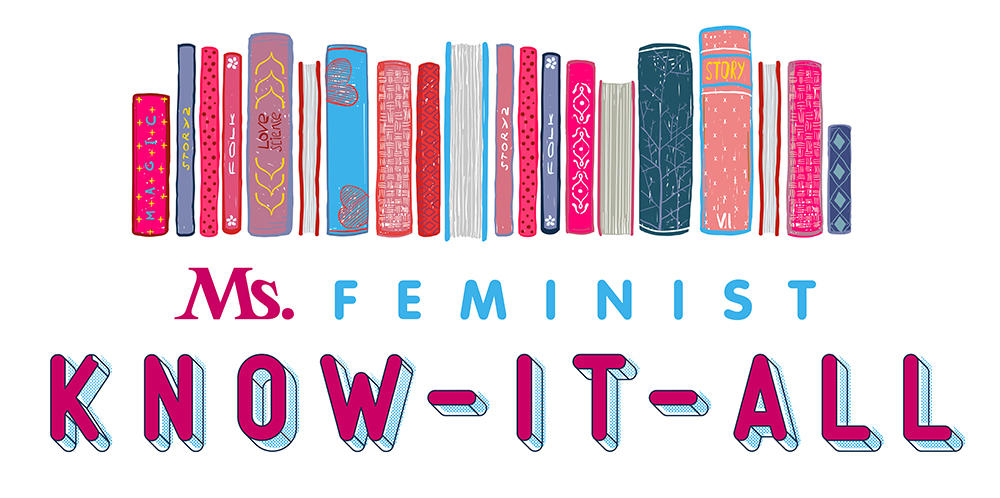 The Feminist Know-It-All: You know her. You can't stand her. Good thing she's not here! Instead, this column by gender and women's studies librarian Karla Strand will amplify stories of the creation, access, use and preservation of knowledge by women and girls around the world; share innovative projects and initiatives that focus on information, literacies, libraries and more; and, of course, talk about all of the books.
---
Each month, I provide Ms. readers with a list of new books being published by writers from historically excluded groups.
The aims of these lists are threefold:
I want to do my part in the disruption of what has been the acceptable "norm" in the book world for far too long—white, cis, heterosexual, male;
I want to amplify amazing works by writers who are women, Black, Indigenous, Latinx, APIA/AAPI, international, LGBIA+, TGNC, queer, disabled, fat, immigrant, Muslim, neurodivergent, sex-positive or of other historically marginalized identities—you know, the rest of us; and
I want to challenge and encourage you all to buy, borrow and read them! 
It's getting more and more challenging to choose the books for these lists because there are just so many great ones from which to choose! These 42 books will give you plenty from which to choose to get you through the last dregs of winter. Enjoy!
---
By Stephanie Y. Evans (@Prof_Evans). SUNY Press. 416 pages. Out March 1.
Extensively researched and candidly personal, this history of Black women's self-care practices explores the African roots to the current multitude of ways Black women have for resting, healing, managing stress, and finding restorative inner peace.
Edited by Bianca C. Williams (@biancaphd), Dian D. Squire (@DianSquire) and Frank A. Tuitt. SUNY Press. 320 pages. Out March 1.
This collection of essays is a timely and vital contribution to the examination of race in higher education. These are hard-hitting essays from an extraordinary slate of contributors.
By Jamie Figueroa. Catapult. 240 pages. Out March 2.
When a brother and sister spend their last weekend in their family home after their mother has passed, they make a bet that will prove life-changing in this unique and haunting debut.
By Nicole Glover (@nicoleglower). John Joseph Adams/Mariner Books. 432 pages. Out March 2.
I love speculative fiction that ties an envisioned future with historical roots and Nicole Glover's debut does just that; then it adds in pinches of mystery and magic for good measure. (Also see book two of this series, The Undertakers, out this fall.)
By Laura Lee. Atria Books. 208 pages. Out March 2.
Laura Lee's moving debut memoir in essays vividly examines the seemingly disparate parts of herself and her life: Korean heritage, queerness, mental illness, immigrant parents, trauma and more.
By Safia Elhillo (@mafiasafia). Make Me a World. 224 pages. Out March 2.
This stunning novel in verse features a young Muslim woman living in several worlds and feeling like an outsider in each. Through poetry and magical realism, Safia Elhillo takes on themes of family, oppression, identity and belonging.
By Stephanie Andrea Allen (@s_andrea_allen). BLF Press LLC. 170 pages. Out March 2.
Allen's collection of eleven short stories of speculative fiction are a wonderful reminder that the fantastic surrounds us daily. They are bold, cheeky, fresh and queer AF — just how we like them.
By Patricia Engel (@patricia_engel). Avid Reader Press/Simon & Schuster. 208 pages. Out March 2.
In her latest crucial novel, award-winning writer Patricia Engel tells a now eerily recognizable story of a Colombian family's experiences with migration, mixed statuses and mercy.
By Forsyth Harmon (@forsythharmon). Tin House Books. 144 pages. Out March 2.
This is a beautifully illustrated and unique text–both supplied by Harmon–that explores the tender, excruciating and exhilarating experiences of girlhood, love, obsession and coming of age.
By Nadia Hashimi (@NadiaHashimi). William Morrow. 464 pages. Out March 2.
In her latest immersive novel, bestselling author Nadia Hashimi centers a woman who lost her entire family in a political coup in Kabul, Afghanistan. Four decades later, she is forced to confront this traumatic past and is determined to find the truth.
By Cheryl Thompson (@drcherylt). Coach House Books. 224 pages. Out March 2.
In this incisive volume, Dr. Cheryl Thompson examines the history of the construction of "Uncle Tom" from its beginnings in Harriet Beecher Stowe's Uncle Tom's Cabin to today's racial trope and its continuing effect on racial politics.
By Naima Coster (@zafatista). Grand Central Publishing. 352 pages. Out March 2.
With this moving story of two families intertwined throughout place and time and race, Naima Coster may have written the sweeping, spellbinding, cascading saga of the year.
By Mary H. K. Choi (@choitotheworld). Simon & Schuster Books for Young Readers. 400 pages. Out March 2.
In her signature insightful, frank yet gentle voice, Choi centers estranged sisters brought together when one of them gets cancer to explore mental health, identity and the power of familial bonds.
By Talia Hibbert (@TaliaHibbert). Avon. 400 pages. Out March 9.
You've waited long enough: the Brown sisters are back! This time it's Eve who falls hard for an assiduous and sensible B&B owner who thinks erratic Eve is out to ruin his life.
By Anuradha D. Rajurkar (@ADRajurkar1). Knopf Books for Young Readers. 368 pages. Out March 9.
This is a beautifully written debut that bravely reflects on racism, patriarchy, coming-of-age, first love, family and identity.
By Hala Alyan (@HalaNAlyan). Houghton Mifflin Harcourt. 464 pages. Out March 9.
Beautifully illustrating the complexities, fragilities and flaws of families, this heartfelt novel centers siblings struggling to make a decision about the sale of the family home in Beirut as secrets, bonds and the legacies of war come to the fore.
By Tamara Winfrey Harris (@whattamisaid). Berrett-Koehler Publishers. 192 pages. Out March 9.
You may have heard about Tamara Winfrey Harris's Letters to Black Girls project, in which she asked Black women to write letters to Black girls aged 13 to 21. After it went viral, she chose the letters included in this volume, which focus on body positivity, feminism, empowerment and affirmation.
---
If you found this article helpful, please consider supporting our independent reporting and truth-telling for as little as $5 per month.
---
Two Lines Press. 192 pages. Out March 9.
This is the third volume in the Calico Series from Two Lines Press. I love this series and this latest installment focuses on humanity's relationship with the natural world and includes contributions from Japan, Iran, Norway, Germany, Madagascar, Iraq, Poland, and Israel.
By Imbolo Mbue. Random House. 384 pages. Out March 9.
A tale for our times, Imbolo Mbue's latest novel is one of collective resistance to colonialism and greed when people in a small African village go toe to toe with an American oil company. Mbue's remarkable storytelling makes this book shine.
By Jessica Zucker (@drzucker). The Feminist Press at CUNY. 240 pages. Out March 9.
In this arresting and candid memoir, Zucker reflects on miscarriage — her own and others' — in order to normalize the very real pain and sorrow of miscarriage as well as to shine a light on the need for connection, compassion and healing for the thousands of women who suffer this loss every year.
By Sharon Lee De La Cruz (@sharonleedelacruz). Street Noise. 96 pages. Out March 9.
In this vibrant and insightful collection of autobiographical comics, Sharon Lee De La Cruz reflects on queerness, Blackness, feminism and freedom.
By Diane Wilson (Dakhóta). Milkweed Editions. Out March 9.
In elegant prose, Wilson tells a story of one woman's reflections on her life, loss, family and the seeds she knows are her ancestors and an imperative legacy she must protect at all costs.
By Sam Cohen (@essysea). Grand Central Publishing. 208 pages. Out March 9.
At times cheeky and tender, this debut short story collection pushes boundaries of identity and origin, queerness and community. Richly detailed, the collection features main characters who are mostly named Sarah.
By Morowa Yejidé (@MorowaYejide). Akashic Books. 304 pages. Out March 16.
Hauntingly magical, this sophomore novel by Morowa Yejidé centers a young woman dealing with the loss of her brother, her young great-nephew who mysteriously shows up at her door and Washington, DC, the city that provides an otherworldly backdrop to this imaginative thriller.
By Angeline Boulley (Sault Ste. Marie Tribe of Chippewa Indians) (@FineAngeline). Henry Holt and Co. (BYR). 496 pages. Out March 16.
This formidable debut YA thriller centers a young Anishinaabe woman who, after getting involved in an investigation of local murders and a new lethal drug, faces challenging questions of community, identity and truth.
Edited by Jenny Minton Quigley. Vintage. 464 pages. Out March 16.
This is a captivating and potent anthology examining Nabakov's controversial Lolita through a variety of modern lenses. Includes original contributions from Roxane Gay, Morgan Jerkins, Zainab Salbi, Susan Choi and more.
By Tung Nguyen, Katherine Manning and Lyn Nguyen with Elisa Ung. Chronicle Books. 224 pages. Out March 16.
From the creators of Hy Vong Vietnamese restaurant in Miami comes this unique and uplifting memoir of migration, family and food, complete with full-color photos, inspiring stories and delicious recipes.
By Anna-Marie McLemore (@LaAnnaMarie). Feiwel & Friends. 320 pages. Out March 16.
This is a beautiful and disarming story of sexual assault, gender, harm, redemption and healing written with intention, care and candor.
Written by Pola Oloixarac (@poliamida) and translated by Adam Morris (@adamjaymorris). Farrar, Straus and Giroux. 192 pages. Out March 16.
A tough, cheeky and fast-living Peruvian writer, "Mona is a new kind of feminist." When she's up for a coveted international award and travels to the ceremony, she'll have to contend with estrangement, violence and, worse yet, the other writers.
By Anita Moorjani. Atria Books. 224 pages. Out March 16.
HSPs and empaths unite! Bestselling author and speaker Anita Moorjani has written the essential guidebook for those of us who are tired of seeing our sensitivity as a detriment and who instead want to harness its power and strength.
By Layla AlAmmar (@Layla_AlAmmar). Algonquin Books. 304 pages. Out March 16.
This remarkable debut centers a Syrian woman seeking asylum in the UK, alone and mute from her traumatic experiences. As she begins to write and expand her other senses to the world around her, she realizes the healing power of communication, connection and community.
Edited by P. Gabrielle Foreman (@profgabrielle), Jim Casey (@jimccasey1) and Sarah Lynn Patterson (@Sarah_Patterson). University of North Carolina Press. 400 pages. Out March 22.
This essential history highlights the thousands of conventions organized by Black activists and held across the country to fight for civil rights and social justice throughout the 19th century. Contributors include P. Gabrielle Foreman, Daina Ramey Berry, Erica L. Ball and more.
By Anthea Butler (@AntheaButler). University of North Carolina Press. 176 pages. Out March 22.
Historian and scholar Anthea Butler lifts the veil from white evangelicalism to reveal the racism at its center. Throughout history, white evangelicals have used their religion in very non-Christian ways and often lent to the vast division of the US citizenry that exists to this day.
By Mannie Murphy (@manniemurphy). Fantagraphics. 232 pages. Out March 23.
This stunning and original debut graphic novel weaves Portland, Oregon's not-often-talked-about history of white nationalism, masculinity and hate with reminiscences of 1990s alt-culture, queerness and power.
By Victoria Princewill (@vpofrances). Cassava Republic Press. Out March 23.
In this lyrical and kaleidoscopic historical novel, two slaves search for meaning, freedom and the legacies they will leave behind in 19th century Iran.
By Mia Bay (@mia_bay). Belknap Press. 400 pages. Out March 23.
This fascinating, well-researched history about Black mobility adds significantly to our knowledge of Black resistance to racism and oppression.
By C. L. Clark (@c_l_clark). Orbit. 544 pages. Out March 23.
Fantasy fans get excited because this one is next-level. It features two formidable women fighting for justice, against colonial powers and contending with the complexities that accompany resistance, identity, love and humanity.
By Robin Broad and John Cavanagh. Beacon Press. 224 pages. Out March 23.
If you're in need of some inspiration this winter, look no further than this crucial and absorbing account of the ordinary people in El Salvador who won big against a seemingly insurmountable international mining corporation.
By Dawnie Walton (@dawniewalton). 37 Ink. 368 pages. Out March 30.
Dawnie Walton's immersive debut centers a dynamic star of the 1970s Afro-punk scene as she gives her oral history to a journalist decades later and uncovers universal themes of sexism, racism, creativity and truth.
by Melissa Febos (@melissafebos). Bloomsbury Publishing. 336 pages. Out March 30.
To counter society's patriarchal standards and stereotypes enmesh girls in a web of unreachable expectations of mind, body and soul, Melissa Febos offers ideas to disrupt the normative narratives surrounding girlhood and encourages us to recreate ourselves according to ourselves.
By Kaitlyn Greenidge (@surlybassey). Algonquin Books. 336 pages. Out March 30.
Inspired by one of the first Black women doctors in the US, Greenidge's latest book combines historical fiction and magical realism for an inspired story of family, freedom and fulfilling one's destiny.
By Gabriela Garcia (@GabiMGarcia). Flatiron Books. 224 pages. Out March 30.
From the perspectives of several generations of Cuban women, this remarkable debut shines a brilliant light on the broken immigration system and legacy of trauma for the people who endure it.
By Denny S. Bryce (@dennysbryce). Kensington. 384 pages. Out March 30.
This is the best kind of historical novel: immersive, mysterious and evocative; factual in its history and nuanced in its creativity and connection to the present.
Up next:
---