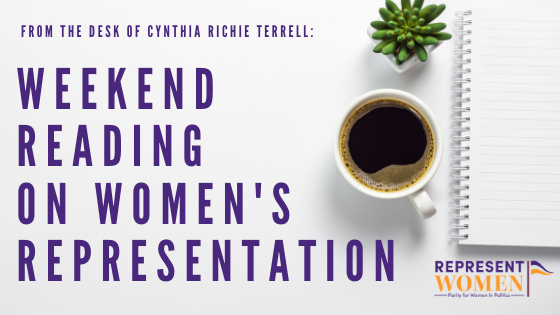 Weekend Reading on Women's Representation is a compilation of stories about women's representation in politics, on boards, in sports and entertainment, in judicial offices and in the private sector in the U.S. and around the world—with a little gardening and goodwill mixed in for refreshment!
---
Now that the House has elected a Speaker and the members of Congress have been sworn in, we can turn our attention to the work ahead. Stories from this week show that building women's political power will take more than just seat gains. A 21st century democracy requires system reforms to ensure women can run, win, serve and lead. 
Colorado's 74th General Assembly Has its Largest Class of Women Legislators Ever
This year, Colorado's 74th General Assembly has the largest number of women legislators in history (51 percent). Democrat Elizabeth Velasco, who beat the former incumbent, emphasized that women "definitely see things with a different lens" and that women will "be leading with bold solutions…"
Velasco also brings diversity to the assembly—she is the first Latina to represent the Western Slope. 
McCluskie, [the incoming Speaker of the CO House of Representatives,] said Velasco being the first Latina to represent the Western Slope means there's better diversity represented across the state.

"Those voices will bring different lived experiences and different perspectives to the policy that we are crafting," she said. "Ultimately, if we want to create lasting policy that makes a difference for people, that really allows everyone to live their Colorado dream, we need to be sure that all of those voices are at the table."

Monday's 74th session also marks the first time women have been in the top three leadership positions in the Colorado House of Representatives. This includes Latina Majority Leader Monica Duran and Jennifer Bacon, the first black woman to hold the assistant majority leader slot.

McCluskie said this brings a voice for prioritizing working families, civil rights and health care — issues women have been fighting for so long.
RepresentWomen's 2022 Gender Parity Index provides each state with a state legislature score based on how close the state is to parity. In 2022, Colorado received 12.9/30 points. So while this milestone is important, there are still reforms the state could implement to create greater gender balance.
---
'Historic' 118th Congress Still Not Reflective of the U.S. Population
Demographic makeup of the new U.S. House and Senate raises questions about how "representative" they are. The 118th Congress did technically break a record for the number of women in office, but they still make up less than one-third of the entire legislative body. In fact, the amount of women in the House went from 28.4 percent to only 28.5 percent. 
Dante Chinni from NBC News writes:
Women make up about half of the workforce in the U.S., and they make up more than half of the U.S. population overall, but they still lag in representation in Congress…

When everyone is seated, women will make up less than one-third of all the members of the House and the Senate in the 118th Congress, about 28%, according to data from researcher Stephen Wolf. That is a record for women…

The gap is noteworthy and problematic in terms of having voices and views heard. When a group makes up more than half of the country's population, it should probably make up more than 30% of its primary legislative body.
One way to increase women's representation would be to follow the twin-track approach, which focuses on helping individual woman candidates as well as eliminating systemic barriers. RepresentWomen highlighted this approach in our 100 Cities Report. The report examines women's representation in the 100 largest cities in America and is a follow up to our Why Women Won in 2021 Report.
---
California Representative Katie Porter Announces a Run For Senate
California needs a warrior in the Senate—to stand up to special interests, fight the dangerous imbalance in our economy, and hold so-called leaders like Mitch McConnell accountable for rigging our democracy.

Today, I'm proud to announce my candidacy for the U.S. Senate in 2024. pic.twitter.com/X1CSE8T12B

— Katie Porter (@katieporteroc) January 10, 2023
Rep. Katie Porter (D-Calif.) announced her run for Senate in a video released on Twitter on Jan. 10. Reid J Epstein highlights this breaking news in the New York Times. Whether Senator Feinstein decides to seek reelection or not, the expected high cost of this race will have RepresentWomen keeping an eye on it.
Ms. Porter, 49, is the first announced challenger to Ms. Feinstein, 89, who has not declared her intentions about 2024 but is widely expected to not seek re-election amid Democratic worries about her age and ability to serve…

Ms. Porter's early campaign announcement — which carries echoes of Ms. Warren's entrance to the 2020 presidential contest, when she was the first major Democrat to embark on a bid — jump-starts a race that is certain to be among the most expensive intraparty contests in the country

California, the nation's most populous state with nearly 40 million residents, has not hosted a highly competitive contest for an open Senate seat since 1992, when Ms. Feinstein and Ms. Boxer were both elected for the first time.
---
'The Paradox at the Heart of the Most Diverse Congress Ever'
The new Congress is as diverse as it's ever been. At the same time:
– 25% percent of Congress are people of color, compared to 40% of the US population
– 28% of lawmakers are women vs 51% of the population https://t.co/0zf4kr0FHn

— Vox (@voxdotcom) January 10, 2023
Li Zhou wrote in Vox this week about the prospective impact on increases in representation for women and men of color in the 118th Congress.
Past research from Georgetown political scientist Michele Swers has also found that women lawmakers have been more likely to sponsor bills focused on women's health, and more involved in policy debates addressing gender equity. While examining policies in the mid-1990s, for example, Swers found that liberal women legislators sponsored an average of 10.6 bills related to women's health, roughly 5.3 more than liberal men did.

"I found that generally, the more something is directly connected to policy consequences for women, so when we think of things like women's rights issues, that the women in Congress were more engaged, they were more involved," Swers has said in an interview with the American Enterprise Institute. Women have been at the forefront of pushing policies focused on paid family leave, sexual misconduct in the military, paycheck fairness, abortion rights, and maternal mortality. LGBTQ members, who've seen their ranks grow in Congress, have also been integral in the passage of bills like the Respect for Marriage Act, which codifies federal protections for same-sex marriage.
---
Martin Luther King: 'We Can Never Again Live Without Each Other'
With MLK Day around the corner I am reminded of these wise words from Martin Luther King, Jr when accepting the Nobel Peace Prize, in Oslo, Norway on Dec. 11, 1964:
"We have inherited a big house, a great 'world house' in which we have to live together—Black and white, Easterners and Westerners, Gentiles and Jews, Catholics and Protestants, Muslim and Hindu, a family unduly separated in ideas, culture, and interests who, because we can never again live without each other, must learn, somehow, in this one big world, to live with each other."
---
Remembering Alice Paul
Wednesday was Alice Paul's birthday! Paul, a Quaker suffragist, went to Swarthmore College (as did I!), and wrote the Equal Rights Act. She inspires me and the RepresentWomen team as we work towards creating a more representative democracy for all. Happy birthday, Alice!
I never doubted that equal rights was the right direction. Most reforms, most problems are complicated. But to me, there is nothing complicated about ordinary equality.

Alice Paul
Enjoy the long weekend. Dr. Martin Luther King, Jr. reminded us that "the arc of the moral universe is long, but it bends toward justice." 
Up next:
U.S. democracy is at a dangerous inflection point—from the demise of abortion rights, to a lack of pay equity and parental leave, to skyrocketing maternal mortality, and attacks on trans health. Left unchecked, these crises will lead to wider gaps in political participation and representation. For 50 years, Ms. has been forging feminist journalism—reporting, rebelling and truth-telling from the front-lines, championing the Equal Rights Amendment, and centering the stories of those most impacted. With all that's at stake for equality, we are redoubling our commitment for the next 50 years. In turn, we need your help, Support Ms. today with a donation—any amount that is meaningful to you. For as little as $5 each month, you'll receive the print magazine along with our e-newsletters, action alerts, and invitations to Ms. Studios events and podcasts. We are grateful for your loyalty and ferocity.