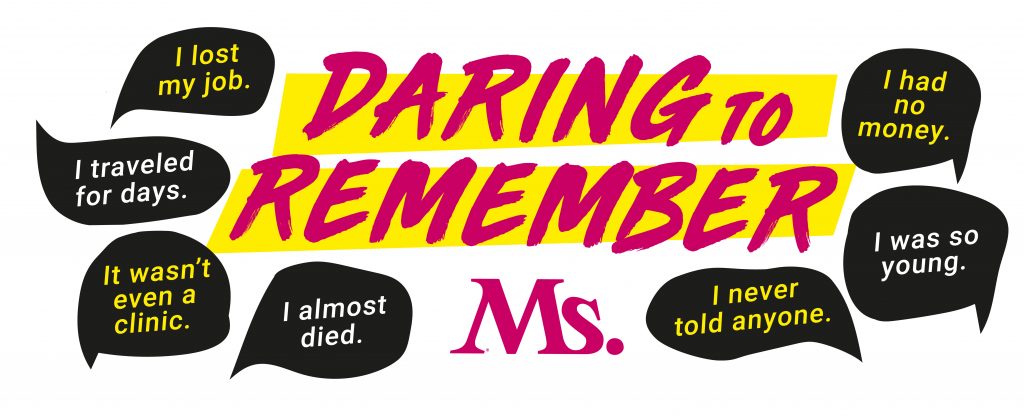 In the decades before Roe, dozens of women each day were admitted to hospitals across the U.S. due to often life-threatening complications from unsafe and illegal or self-induced abortions. In the five years before the Supreme Court decision was handed down, the women of the Jane Collective took the fight for abortion access into their own hands—literally. The women in the collective helped over 10,000 women receive safe abortions from 1968 to 1973 through a secret, underground network of self-taught providers in Chicago.
(Ms. interviewed a former Jane last year, as well as the director of Ask for Jane, a film that tells the story of the collective's remarkable work.)
This week, Teen Vogue chronicled that story as part of their ongoing OG History series. For the piece, they spoke to a woman who had no choice—that is, until she met Jane herself.
"Jane" started with 19-year-old Heather Booth and a University of Chicago dorm phone. In 1965, Heather had helped a friend's sister find a safe doctor to perform an abortion. Like with a viral word-of-mouth tweet, word spread that Heather was someone who knew an abortion doctor, and a few weeks later, someone else asked her for help. "I was living in a dormitory," Heather explained in the documentary Jane: An Abortion Service, "so I told people to call and ask for Jane."

Teen Vogue spoke to a woman who experienced a life-threatening pregnancy when abortion was illegal. We will call her Ann to preserve her anonymity. "I was 19 years old," Ann says, "and completely desperate. It's hard for people to image how horrible it was then and how desperate we were." She explained the complications of her pregnancy, and the lack of access to appropriate, life-saving medical care. "The placenta was probably detached from my uterus; I just kept bleeding and bleeding. I would go to the emergency room, where every time they'd pack me with lamb's wool and put me in the abortion ward. They should have given me an abortion to save my life, but they wouldn't. Then one day I saw in the student newspaper a newspaper: 'Pregnant, need help? Call Jane.'"

"If it hadn't been for Jane, I would have died," she says.