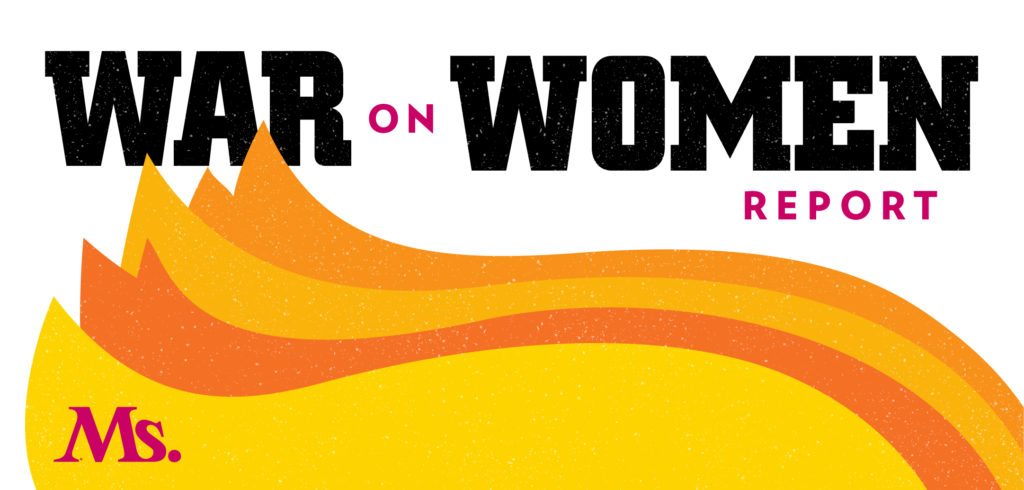 The War on Women is in full force under the Trump administration. We refuse to go back, and we refuse to let the administration quietly dismantle the progress we've made. We are watching.
This is the War on Women Report.
---
Since Our Last Report…
+ Yet another Trump administration initiative to bolster supplies for vulnerable individuals has failed. This week—as part of FEMA's effort (beginning in late April) to supply nursing homes with additional support—multiple nursing homes across the U.S. received defective and inadequate personal protective equipment (PPE), including gowns that are effectively large tarps and paper-thin masks.
"It would be funny if the stakes weren't so high," a Washington state official told CNN. "Frankly, these supplies are unusable. They pose an infection risk and are not suitable for nursing homes or for any health care setting, and we're hearing significant concerns from the nursing homes that are receiving them about whether or not they can be used at all."
Nursing home staff and residents are at extremely high risk of contracting COVID-19, and nearly 26,000 residents of nursing homes have already died from coronavirus. And a lack of adequate supplies disproportionately affects women: four out of five in the senior living workforce are women, and more than two-thirds of those residing in nursing homes are women.
Friday, June 12
+ On the four-year anniversary of the the Pulse nightclub shooting, the Trump administration announced the elimination of previously established protections for transgender patients from discrimination by doctors, hospitals and health insurance providers. This regulation rolls back protections enacted by the Obama administration that prevented sex discrimination based on gender identity. The order follows a trend in the Trump administration to dismantle protections for the LGBTQ community —specifically transgender people.
+ However, the larger LGBTQ community saw a historic win on Monday, with the 6-3 Supreme Court ruling granting LGBTQ individuals protection from workplace discrimination. The Court's opinion was written by Trump-appointed Justice Gorsuch, who, along with Chief Justice Roberts, sided with the left-leaning members of the court—shocking many. In the midst of Pride Month, the Court's decision fights back against repeated attacks made by the Trump administration attempting to dismantle legal protections of the LGBTQ community.
Additionally, the Court is due to issue its ruling on the June Medical Services v. Russo decision any day now—which will signal to state lawmakers how far they can go in restricting abortion access.
Monday, June 15
+ Donald Trump has a history of using Twitter to attack and demean women political leaders. On Monday, he used the platform to criticize Seattle Mayor Jenny Durkan, who has supported protesters' calls for an autonomous zone within Seattle. With the mayor's support, Seattle protesters were able to create a semi-permanent zone for community members to gather and call for justice, called Capitol Hill Organized Protest (CHOP).
Trump took to Twitter, describing Durkan's "weakness [and] ineptitude," adding she "should be ashamed" of the actions protesters have taken.
Despite Trump's criticism, Durkan has continued to support protesters, saying in a press conference, "Lawfully gathering and expressing First Amendment rights, demanding we do better as a society, and providing true equity for communities of color is not terrorism: It's patriotism."
+ Following Trump's repeated attempts to influence Voice of America (VOA)—an independent, but government-funded news outlet focusing on international news—the outlet's director, Amanda Bennet, and deputy director, Sandy Sugawara, resigned on Monday. Their resignations come on the heels of Trump's appointment of conservative filmmaker Michael Pack to oversee U.S. global media, as well as his repeated criticism of VOA for its coverage of coronavirus, claiming the outlet was promoting "foreign propaganda."
Trump's criticism of the women VOA directors illuminates his repeated attempts to discredit women with careers in the news industry. The resignation of Bennet and Sugawara is a result not only of Trump's war on women, but also his war on free press.
Thursday, June 18
+ The Supreme Court ruled that the Trump administration was not permitted to immediately end the Deferred Action for Childhood Arrivals (DACA) and deport nearly 7000,000 immigrants who came to the United States as children. DACA, a program instituted by former President Obama in 2012, guarantees protection to Dreamers—undocumented immigrants who arrived in the U.S. as children. Under DACA, Dreamers cannot face deportation and may acquire a work permit; however, DACA does not outline citizenship for these immigrants. 
Chief Justice John Roberts voted in line with the four liberal Supreme Court justices, making the decision a 5-4 majority. In the majority opinion, Roberts wrote the "total rescission" of DACA was "arbitrary and capricious." The Supreme Court, he stated, was not ruling on the policy itself but rather Trump's initiative to terminate the policy.
"The wisdom of those decisions is none of our concern. We address only whether the agency complied with the procedural requirement that it provide a reasoned explanation for its action."
Trump condemned the opinion, claiming the justices were acting politically. 
Justice Sonia Sotomayor was the justice in the majority to acknowledge Trump's racist sentiments towards Mexican immigrants. She reminded the court of Trump's previous statements referring to immigrants as "animals" responsible for "the drugs, the gangs, the cartels, the crisis of smuggling and trafficking." 
While the Trump administration may try to eliminate the policy again, this move would likely ostracize Trump further from the American public: DACA now has a 74 percent approval rating in the U.S.—91 percent among Democrats and 54 percent among Republicans. 
+ Trump's campaign ads depicting an inverted red triangle sparked outrage this week, as the symbol was historically used by the Nazis to identify and incarcerate political prisoners.
The ads have now been removed from Facebook, in accordance with the company's policy against organized hate. But Trump's use of this symbol, along with his initial plan to hold a rally in Tulsa on Juneteenth, have been considered dog whistles to his conservative base—as racist sentiments proved to be important determinants for those who voted for and support Trump.
Juneteenth (Friday, June 19)
+ Juneteenth commemorates the official end of slavery in the United States. It is an annual remembrance of June 19, 1865, the day that enslaved African Americans in Galveston, Texas were freed: a day to recognize and celebrate Black freedom. Given the turbulent state of the nation and the recent atrocious treatment of Black Americans, Juneteenth this year remains increasingly essential. 
Trump originally planned to hold his first campaign rally of 2020 on Juneteenth in Tulsa, Okla., the sight of one of the country's most egregious racist attacks. While Trump delayed his campaign rally in Tulsa by one day, he takes credit for the recognition of Juneteenth: "I did something good. I made Juneteenth very famous," Trump told the Wall Street Journal. "It's actually an important event, an important time. But nobody had ever heard of it."
Many have denounced Trump's handling of racial injustice and his response to recent events—especially women, who by 14 points, say racial and ethnic discrimination in the U.S. is a big problem. (83 percent of women and 69 percent of men.)
Mary Elizabeth Taylor, one of the highest-ranking African American officials under the Trump administration, announced her resignation on account of Trump's disregard.    
---