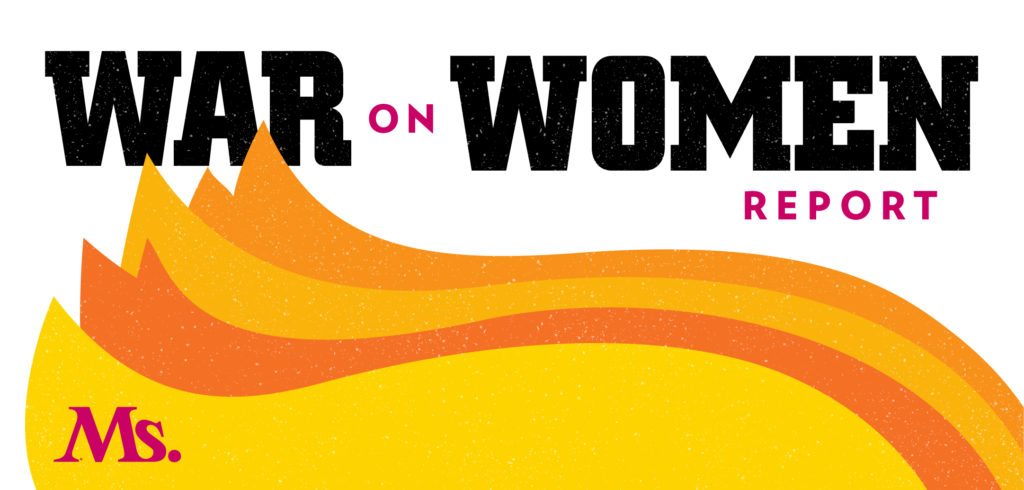 The War on Women is in full force under the Trump administration. We refuse to go back, and we refuse to let the administration quietly dismantle the progress we've made. We are watching.
This is the War on Women Report.
---
Saturday, July 18
+ Portland, Ore. has seen increased violence at nightly protests since Trump and the Department of Homeland Security sent federal officers to the city—against the wishes of Oregon Gov. Kate Brown and Portland Mayor Ted Wheeler—and refuses to remove them. The officers threaten the rights and safety of protesters with the use of batons, tear gas, pepper spray and nonlethal projectiles, as well as seizing protesters and detaining them in unmarked vehicles.
Rush Limbaugh, Sean Hannity and other conservative public figures have used the Portland protests as a push to drive up support for Trump.
State and national leaders are fighting back. On Saturday, Oregon Attorney General Ellen Rosenblum introduced a lawsuit against the Department of Homeland Security for the detainment of protesters. Senators Jeff Merkley (D) and Ron Wyden (D) have also promised to introduce an amendment to upcoming legislation to prevent the Trump administration "from sending its paramilitary squads" into American cities.
Moms in Portland have come together to protest police violence and the presence of federal officers, forming what has now been dubbed the "Wall of Moms." After seeing countless instances of police violence, particularly towards young people, the moms banded together to speak out and amplify the voices of Black moms who have lost children to police violence. The moms quickly gained media attention, and have had a powerful presence at Portland protests, staying strong in the face of tear gas and baton attacks.
---
If you found this article helpful, please consider supporting our independent reporting and truth-telling for as little as $5 per month.
---
Tuesday, July 21
+ Trump's latest effort to advance a nativist and xenophobic agenda: The president signed a memorandum to exclude undocumented immigrants when calculating congressional representation in the upcoming census. It stated, "Respect for the law and protection of the integrity of the democratic process warrant the exclusion of illegal aliens from the apportionment base."
Trump's actions clearly violate constitutional protections that mandate an "actual enumeration" of "all persons" in the country—no matter immigrant status—every 10 years. (Trump originally included a citizenship question on the census form—which was ultimately rejected by the Supreme Court in 2019—that would have effectively silenced millions of immigrants.)
+ Rep. Ted Yoho (R-Fla.) called Rep. Alexandria Ocasio-Cortez (D-N.Y.) "disgusting" for suggesting poverty and unemployment are creating a surge in crime in New York City amid the pandemic. Yoho continued by calling Ocasio-Cortez a "fucking bitch." While Ocasio-Cortez has often faced criticism from the right, she said she "never had that kind of abrupt, disgusting kind of disrespect levied" at her.
Ocasio-Cortez has stood for cutting police budget and reallocating funding: "Crime is a problem of a diseased society, which neglects its marginalized people … Policing is not the solution to crime."
Yoho insists he did not use any "offensive name-calling words." (He did.) Yoho is retiring this year, leaving these misogynist comments as his final goodbye.
+ Trump wishes Ghislaine Maxwell—a sex trafficker and close associate of Jeffrey Epstein—well. Maxwell is accused of aiding Epstein in recruiting young girls for sexual abuse. Trump told reporters: "I haven't really been following it too much. I just wish her well, frankly. I've met her numerous times over the years, especially since I lived in Palm Beach, and I guess they lived in Palm Beach." Maxwell recently pleaded not guilty to charges of sex crimes and perjury. Trump told New York Magazine in 2002 that Epstein—a man accused of raping girls as young as 14 and operating a sex trafficking ring—is a "terrific guy" and "a lot of fun to be with."
+ Republicans are considering significantly cutting expanded unemployment benefits while coronavirus rages on. The latest proposal includes cutting benefits from $600 to $100—effectively creating more widespread unemployment and worsening the U.S. economic crisis. Republicans argue that the aid deters individuals from returning to work (at their jobs that no longer exist).
A recent analysis from the Economic Policy Institute reported nearly 11 percent of the workforce is out of work with no real opportunity for return, and a recent Navigator poll estimates nearly 7 in 10 respondents want the Trump administration and Congress to expand the $600 weekly unemployment aid at least through January 2021.
+ Federal agents in Portland, Ore. have continued to take unlawful actions, and on Tuesday destroyed medical supplies and equipment being used at the protests. Harvard public health scientist, Dr. Eric Feigl-Ding, took to Twitter, writing the destruction of medical equipment "is a war crime violation. … Attacking medical units violates half a dozen conventions and international statutes, not only Geneva Convention but also International Criminal Court statutes."
This destruction of medical equipment comes after repeated reports last week of federal agents attacking volunteer medics in Portland with rubber bullets, tear gas, pepper spray and batons.
Wednesday, July 22
+ Trump announced a "surge" of law enforcement officers into major U.S. cities, claiming the cities are failing to take effective action against protesters. Trump has specifically singled out cities such as Chicago and Albuquerque as places he plans to send federal law enforcement officers.
"My administration will be working to remove dangerous offenders sprung loose by these deadly policies and, frankly, by these deadly politicians," Trump said Wednesday.
Chicago Mayor Lori Lightfoot has made it clear that she opposes federal law enforcement entering the city. "Under no circumstances will I allow Donald Trump's troops to come to Chicago and terrorize our residents," she tweeted.
Thursday, July 23
+ In a tweet with undeniably racist and sexist undertones, Trump wrote a warning to "Suburban Housewives of America" saying "Biden will destroy your neighborhood and your American Dream." In the tweet, Trump linked a New York Post article, which suggests that Biden's Affirmatively Furthering Fair Housing rule will destroy suburban communities. The policy is intended to provide greater access to affordable housing, particularly for minorities who have long faced housing discrimination.
Many scholars have recognized the idea of an "American Dream" is largely white-centric, as systemic racism makes achieving this dream far more difficult for Black Americans and people of color. Even the term "housewife" has generally been recognized as outdated, as it suggests that a woman's primary function is to stay at home, do housework and care for a man and children.
Trump's tweet is representative of the misogynistic and white-centric lens through which he so often operates, showing a complete disregard for people of color and women.
---