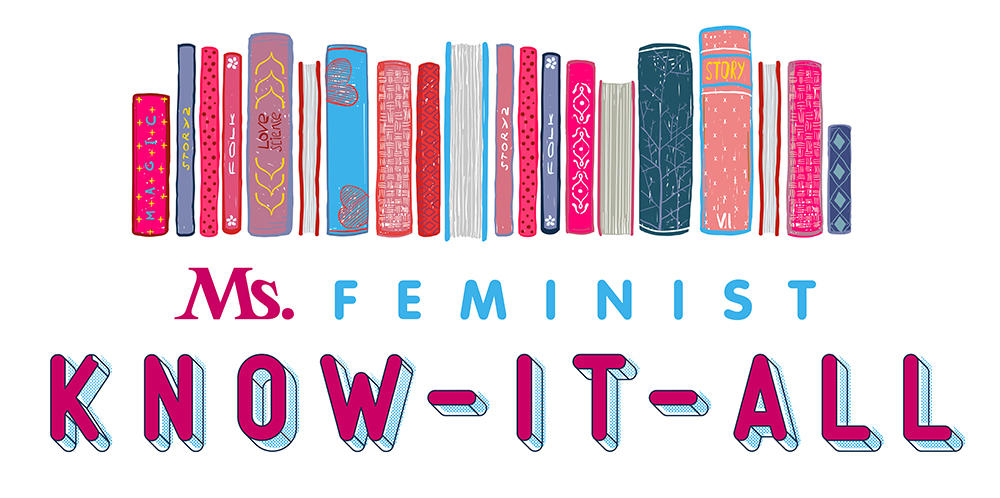 The Feminist Know-It-All: You know her. You can't stand her. Good thing she's not here! Instead, this column by gender and women's studies librarian Karla Strand will amplify stories of the creation, access, use and preservation of knowledge by women and girls around the world; share innovative projects and initiatives that focus on information, literacies, libraries and more; and, of course, talk about all of the books.
---
You've read all the 2021 most anticipated book lists? Well, now see what other books are out there, you know, for the rest of us.
Now don't get me wrong, there are some great book lists out there highlighting some of the year's most exciting releases. There will be some overlap between those and mine—but I do pride myself on finding and highlighting some of the books you haven't seen on other lists because they are from indie publishers, debut authors or historically excluded writers.
As returning readers know, the aims of these lists are threefold: I want to do my part in the disruption of what has been the acceptable "norm" in the book world for far too long—white, cis, heterosexual, male; I want to amplify amazing works by writers who are women, feminist, Black, Indigenous, Latinx, APIA, international, LGBIA+, TGNC, queer, disabled, fat, immigrant, Muslim, neurodivergent, justice-involved, sex-positive or of other historically marginalized identities—you know, the rest of us; and I want to challenge and encourage you all to buy, borrow and read them! 
Here you'll find fiction and non-fiction, adult and young adult, as well as graphic novels. You will see I've included January releases on this list, even though that complete list is already live, so take a look; February's list will be live soon. I haven't included poetry in this list; that compilation will come out in time for National Poetry Month in April. You will see the list is front-loaded, only because we have more information about releases in the next few months; it gets harder to nail down releases the farther out you look. Please note that release dates are subject to change at any time but were current as of the publication of this column.
These 100 books will inspire, astound, enthrall, sadden, seduce, educate, infuriate and confound you.Read one or read them all. Find some to help you reflect. Find others that will help you rest and rejuvenate. But most important of all this year, be sure to find some books in your life that will move you to action.
Sorry I took so long—but hey, good things take time.
---
January
By Torrey Peters (@torreypeters). One World. 352 pages.
Welcome to a new kind of novel, one that doesn't shy away from the complex realities of genders, parenthood, love and relationships. This is a refreshing debut.
By Danielle Geller (Navajo) (@dellegeller). One World. 272 pages.
Archivist Danielle Geller has written a candid and achingly fractured memoir of her mother, her family, her Navajo heritage and her own journey to self-discovery and acceptance.
Edited by Cynthia R. Greenlee (@CynthiaGreenlee), Kemi Alabi (@kemiaalabi) and Janna A. Zinzi (@JannaZinzi). The Feminist Press at CUNY. 328 pages.
This is the first collection of writings from Echoing Ida, a collective of Black women and nonbinary writers who report on reproductive justice, health, motherhood, justice, and more.
By Michelle Duster (@MichelleDuster). Atria/One Signal Publishers. 176 pages.
In this beautifully illustrated volume, Michelle Duster honors iconic trailblazer—and her great-grandmother—Ida B. Wells, and inspires readers to follow in her footsteps to change the world.
By Cicely Tyson (@IAmCicelyTyson). HarperCollins Publishers. 432 pages.
It's Cicely Tyson. So get your copy, take a deep breath and take in the wonder. #RestInPower
By Malinda Lo (@malindalo). Dutton Books for Young Readers. 416 pages.
In San Francisco's Chinatown in 1954, two young women fall in love against all odds. Lush, ambitious and layered, Malinda Lo's sweeping historical novel is the queer romance we've been waiting for.
By Anna North (@annanorthtweets). Bloomsbury Publishing. 272 pages.
A western unlike any other, Outlawed features queer cowgirls, gender nonconforming robbers and a band of feminists that fight against the grain for autonomy, agency and the power to define their own worth.
---
February
By Tanya Selvaratnam (@TanyaAuthor). Harper. 272 pages.
A gripping memoir about the abuse Tanya Selvaratnam suffered at the hands of former New York State Attorney General Eric Schneiderman.
By Priyanka Champaneri (@priyanka.champaneri). Restless Books. 448 pages.
Featuring the manager of a death hostel in Banaras, India, who is struggling with his own past, this debut was the winner of the 2018 Prize for New Immigrant Writing from Restless Books.
Edited by Ibram X. Kendi (@DrIbram) and Keisha N. Blain (@KeishaBlain). One World. 528 pages.
This is easily, already, one of my picks of the year. A transformative volume, it features contributions from 80 Black writers and ten Black poets — over half of whom are women, queer and/or transgender — who expertly and creatively cover this 400 year timespan, #RequiredReading.
By Namina Forna (@NaminaForna). Delacorte Press. 432 pages.
An atmospheric debut, this fantasy centers the power of a redefined sisterhood to overcome a seemingly impossible fate.
By Sonia Faleiro (@soniafaleiro). Grove Press. 253 pages.
Award-winning writer Sonia Faleiro delivers a disarming account of the disappearance and murder of two teen girls in northern India and a crucial challenge to traditional notions of caste, gender, sexuality and violence.
By Cherie Jones (@csajthewriter). Little, Brown and Company. 288 pages.
Set in Barbados, this intense debut thriller speaks volumes about domestic violence, class struggle, loss and the legacy of trauma.
By Véronique Tadjo (@VTadjo). Other Press. 160 pages.
From multiple perspectives, Tadjo examines the effects of pandemics like the Ebola crisis and the toll they take on our health, our communities and our humanity. Particularly relevant to our times.
By Nancy Johnson (@NancyJAuthor). William Morrow. 336 pages.
Set in 2008 Chicago, this powerful debut examines motherhood, race and the American Dream with candid and impassioned beauty.
Edited by R.O. Kwon (@rokwon) and Garth Greenwell (@GarthGreenwell). Simon & Schuster. 288 pages.
This groundbreaking anthology features some of today's hottest authors writing about some of the hottest topics. It's luscious, tender, sexy, erotic, queer AF and challenges norms up, down and around the spectrum.
By Randa Jarrar (@randajarrar). Catapult. 240 pages.
Randa Jarrar is Muslim, Egyptian, Palestinian, American, fat, queer, feminist and, in her cathartic, candid and adventurous memoir, on a journey to find her joy and taking no prisoners along the way.
By Dantiel W. Moniz (@dantielwmoniz). Grove Press. 208 pages.
Set against the lush and unpredictable backdrop of Florida, these 11 stories present women and girls as we really are: complex, deep, smart, sour, joyful, tough, loving and powerful.
Edited by Briona Simone Jones. The New Press. 224 pages.
Dubbed as the companion anthology to Beverly Guy-Sheftall's groundbreaking classic Words of Fire, this outstanding collection honors the legacy and contributions made by Black lesbian writers throughout the last two centuries.
By Isabel Yap (@visyap). Small Beer Press. 248 pages.
Drawing from science fiction, Filipino folklore, fantasy and horror, these thirteen stories are monstrous, scary, joyful, unexpected, inventive, eerie and weird.
By Leanne Betasamosake Simpson (Michi Saagiig Nishnaabeg). University of Minnesota Press. 368 pages.
This is another of my favorites so far this year. Probably unlike anything you've ever read, this remarkable novel is written in prose and fragments and is an alarmingly beautiful tale of decolonial resistance and the uncovering of a world of natural abundance, connection and compassion.
By E. Lily Yu. Erewhon. 288 pages.
In her spellbinding debut, E. Lily Yu takes us on a journey from Afghanistan to Australia, from childhood to growth, from family to individual, from reality to imagination — and back again.
Written by Elvira Navarro (@ElviraNavarro) and translated by Christina MacSweeney. Two Lines Press. 184 pages.
Each of these eleven stories feel like a dream. Sometimes creepy, sometimes witty, but always reflective of our innermost fears and vulnerabilities, always haunting, always extraordinary.
By Elizabeth Miki Brina. Knopf. 304 pages.
As the daughter of an Okinawan war bride and American soldier in Vietnam, Brina explores her cultural heritage, internalized racism and shame, forgiveness and identities in this brave and candid debut memoir.
By Heather McGhee (@hmcghee). One World. 448 pages.
It's terribly difficult to sum this brilliant addition to the examinations of inequality, racism and democracy in this country in one sentence, so I will let Ibram X. Kendi do it for me: "This is the book I've been waiting for."
By Rebecca Carroll (@rebel19). Simon & Schuster. 320 pages.
Rebecca Carroll has written this remarkable memoir of her time growing up as the only Black child in the neighborhood, of meeting her white birth mother and of her subsequent search for identity, wholeness, acceptance and authenticity.
By Anna Malaika Tubbs (@annas_tea_). Flatiron Books. 272 pages.
To celebrate and honor Black motherhood, Anna Malaika Tubbs has written this triumphant debut exploring the lives and influence of Berdis Baldwin, Alberta King and Louise Little, the mothers of three of the most important figures in US history.
By Mariame Kaba (@prisonculture). Haymarket Books. 200 pages.
Through interviews, speeches, personal recollections and essential lessons learned, feminist abolitionist and organizer Mariame Kaba speaks to the necessity of collective action, critical analysis, intentional evaluation and compassionate vulnerability in the fight for true liberation.
Edited by Natalie West (@MsNatalieWest) with Tina Horn (@tinahornsass). The Feminist Press at CUNY. 336 pages.
This critical collection of essays centers the call for greater understanding of sex work as work and for increased respect for sex workers themselves. By including a wide variety of contributors, topics and writing styles, this volume models the crucial ways forward.
---
March
By Hala Alyan (@HalaNAlyan). Houghton Mifflin Harcourt. 464 pages.
Beautifully illustrating the complexities, fragilities and flaws of families, this heartfelt novel centers siblings struggling to make a decision about the sale of the family home in Beirut as secrets, bonds and the legacies of war come to the fore.
By Jamie Figueroa. Catapult. 240 pages.
When a brother and sister spend their last weekend in their family home after their mother has passed, they make a bet that will prove life-changing in this unique and haunting debut.
Edited by P. Gabrielle Foreman (@profgabrielle), Jim Casey (@jimccasey1) and Sarah Lynn Patterson (@Sarah_Patterson). University of North Carolina Press. 400 pages.
This essential history highlights the thousands of conventions organized by Black activists and held across the country to fight for civil rights and social justice throughout the 19th century. Contributors include P. Gabrielle Foreman, Daina Ramey Berry, Erica L. Ball and more.
By Nicole Glover (@nicoleglower). John Joseph Adams/Mariner Books. 432 pages.
I love speculative fiction that ties an envisioned future with historical roots and Nicole Glover's debut does just that; then it adds in pinches of mystery and magic for good measure. (Also see book two of this series, The Undertakers, out this fall.)
By Morowa Yejidé (@MorowaYejide). Akashic Books. 304 pages.
Hauntingly magical, this sophomore novel by Morowa Yejidé centers a young woman dealing with the loss of her brother, her young great-nephew who mysteriously shows up at her door and Washington, DC, the city that provides an otherworldly backdrop to this imaginative thriller.
By Dawnie Walton (@dawniewalton). 37 Ink. 368 pages.
Dawnie Walton's immersive debut centers a dynamic star of the 1970s Afro-punk scene as she gives her oral history to a journalist decades later and uncovers universal themes of sexism, racism, creativity and truth.
By Angeline Boulley (Sault Ste. Marie Tribe of Chippewa Indians) (@FineAngeline). Henry Holt and Co. (BYR). 496 pages.
This formidable debut YA thriller centers a young Anishinaabe woman who, after getting involved in an investigation of local murders and a new lethal drug, faces challenging questions of community, identity and truth.
by Melissa Febos (@melissafebos). Bloomsbury Publishing. 336 pages.
To counter society's patriarchal standards and stereotypes enmesh girls in a web of unreachable expectations of mind, body and soul, Melissa Febos offers ideas to disrupt the normative narratives surrounding girlhood and encourages us to recreate ourselves according to ourselves.
By Laura Lee. Atria Books. 208 pages.
Laura Lee's moving debut memoir in essays vividly examines the seemingly disparate parts of herself and her life: Korean heritage, queerness, mental illness, immigrant parents, trauma and more.
By Safia Elhillo (@mafiasafia). Make Me a World. 224 pages.
This stunning novel in verse features a young Muslim woman living in several worlds and feeling like an outsider in each. Through poetry and magical realism, Safia Elhillo takes on themes of family, oppression, identity and belonging.
By Imbolo Mbue. Random House. 384 pages.
A tale for our times, Imbolo Mbue's latest novel is one of collective resistance to colonialism and greed, when people in a small African village go toe to toe with an American oil company. Mbue's remarkable storytelling makes this book shine.
By Sharon Lee De La Cruz (@sharonleedelacruz). Street Noise. 96 pages.
In this vibrant and insightful collection of autobiographical comics, Sharon Lee De La Cruz reflects on queerness, Blackness, feminism and freedom.
By Mannie Murphy (@manniemurphy). Fantagraphics. 232 pages.
This stunning and original debut graphic novel weaves Portland, Oregon's not-often-talked-about history of white nationalism, masculinity and hate with reminiscences of 1990s alt-culture, queerness and power.
By Patricia Engel (@patricia_engel). Avid Reader Press/Simon & Schuster. 208 pages.
In her latest crucial novel, award-winning writer Patricia Engel tells a now eerily recognizable story of a Colombian family's experiences with migration, mixed statuses and mercy.
By Forsyth Harmon (@forsythharmon). Tin House Books. 144 pages.
This is a beautifully illustrated and unique text–both supplied by Harmon–that explores the tender, excruciating and exhilarating experiences of girlhood, love, obsession and coming of age.
By Kaitlyn Greenidge (@surlybassey). Algonquin Books. 336 pages.
Inspired by one of the first Black women doctors in the US, Greenidge's latest book combines historical fiction and magical realism for an inspired story of family, freedom and fulfilling one's destiny.
By Anna-Marie McLemore (@LaAnnaMarie). Feiwel & Friends. 320 pages.
This is a beautiful and disarming story of sexual assault, gender, harm, redemption and healing written with intention, care and candor.
Written by Pola Oloixarac (@poliamida) and translated by Adam Morris (@adamjaymorris). Farrar, Straus and Giroux. 192 pages.
A tough, cheeky and fast-living Peruvian writer, "Mona is a new kind of feminist." When she's up for a coveted international award and travels to the ceremony, she'll have to contend with estrangement, violence and, worse yet, the other writers.
By Gabriela Garcia (@GabiMGarcia). Flatiron Books. 224 pages.
From the perspectives of several generations of Cuban women, this remarkable debut shines a brilliant light on the broken immigration system and legacy of trauma for the people who endure it.
By Diane Wilson (Dakhóta). Milkweed Editions.
In elegant prose, Wilson tells a story of one woman's reflections on her life, loss, family and the seeds she knows are her ancestors and an imperative legacy she must protect at all costs.
By Layla AlAmmar (@Layla_AlAmmar). Algonquin Books. 304 pages.
This remarkable debut centers a Syrian woman seeking asylum in the UK, alone and mute from her traumatic experiences. As she begins to write and expand her other senses to the world around her, she realizes the healing power of communication, connection and community.
By Nadia Hashimi (@NadiaHashimi). William Morrow. 464 pages.
In her latest immersive novel, bestselling author Nadia Hashimi centers a woman who lost her entire family in a political coup in Kabul, Afghanistan. Four decades later, she is forced to confront this traumatic past and is determined to find the truth.
By C. L. Clark (@c_l_clark). Orbit. 544 pages.
Fantasy fans get excited because this one is next-level. It features two formidable women fighting for justice, against colonial powers and contending with the complexities that accompany resistance, identity, love and humanity.
By Naima Coster (@zafatista). Grand Central Publishing. 352 pages.
With this moving story of two families intertwined throughout place and time and race, Naima Coster may have written the sweeping, spellbinding, cascading saga of the year.
By Denny S. Bryce (@dennysbryce). Kensington. 384 pages.
This is the best kind of historical novel: immersive, mysterious and evocative; factual in its history and nuanced in its creativity and connection to the present.
---
If you found this article helpful, please consider supporting our independent reporting and truth-telling for as little as $5 per month.
---
April
By Priya-Alika Elias (@priya_ebooks). Chicago Review Press. 208 pages.
Besharam is an Urdu word that roughly translates to "shameless" in English. And it's an appropriate word to describe this collection of essays exploring family, feminism, body image, sex, relationships, traditional roles, consent and more.
By Jasmin Darznik (@jasmindarznik). Ballantine Books. 352 pages.
If you loved Song of a Captive Bird like I did, you will want to read the latest creative historical biography by Jasmin Darznik. Featuring the photographer Dorothea Lange in 1920s San Francisco, Darznik paints an illuminative portrait of the photographer and the woman.
By Morgan Jerkins (@MorganJerkins). Harper. 352 pages.
This is not a drill! The esteemed Morgan Jerkins has written her first novel and it's an brilliant and inventive magical realist take on motherhood, tradition, family secrets and legacy.
By Kirstin Valdez Quade. W. W. Norton & Company. 432 pages.
The unexpected birth of a child brings together five generations of a New Mexican family in this generous, relatable, captivating and triumphant tale of healing.
By Shanna Greene Benjamin (@phdshammy29). University of North Carolina Press. 272 pages.
Illustrating the challenges and exclusion often experienced by Black women in academia, Shanna Greene Benjamin has written this compelling and unexpected biography of Nellie Y. McKay, a formidable scholar of contemporary literature and women's studies.
By Elizabeth Nyamayaro (@e_nyamayaro). Scribner. 272 pages.
This is the uplifting and inspiring memoir we need right now. Humanitarian and global leader Elizabeth Nyamayaro takes us from experiencing hunger and drought as a child in Zimbabwe to becoming a leader for global improvement and gender equality around the world.
Written by Nasim Marashi and translated by Poupeh Missaghi (@poupehmissaghi). Astra House. 208 pages.
Now available in English, Iranian journalist Nasim Marashi's award-winning debut novel explores the friendship of three women in Tehran as they navigate the challenges, triumphs, dreams and complexities of their lives.
By Ursula Pike (Karuk) (@urs_pike). Heyday. 240 pages.
Ursula Pike has written this engrossing travel memoir about her time in Bolivia as a member of the Peace Corps. Acutely aware of the legacy of colonialism on her own people, Pike examines her own potential complicity with frankness and wit.
By Quiara Alegría Hudes (@quiarahudes). One World. 336 pages.
Feminist playwright Quiara Alegría Hudes has written this potent and poetic memoir of growing up Puerto Rican in North Philadelphia while reflecting on memory, her definition of home and finding her own voice.
By Syan Rose (@syanrose). Arsenal Pulp Press. 72 pages.
This is an indispensable collection of narratives, stories, interviews and lessons from queer and trans people on themes such as activism, sex work, health and resistance, accompanied by mercurial illustrations in a graphic novel format.
By Anjali Enjeti (@anjalienjeti). University of Georgia Press. 248 pages.
In this powerful and timely collection of twenty essays, Anjali Enjeti candidly explores her move south from Detroit, white feminism, evangelical Christianity, voter suppression, guns, nationalism and more.
By Charlie Jane Anders (@charliejane). Tor Teen. 288 pages.
Charlie Jane Anders has written the super-fun, out-there fantasy sci-fi space opera adventure that we all need to lose ourselves in right now.
By Cassandra Lane (@casslanewrites). The Feminist Press at CUNY. 232 pages.
In this most convincing appeal to search out and record one's family legacy, Cassandra Lane illustrates the necessity of reclaiming your history, telling your own story and reflecting on the past to move forward into the future.
By Jhumpa Lahiri. Knopf.176 pages.
This is the first novel from Pulitzer Prize winning author Jhumpa Lahiri in almost ten years, her first written in Italian and translated into English, and it is a stunner. Centering a woman on the verge of transformation, it explores themes of belonging and isolation, evolution and stagnation.
By Elissa Washuta (Cowlitz) (@elissawashuta). Tin House Books. 432 pages.
In this riveting and insightful collection of personal essays, Washuta candidly explores addiction, mental illness, coping (and not), relationships, land, pop culture, colonization, magic and cultural legacy.
Edited by Tarana Burke (@TaranaBurke) and Brené Brown (@BreneBrown). Random House. 256 pages.
What if Tarana Burke, the founder of the 'me too' Movement, and Brené Brown, writer and researcher, got together and edited a book about vulnerability and shame resilience? Well, you would get this amazing anthology with contributors including Sonya Renee Taylor, Laverne Cox, Austin Channing Brown, Imani Perry, Luvvie Ajayi Jones, and many others.
---
May
By Moya Bailey (@moyazb). NYU Press. 256 pages.
In this much-anticipated text, Moya Bailey examines misogynoir — a term she coined — and how Black women work to disrupt racist misogyny, to reclaim their autonomy and to tell their own stories, particularly in precarious digital spaces.
By Anjali Enjeti (@anjalienjeti). Hub City Press. 272 pages.
This captivating debut follows one woman's search for family, meaning, community and home against the legacy of the Partition of India.
By African American Policy Forum. Edited by Kimberlé Crenshaw (@sandylocks). Haymarket Books. 224 pages.
This volume is an urgent examination of how race intersects with gender to create uniquely oppressive, and often violent, circumstances for Black women and girls across the country and provides a much-needed feminist framework to investigate the ways in which we can all fight against this state violence and all-too-public silence.
By Geling Yan. HarperVia. 160 pages.
Geling Yan has written this twisting crime novel focused on Hongmei, the seemingly perfect wife in a seemingly ideal marriage. But when she is emailed by a mysterious stranger, she is led down a path that endangers exposing secrets and tearing her life apart.
By Rivers Solomon (@cyborgyndroid). MCD. 368 pages.
If you've read Rivers Solomon's previous work, you'll be familiar with their fearless explorations of transformation, identity, oppression and power, and Sorrowland continues this investigation with fantastic, terrifying sci-fi brilliance.
By Tamika D. Mallory (@TamikaDMallory). Atria/Black Privilege Publishing. 224 pages.
It seems appropriate for social justice leader Tamika Mallory's literary debut to be the first title of the new imprint, Black Privilege Publishing. In this volume, Mallory provides a history of racism in the US as well as equity-centered pathways forward.
By Lee Lai (@_leelai). Fantagraphics. 236 pages.
Lee Lai's debut graphic novel is a beautiful and evocative reflection on queer identity, relationships, vulnerability and acceptance of self and others.
June
By Nghi Vo (@nghivowriting). Tordotcom. 272 pages.
I adore Nghi Vo's feminist fantasy novellas of the Singing Hills series and now she applies her meticulous and creative hand to reimagine The Great Gatsby with a queer Asian woman at its magical, kaleidoscopic center.
By Akwaeke Emezi (@azemezi). Riverhead Books. 240 pages.
In their intimate memoir in letters, the brilliant Akwaeke Emezi candidly shares their reflections on gender, embodiment, queerness, creativity and relationships with the same fierce dedication and candor that defines their bestselling novels.
By Tasha Suri (@tashadrinkstea) Orbit. 512 pages.
Two fierce women. Magic, action and adventure. Folklore of the past and imagining the future. Masterful storytelling. Kaleidoscopic, queer world-building. Robust characters. The first book of Tasha Suri's new trilogy has it all!
By Weng Pixin (@pixmadeobjects). Drawn & Quarterly. 204 pages.
In this vibrant graphic novel, Weng Pixin journeys through five generations of her family's women, all when they were aged 15 years, as she reflects on family, trauma, silence and connection.
By Zakiya Dalila Harris (@zakiya_harris). Atria Books. 368 pages.
This is the perfect time for Harris' edge-of-your-seat debut thriller in which two Black women meet in the all-too-white world of book publishing.
By Ashley C. Ford (@iSmashFizzle). Flatiron Books. 208 pages.
Writer, educator and media personality Ashley C. Ford has written this powerful, personal memoir about growing up with an incarcerated father and the legacy of their complex relationship.
By Cheluchi Onyemelukwe-Onuobia (@Cheluchi_O). Dundurn. 304 pages.
With themes of resilience, empowerment and fighting the patriarchy, this debut features two Nigerian women from seemingly opposite worlds, who share their lives and experiences after being kidnapped and held captive.
By Alessandra Narváez Varela. Cinco Puntos Press. 208 pages.
This riveting YA debut novel in verse centers a young girl growing up in Mexico who is visited by her 30-year-old self as she deals with depression and learns about acceptance of self and others.
By Alex DiFrancesco (@DifrancescoAlex). Seven Stories Press. 144 pages.
This memorable collection of short stories displays the wild talent of Alex DiFrancesco to push boundaries and explore the imagination while simultaneously comforting and strengthening their readers.
---
July
By Angela Y. Davis, Gina Dent, Erica Meiners, and Beth Richie. Haymarket Books. 150 pages.
In this slim and urgent volume, these four prominent activist-scholars call for increased visibility of Black, queer, feminist, collective histories to frame abolition as the best way to counteract state and interpersonal gender and sexual violence.
Written by Shiori Ito (@shioristreet) and translated by Allison Markin Powell. The Feminist Press at CUNY. 288 pages.
In her powerful memoir, journalist Shiori Ito details her 2015 rape by a senior reporter, subsequent attempts to silence her and the fight she undertook to achieve justice and stand in solidarity with other survivors.
By Honorée Fanonne Jeffers (@BlkLibraryGirl). Harper. 816 pages.
This is the utterly remarkable fiction debut of award-winning poet Honorée Fanonne Jeffers, which centers a young girl who explores her own identity through her family's sweeping legacy from slavery, through the Civil War to the present.
By Shelley Parker-Chan (@shelleypchan). Tor Books. 416 pages.
This phenomenal debut centers a young girl in Mongul-ruled China who dares to challenge tradition, gender, heroism, power and destiny; it's fresh, nuanced, lyrical and irresistible.
Written by María Ospina and translated by Heather Cleary (@_heathercleary). Coffee House Press. 136 pages.
This bold and penetrating collection of six short stories highlights the lives of six women and girls in Bogotá, Colombia.
---
August
By Donna Murch (@murchnik). Haymarket Books. 224 pages.
This exceptional collection of essays offers a necessary reexamination the Black Panther Party and the Movement for Black Lives more generally through a redistributive, queer, and feminist framework.
By Jennifer C. Nash. Duke University Press. 264 pages.
Duke University professor Jennifer C. Nash presents this essential examination of Black motherhood and its layered complexities of representation, performance, gaze, critique, precarity and politics.
Written by Wendy Guerra (@wendyguerrat) and translated by Alicia "Achy" Obejas. HarperVia. 336 pages.
As Nadia Guerres leaves Cuba on a journey to find her parents, she also searches for answers to life-long questions, for the legacy of the Revolution and for the meaning of a life she thought she knew.
By Thirii Myo Kyaw Myint (@thiriimkm). Graywolf. 176 pages.
Winner of the 2018 Graywolf Press Nonfiction Prize, this is a unique and meditative memoir exploring time, absence, family and the legacy of colonialism.
---
Autumn and Winter
By Natasha Brown. Little, Brown and Company. 112 pages.
This is one of the debuts I am most excited for. The story takes place over two days in which our main character, who seemingly has it all, still feels weary, discordant and in need of finding real control and meaning in her life.
By Reni K. Amayo (@renikamayo). Onwe Press. 432 pages.
This is the captivating sequel to Amayo's knockout YA fantasy debut, Daughters of Nri. Amayo's work centers Black women, reimagines Nigeria without colonialism and fully entertains with myth, magic and adventure.
Written by Yeo-sun Kwon and translated by Janet Hong (@janethong333). Other Press. 176 pages.
Award-winning writer Yeo-sun Kwon's latest novel is a deftly written exploration of life and death, grief, revenge and acceptance of the unknown, all cloaked in an engaging murder mystery.
By Imani Perry (@imaniperry). Ecco. 336 pages.
In her latest essential book, Imani Perry makes the argument that in order to heal the nation, we must look to the South. Part memoir, part history, this extraordinary work calls attention to the culture, politics, figures and institutions of the South as inextricable to the US experience.
By Keisha N. Blain (@keishablain). Beacon Press.
As talented a storyteller and cultural critic as she is a historian, Keisha Blain has written a history of Fannie Lou Hamer that also challenges readers to look to her legacy as a guide for tackling current issues of voter suppression, state-sanctioned violence, women's inequality and racism.
You may also like:
---