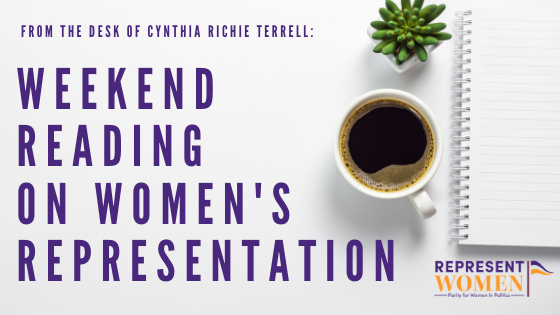 Weekend Reading on Women's Representation is a compilation of stories about women's representation in politics, on boards, in sports and entertainment, in judicial offices and in the private sector in the U.S. and around the world—with a little gardening and goodwill mixed in for refreshment!
---
As we make last-minute preparations (less than a week left!) for our second annual Democracy Solutions Summit, this week's Weekend Reading focuses on gathering and sharing stories of women running for office and becoming leaders in politics. 
Rep. Elissa Slotkin Launches Bid For Senate
Today, I'm announcing my run to be Michigan's next U.S. Senator.

We need a new generation of leaders that thinks differently, works harder, and never forgets that we are *public servants* pic.twitter.com/L8cLgEUwnA

— Elissa Slotkin (@ElissaSlotkin) February 27, 2023
On Monday, Rep. Elissa Slotkin (D-Mich.) launched her campaign for Sen. Debbie Stabenow's soon-to-be-vacated seat. 
Slotkin won reelection to the U.S. House in one of Michigan's top battleground districts in 2022…

Michigan's Senate seat is crucial for Democrats. The party is defending 23 of the 34 Senate seats up for reelection next year, including three seats in states that backed former President Donald Trump by at least 8 points in 2020: West Virginia, Montana, and Ohio. Besides Michigan, the party is also defending seats in other battleground states such as Arizona, Nevada, Pennsylvania, and Wisconsin.

Other potential candidates for the seat include Republican Reps. Bill Huizenga and John James, Democratic Rep. Debbie Dingell, and Democratic state Sen. Mallory McMorrow, who drew national attention last year in a floor speech pushing back against anti-LGBTQ attacks from a Republican colleague. James lost a closer-than-expected race to Stabenow in 2018 and then narrowly lost a bid for the state's other Senate seat in 2020, before winning election to the House in November from a swing seat north of Detroit.
Michigan was awarded a B grade in RepresentWomen's 2022 Gender Parity Index and ranks fifth in the country.
---
Women Lawmakers in Minnesota to Create a "Democracy Caucus" to Combat Election Deniers
Minnesota state Rep. Emma Greenman announced, with her colleagues, last month that they would create a "democracy caucus" to expand voting and combat election deniers. Greenman said she wants to highlight the work that remains to be done post-Jan. 6.
"We are stepping up to try to work on some of the issues that are affecting our lives," she said. "This is an intersectional issue. We all have that recognition that there's work we want to get done — whether it's reproductive freedoms or health care or education or child care. All of those things require democracy to be strong and functional and participatory."
Whether or not the legislation package will pass remains unclear, especially as Republican votes remain uncertain. This caucus is the first of its kind, but efforts to expand voting continue to span across the country.
Christina Harvey, executive director of Stand Up America, an organization that supports voting access, believes elections-related proposals like the ones moving through Minnesota will make it more likely that women run for public office.

Harvey said that's crucial "at a time when it is clear that the current system is not working for [women], because in spite of us being the majority of the population in the United States, it has been made clear to us that our current government at many levels does not care if we live or die."

Greenman, who has traveled the country as part of her work, said that efforts to enact elections policy is not limited to women, noting the involvement of Frazier, a Black man, and other people of color. She said it's led by people who have a long history of fighting for their communities.

"Democracy is a space where communities need to come together to solve problems … and I think that is a role that women and that BIPOC community leaders have often played," she said. 
---
Joanna McClinton Makes History as the First Black Woman to be Elected as Pennsylvania's House Speaker
Yesterday was a good day.

Congratulations, Madam Speaker. pic.twitter.com/hzGn2YuG60

— Governor Josh Shapiro (@GovernorShapiro) March 1, 2023
On Tuesday, Pennsylvania's House of Representatives made history when they elected Representative Joanna McClinton to lead the chamber. McClinton, a member of the Democratic Party, is the first woman and second Black person to serve as Speaker.
"It was almost 250 years before a woman could stand at this desk, not just to give a prayer, but to get the gavel," McClinton said.

McClinton, a former public defender, recognized the significance of her election by remembering Rep. K. Leroy Irvis, the first Black speaker of the House, and the first women elected to the Legislature and higher offices, including Rep. Crystal Bird Fauset, the first Black woman elected to any state Legislature.

"But there's still so much farther for us to go," McClinton said, noting that no woman has served as governor or U.S. Senator in Pennsylvania. "And we, in this moment in time right now, have to pinch ourselves because it was almost 250 years before a woman could stand at this desk, not just to give a prayer, but to get the gavel."

McClinton inherits control of the House after discord over which party could rightfully claim control after the death of longtime Rep. Anthony DeLuca and the resignations of Reps. Austin Davis, who was elected lieutenant governor, and Rep. Summer Lee, who was elected to the U.S. House of Representatives. All three were Democratic lawmakers from Allegheny County.

McClinton was originally nominated to serve as speaker on Jan. 3.

In his speech nominating McClinton, Rep. Malcolm Kenyatta, D-Philadelphia, said she has worked to ensure in her career as a public defender, as chief counsel to Sen. Anthony Williams, D-Philadelphia and as a state representative.

"You have been a phenomenal member of this body. You have been an outstanding leader of our caucus, and you are such a leader that we need for such a time as this to lead Pennsylvania to a better place," Kenyatta said.
---
Lori Lightfoot Loses Reelection as Chicago Mayoral Race Heads to Runoff
Serving as your mayor has been the honor of a lifetime, and I am so grateful to all of you who have stood beside me these last four years.

We've made significant progress building a safer, more equitable city. I thank each and every one of you for believing in me. pic.twitter.com/l33IGevNPC

— Lori Lightfoot (@LoriLightfoot) March 1, 2023
Chicago Mayor Lori Lightfoot lost the election for mayor after not garnering enough support to head into the run-off. The contest for the title of mayor will now be fought between two men, Paul Vallas (former chief executive of Chicago Public Schools) and Brandon Johnson (Cook County commissioner).
The outcome of this race might have been drastically different if Chicago had used Ranked Choice Voting (RCV). Not only does RCV help women win elections, but it is also a faster and cheaper way to conduct elections. Read Rachel Hutchinson's article on RCV in Chicago.
Lightfoot is the first incumbent in 40 years to be ousted after just one term. She spoke to her supporters shortly before 9 p.m., after calling Vallas and Johnson to concede.

"We know in life, in the end, you don't always win the battle. But you never regret taking on the powerful, and bringing in the light," she told the crowd gathered at her election night party at a union hall downtown.
---
New Research on the Role of DEI in the Public Sector Hiring Experience
This week, our allies at CivicPulse released a research brief, "The Role of DEI in the Public Sector Hiring Experience." This piqued our interest because RepresentWomen advocates for rules that ensure diversity in appointments and party leadership, so that more women can not only win and serve, but lead. 
Drawing on data from a national survey of 1,148 local and state employees, we found that recent hires in public sector agencies that had explicitly incorporated diversity, equity, and inclusion practices into their hiring rated their experiences as candidates more highly than recent hires in public sector agencies that had not done so. Notably, this finding held across genders, race, and ethnicity…

We also wanted to better understand what DEI hiring practices public employers were engaging in and what type of departments have been more or less likely to adopt such practices. Many mentioned policies that removed identifying information from applications on first review to avoid unconscious bias related to gender, race, and nationality. Other respondents highlighted their agencies' efforts to expand their recruitment channels into more diverse venues, include statements encouraging women and minorities to apply, or remove minimum job requirements to broaden the applicant pool. Requiring training on things like unconscious bias and having more diverse hiring panels were also frequently mentioned. 
---
Proposed Women's History Museum Closer to Becoming a Reality
Though it has yet to receive final Congressional approval, the Smithsonian's proposed American Women's History Museum announced more than $55 million in gifts to help solidify its financial future, from donors including Melinda French Gates. https://t.co/Uk18LTZKrq

— New York Times Arts (@nytimesarts) February 27, 2023
Donors have pledged an additional $55 million in funding for the Smithsonian's proposed American Women's History Museum. Despite not having a building or even a finalized site, the Smithsonian Institution has been drumming up funding from donors who recognize the importance of highlighting women's contributions to American history.
As we celebrate Women's History Month in March, it seems unfathomable that such an institution does not yet exist. Among the major donors is Melinda French Gates (who has been a huge supporter of RepresentWomen through her firm Pivotal Ventures).
"The stories we tell about our country's history so often overlook the contributions of the women in every generation whose efforts and ideas helped make us who we are today," French Gates said in a statement. "By paying tribute to the women who shaped our past, the Smithsonian American Women's History Museum empowers and inspires the ones who will shape our future."
---
NEXT WEEK, we will have our second annual Democracy Solutions Summit! Women's voices have been excluded from the tables where crucial conversations were happening for far too long. In 2022, we decided to make our own table, invite the best and brightest women, and discuss scalable solutions to upgrade our democracy and meet our 21st-century needs.
This event is in honor of those who never got invited to the table, but still fought to get to where we are today. Come celebrate Women's History Month with us virtually on March 7, 8 and 9 from 3-5 p.m. ET! 
Register today (and tell a friend!) to be part of the solution to build a healthy, representative democracy.
Up next:
U.S. democracy is at a dangerous inflection point—from the demise of abortion rights, to a lack of pay equity and parental leave, to skyrocketing maternal mortality, and attacks on trans health. Left unchecked, these crises will lead to wider gaps in political participation and representation. For 50 years, Ms. has been forging feminist journalism—reporting, rebelling and truth-telling from the front-lines, championing the Equal Rights Amendment, and centering the stories of those most impacted. With all that's at stake for equality, we are redoubling our commitment for the next 50 years. In turn, we need your help, Support Ms. today with a donation—any amount that is meaningful to you. For as little as $5 each month, you'll receive the print magazine along with our e-newsletters, action alerts, and invitations to Ms. Studios events and podcasts. We are grateful for your loyalty and ferocity.